23 Common Branding Terms You Should Know with Examples
Everyone wants a cool brand that people like, but in order to build a successful brand, you have to understand the basics. Here is a breakdown of common branding terms that every business owner and marketer should know.
1. BRAND
A brand is how people perceive your organization based on all that they have experienced related to your business. In other words, it's the ideas and feelings that people have about your business, which distinguish it from competitors.
View
examples of brands
we've built for businesses across industries.
2. BRANDING
Branding
refers to the tools and strategies you use to try and influence the way people view and think about your brand. It's the active process of shaping customer perceptions of your brand.
Branding involves uncovering and defining the essence of a brand through voice and visuals. And then allowing the heart of the brand to influence each piece of brand support—from marketing materials to the website and beyond. This cohesion builds trust and fosters a deep connection with customers.
See
examples of branding
that our team has developed.
3. BRAND ASSETS
Brand assets are unique elements that help identify a specific brand in the mind of a consumer. In order for it to qualify as a
brand asset
, it must be recognizable, reinforce the brand identity, and automatically be associated with the brand. Brand assets include things like the logo, icons, colors, fonts, and packaging.
Check out some
examples of brand assets
that we created for Alltrust Insurance.
4. BRAND ATTRIBUTES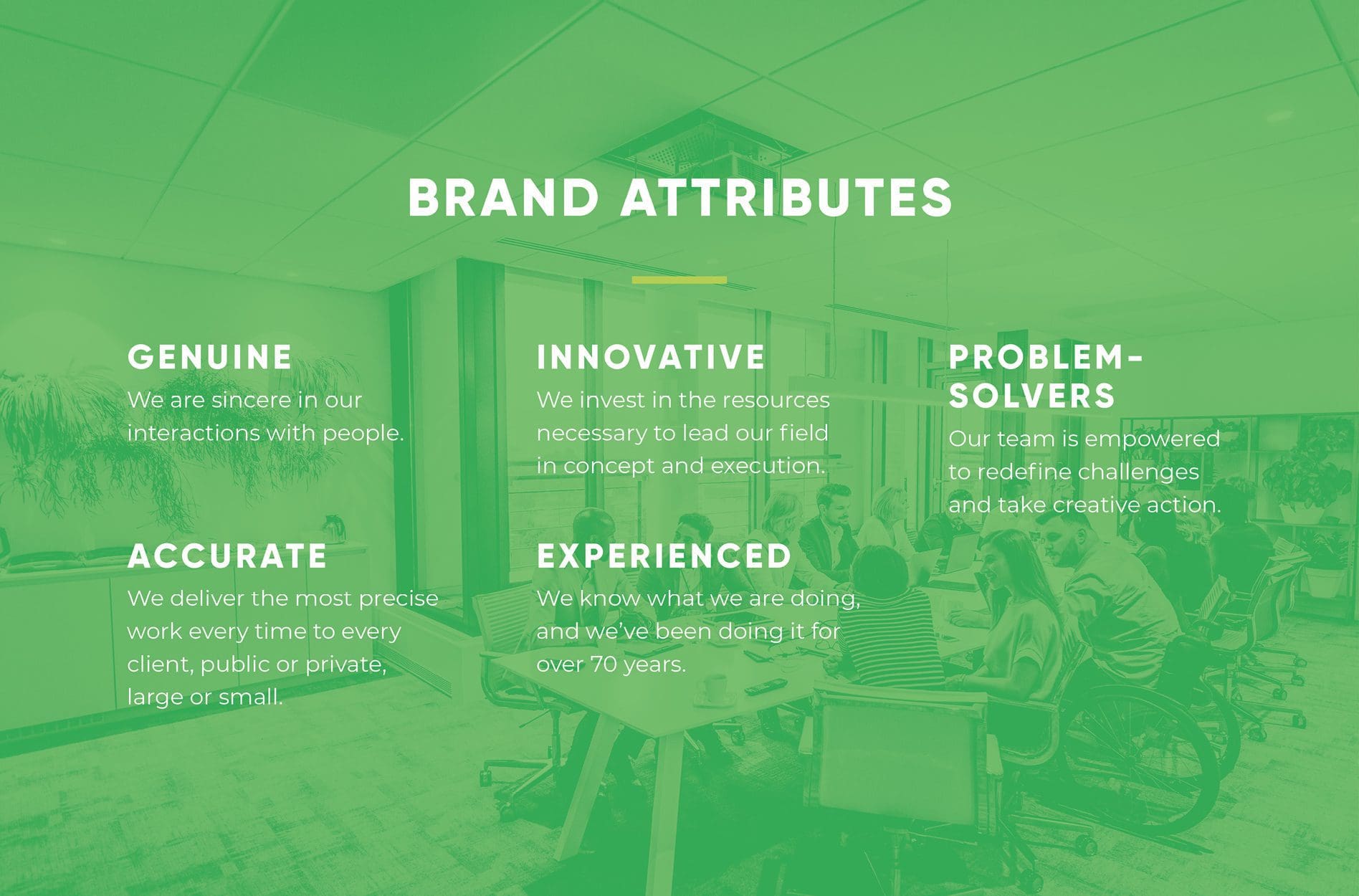 Brand attributes
are adjectives that describe who you are as an organization. This comprehensive, yet concise list of characteristics represents the essence of your brand. Brand attributes are an opportunity to distinguish your brand from the competition.
The goal is to create a foundation that allows every element of your brand support (marketing materials, employee attire, social media, etc.) to accurately represent your organization. Brand attributes also serve as a guide for anyone who acts or communicates on behalf of your company.
View an
example of brand attributes
that we created for Chastain-Skillman, an engineering firm.
5. BRAND AUDIT
A
brand audit
is a checkup that evaluates your brand's position in the marketplace, its strengths and weaknesses, and ways to improve it.
A brand audit begins with researching the industry, competitors, and customers of an existing brand. This is followed by an evaluation of the purpose, goal, look, and feel of all existing customer-facing collateral, including things like the logo, packaging, website, photography, social media presence, advertising, and more.
It's an effective way to uncover pain points in the customer journey and opportunities to improve assets to better align all branded materials with the overall mission of the company.
Here's an
example of a brand audit
we conducted for Little Words Project, a jewelry brand.
6. BRAND AWARENESS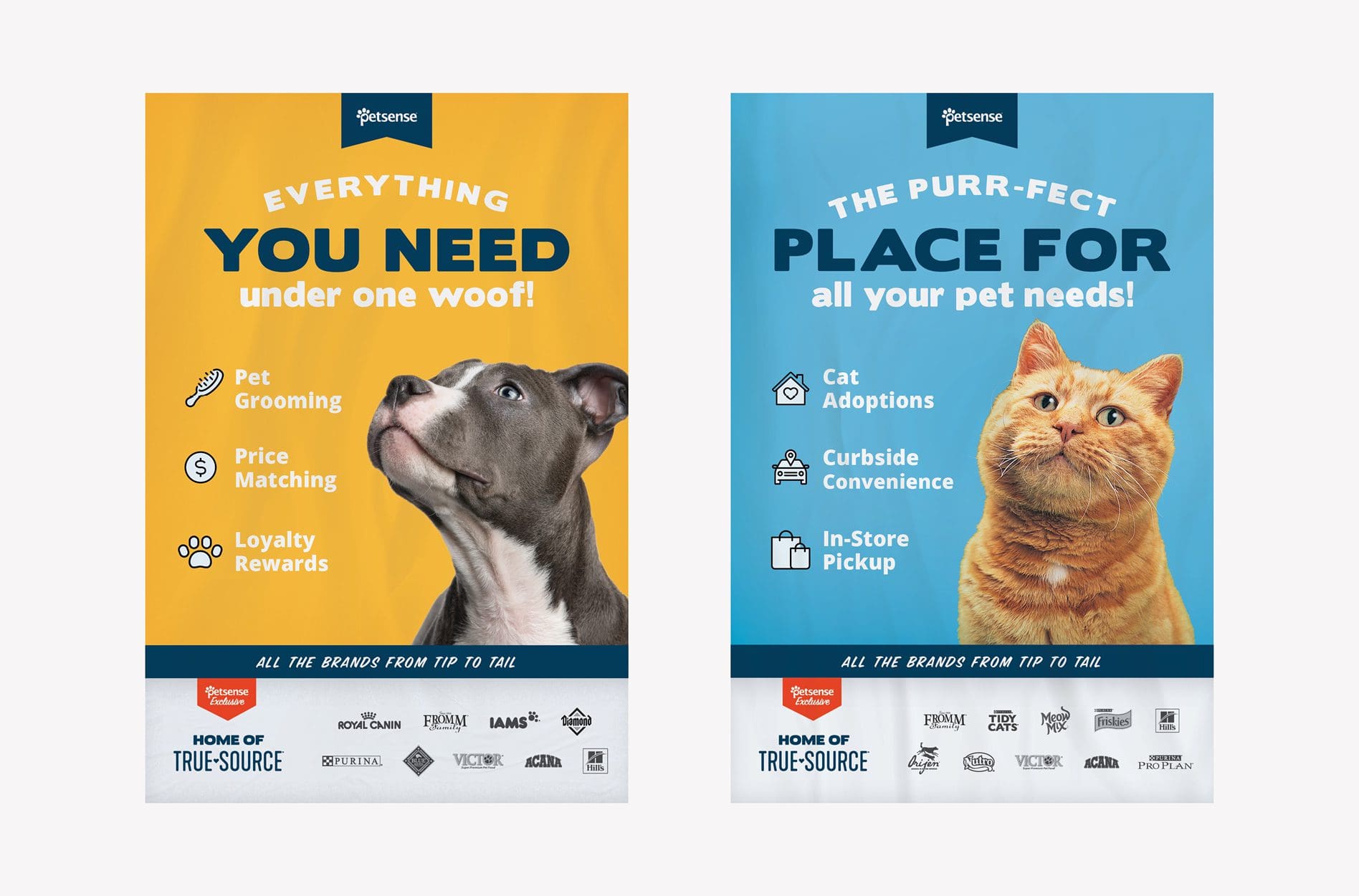 Brand awareness
is the measure of how familiar your target audience is with your brand and how well they recognize it. Brand awareness efforts give your brand a personality and outlet to be sincere, receive feedback, and tell a story—all of which fosters trust with consumers.
View
examples of brand awareness
efforts that we've created for Petsense, a pet supply retailer.
7. BRAND COLORS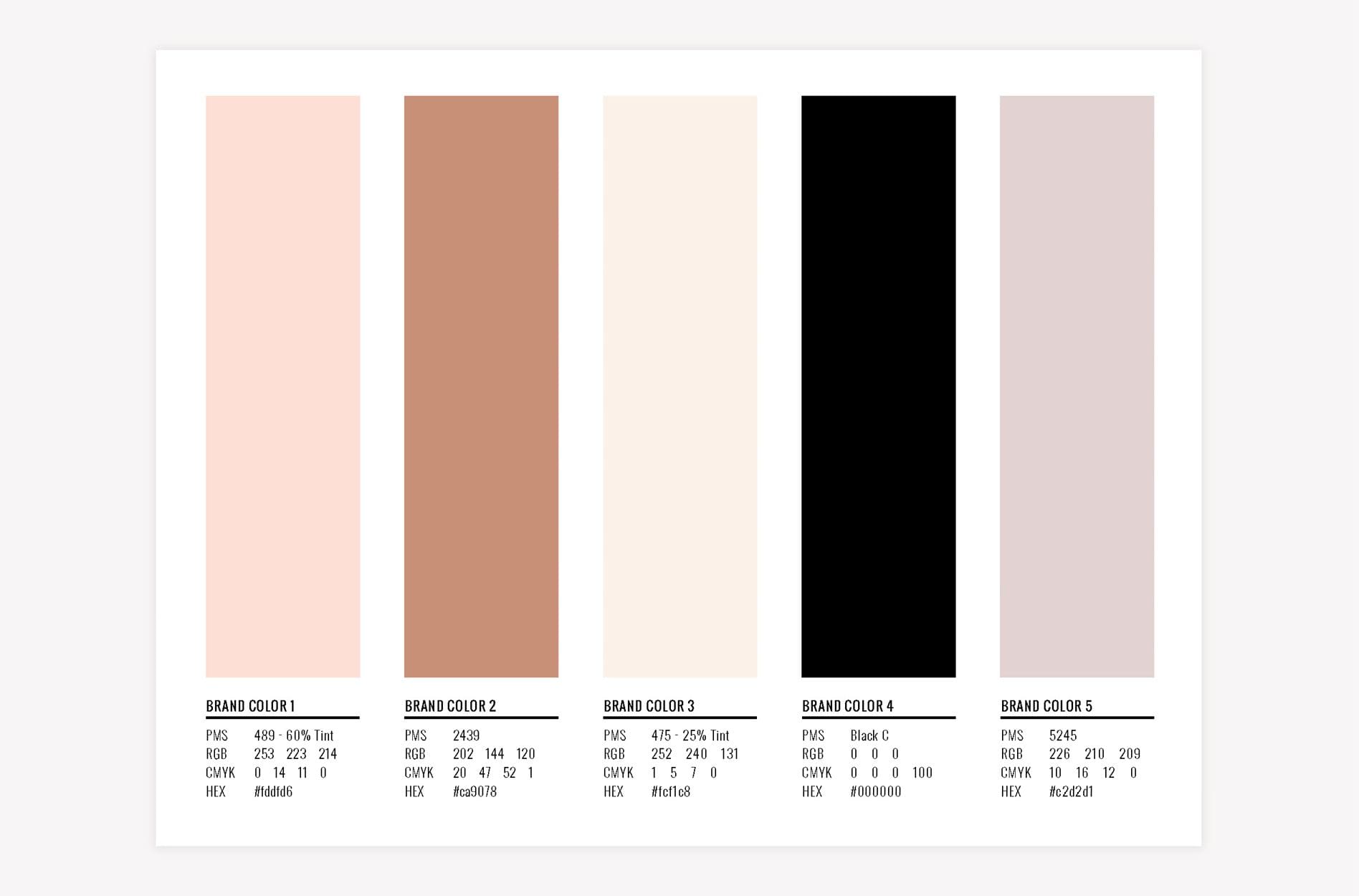 Brand colors play a big role in how a brand is perceived. They help make your brand memorable and recognizable. Brand colors can also attract the right kind of customers and evoke certain feelings associated with your brand.
When
choosing brand colors
, it's important to consider
color psychology
and color combinations using the color wheel as a guide.
See an
example of brand colors
that we selected for Alex Garza, a social media influencer.
8. BRAND FONTS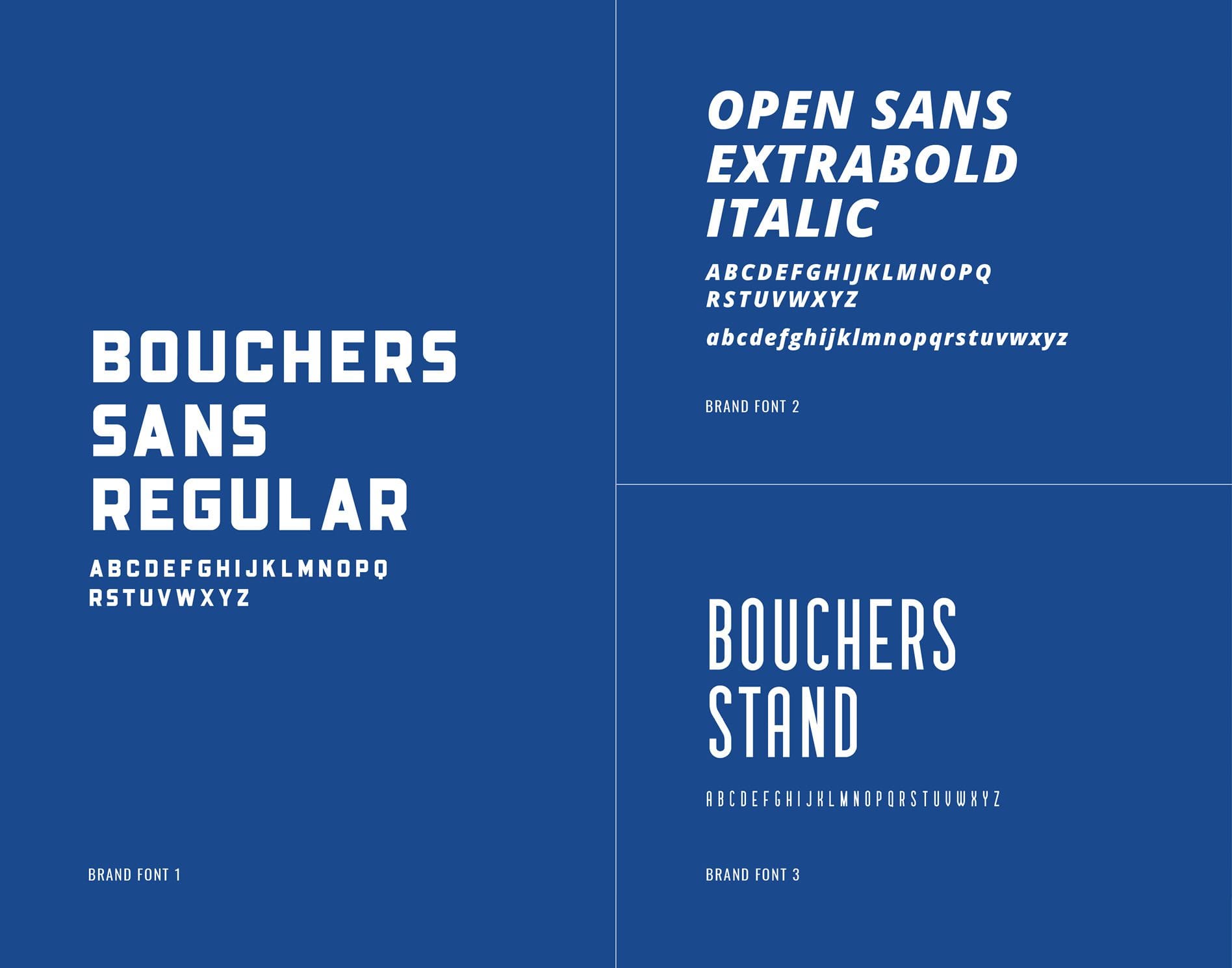 Brand fonts are the fonts you use in your visuals and communications. When used consistently, brand fonts unify messaging, create familiarity, and build trust with your customer. Like your brand colors and logo, your brand font should seamlessly align with your brand identity.
View an
example of brand fonts
that we selected for Howdy Hot Chicken, a restaurant in Texas.
9. BRAND GUIDELINES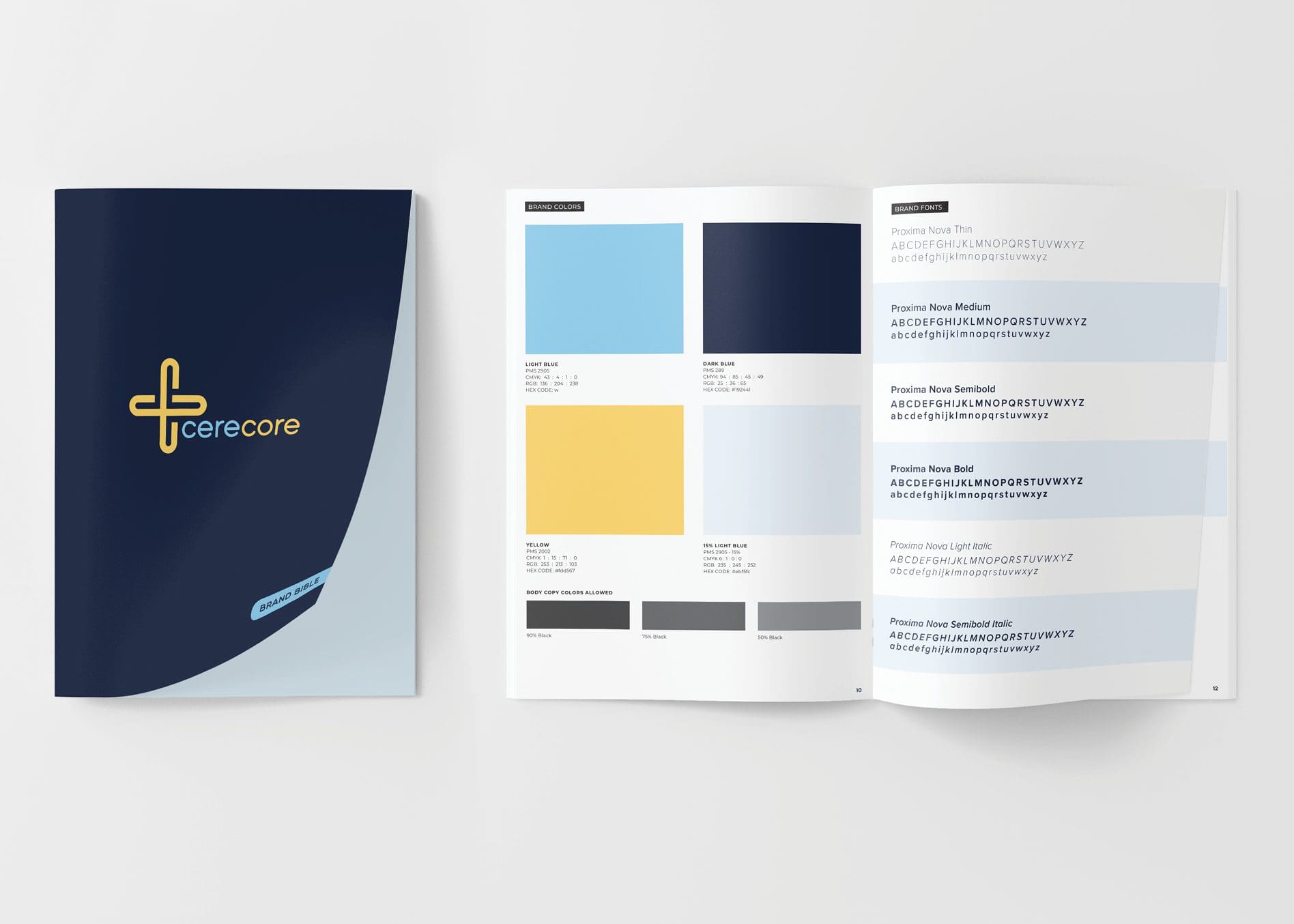 Brand guidelines help maintain the integrity of the logo and brand. They outline the exact brand colors (including color codes), fonts, and logo usage specifications, as well as photography styles, illustration styles, and other unique design elements.
Brand guidelines ensure that all marketing materials and communications align seamlessly with the brand. This consistency helps build trust between the company and its target audience.
Here is an
example of brand guidelines
that we created for Cerecore, a company owned by HCA.
10. BRAND ICONS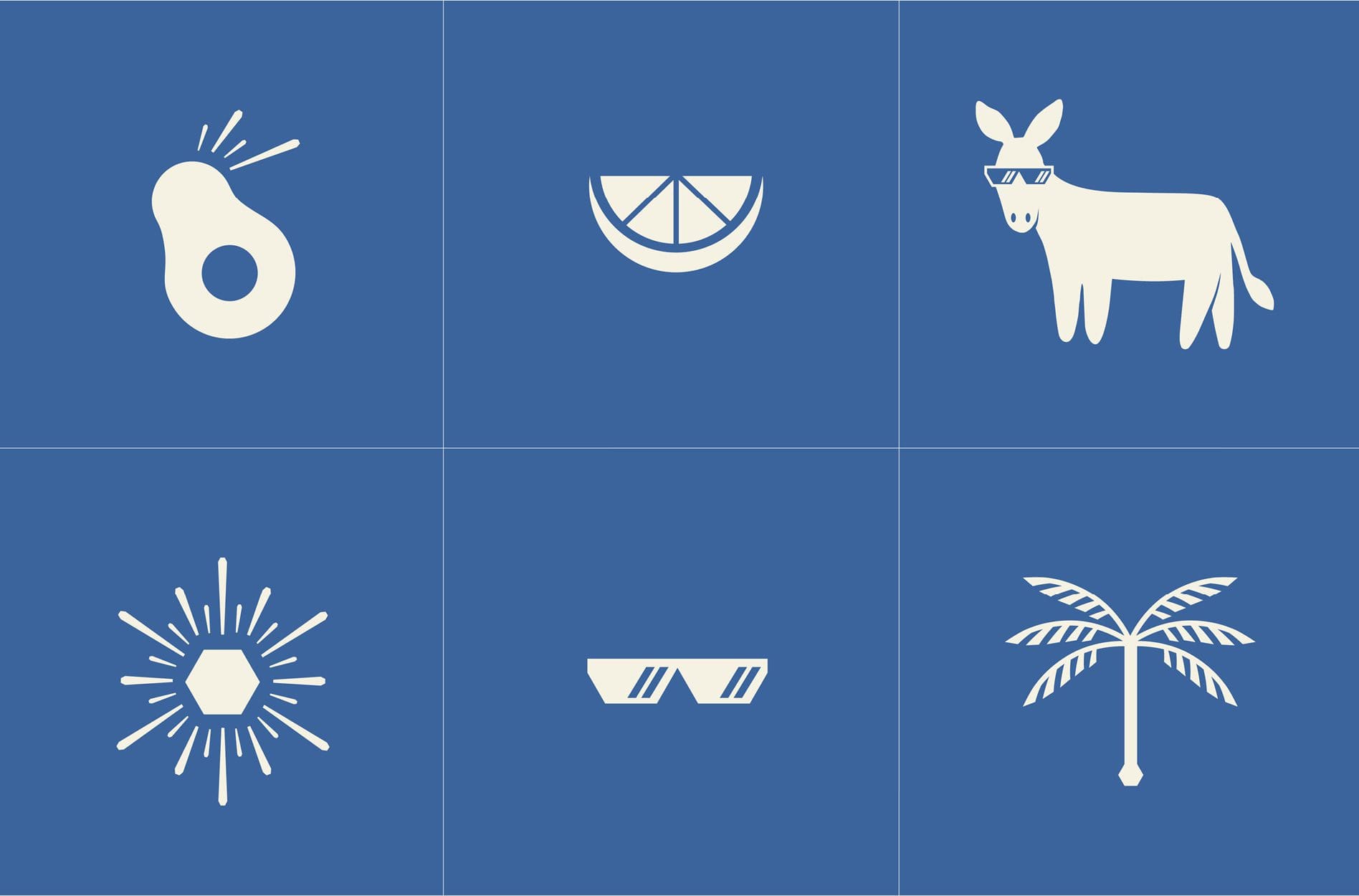 Brand icons are easily recognizable symbols. They are created for spaces that are too tight for the primary logo design, but warrant the brand mark nonetheless.
At a restaurant, for instance, you might see brand icons within tray liner designs, cup designs, social media profile images, marketing materials, and more.
Brand icons can stand alone. They align with the brand's visual direction and will typically incorporate the logotype.
Check out some
examples of brand icons
we designed for Bar Chido, a hip Mexican restaurant.
11. BRAND IDENTITY
Brand identity
consists of what your brand says, your values, how you communicate your product, and what you want people to feel when they interact with it. It's the personality of your business and a promise to your customers.
View an
example of a brand identity
we created for Free Flow Yoga studio.
12. BRAND POSITIONING
Brand Positioning is the most foundational part of your brand. Your unique position in the market, and the statement to encompass this position, will support everything you do. Your positioning statement should be presented in a very concise manner and is often referred to as a tagline or a mission statement.
A true positioning statement is used internally to help guide your business efforts. It will convey who the company is, what value it provides, and to whom.
Brand
positioning
is how you distinguish yourself from your closest competition.
Check out an
example of brand positioning
that we created for The Look, an aesthetic medspa in Franklin, Tennessee.
13. BRAND STORY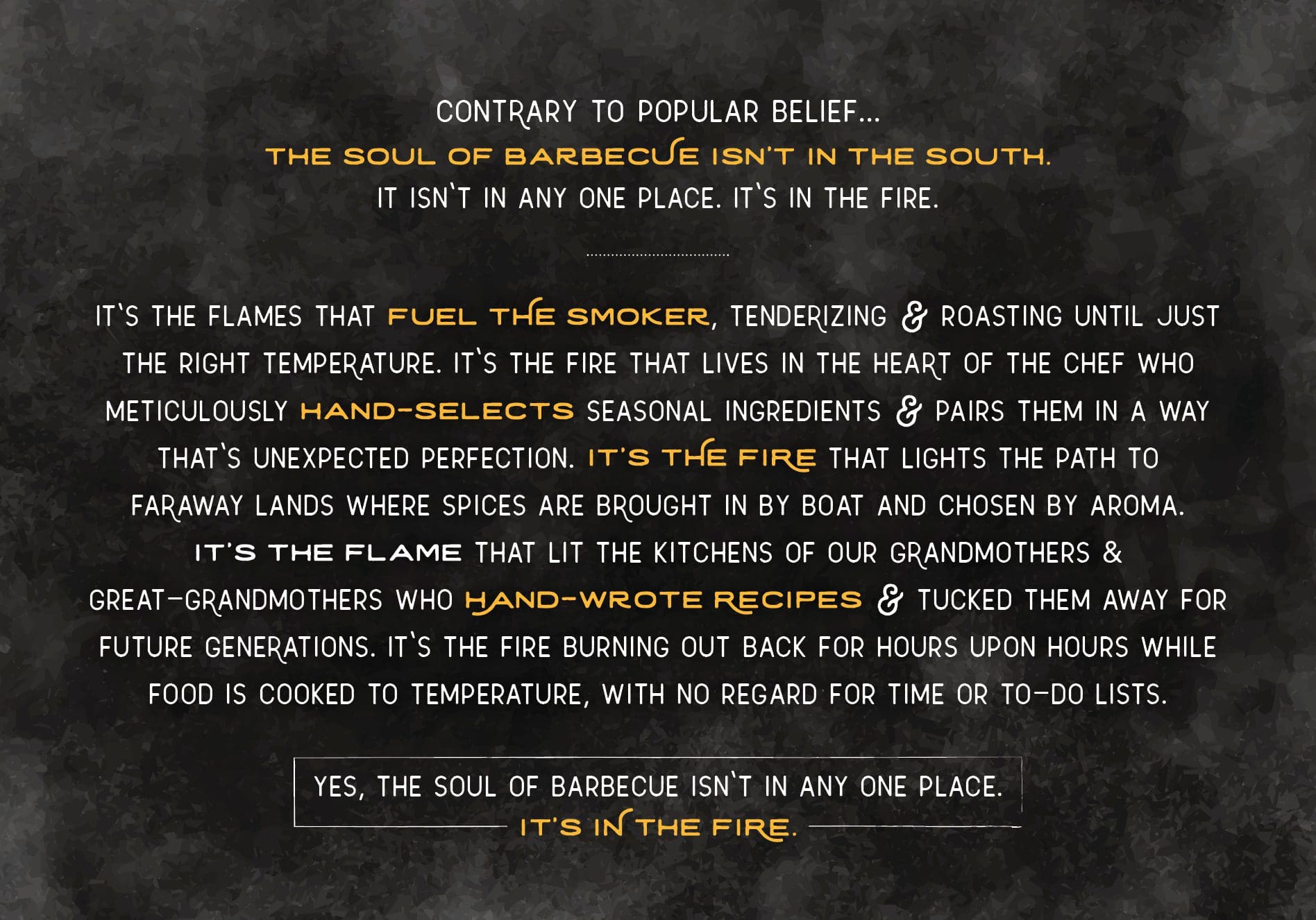 A cohesive narrative that encompasses the facts and feelings that are created by your brand. Unlike traditional advertising, which is about showing and telling about your products or services, a story must inspire an emotional reaction. This is the verbal heartbeat of your brand.
View an
example of a brand story
we wrote for Hogwood, a Nashville barbecue restaurant.
14. BRAND STRATEGY
Brand strategy is a long-term plan for the growth of a successful brand in order to achieve specific business objectives.
Brand strategy
affects all aspects of a business and is connected to consumer needs, emotions, and the competitive landscape. As such, it must be flexible to account for change over time.
15. BRAND SUPPORT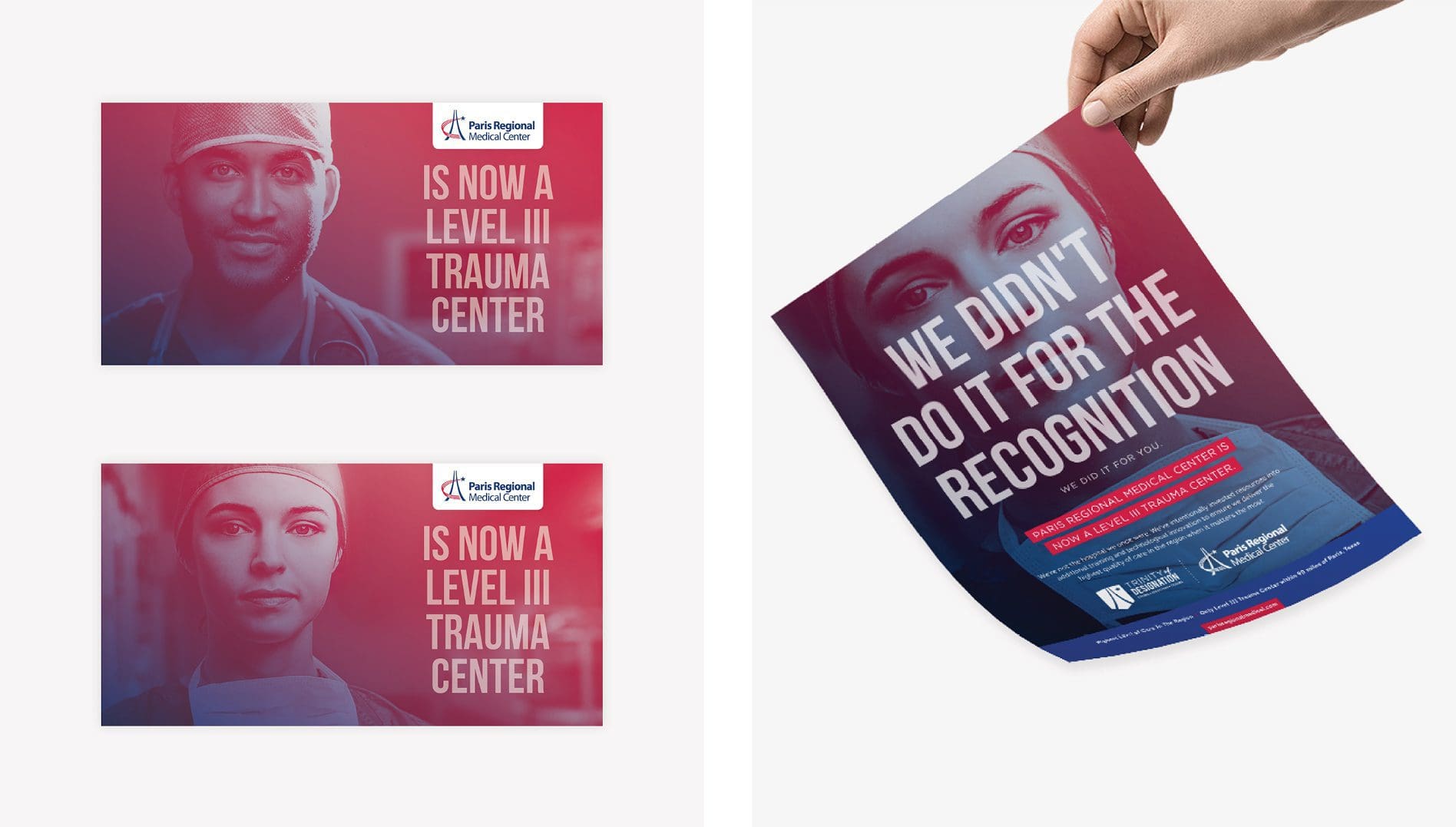 Brand support is the ongoing strategic thinking, graphic design, and content creation used to strengthen a brand. Brand support can include strategy, web design and development, copywriting, digital advertising and social media design, attire design, vehicle design, and more.
See an
example of brand support
we designed for Paris Regional Medical Center.
16. CUSTOMER PERSONAS
Customer personas
are semi-fictional representations of your ideal customers based on data and research. They help you better understand, strategically target, and cater to the needs of customers across all platforms, including marketing, sales, and service.
17. CUSTOMER TOUCHPOINTS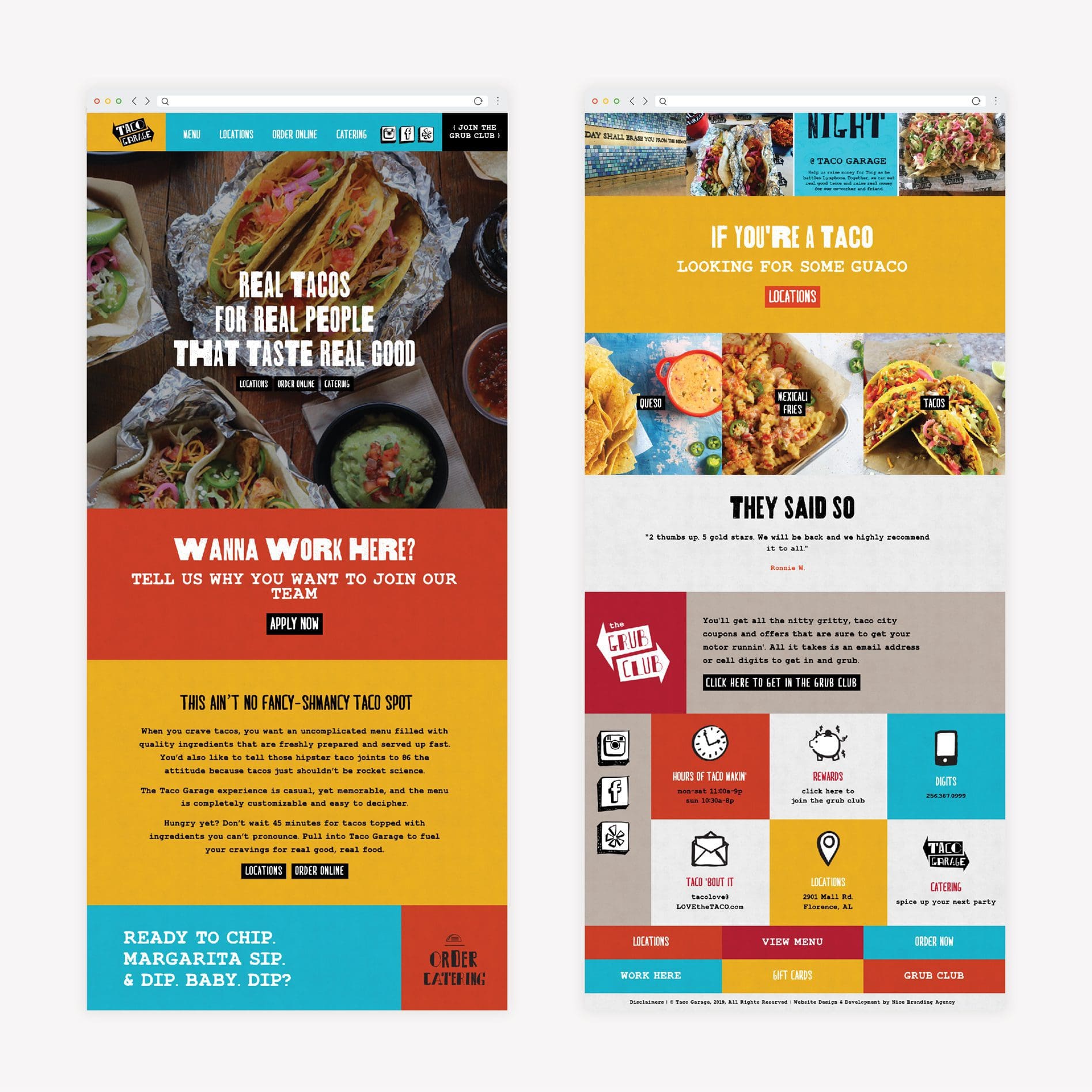 A brand's points of customer contact are called
customer touchpoints
. This includes, but is not limited to, a website, marketing collateral, advertising, email marketing, a physical space, social media, and beyond.
See
examples of customer touchpoints
that we branded at Taco Garage, a Mexican restaurant.
18. DESCRIPTIVE PARAGRAPH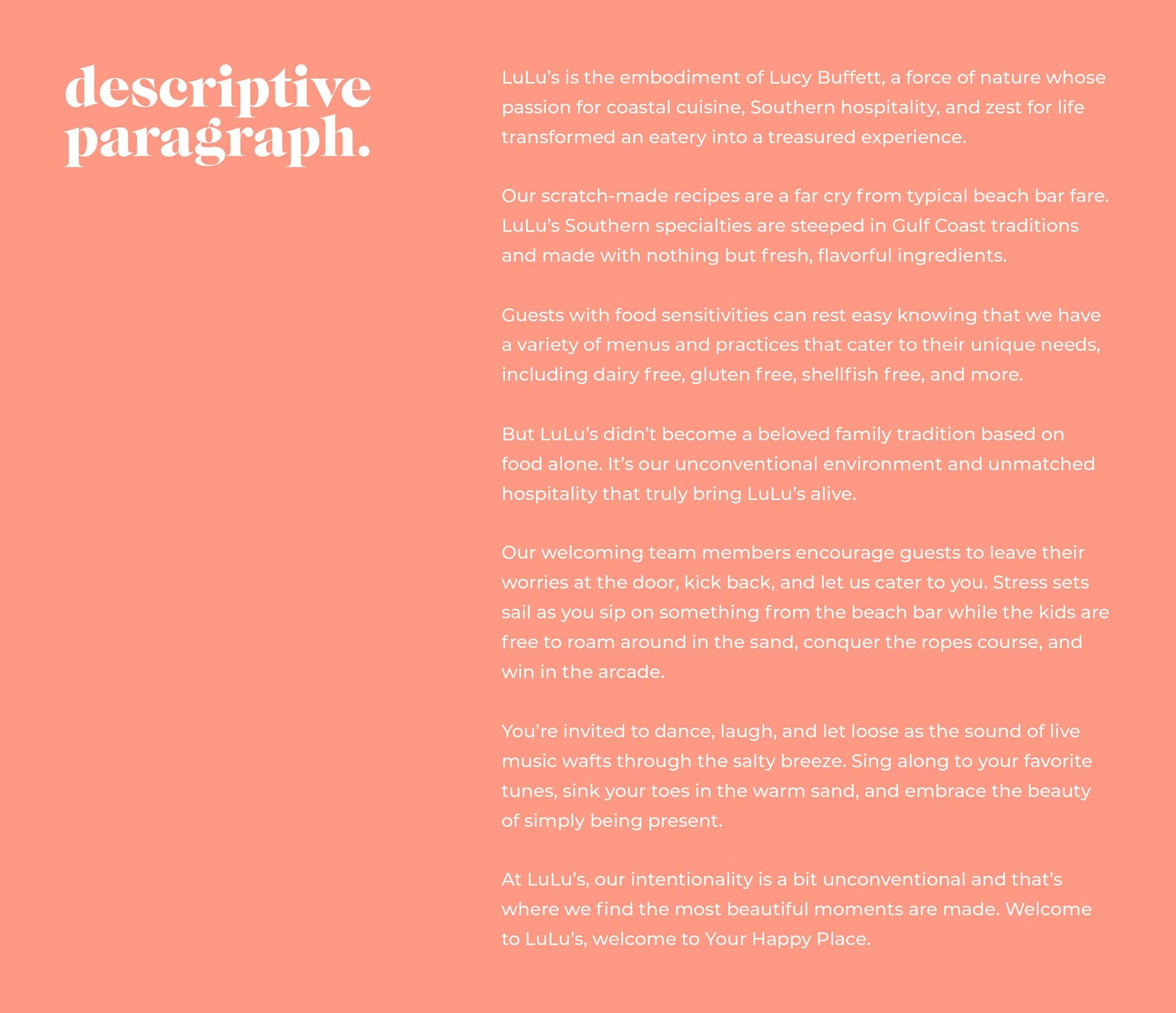 In the descriptive paragraph, we expand on the brand positioning statement. This is where we tell a bit more about the brand story. The descriptive paragraph clearly communicates to the reader the restaurant's differentiators and what you can expect when you engage with the brand—from the offerings to the service and overall vibe.
View an example of a descriptive paragraph that we created for
Lucy Buffett's LuLu's
.
19. ENVIRONMENTAL BRANDING/INTERIOR BRANDING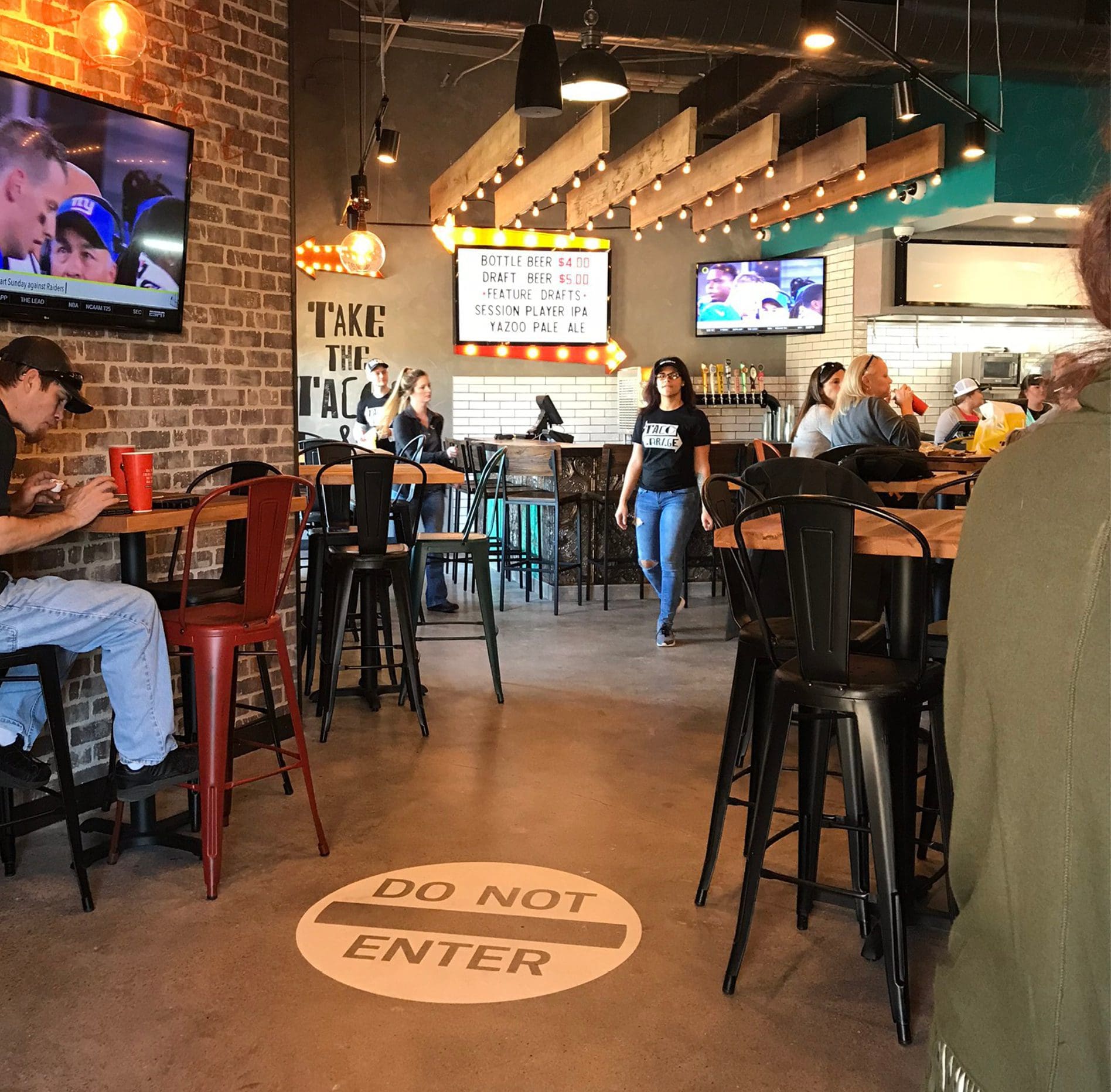 Environmental branding
, also known as interior branding, is the actual work of making your physical space align with your brand's visual direction. It's an effective way to bring your brand to the forefront and create an immersive experience for customers and staff.
By branding high-impact touch points in your physical space, you can create a deep, lasting connection with customers from the moment they enter to the moment they leave.
View four
examples of interior branding
that we designed for restaurants.
20. LOGO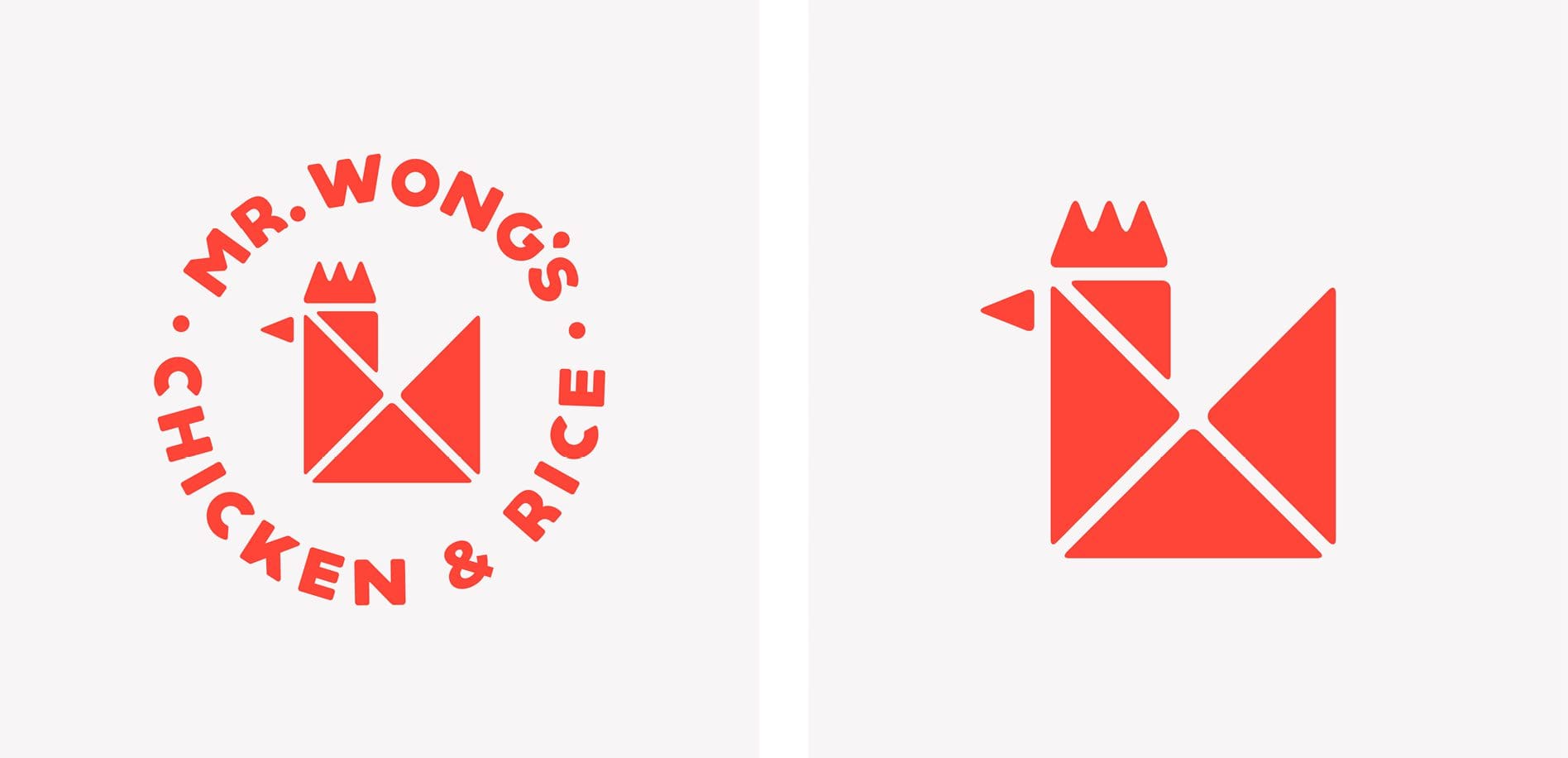 A
logo
is typically defined as a symbol or stylized name used to identify a brand. But it's more than that. A logo is the face of a company and the most important mark associated with a business. A strong logo is simple, versatile, memorable, and aligns with the brand.
Check out a few
examples of logos
we created for Mr. Wong's Chicken & Rice.
21. MOOD BOARD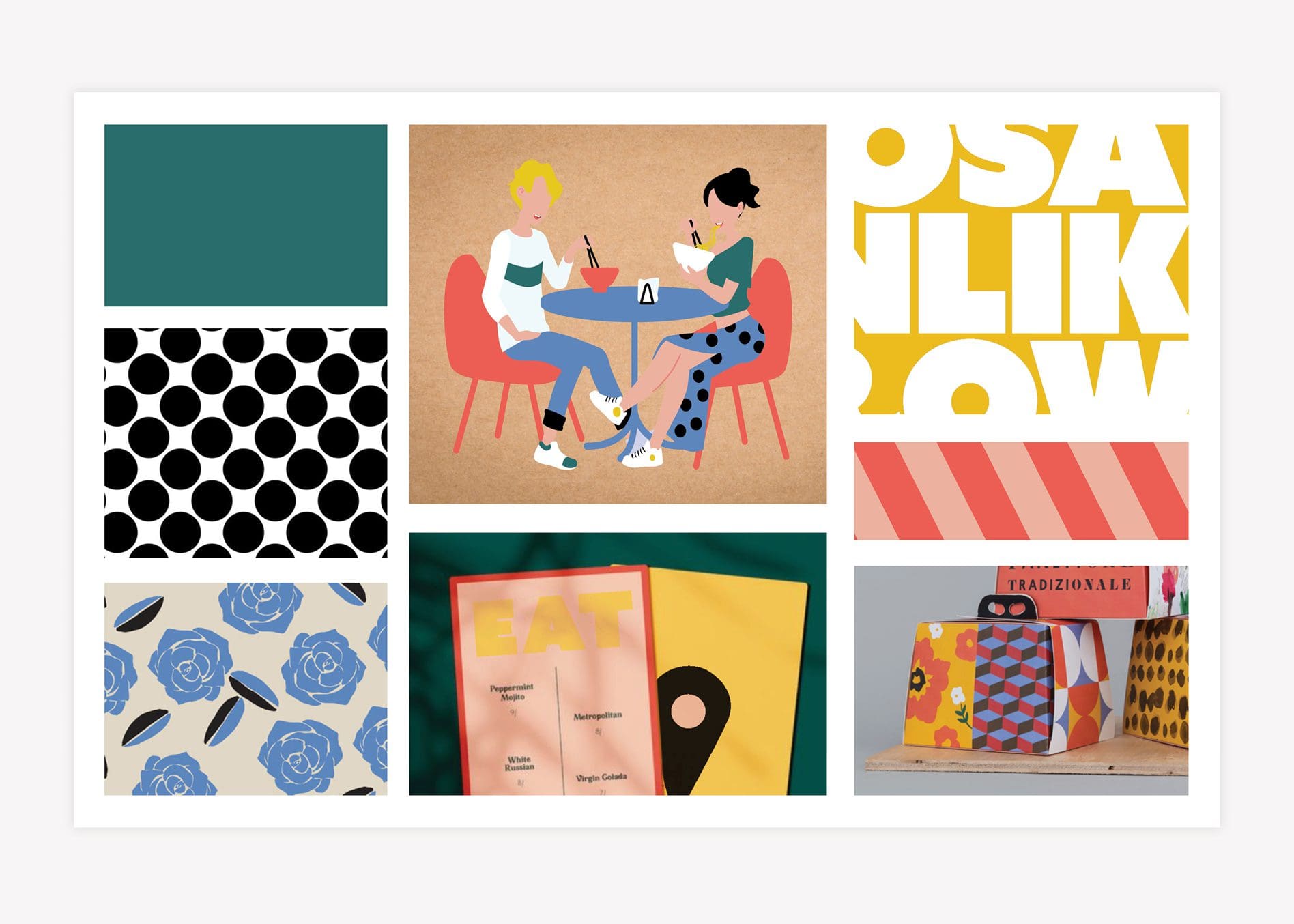 A
mood board
is a visual tool that communicates the overall aesthetic of the brand. It can be presented as a digital or physical collage of images, materials, textures, and text.
See an
example of a mood board
we developed for Stay'd, a meal delivery service.
22. REBRANDING
Rebranding
involves refreshing or reinventing an established brand for the purpose of repositioning. There are many
reasons to rebrand
, including communicating a new message, distancing the company from negative connotations, or expanding into a new market.
Here's an
example of a rebranding
that we led for 16 Handles, a frozen yogurt chain.
23. VISUAL DIRECTION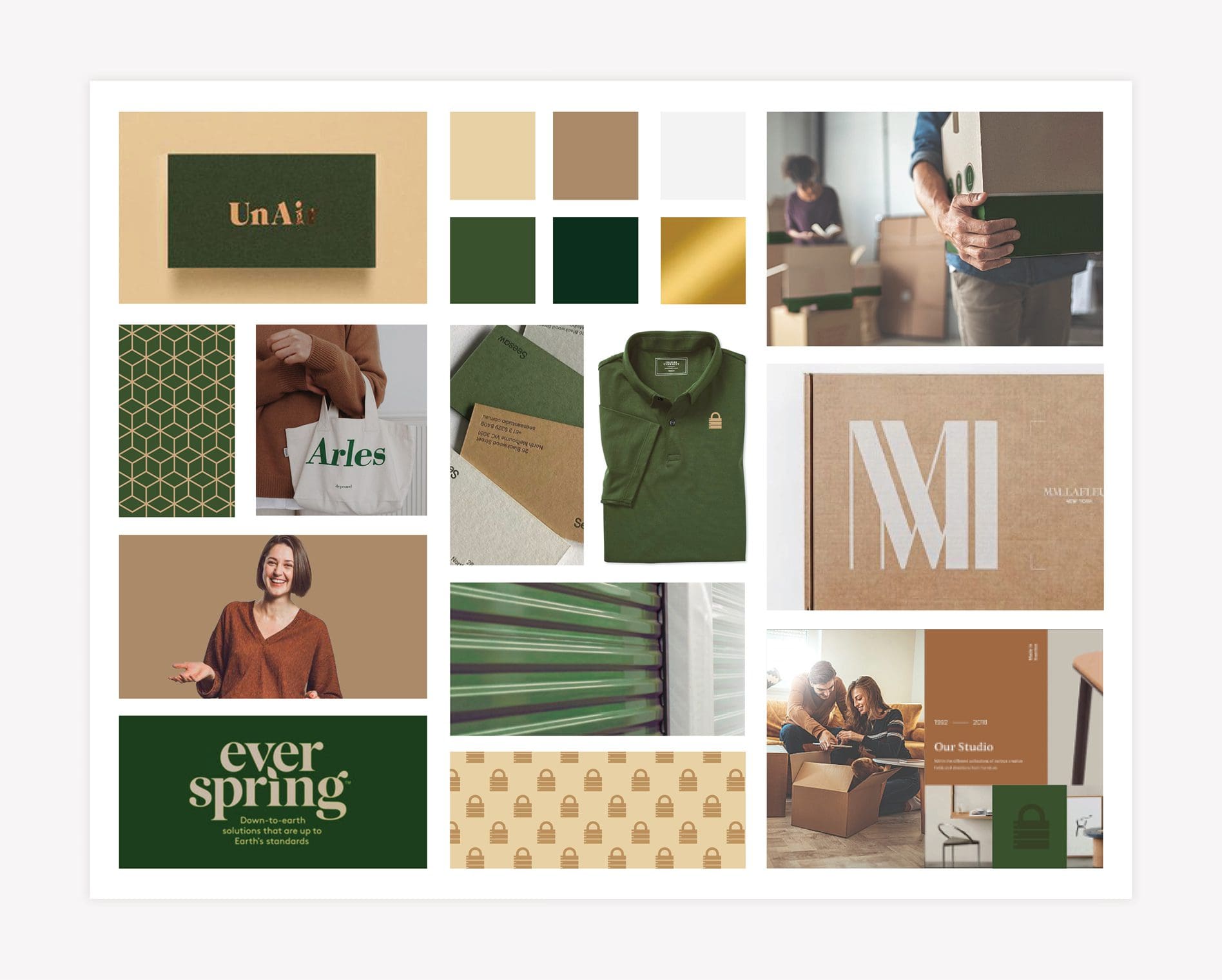 A
visual direction
will provide you with a foundation for developing creative elements that will ultimately be absorbed by the public. Like a visual roadmap for the look and feel of the brand, the visual direction provides clarity through the entire brand development process.
View some
examples of visual direction
we created for Century Storage, a self-storage business.
READY FOR A BOLD BRAND?
Now that you have a better understanding of common branding terms, you need a knowledgeable and experienced team of branding experts to build one for your business. Call us today to get started on your brand, and be sure to follow
Nice Branding Agency on LinkedIn
and
Instagram
for inspiration.