Graphic Design Support for Tractor Supply Company
While we specialize in building brands from scratch, our Nashville graphic design agency also loves supporting existing brands like
Tractor Supply Company
.
The nationwide retailer has an internal creative department, but with 1,900+ stores and a never-ending list of marketing initiatives, they need a reliable partner to handle overflow graphic design work while keeping the brand intact.
Enter Nice Branding Agency.
Our team
of interdisciplinary creatives has served as an efficient extension of Tractor Supply's in-house creative team providing graphic design, marketing strategy, content creation, and digital support for several years. We've worked on in-store materials, bag-stuffers, coupons, circulars, promotional materials, signage, billboard design, landing pages, and projects that are similar in scope.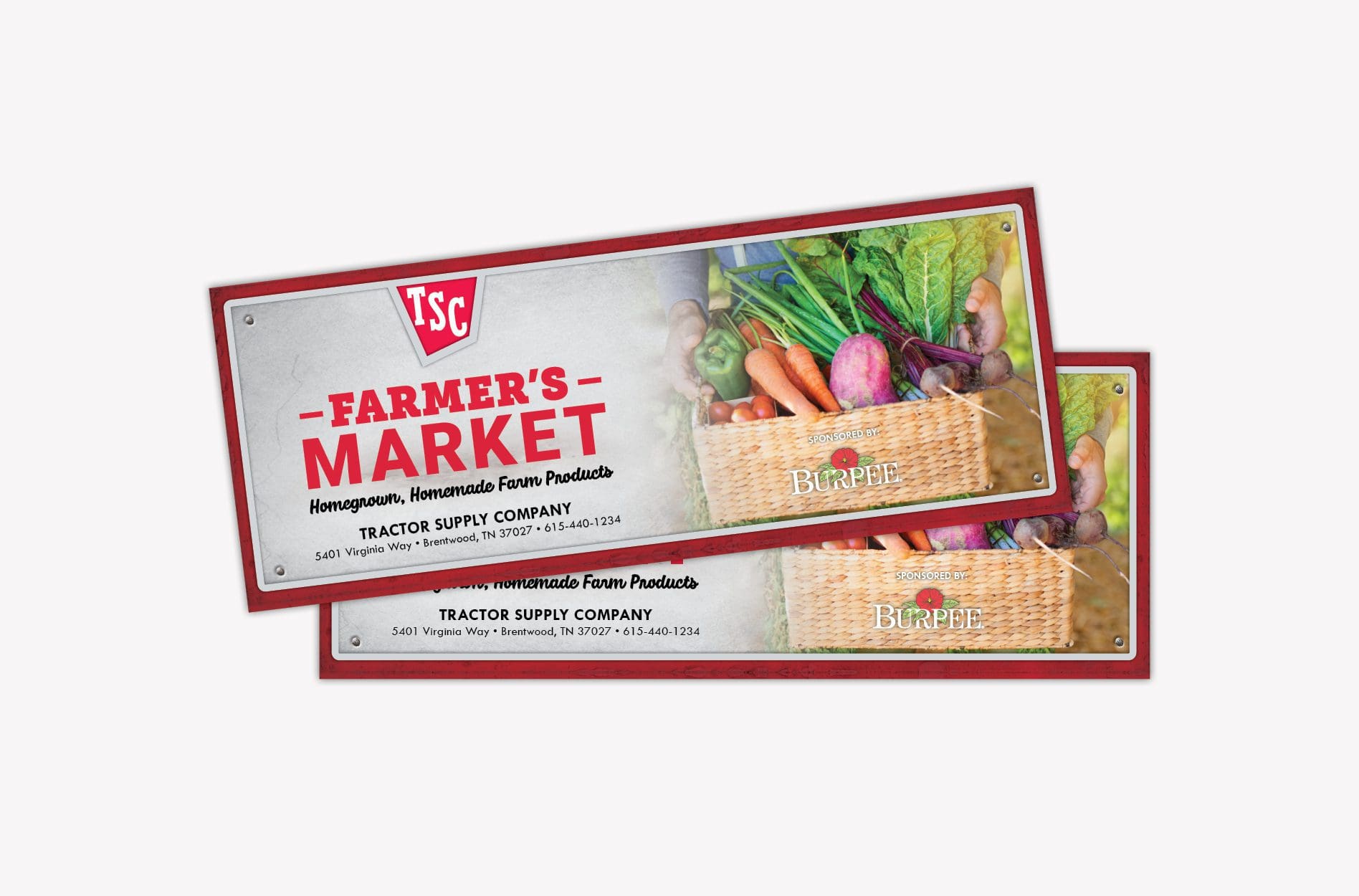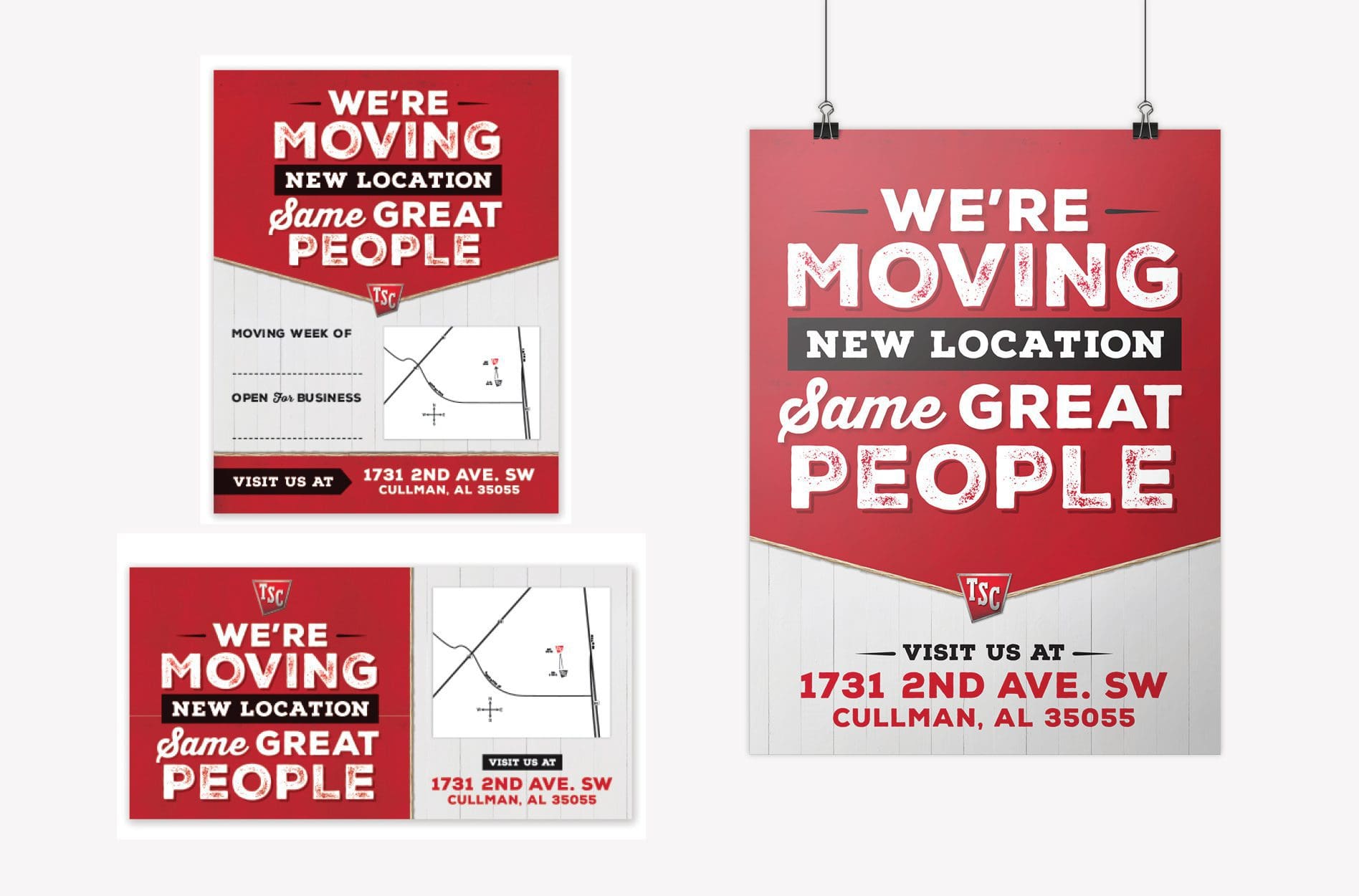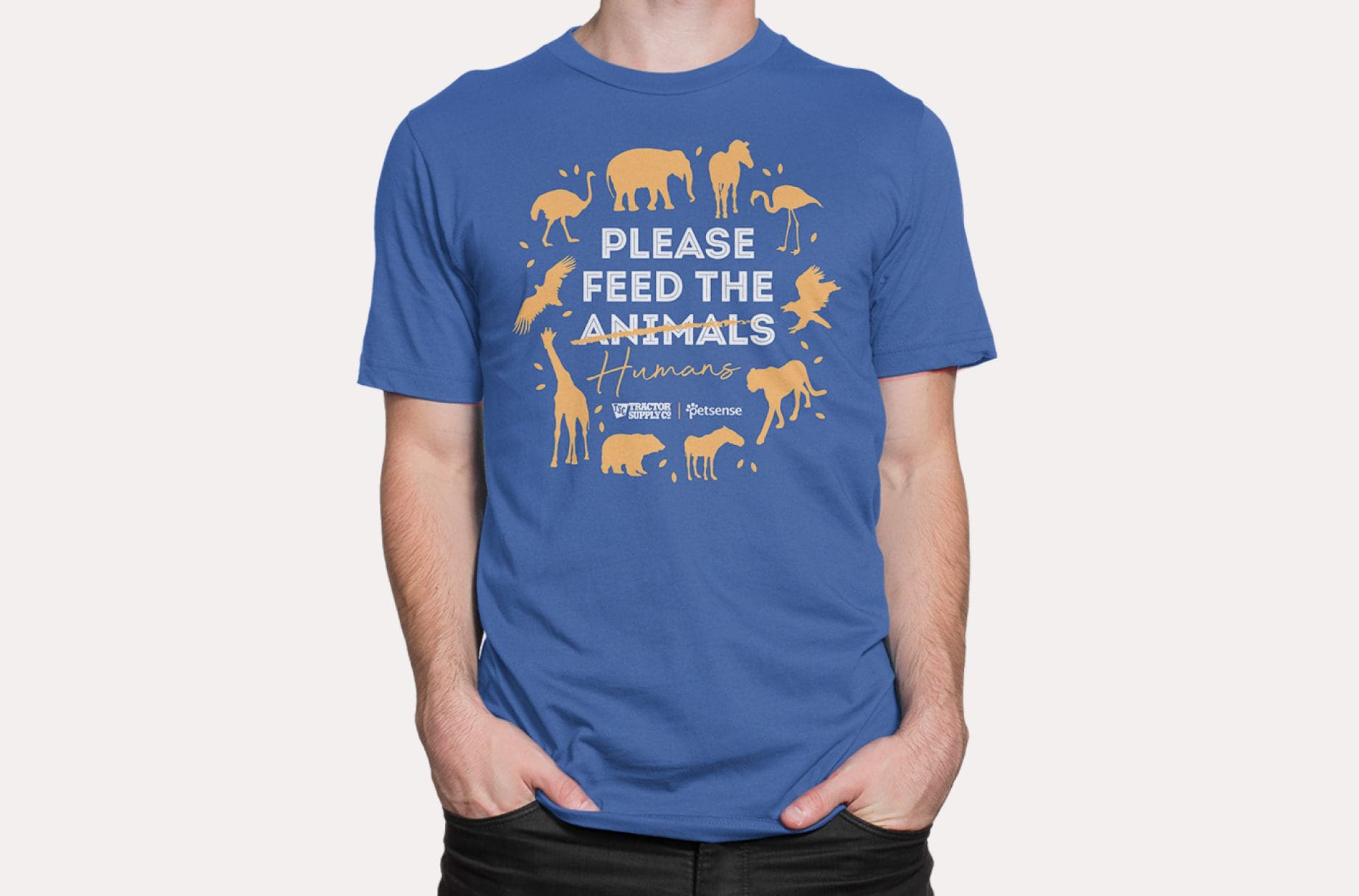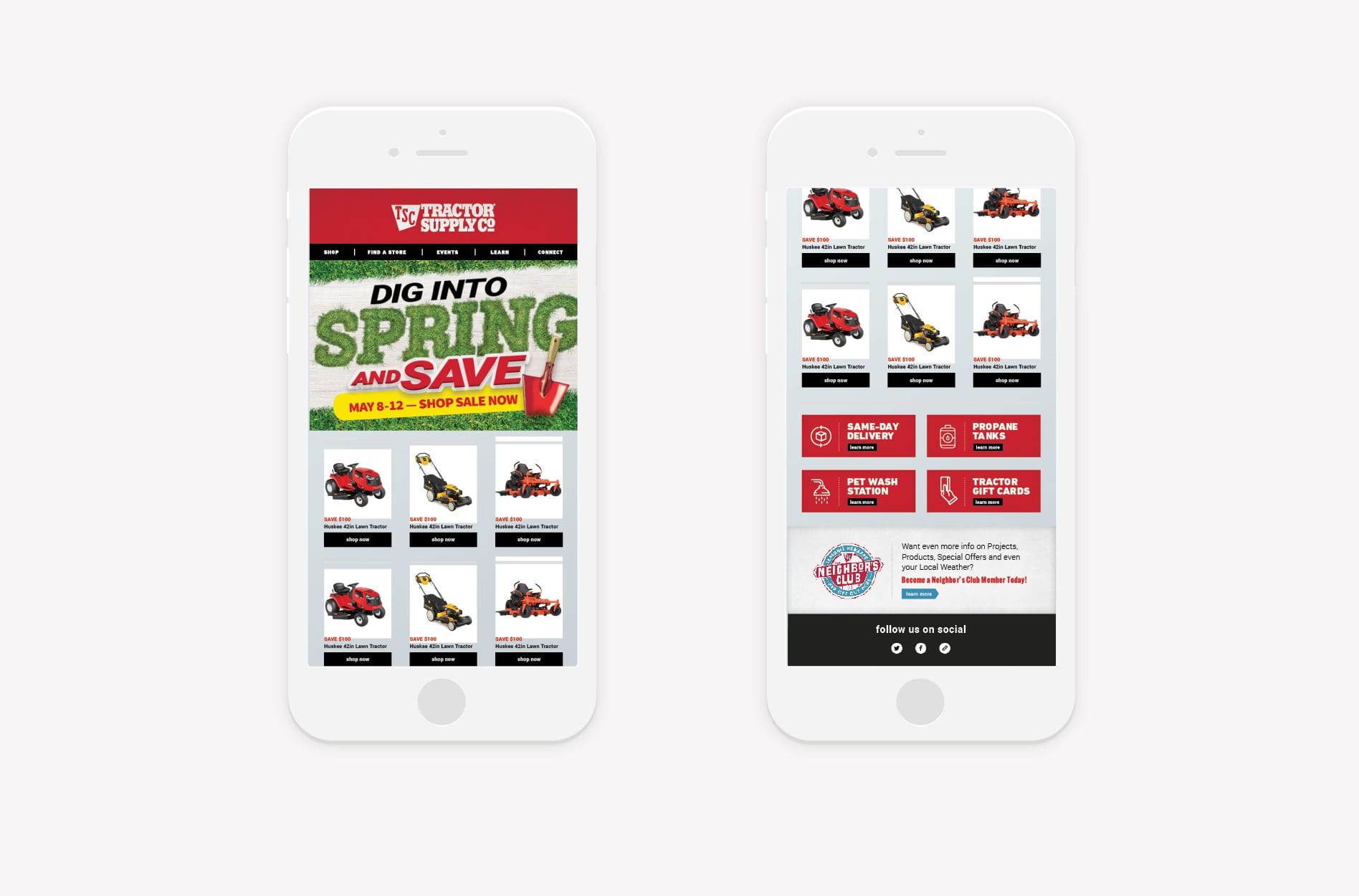 Although Tractor Supply Company has an existing brand in place, they can't hand over projects to just any Nashville graphic design agency. By entrusting their brand with a branding agency, they can rest assured that we will be respectful of existing brand guidelines—imagery, fonts, copy, etc.—and present ideas for improvement as we identify them.
Depending on the needs of Tractor Supply Company's in-house creative department, our team provides support in the following ways.
ONE-OFF ASSIGNMENTS
When working as an extension of an in-house team, our role shifts a bit. Instead of directing project schedules and determining scope, we are often taking direction and working our processes and timelines into larger overall campaign goals that are being managed by the client's team.
By integrating with their project management system, we can further align when it comes to proof approvals, revision sharing, and the management of final art files.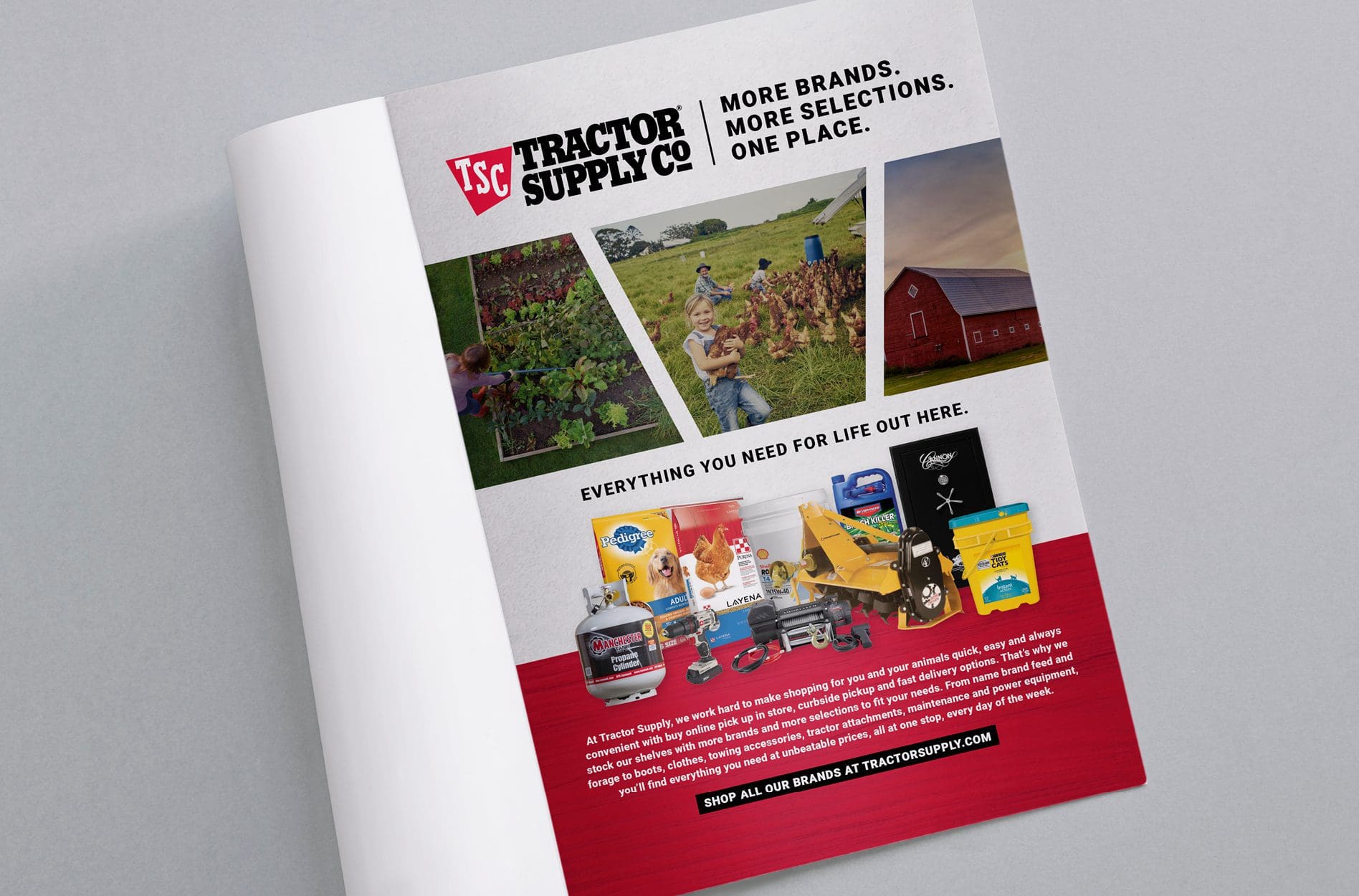 In order to seamlessly integrate with an in-house team, we have to respect workflows and processes. And so, at the start of our working relationship with Tractor Supply Company, we set expectations for turnaround times and outlined the process for approvals so that we could minimize the number of steps it takes for a project to come to completion.
The first way that we support Tractor Supply Company is by receiving and completing graphic design assignments in a timely manner.
The client will come to us with a specific project, such as making updates to a New Store Opening Tool Kit or a Pet Wash Coupon. They will provide a brief overview of the audience and objective, as well as specific instructions for updating the marketing collateral, such as replacing text and/or images. Our team will then get to work and submit the completed task by the established deadline.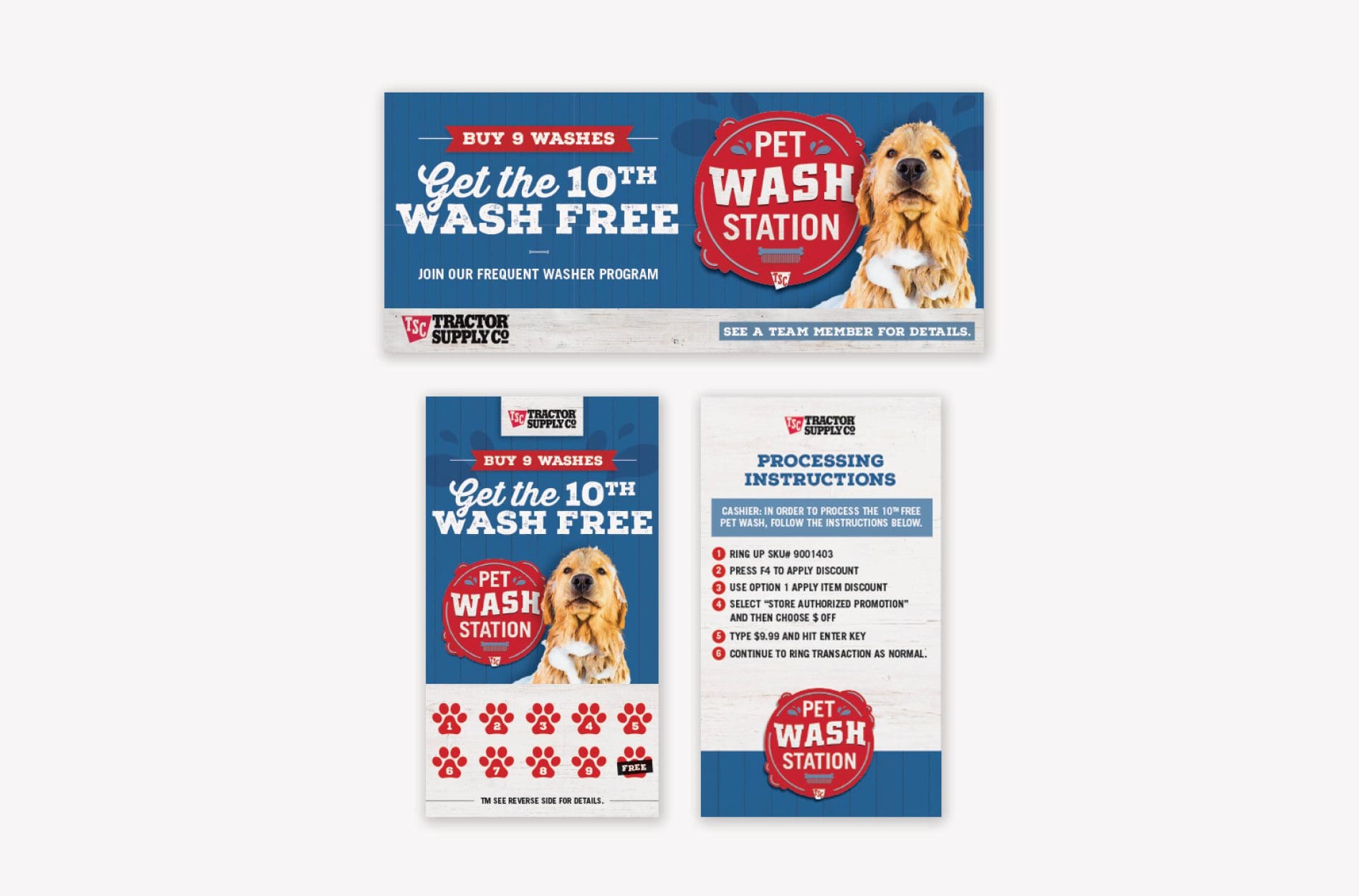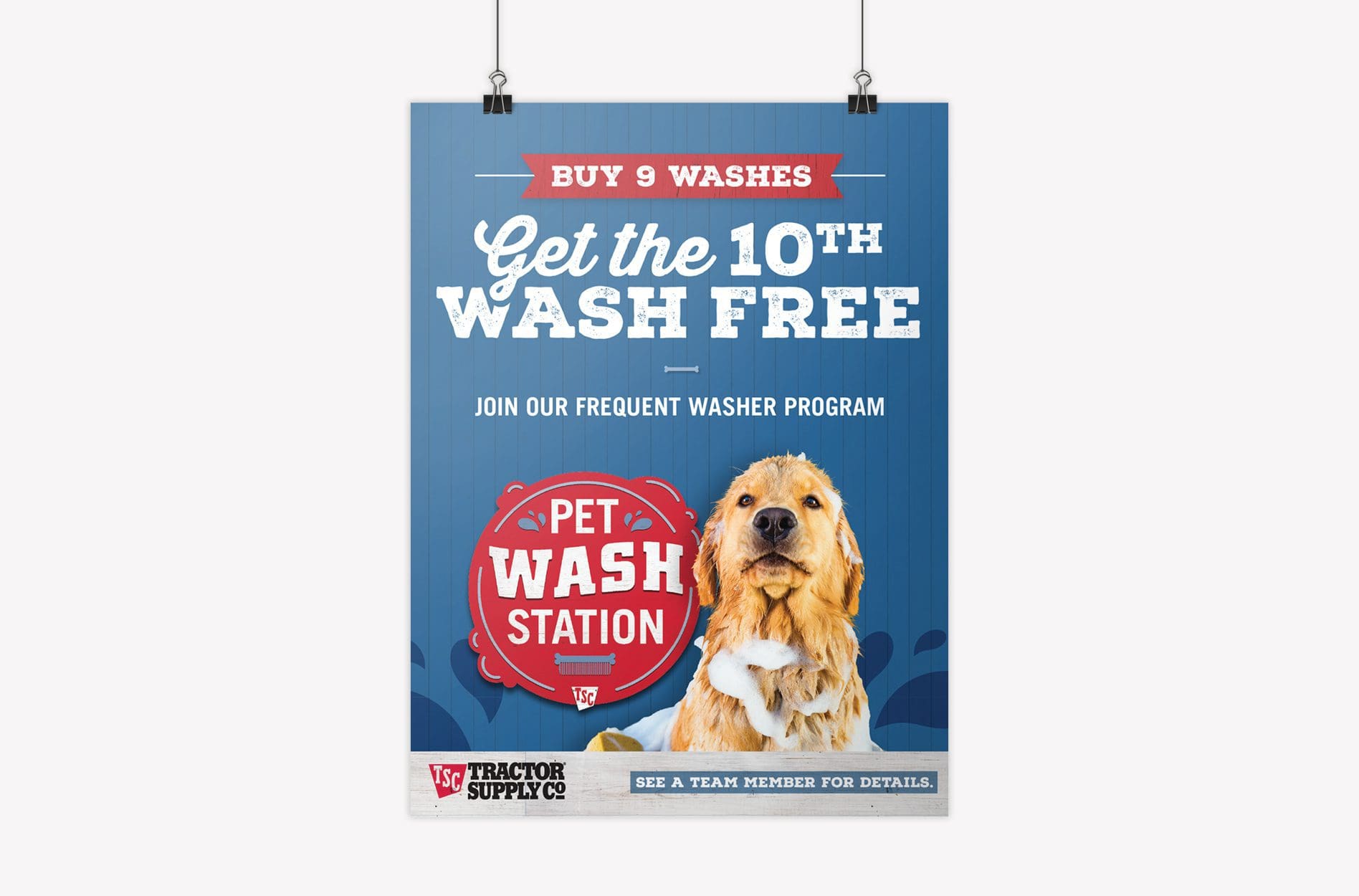 If we see an opportunity to improve the project, we will present it to the client. But, for the most part, we are simply taking direction in this supportive role.
Taking direction isn't always easy. We are the kind of girls who like to plan, schedule, and strategize, so working without a clear understanding of everything that's going on can be a challenge.
For this reason, we partner with businesses that we trust and that trust us. A good graphic design agency partnership means that we have an overall idea of the goals of the business, a solid point of contact, and expectations communicated up front. We understand that some things may change over time, but having a nice framework for working together tends to breed success on both ends.
RECURRING ASSIGNMENTS
Some of the graphic design support work we do for Tractor Supply Company is recurring. Before we engage in these types of ongoing projects, we participate in a training session, during which we take the time to learn the internal team's goals and processes.
Once we were fully trained on their process, we could tackle their recurring graphic design projects, including website landing page creation. The process typically begins with the in-house team submitting a request for a new job and providing the deadline. Because we were trained on the process, we can ensure its timely delivery.
As we progress through the recurring project work, we collaborate with Tractor Supply Company to refine the process to perfection so that both parties are feeling good about the workflow.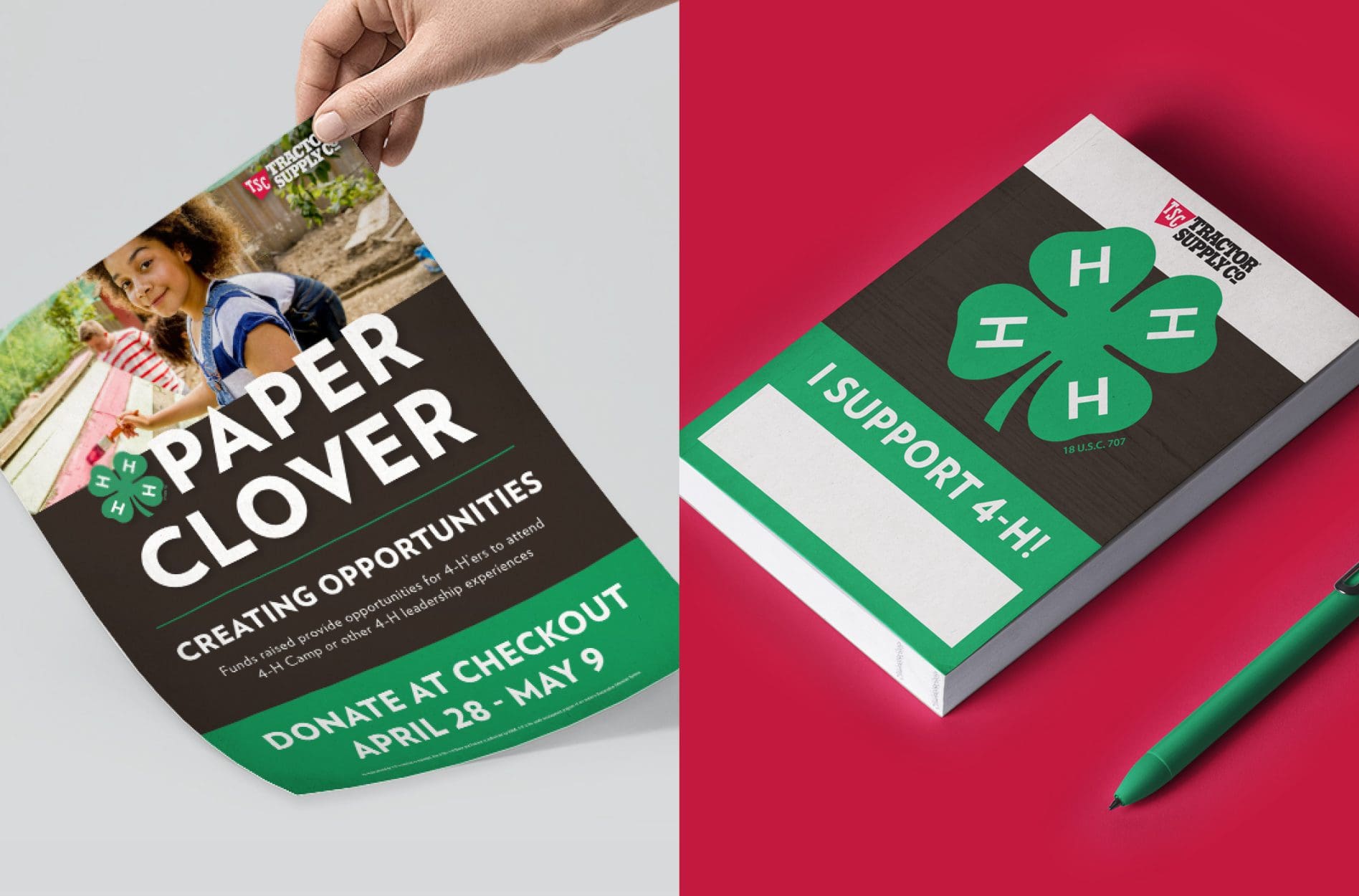 One such recurring graphic design job is a 4-H Toolkit that Tractor Supply Company utilizes to raise money for the nonprofit at the registers in each store. Every year, our team updates the toolkit with new dates and other relevant information at the request of the in-house creative department.
Once we receive the specifications, we'll get started on the job. After it's submitted, the in-house team at Tractor Supply Company will provide feedback and we'll go back and forth until it's approved and completed.
CREATIVE LEAD
Occasionally, Tractor Supply Company's in-house team will ask us to take the creative lead on a project. In these instances, we transition from a supporting role to the role of graphic design strategist, wherein we get to flex our creativity and strategy muscles. As opposed to a more simple graphic design project, we think deeper.
One of our favorite such projects to date is the creation of
custom gift card designs
, as well as a gift card display hanger and POP display, which would be used in Tractor Supply Company's stores.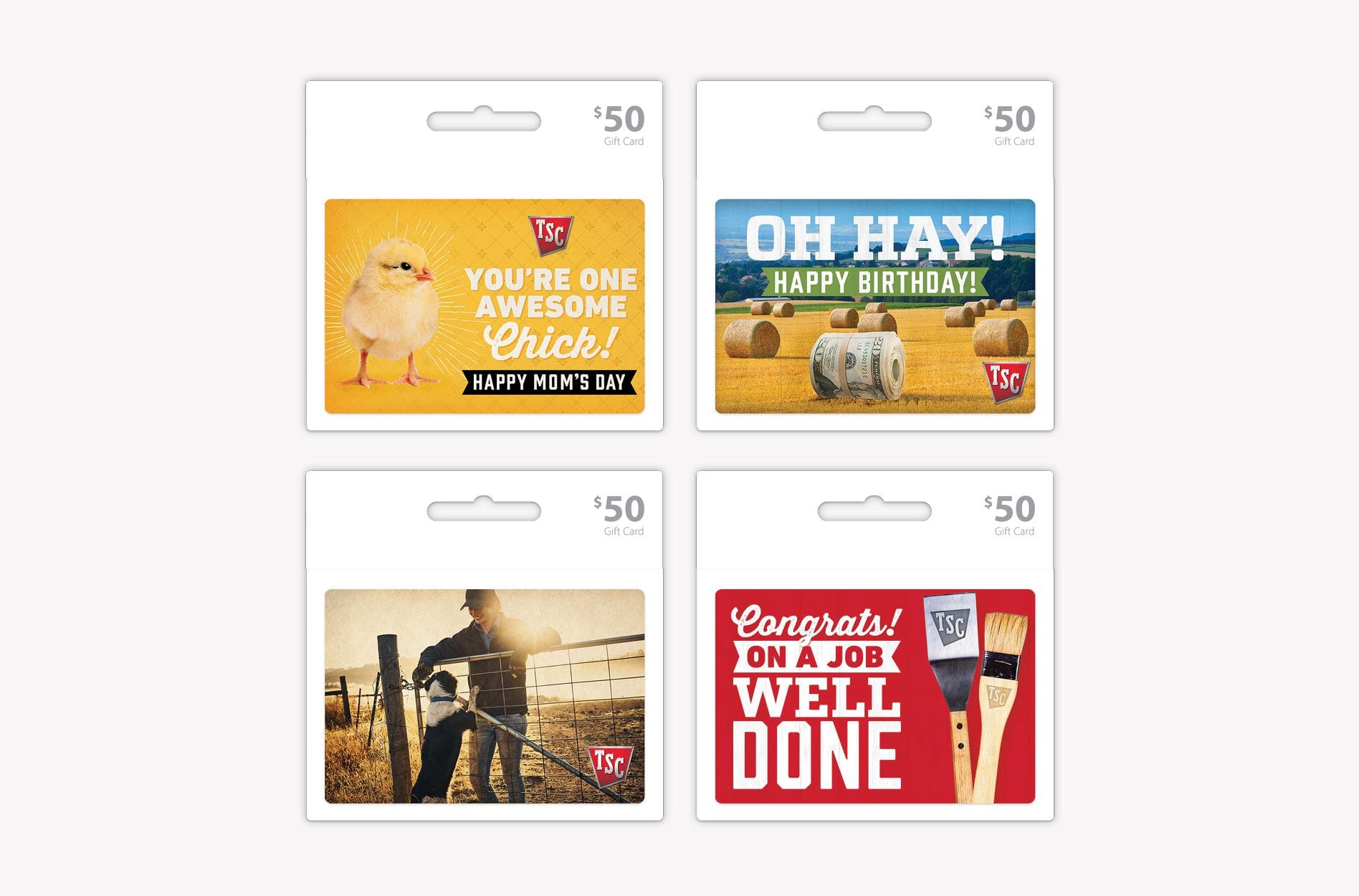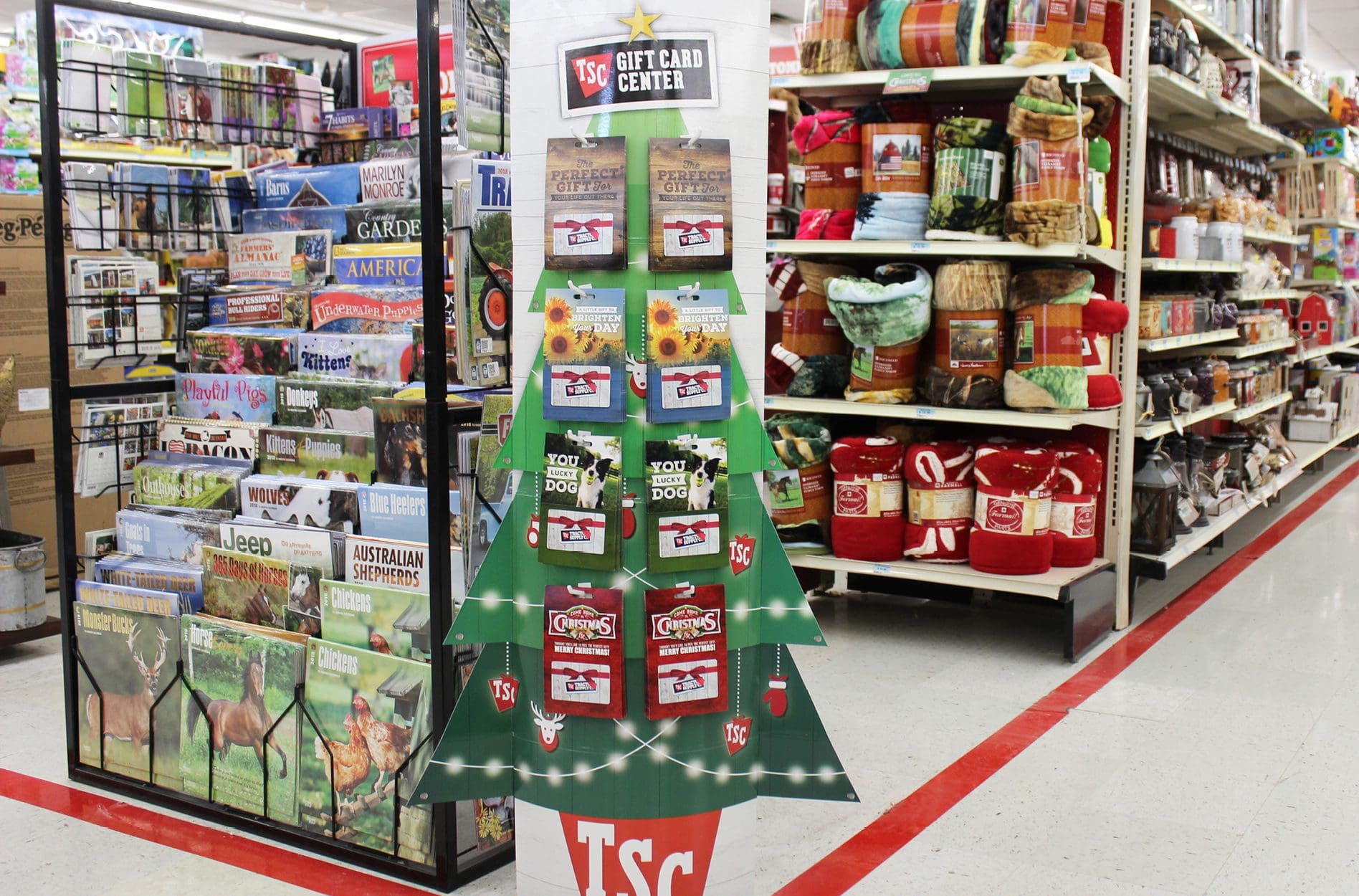 We were tasked with concepting and creating a number of different gift card design options for the holidays and year-round to be reviewed by their creative department. Since gift cards are crucial in a retail environment, we needed to ensure that the card designs and displays were both visually appealing and on-brand.
In order to tackle this project, we researched many retail stores for gift card trends and concepts that might spark a new idea. Ultimately, it comes down to taking what Tractor Supply Company sells and weaving the products into a creative message that pairs well with the theme.
We generally developed graphics that aligned with products that Tractor Supply Company sells, but in a creative manner. For instance, when we created a gift card design for Valentine's Day, we chose messaging that was a clever nod to their gardening tools and aligned with the brand voice: "We Dig You."
By incorporating the brand voice, product offerings, and creative design concepts, our graphic designers elevate the brand in a fresh way that appeals to its target audience.
STRATEGIC COLLABORATION
The fourth and final way that we provide ongoing support to Tractor Supply Company is through strategic collaboration. In this case, we're not simply taking direction or leading, but rather participating in the creative ideation process.
For instance, when the company was developing a new product line,
Ridgecut
, they invited our team to join in on the initial brainstorm meetings. The client relied on our team's creative strategy, branding, and marketing expertise to help determine how to market or promote the new product.
We also took the role of strategic collaborator on a website home page redesign project. The in-house creative department at Tractor Supply Company asked our team to come up with some options to consider.
Before we started designing, we thought a lot about the consumer and the retailer, and what the retailer wanted to say versus how the consumer might want to receive it. We thought about the order that the information would be served and the different ways to serve it on the website. We then thought about how the page was going to look.
From there, we researched what other national retailers are doing, including the order, design, words, and the look. Next, we thought about trends and how the world consumes information in the present times.
We took all of those thoughts into consideration and sketched out a wireframe on paper. While sketching, we think through the different options to present and how we need to articulate them.
This is what we refer to as strategy. Most people think the end result is simply a product of a designer sitting down and designing it out, but there's a ton of thinking behind everything that we do and that's where we spend most of our time, in deep thought, analysis, and strategy.
NEED SUPPORT FROM A NASHVILLE GRAPHIC DESIGN AGENCY?
Our partnership with Tractor Supply Company has stood the test of time because of our attention to budgets, workflows, timelines, and brand guidelines, as well as our client's ability to trust that the graphic design work we do will be on point.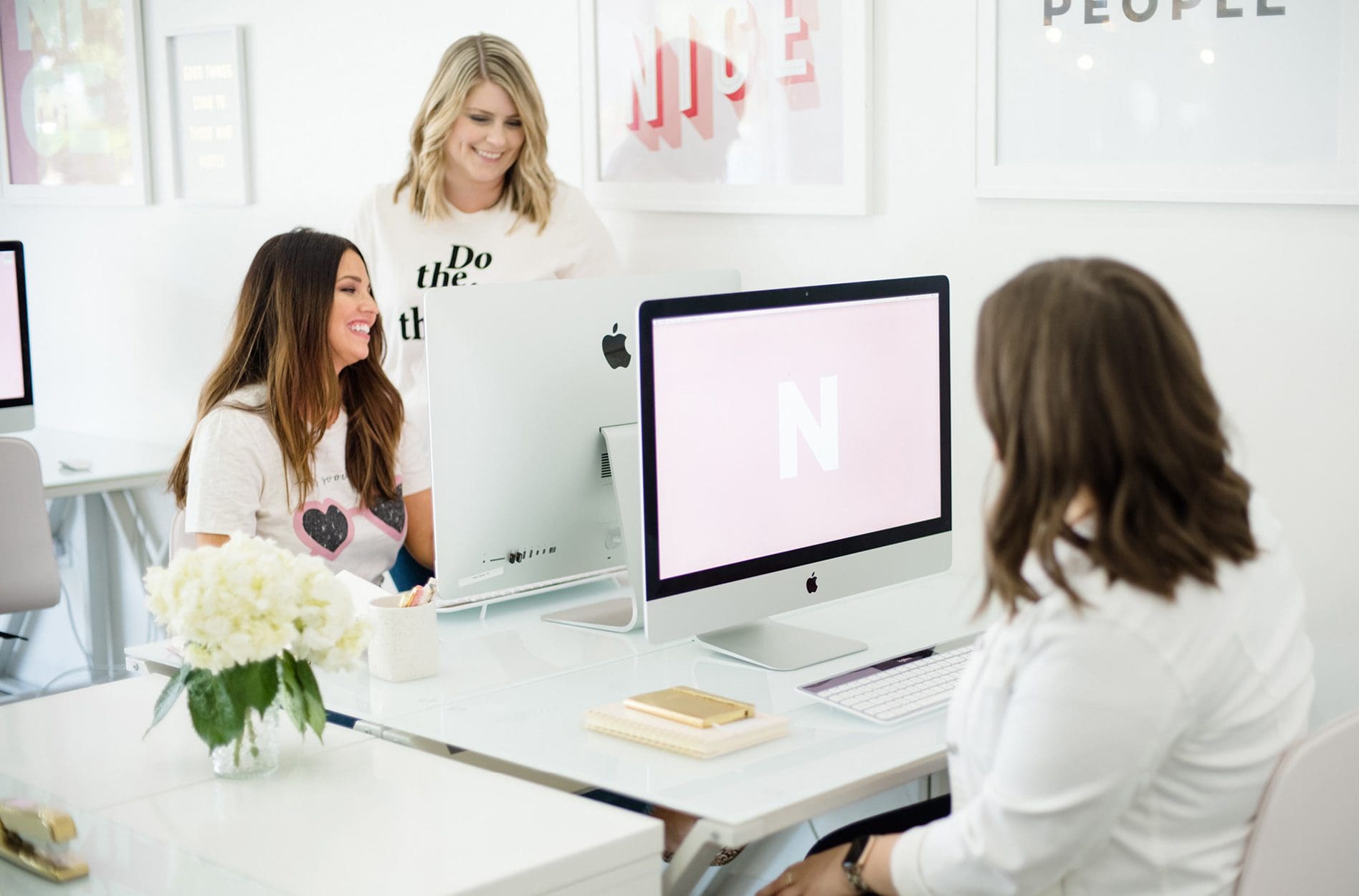 At Nice Branding Agency, we do what we say we're going to do 100% of the time. If you need something, we're nimble and can deliver high-quality, on-brand graphic design on time and on budget. With a dedicated project manager, you'll never have to worry about if or when your work will get done, you'll know.
If your organization is looking for a Nashville graphic design agency to take on overflow graphic design work or special projects,
we would love to chat
.
Follow
Nice Branding Agency on LinkedIn
and
Instagram
to see more examples of our work and learn about our process for providing graphic design support to brands.