Project Showcase: King + Cat Branding Project
You might be wondering what the Nice girls are doing calling themselves a construction branding firm.
With all our pink, it would be easy to believe construction isn't our forte, but the truth is quite the opposite. The Nice Branding Agency team has been creating brands in the construction industry for more than a decade.
Need proof? Check out this branding project for Chastain Skillman, the website we created for Marcobay, the Springer branding and marketing materials we've created, and the branding we recently completed for Stuart's Plumbing. And these are just a few of the construction firm branding projects we've worked on over the years.
So, it's actually no surprise that our longtime client and friend approached us last year and requested our firm to dig into a new business venture within the construction industry for him. The company would provide excavating and land-clearing services to residential clients in Asheville, North Carolina.
We're fortunate that our client for this project was well versed on the importance of branding. In fact, we worked with him previously on a large-scale corporate branding project. So from the very beginning of this project, we had his full confidence. Working with a client that trusts the branding firm he hired always has a positive impact on the branding project.
In this case study, we're going to deconstruct our process for building a construction brand, starting with name development.
The Naming Process
Every business needs a name. A business name doesn't need to tell your whole story, but it should capture the attention of your target market and elicit some sort of emotion or reaction. In this case, we were hoping to convey competence and professionalism, while still positioning the construction business owner as someone who is approachable within his local community.
The excavation and land-clearing company is owned by Ralph King. King is extensively experienced in excavation and was starting his business as a one-man-show in Asheville, North Carolina. 
Our goal was to create a construction brand for the business that would establish him as a professional entity, and one that would be able to gain the respect of estate owners throughout the region. We got to work to assemble a business name that personified the service, while leaving a lasting impression in the customer's mind.
The business was a sole proprietorship and its impending success was centered around the reputation that Ralph King had already earned in the area. We wanted to leverage this, while also conveying his process for excavating land. As with any good business name, it also needed to be available for use, meaning there couldn't be an existing business with the same name in the same industry. 
We started the naming process with research into the business and the industry. We looked at local competitors and talked with the client extensively about the target market and ideal projects. We determined what made Ralph different, and why clients would want to hire him.
Then, our branding experts set to work individually brainstorming ideas. Business naming is no easy feat, and once we have a slew of options generated from the brains of various brand strategists, graphic designers, and content developers, we put them up on the wall for consideration. Literally. We write all of the business name options up on the wall and examine them from a user's perspective to see what will stick.
We then narrowed down to a list of our favorites. The name options that made the final cut were those that we felt accurately conveyed the nature of the construction business and would elicit some sort of response from the viewer. The process of narrowing names is cutthroat and only the best make the cut.
With the short list in hand, we then got to work checking to see whether each of our name ideas was already being used somewhere. We do an initial search on the trademark search system, but that's as far as our trademarking support goes. We recommend that our branding clients work with their attorney to trademark their company name and logo design once selected.
Based on the available names, we then determine whether there are domain names available that pair seamlessly with the business name options we're planning to present.
At this point, some of the names started to really stand out, and we began to notice that we all loved the business name options that included the word King. Those names aligned so well with positioning Ralph as the King of excavation in Asheville, North Carolina.
Bouncing around a few ideas, we also settled on incorporating his ever-faithful steed, a Caterpillar Excavator, "Cat" for short, into his brand name.
Put the two together, and you get a King and Cat to rule excavation projects in this mountain community in North Carolina. Upon presentation of the business name options, the client selected King + Cat and we set to work implementing a brand look and feel around the new business name.
Logo Design
Directly following the naming project, we dug into developing a construction logo for King + Cat.
Sometimes in the branding process, things just fall into place. And having the "K" in "king" take on a look that could resemble an excavator arm was really was just a result of luck — good clean living over here, ya know.
Not every average joe graphic designer would have made that correlation, but the team of brilliant branding experts at our construction branding firm were able to visually see how an excavator and the letter "K" worked together. Then they created a logo icon that truly ties in both the K initial and the equipment.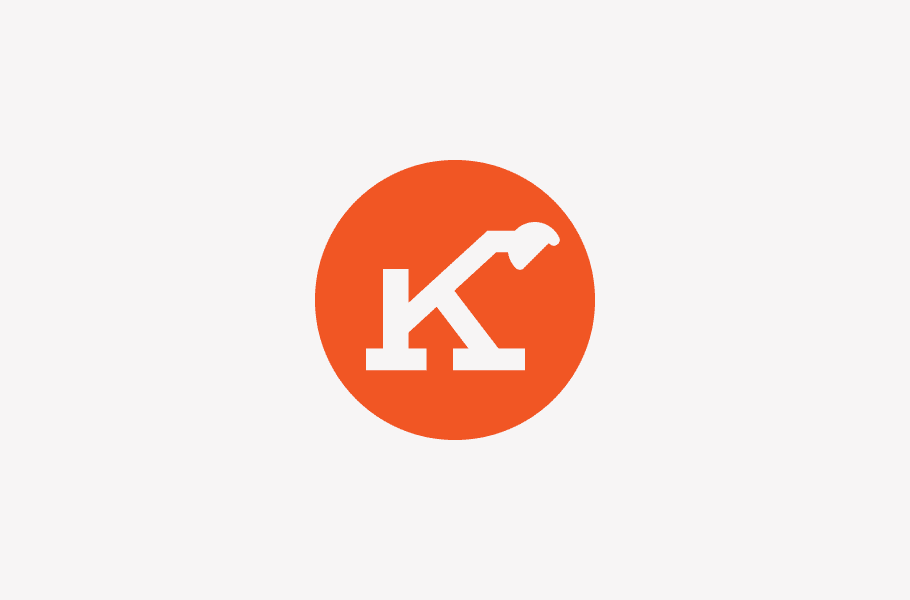 Drawing on our color psychology knowledge, we selected the color orange as a main brand color for its energetic, confident vibe. We were able to pair it up with black and white to create a brand look that stands out and catches the attention of Ralph's potential customers.
A simple font selection for "King + Cat" was utilized to direct focus to the logo icon, while also clearly connecting the name of the construction business with this newly constructed symbol for the brand.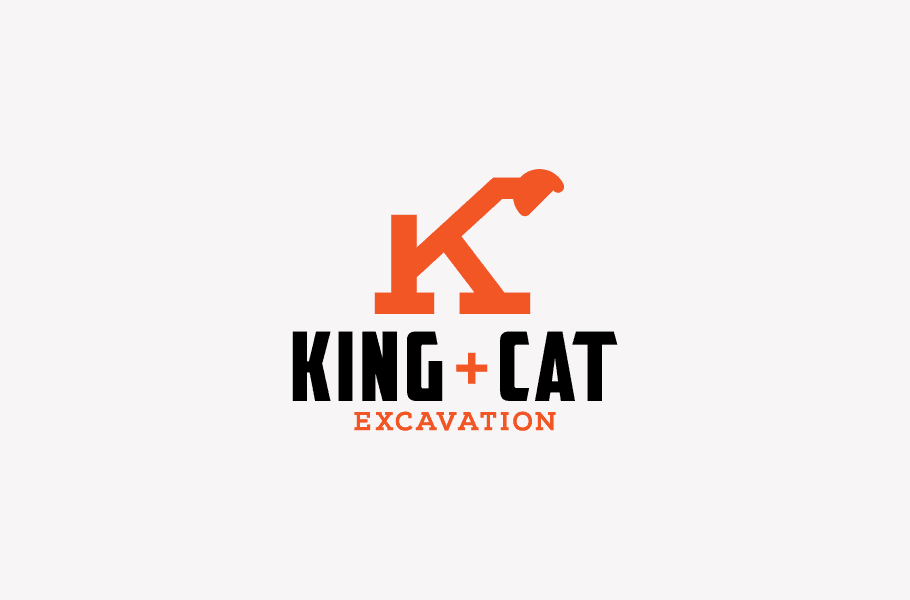 Stationery Design
With the construction logo wrapping up, we turned our attention to the business stationery design. To start, we began with the business card design. Here, we pulled in the bold, brand-specific orange color to flood the back of the business card. The information was typeset to draw attention to the name and contact information, while showcasing brand fonts and conveying a sense of professionalism.
The front of the business card featured a prominent placement of the logo design, and the result was a straightforward and impactful business card.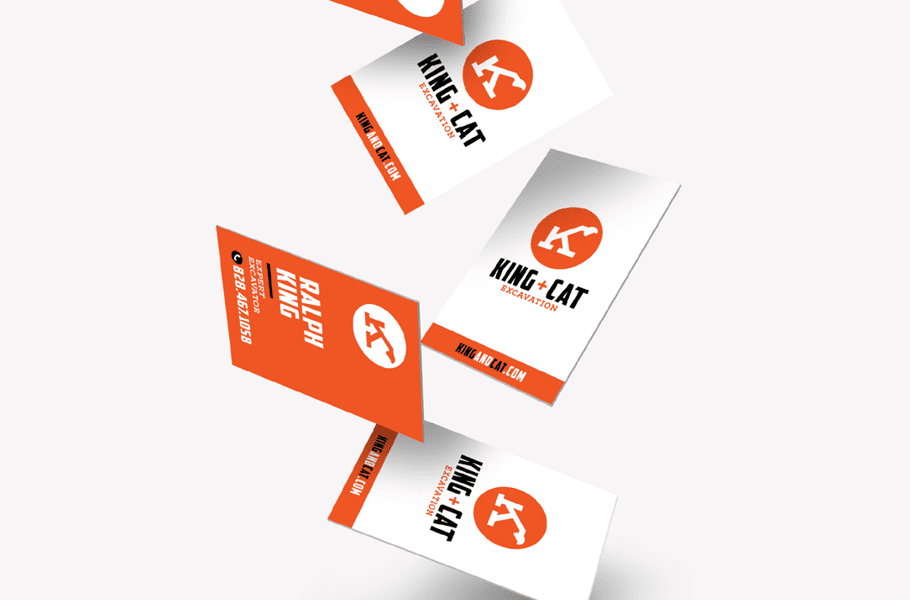 Once the client approved our business card design, we completed the stationery suite designs, including a custom letterhead, envelope, and notecard that all included the new logo design, logo icon, and pertinent contact information. We provided the final print-ready files to our client and also coordinated printing with our professional print vendors.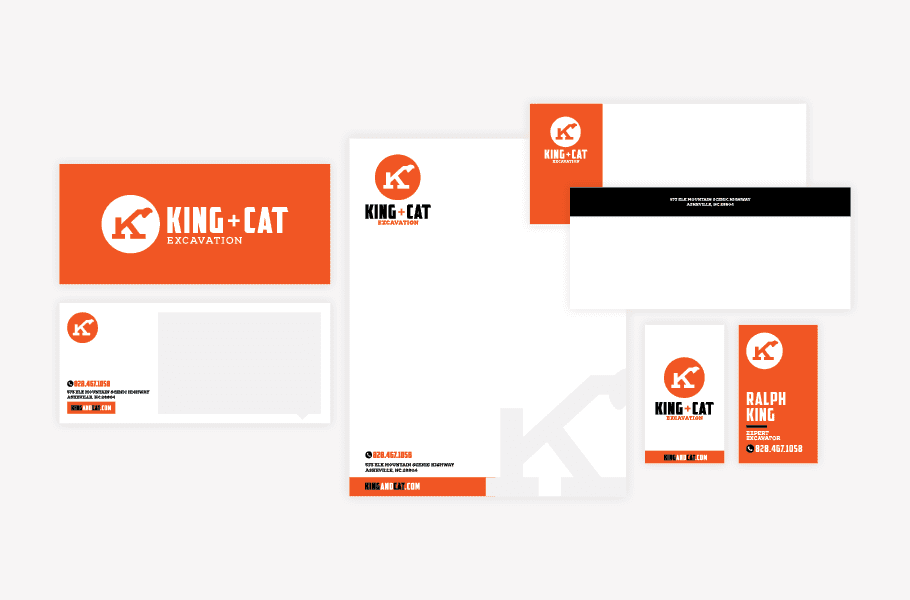 The Website Building Process
Now that we had laid the foundation for the brand, it was time for our construction branding firm to continue building it out through the design and development of a simple construction website.
As a new business getting off the ground, our client knew the importance of having a well-branded, user-friendly website. His business was small, but that was all the more reason to have a strong, established presence online. The website would create a legitimate, professional image for the construction business that would be available to clients and potential clients 24/7.
There are six steps that our website development firm undertakes in building out custom WordPress websites for our clients, and the first step is to create the website wireframe.
During the wireframe process, we outlined the top reasons a user would want to visit the King + Cat website. Once we have this information, we can then tailor the user's journey through the website toward those goals. So, in this case, the goal of the website was to have people call for a quote, or to fill out the contact form in order to get more information.
We needed the site to be able to gather contact information from visitors. Since Ralph is a one-man band, he needed the website to provide the info potential clients would need and then capture their contact info so that he could reach out when he's out of the field. This guy truly does it all. 
Based on these goals, we pared down the structure of the website to guide the user appropriately. Gone are the days of putting anything and everything about your business on your website. Now, websites are used as a sales tool, and user experience is crucial in allowing your website to help you achieve your goals.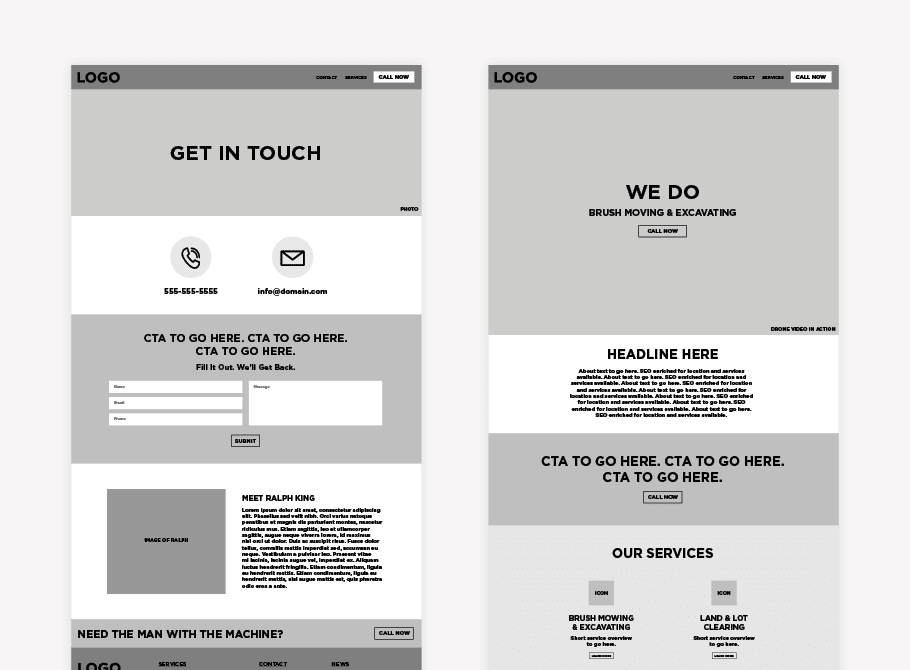 With all of those needs aligned throughout the website wireframe, we moved on to the website design phase.
Sidenote: We equate building a website to building a house in many ways. If you're interested, you can read our construction branding firm's article on how building a website is like building a house. So, that means that we don't do the designing until the blueprints are completely approved. And in this case, the blueprint is the website wireframe.
The construction website design for King + Cat focused on populating the wireframe with content and imagery that would allow the visitor to connect with the business within three seconds of landing on the website.
To accomplish this, we used video behind a strong headline at the top of the website. The homepage features Ralph clearing a lot in Asheville, North Carolina, which directly displays what type of work he does, which is helpful if a consumer is unaware of what a Cat or an excavator is.
From there, our website copywriters developed concise messaging to share about his different services and what a customer can expect when they work with Ralph. 
Throughout the website, there are call-to-action buttons to "Call Ralph" or to submit a form for more information. It's all about closing the lead and connecting them with the excavating extraordinaire.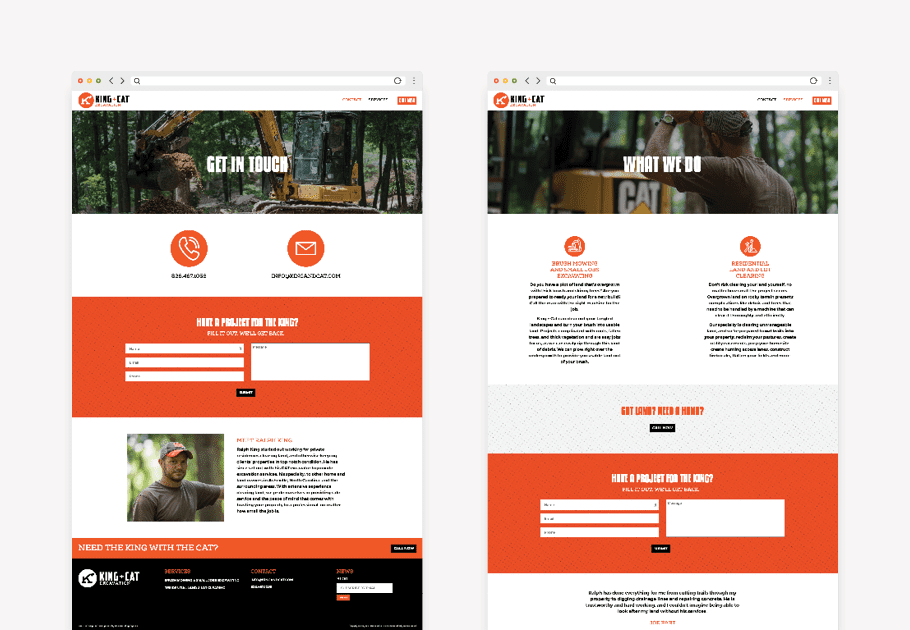 The construction website was custom-developed on WordPress, which would allow our client to make key content edits in the backend himself. Additionally, the website was designed and developed from a mobile-first perspective. It's completely responsive on various screen sizes.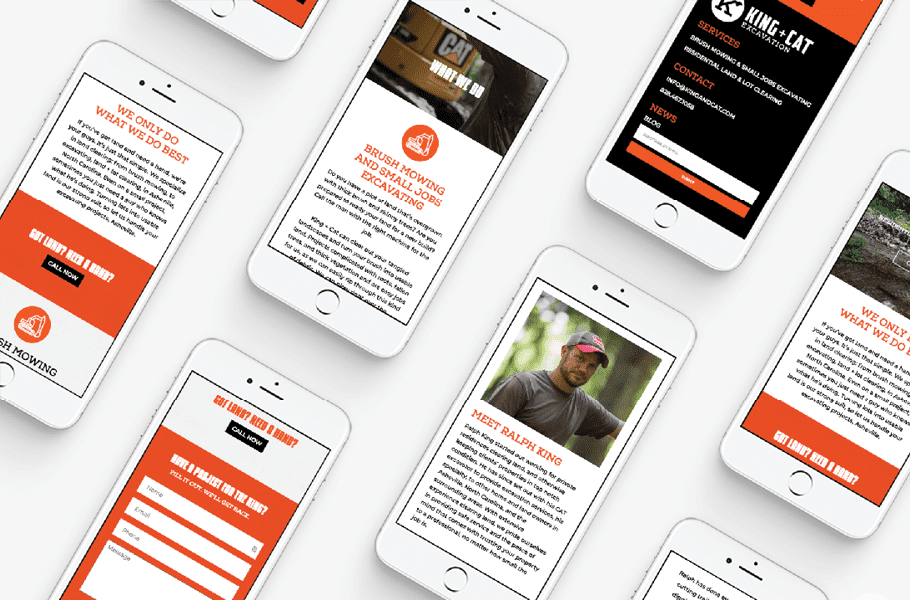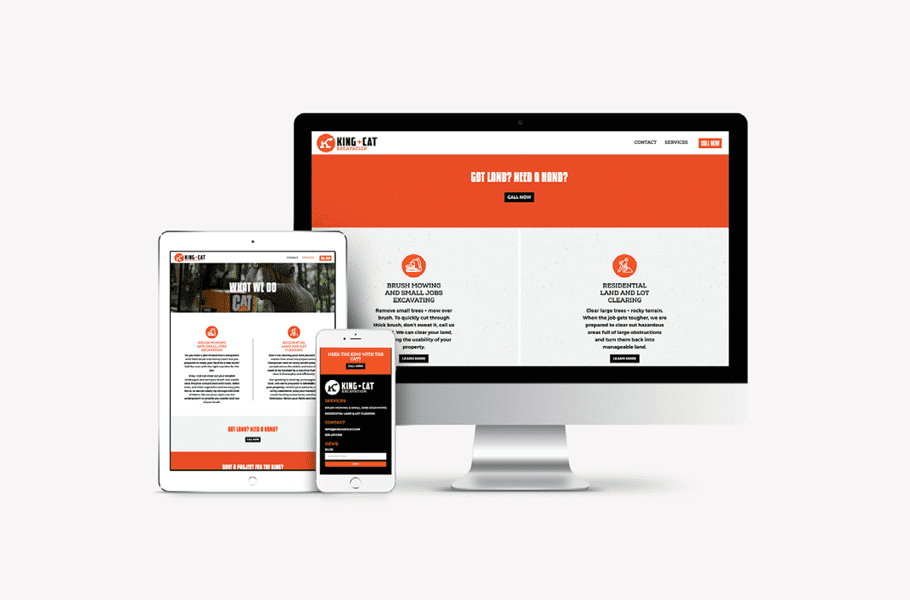 Even for a one-person construction business, professional branding is essential. Without great branding, it's hard to establish your business -- at any size — as a professional venture that can gain the trust of potential clients. 
Contact our Construction Branding Firm
If you're building a construction business or any type of business that needs branding, and you are ready to sub out your brand to our construction branding firm, then contact Nice Branding Agency today. We'll dig into your company to develop a brand that will stand strong for years to come.