4 Tips for Implementing A Social Pack
A Nice Branding Agency Social Pack is a collection of 15 high-quality, professional,
custom social media posts
that you can use more than once in order to strengthen your brand over time on your social channels.
Created with the intention of being evergreen content, each professionally designed social media graphic aligns with your brand's visual direction, while the corresponding social media caption is written in your brand voice and features key messaging.
The goal is to ensure brand consistency throughout your feed and across social media platforms. Your Social Pack content allows users to get to the heart of your brand and connect with the core of your business as they peruse your social media pages.
In order to help you get the most out of your Social Pack, we've put together a few tips: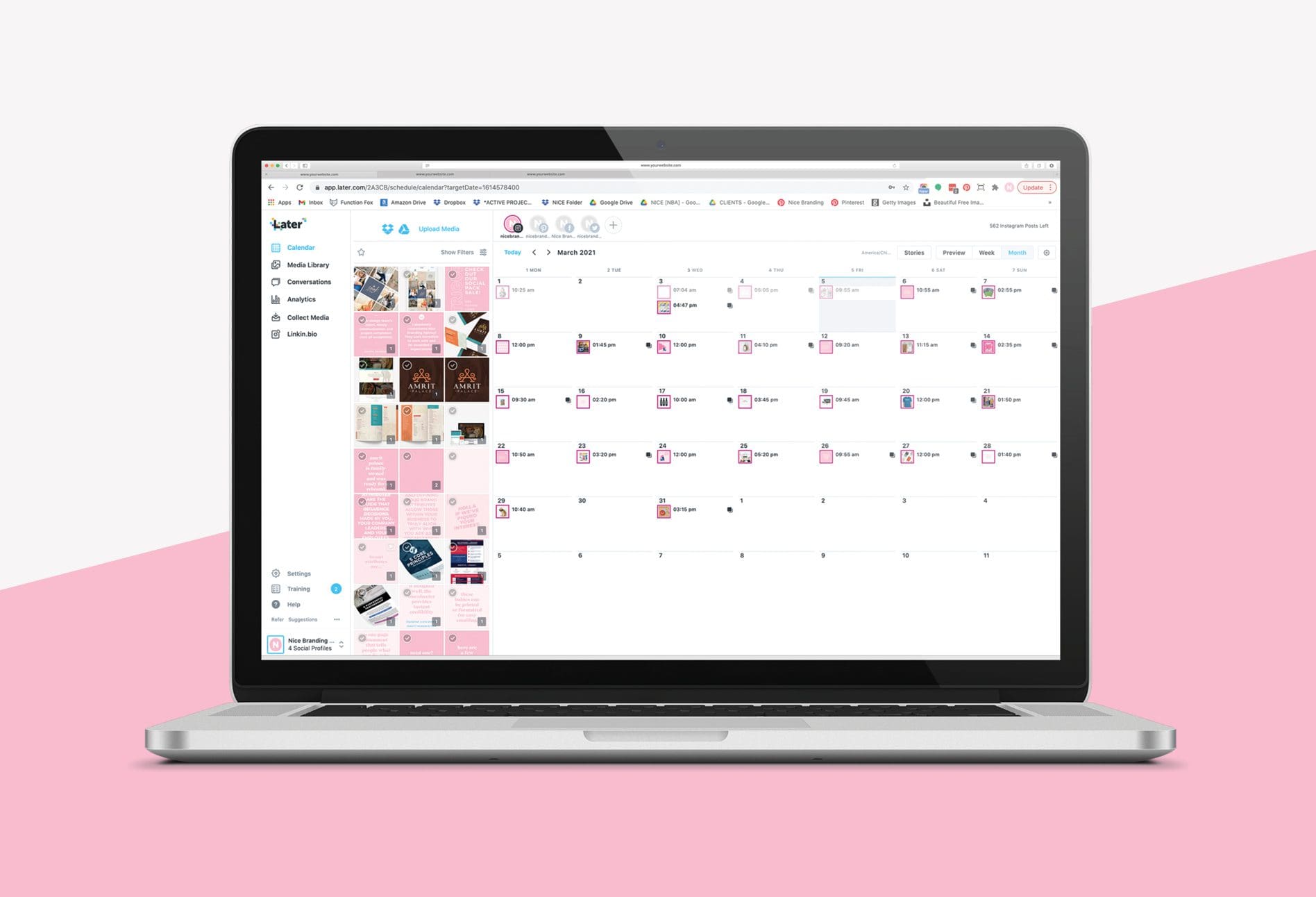 1. SCHEDULE YOUR SOCIAL PACK POSTS
You can and should schedule out your 15 Social Pack posts so that you always have something branded in the pipeline. Spreading them across one quarter of the year, and then rescheduling them in another quarter, or even all quarters of the year, allows you to get a lot of run time out of your Social Pack investment.
The easiest way to do this is with a social media management tool like
Later
(best for Instagram),
Loomly
(best for optimization across platforms), or
Buffer
(best for additional features).
Remember that the beauty of a Social Pack is reusable, branded content. Each time you publish a post, it reinforces your brand's visual direction, voice, and key messaging. By scheduling out the posts, you save yourself the time and energy it takes to come up with fresh content every single day.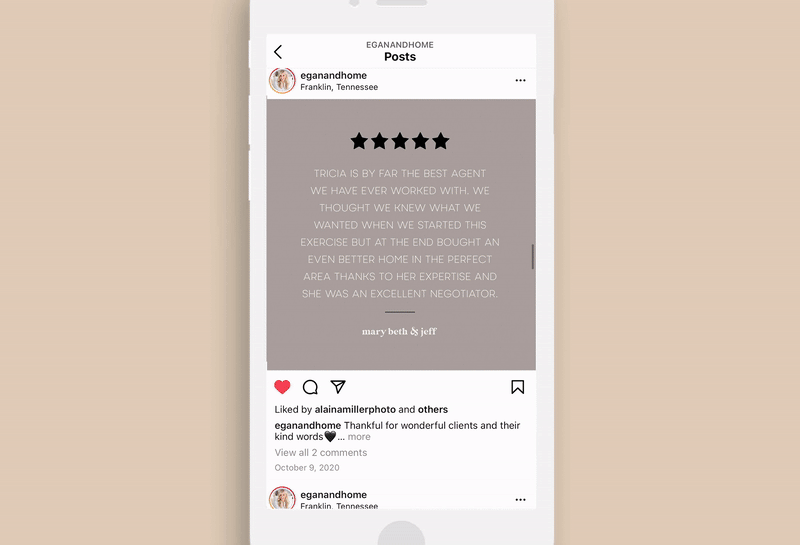 2. USE SOCIAL PACK POSTS TO SUPPLEMENT REAL-TIME CONTENT
Social Pack posts are meant to supplement—not replace—the authentic, real-time, and behind-the-scenes content that you regularly share on social media. By peppering in Social Pack posts, your feed will, at a glance, give new and existing customers an accurate and enticing sense of your brand identity, and connect them to the personality of your business.
To get the most out of your Social Pack investment, we do not recommend publishing the 15 posts back to back. The posts will have a much bigger impact on your audience if they're spread out over time.
For inspiration, check out this
Social Pack blog
, which outlines our process for developing a Social Pack for Nashville realtor Krista Jameson. Then pop over to
Krista's Instagram account
to see how she has successfully implemented her Social Pack posts into her feed.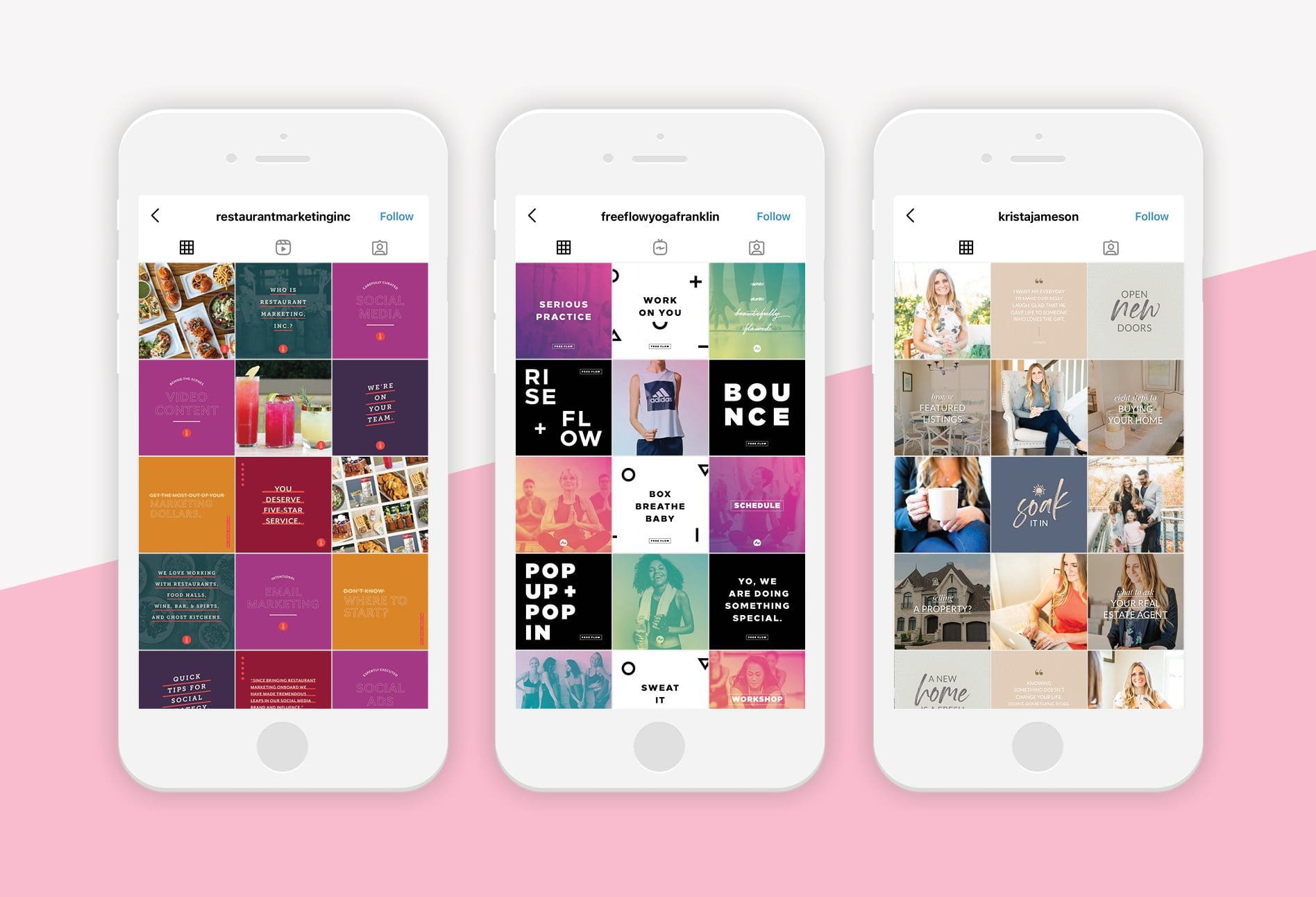 3. POSTING FREQUENCY DEPENDS ON YOUR SOCIAL MEDIA STRATEGY
Depending on how regularly your business posts on social media, you may want to utilize a graphic from your Social Pack once a week, or between each real-time post that you publish. When determining your publishing strategy, consider your audience, business objectives, and the social media platform you're using.
In general, when it comes to social media posting frequency, you have to
strike a balance between informative and annoying
. The optimal number of posts varies per social media platform (Facebook's content life cycle is longer than Twitter's, for example) and industry, but most businesses should aim to post, at minimum, three times a week, and at most, once per day to maintain consistency.
4. EXTEND THE LIFESPAN OF SOCIAL PACK POSTS BY EDITING THE CAPTION AND HASHTAGS
While the social media graphics will remain the same, you can, and should, extend the lifespan of your Social Pack. To get the most bang for your buck, edit the captions and hashtags each time you publish a graphic after the first time, so that the posts stay fresh over time.
Of course, it's fine to rerun these social media posts exactly as they were created—after all, they're tailor-made for your brand by our team of strategists. However, if you tweak the copy in the caption, you've just gotten yourself a two-for-one! And don't forget about swapping out the hashtags to extend your reach.
ONE LAST PIECE OF ADVICE FOR YOUR SOCIAL MEDIA STRATEGY...
It's important to keep in mind that not every social media post will be seen by every member of your audience, and as you gain new followers, your Social Pack posts will serve as helpful tools to quickly inform, educate, and spark engagement around your brand.
Whenever you're posting on social media, remember:
quality over quantity
. To build a loyal following of brand advocates, your posts must be relevant, helpful, and interesting.
If you're in need of additional support for social media management, outside of a Social Pack,
contact us
. Our
full-service social media management
plans include content planning, art and caption creation, publishing, monitoring and reporting.
For inspiration for your social media feed,
follow Nice Branding Agency on Instagram
or
LinkedIn
!