Krista Jameson – Social Pack
Krista Jameson consistently ranks as a top-producing realtor for Parks Realty. Although she's a Parks Realty agent, Krista understands the power of the personal brand and has invested in creating an identity for herself that's outside of, yet adjacent to, Parks Realty.
One of the primary places Krista connects with people in the community is through social media. Her social media presence allows her to share herself with her audience in a manner that's personal and personable.
Krista's superpower is that she is super positive. She's an energetic go-getter, and people know her to be uplifting and encouraging. She's a magnetic personality and someone that people just enjoy being around.
Krista approached Nice Branding Agency for help curating social media posts that would be polished and professional but still down to earth and aligned with who she truly is as a person. Krista's goal for her social channels was to create a brand, not just to showcase homes that are currently for sale or have recently sold.
Upon gaining an understanding of Krista's desires, our team recommended that she purchase a Social Pack. The Social Pack includes a set of 15 evergreen social media posts that are designed to build the brand on social media.
The Social Pack deliverables include 15 square social media posts with captions, and 15 hashtags to encourage reach for the posts.
Project Kickoff and Creative Brainstorm Session
Krista completed a creative questionnaire provided by our team to transfer pertinent information to us. Based on the information provided therein, our social media graphic design team and strategy team sat down together to determine a direction for the social media posts.
We understood that the goal of the project was to showcase Krista's powerfully positive nature and to create messaging surrounding her values that would become branded extensions of Krista.
Additionally, we learned that Krista's business is mainly garnered through referrals. So, we wanted to create content that anyone could appreciate regardless of whether or not they were in the home-buying or -selling mindset.
We determined that we would split the 15 included social media posts into several theme buckets: call-to-action posts, lifestyle posts, inspirational shareable posts.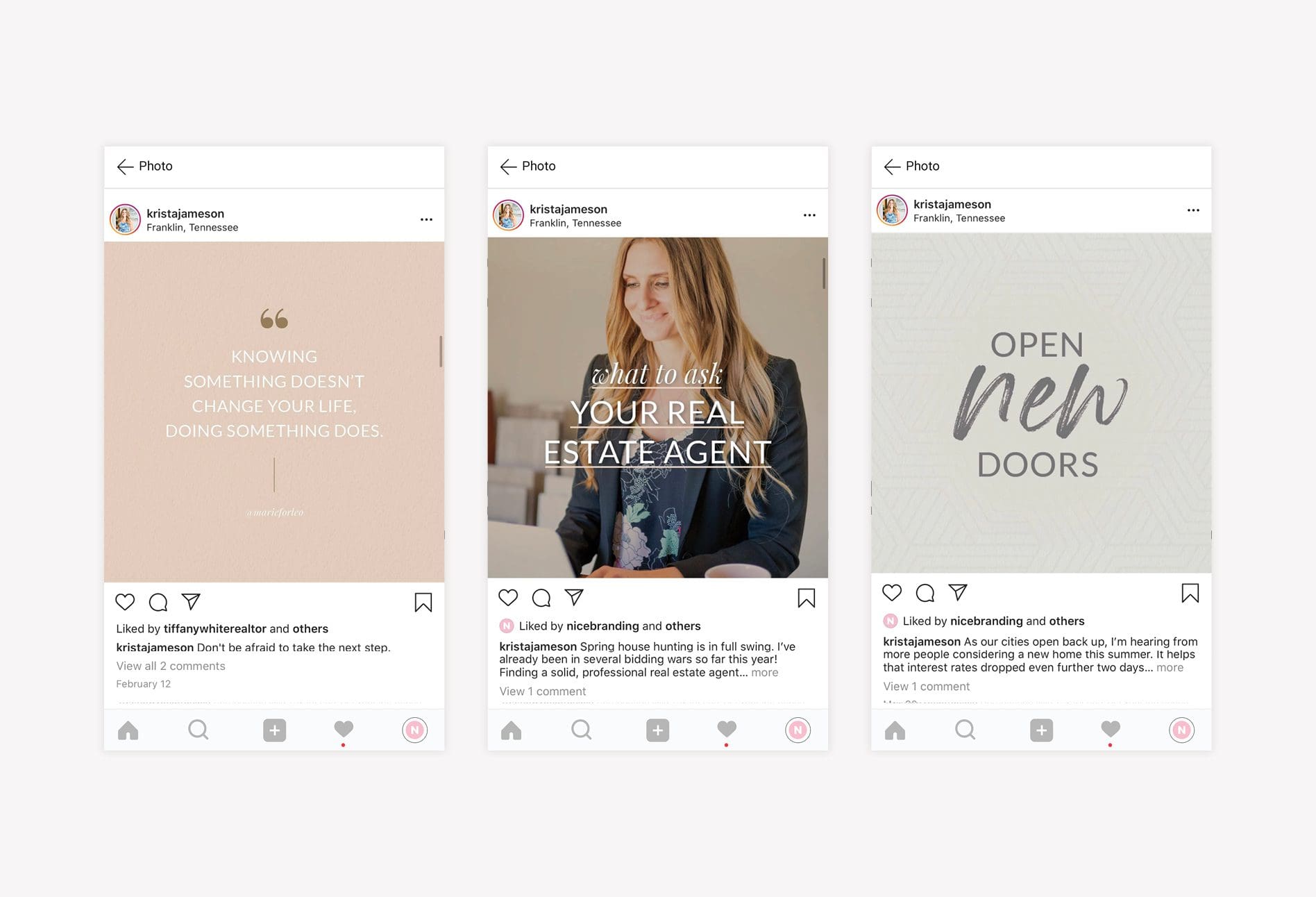 Social Media Content Creation
This strategy was approved by our design leaders, and our graphic designers and copywriters set to work creating a plan for the development of the content. For this particular project, the captions were created first, and then the design was developed thereafter. This isn't always the case. Sometimes design leads, and sometimes design and copy are created in tandem. After content creation, our team engaged in hashtag research to determine which hashtags could be paired with these posts to encourage reach. Currently, Krista used the hashtag
#kristasellshomes
on all of her posts. We recommended that she continue to use this. We also identified hashtags that were related to her posts and industry that had a relevant volume of searches but not so many to drown out her content in a sea of competing posts. Some of the hashtags we recommended include #closingday #nashvillerealtor and #parksagent.
Social Media Graphic Design
Note that Krista came to us without many brand boundaries in place. Her branded elements consisted of her very simple logo design and her website design. In developing social media graphics, it was important that we didn't diverge too much from the brand that was in place even though that brand was minimal. Consistency and connection from one digital platform to another is imperative in order to maintain the attention of the audience. However, throughout the design, we did augment the brand color palette and brand font set. We included a pinkish color to help bring personality to Krista's neutral brand colors. And we also added in a script font that would introduce variety and interest to the typographic social media posts. For the call-to-action posts, we used a text overlay over imagery. The copy for these posts and captions was created to drive viewers to Krista's website. Keeping in mind that her audience may be in different phases of the home-buying or -selling process (and may or may not be buying or selling at all), we kept these calls focused on value that could be inferred regardless of your intent to buy or sell a home. These calls-to-action did direct people to browse featured listings in some instances. But they also provided people with valuable thought-leadership information related to how to sell a home or how to properly purchase property. The goal here was to provide free value to the audience which aligns with Krista's desire to be open and honest, always looking to help and encourage people.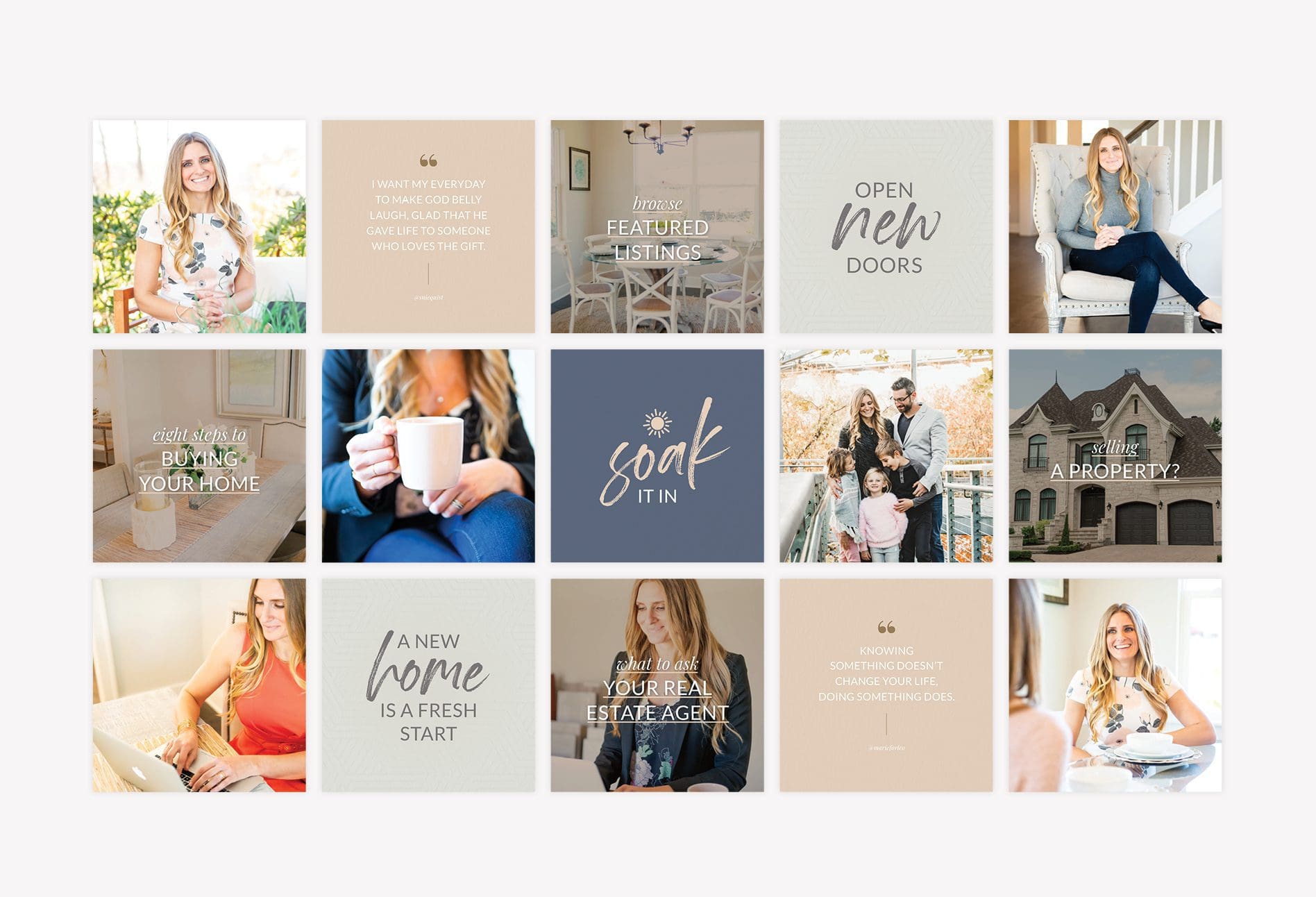 In the second theme bucket, we implemented lifestyle imagery that would provide a personal touch and humanize
Krista's social channels
. This was an important goal. Krista is not simply out to make a sale. Instead, she is intentionally investing in becoming a thought leader within her industry. Through professional imagery of Krista, her family, her enneagram (!!), and beautiful images of the homes that she lists and sells, we provided a manner in which her audience could get to know her as a real person and not just as a headshot and list of homes. One of these posts included an introduction to Krista with details in the caption about who she is and what she does. This evergreen social media post could be posted again and again at intervals to capture the attention of new followers and connect them to Krista and her personal brand. Thirdly, we created a set of quotes and typographic posts to convey key messaging. These posts were designed to literally tell people about Krista's personality and values. But they were also designed to entice people to share the posts, thus enhancing reach. For example, one such post was a beautiful custom graphic that stated, "Soak it all in." This is something that people may resonate with and want to share on their own page. The intent was to keep these pretty simple so they would align with the brand design on Krista's website and also so that they would appeal to a wide audience. Again, these posts could be shared again and again, both on stories and in the social media feed to fill social media content calendar gaps as needed.
Delivery of the Social Pack
We presented the social media posts and social media captions to Krista for review. Additionally, she was equipped with the PNG files for the posts, a text document of the accompanying captions, and the list of hashtags. Having the files for the posts in hand would allow Krista to post them as needed, as often as desired to build her brand on social media.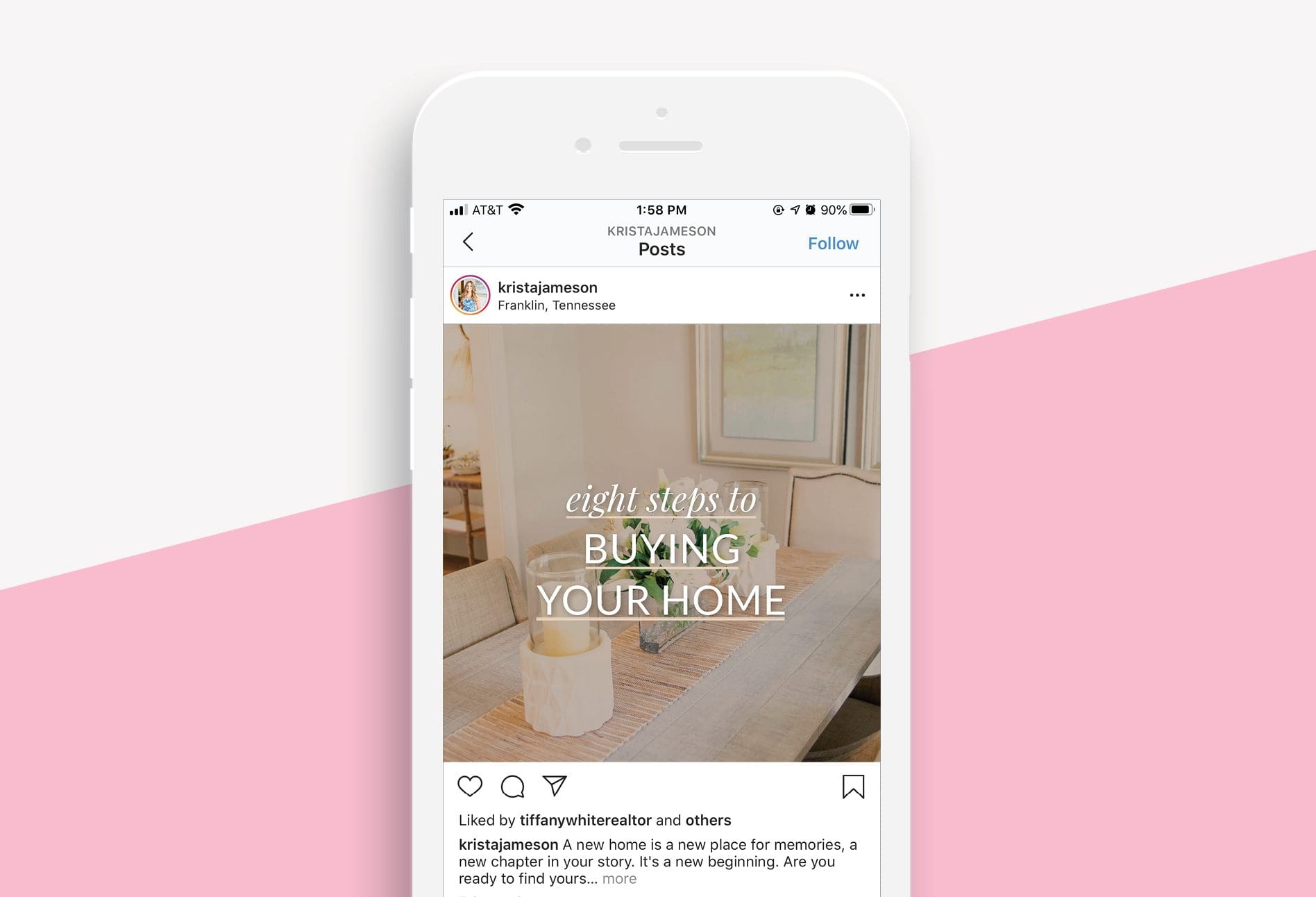 Interested in Building a Brand on Social Media?
A Social Pack from Nice Branding Agency equips you with 15 strategically directed social media posts designed to build your brand on social media. The posts are created with impeccable attention to design and detail, and captions and hashtags are provided to communicate key messages. If you're ready to up your social media game through professionally designed social media posts,
contact us
today and follow along on
Instagram
for inspiration.