Web Design for Stuart's Plumbing
We take a bold approach to web design Lakeland. Our team works with new businesses to create web presences that are impactful and representative of their brand new brands. We work with existing companies and organizations to redesign and rebuild their sites.
Our process includes strategy, copywriting and design that converts. We focus on catchy headlines, bold imagery, and clear calls-to-action to guide the user experience.
We know, you probably already have a website, so you might be considering tuning out. Well, wait just a hot second and hear us out.
We're finding that an increasing number of our clients are looking to the girls at Nice Branding Agency for web design Lakeland. Websites that were built just a few years ago are already outdated.
As you may have noticed just by perusing the world wide web, trends in the last 4 years or so have changed. Gone are the days of loading up your website with any and all facts about your organization and hoping viewers can find what they're looking for. Mobile sites are no more, and websites are designed to be completely responsive from a mobile-first perspective.
Now, the priority is on user experience. Websites are no longer just information houses, they are tools that are used to guide the sales process.
How Does Your Site Hold Up?
Take a sec to think about your site. If someone landed on your homepage, would they be able to tell what you do within three seconds? Here's another one for you. Go ahead and open your website on your phone. How does it look?
If either answers to the above are not ideal, it might be time to look into web design Lakeland.
At Nice Branding Agency, we can take an old, cluttered site and streamline it into a branded website with an improved UX.
Ultimately, as we mentioned, we want a user to be able to understand your business within three seconds of landing on your site. This isn't easy to achieve, but it is 100% necessary. People aren't sticking around on your site to poke through your content and find what they're looking for. Likely, if they aren't provided the info they need within a few seconds, they're going to bounce. Literally.
Enough preaching. Let's get on to the project. Take a look at how we were able to work with our client Stuart's Plumbing to provide a redesigned website that just works, and find out what happens with we don't see eye to eye with a client on a particular project.
Branding for Stuart's Plumbing | Web Design Lakeland
Our client, Stuart, came to us with the desire to redesign his website. Having just completed a rebrand with us, he was eager to showcase his new look online. Additionally, Stuart wanted to improve the user experience on the site with a refreshed structure.
Just to give you a little history on NBA + SP, we worked on a logo, vehicle design, and stationery package for Stuart's. Ready for a refresh, Stuart sought the branding experts at Nice Branding Agency to rework the brand mark into a more clean, sharp and professional logo design. The primary application for the logo would be Stuart's fleet of vehicles, so we kept that in mind while developing the design.
The final logo design used blues, indicative of water and a more "clean" feeling. The blue also represents honesty and trustworthiness, which is something that Stuart's embodies, and an aspect that we definitely wanted to convey.
We incorporated a clever play on a faucet icon to create a modern "T" in the word, Stuart's. Now, as soon as you see the logo, you will associate Stuart's Plumbing as a modern, professional organization that's trustworthy and a bit cheeky.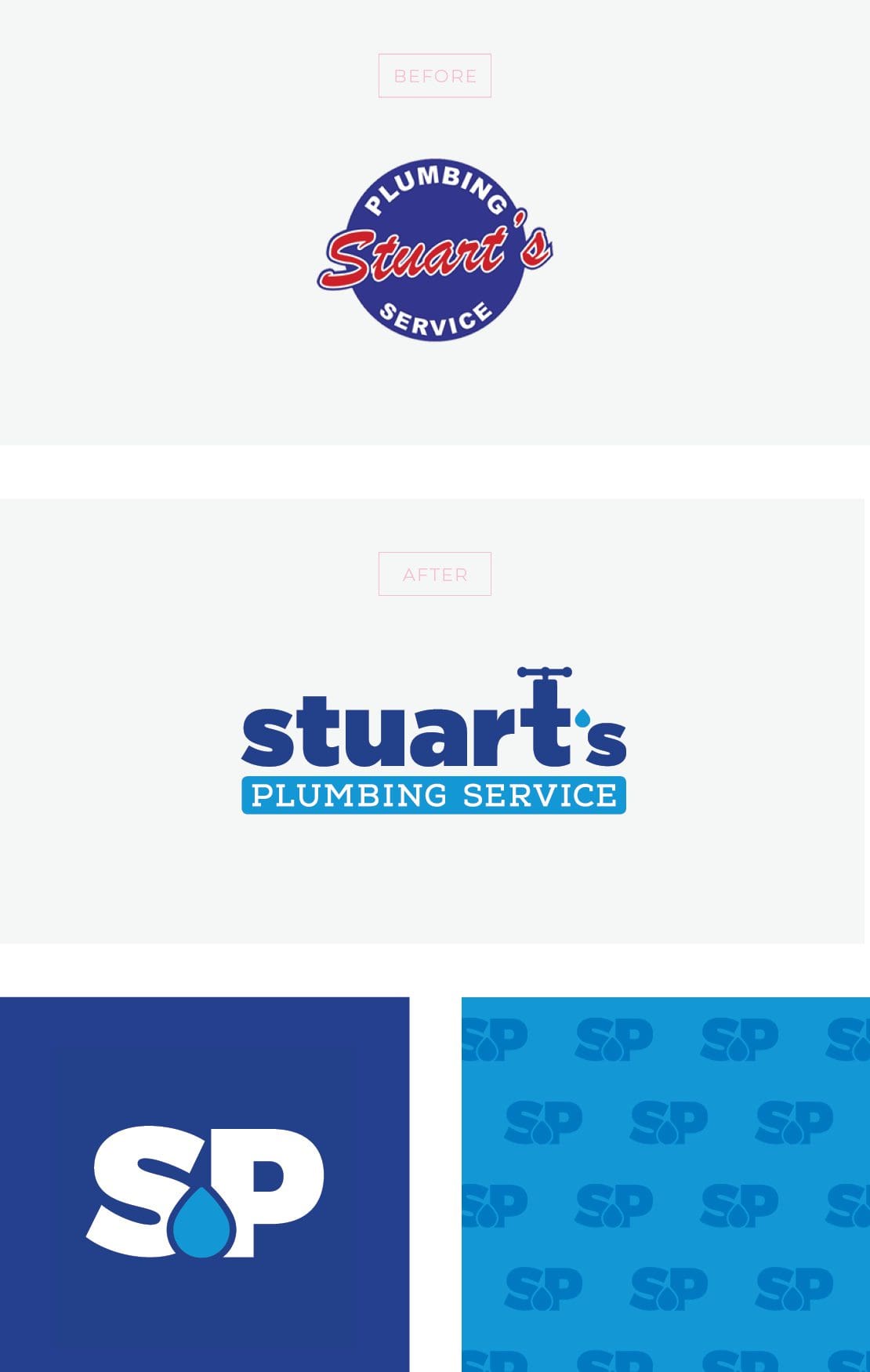 Satisfied with the original branding project we completed (!), the client came back to us to update his website. He wanted his website to focus more on the user journey to bring it more in line with current web trends.
Our typical process for web design Lakeland, is to implement strategy, wireframing, design, and development for the websites we build. By managing all parts of the process in-house, there's a seamless collaboration between design and development. If you're wondering what the difference is and why it even matters, check out
our post on website design vs. website development
. It's a good read.
Stuart's Plumbing Website Design | Web Design Lakeland
Stuart works with an SEO firm that manages his website. They own the site, and thus, they are the ones who developed and maintain the website. In this scenario, the SEO firm is typically going to want to control the development of the website.
You may be thinking that this means the end of the line for this project since there is no way that we can rebuild the site from scratch. But, alas, the Nice Branding Agency girls are problem solvers.
In instances such as this one, our team takes on the wireframing, website design, and preparation of website assets, and leaves the development to the firm that owns the site.
While this is not our preferred method for working on a website, we can still do it. Communication between our designers and the web developer is key to the success of the project. When we design a site that isn't going to be developed in-house, our team includes a round of revisions for the developer on the design we created, so we can ensure the completed site is as accurate as possible.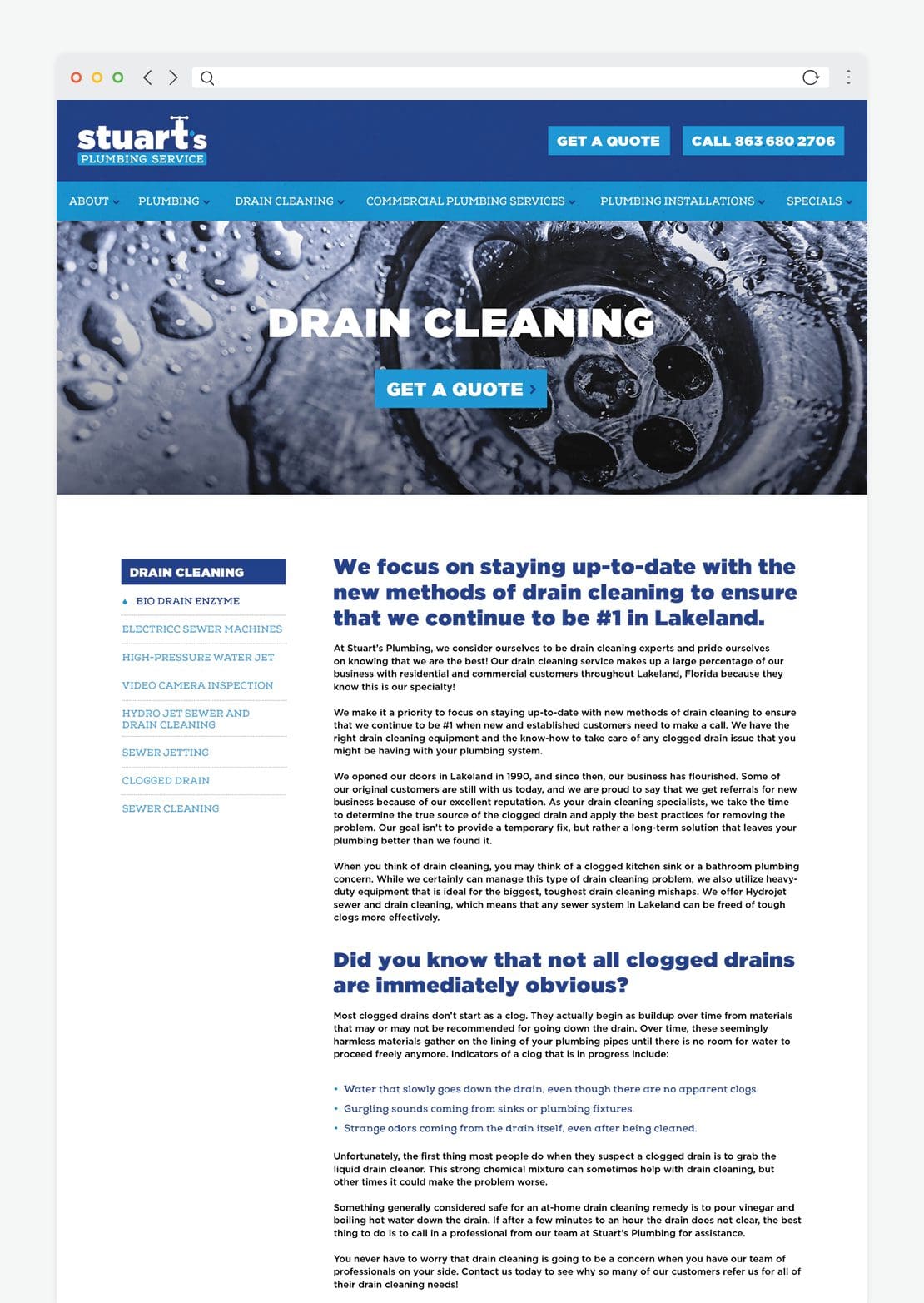 Website Strategy | Web Design Lakeland
When we got to work reorganizing the Stuart's Plumbing website, we were challenged with improving what was already there, instead of recreating all of the content. We decided to reorganize and update the home page and one interior page. These redesigned pages would give to the developer a guide to reference when updating the remainder of the pages to match the new design.
For SEO purposes, it was essential to keep much of the existing content as possible. So, instead of starting from scratch, we moved the pieces around so that users could navigate the information more easily. While it sounds like this might be easier for our team than creating a brand new structure, it's actually a bit trickier. Starting with existing content presents challenges that we don't typically face when we start with a blank slate.
As we strategized the updated layout for the wireframes, we kept in mind the mobile applications of what we created. We wanted to ensure that when someone googled Stuart's Plumbing, the site would always be easy-to-navigate and on-brand. No matter the device utilized to access the information.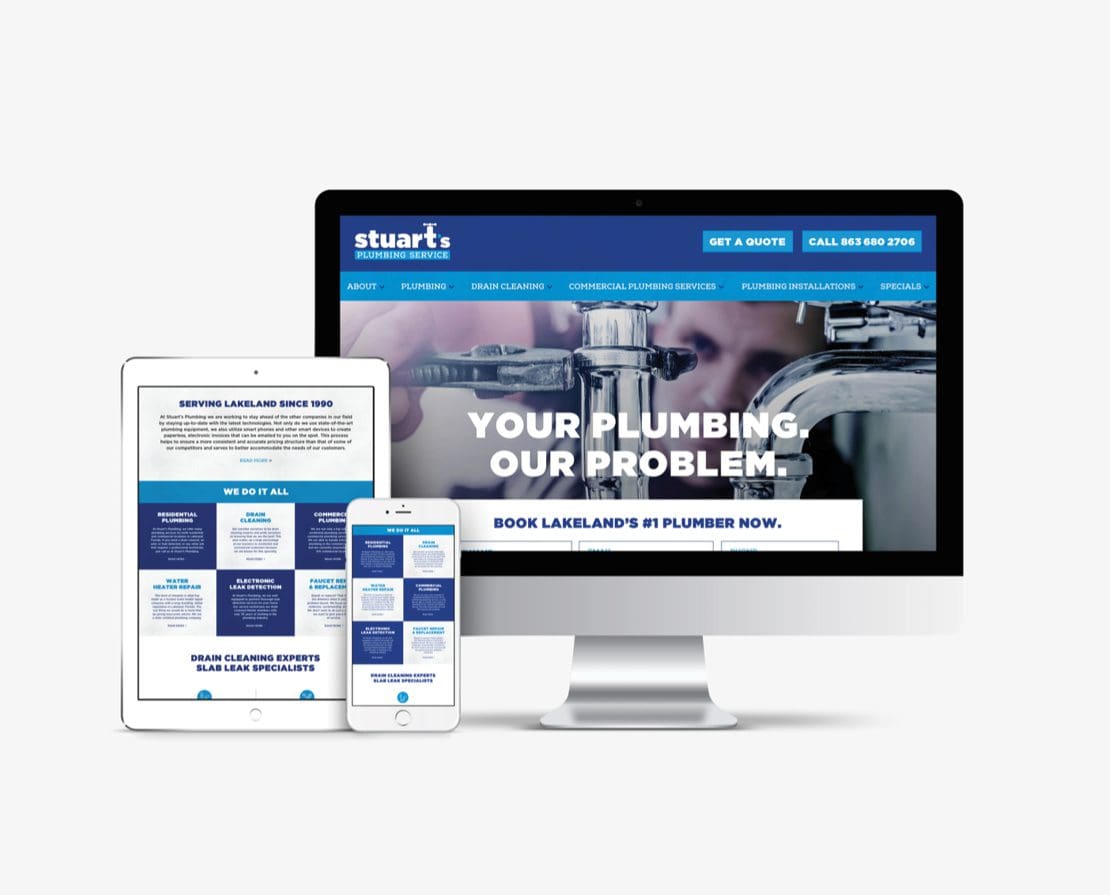 Incorporating the Branding | Web Design Lakeland
As we worked on the wireframes, we first set out to rearrange the main navigation. Our design team wanted to simplify the site's navigation header. Users needed to be able to quickly find the pages they wanted.
The navigation is a really important part of this site since there is so much content on it to show off and keep organized. As we created our wireframe, we structured the navigation to guide the viewer through the whole menu easily.
During the design stage, we brought the menu to life with the page design. We took this time to emphasize compelling calls-to-action, helpful copy and enticing photos.
Next, we designed how we wanted the content to look. This is when we got to let the new Stuart's Plumbing brand shine, as we applied brand colors and fonts throughout the pages. We placed the new Stuart's logo at the forefront, filled the pages with on-brand imagery and copy that emphasized who they are and what they do.
For the updated background, we incorporated a speckled texture that we pulled from the brand stationery we designed. The "SP" icon pattern was also incorporated.
Regarding the interior page, we selected the Drain Cleaning page. This is a major service line for Stuart's Plumbing, and the structure of the page could be easily duplicated for additional service lines. Here, we changed outdated backgrounds and off-brand colors for more professional-looking graphics that reflected the new brand. We took out repetitive copy and updated with content that was concise and took on a more professional voice and tone.
You can see a comparison of the old homepage vs the new homepage we developed for Stuart's Plumbing below.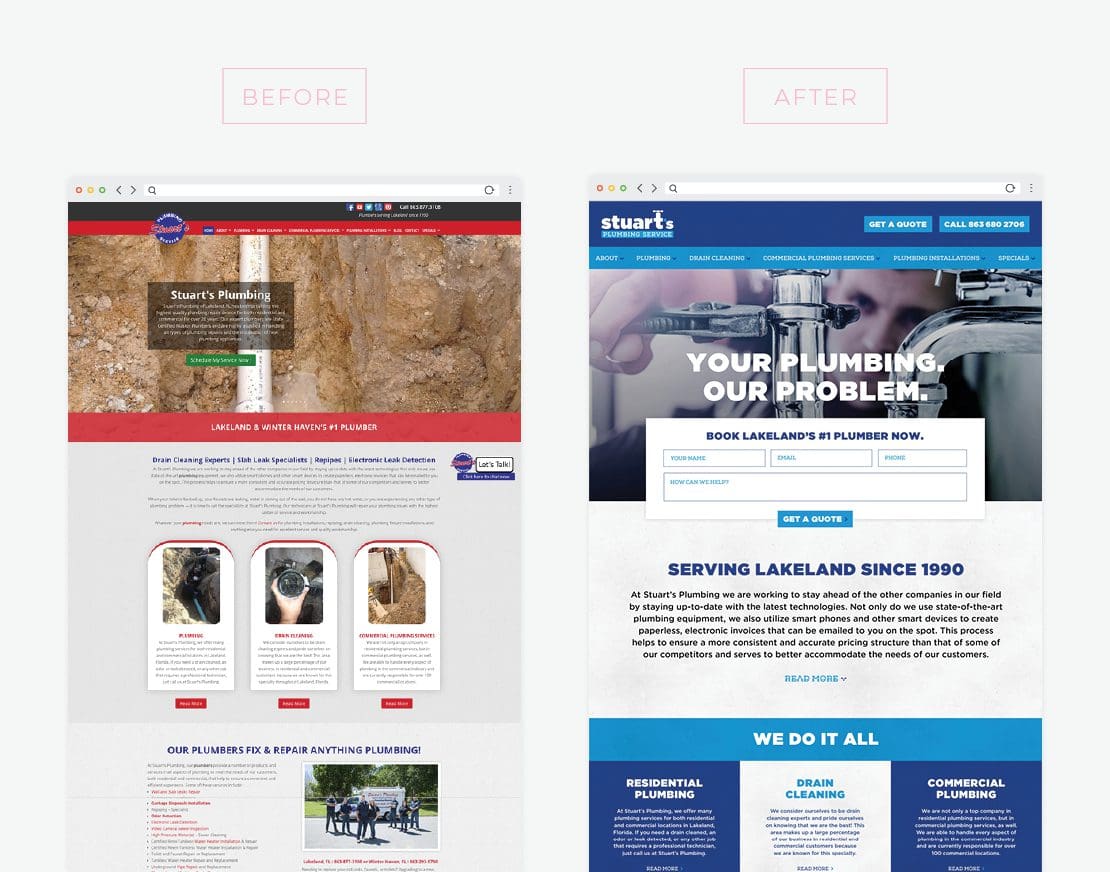 An Unexpected Twist
Now, here's where the plot thickens. When we presented the new design to our client, he wasn't digging it. Ultimately, he decided that he liked his existing website design better than what we had created. And thus, we decided to part ways on this particular project. While it's always a bummer to see a project go down the drain (pun certainly intended), we truly value Stuart's Plumbing as a client, and there are no hard feelings on either side. We've been around enough to know that not all projects go as planned. That said, we will always maintain our commitment to keeping a brand intact. Even if that means respectfully fighting to keep your brand intact when you may be tempted to take things in a different direction. So, we are throwing in the towel on this one, but we still think it's a beautiful piece of work. You might not see this site out in the wild on the world wide web, but she will live right here on our website for us (and hopefully you, too) to adore.
Are You Ready for a Web Design Lakeland?
Your website is a foundational brand element. It is your opportunity to speak directly to the user. Your website strategy needs to take the reins and guide the user through an optimized, well-branded experience. It has to be responsive, helpful and compel the user to action.
If you already have a developer for your site, but your site design isn't boosting your brand,
send us a message
about web design Lakeland. And you don't just have to be in Lakeland. We work with clients worldwide. Our design team can craft a custom site for you that is fully responsive. Our sites function on both desktop and mobile devices to convey your brand story to each and every visitor.