Taco Restaurant Branding for Taco Garage
We are super proud of the way our taco restaurant branding project for Taco Garage turned out, and we're stoked to be able to share about the process. So, here's how it went down. Our clients Cindy and Rick Story contacted us a couple of years ago for taco restaurant branding. They were interested in developing an entirely new restaurant concept in Murfreesboro, Tennessee, just outside of Nashville. As you may or may not already know, Nashville is a foodie city. There are hip, new restaurants popping up on the daily. Our team stays pretty plugged in to the food scene, so our mouths were watering to be part of this project. Cindy and Rick are the owners of several
Buffalo Wild Wings
franchises. So they did already have pretty extensive restaurant experience prior to deciding to open their new concept. They had some great ideas about what they wanted their new restaurant to be like. However, the concept was slightly disjointed. They knew they needed a clear and cohesive direction for the brand. They wanted something that would be compelling enough to garner attention in this restaurant-saturated market. The Story's hired one of the best chefs out of Chicago to create a menu of uncomplicated tacos with fresh ingredients. Although menu creation was underway, they realized that without a clear brand direction, so they couldn't move forward with anything else. Luckily, they happened upon a team of taco restaurant branding designers who knew just what to do.
Taco Restaurant Branding
After an initial meeting of the minds, Cindy and Rick decided to turn over the entire taco restaurant branding project to the girls at Nice Branding Agency. Ok, now it's going to get real good. We started with internal research and concept development. Our restaurant branding team compiled several different brand boards that depicted three distinct directions that we felt would work well for the restaurant. The brand boards were named Taco Diner, Taco USA, and Taco Garage. We presented the boards to the client for selection. Cindy and Rick chose the third brand direction, and ended up grabbing the brand board name to use as the name of the restaurant. Thus, Taco Garage was born.
The Taco Garage brand brings something different to the market. They pride themselves on creating 'real tacos for real people that taste real good.' They aren't a hipster taco joint or a fancy restaurant, by any means. And that's exactly how they like it.
Once the taco restaurant branding direction was established, then we moved into restaurant logo development. Our branding team created a couple of concepts that aligned with the grungy, approachable Taco Garage brand direction. When the logo had been selected and perfected, we really started to roll out the restaurant brand support.
NOTE: A brand is more than a logo. A brand is actually how a viewer perceives your business. And creating that perception is no easy feat. It requires brand support that's carefully crafted, cohesive, and message-matched. Our goal is to reach the customer at every possible touchpoint. We want to evoke an emotion. Our full-scale restaurant branding projects include the creative development of brand support. These items include, but are not limited to menu design, environmental design, business cards, letterhead, to-go bags, website design and development, cup design, tray liner design, attire selection and design, and more.
The Taco Garage branding project was certainly 'full-scale' and our clients relied on us as the taco restaurant branding professionals to truly guide the process toward an outcome that would be successful.
Restaurant Environmental Branding
The interior design of a restaurant shouldn't be left up to just anyone who has design skills. It's crucial that the moment the customer enters your restaurant, they can FEEL your brand. So, 
environmental branding
should only be left in the hands of a restaurant branding expert. When a customer is fully immersed in your brand from the moment they step foot inside your space, they are more likely to make a connection with what you've got going on. In turn, their experience is more likely to be a positive (and repeat) one. We started with an interior design plan. Our plan addressed flooring, lighting,
furniture
, hardware, wall colors and textures, fixtures, and environmental graphic design. Plus, literally every single thing that would be visible to a customer within the space. For Taco Garage, we wanted to create an environment that reinforced the restaurant's mission to keep things uncomplicated. We worked with the client's architect to create and execute the interior design plan. Concrete floors greet guests as they enter the space. Then, custom designed floor art guides the customer on their taco journey from the entrance and up to the order counter, to the drink station and into the seating area. A large, custom made marquee sign communicates drink specials and furthers the 'garage' feel. While functional, this also brings an 'Instagrammable' aspect to the space. Really, almost everything in the space is worthy of the 'gram! Large environmental graphics and wall
installations
 deploy the memorable brand voice. We included cheeky phrases such as, "Take the Tacos & Run."A concrete texture on the walls added interest and warmth. Market lights affixed to wooden beams running across the ceiling provided perfect lighting and dimension. This really set the space apart. Industrial seating and tables complement the eclectic design.
Menu Design
Anyone who has been to a restaurant can attest to the fact that the
menu design
is a major component of the customer journey, so it's fitting that we start here when creating brand elements.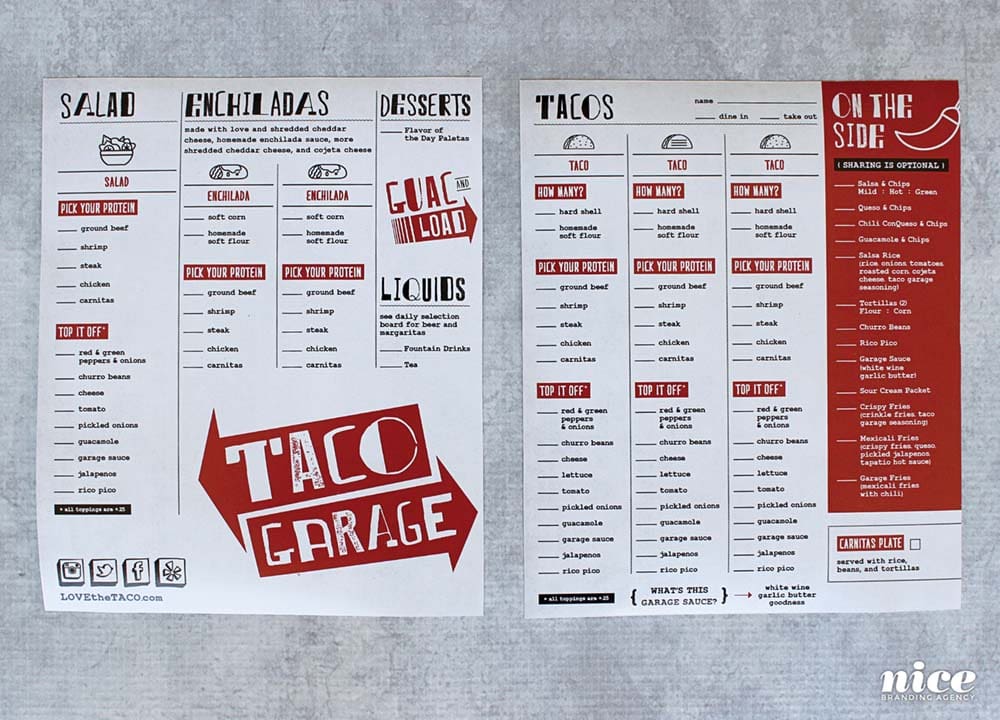 While many restaurants are going digital with their menu boards, the Taco Garage brand called for something more simple. The customer encounters the menu almost right away as they enter. An old-school golf pencil prompts the customer to interact with the brand by dictating their order on an order pad. The order pads also make it super-simple for the kitchen to fill the orders.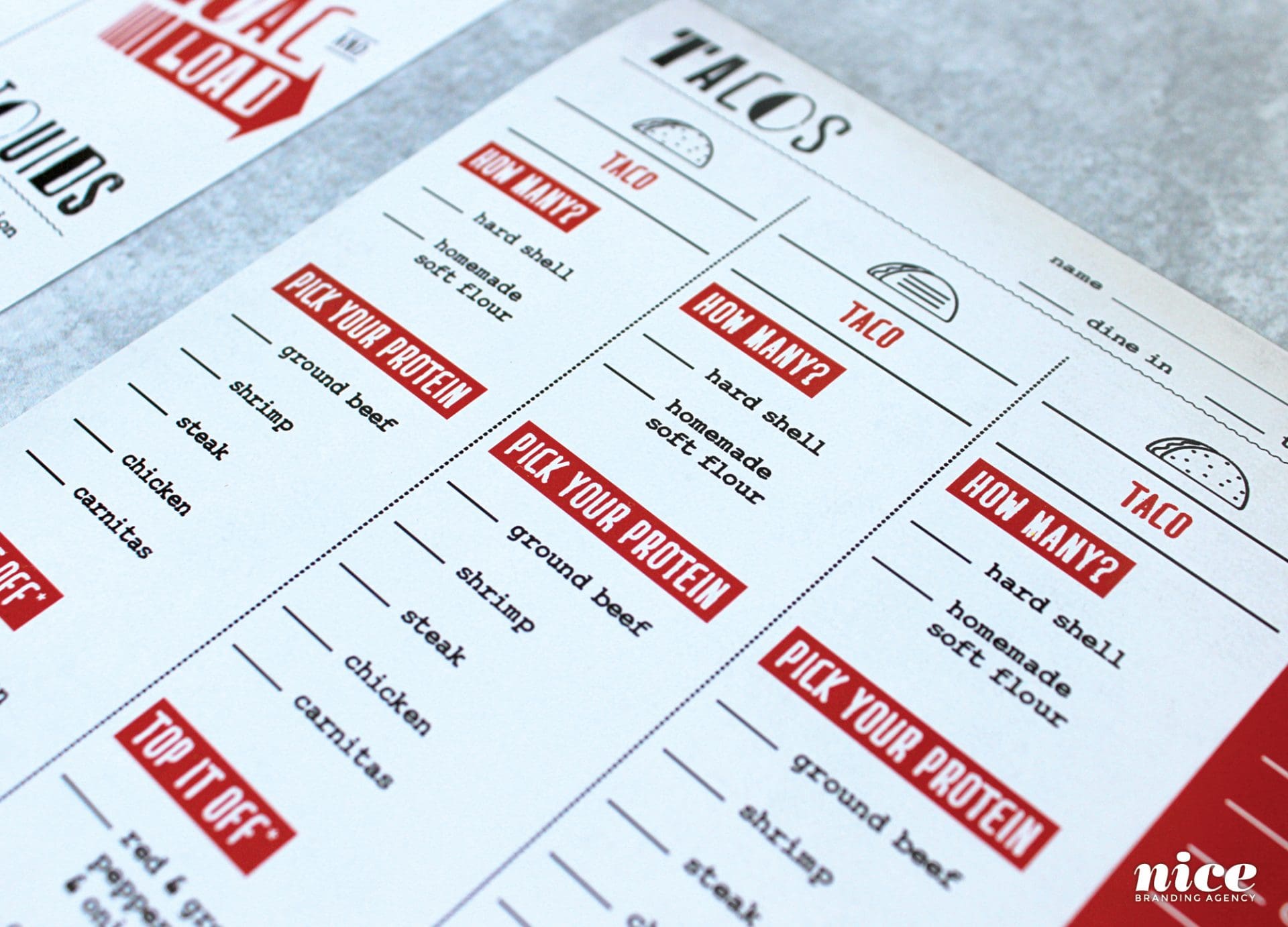 Food Photography
Taco Garage hired the Nice Girls for a couple of rounds of food photography. Quality, professional food photography really makes such a difference when it comes to taco restaurant branding and marketing materials for a restaurant. Your food is your bread and butter (literally, sometimes!) and showing it in the most appealing light (also, literally) is uber important. For Taco Garage, we wanted to showcase the simplicity and fresh ingredients of the food. The ingredients are the differentiator for the brand, and showing the food in a manner that conveys mouthwatering ingredients, yet an uncomplicated menu, was the challenge. We started with prop planning and chose accessories and backgrounds that would further the brand direction, while allowing the food to take center stage. We worked to plan and style the food using only props that aligned with the brand direction. The food photos will
help
 to further the reach of the brand for years to come, so food photography is a beyond-wise
investment
.
Restaurant Attire
A restaurant's staff should be walking billboards for the brand. This includes what they are wearing and how they communicate with customers. We worked to determine staff attire, including a custom shirt design and a hat that would bring in the casual-cool aspect of the brand. The attire is simple, recognizable and easy for the restaurant to maintain.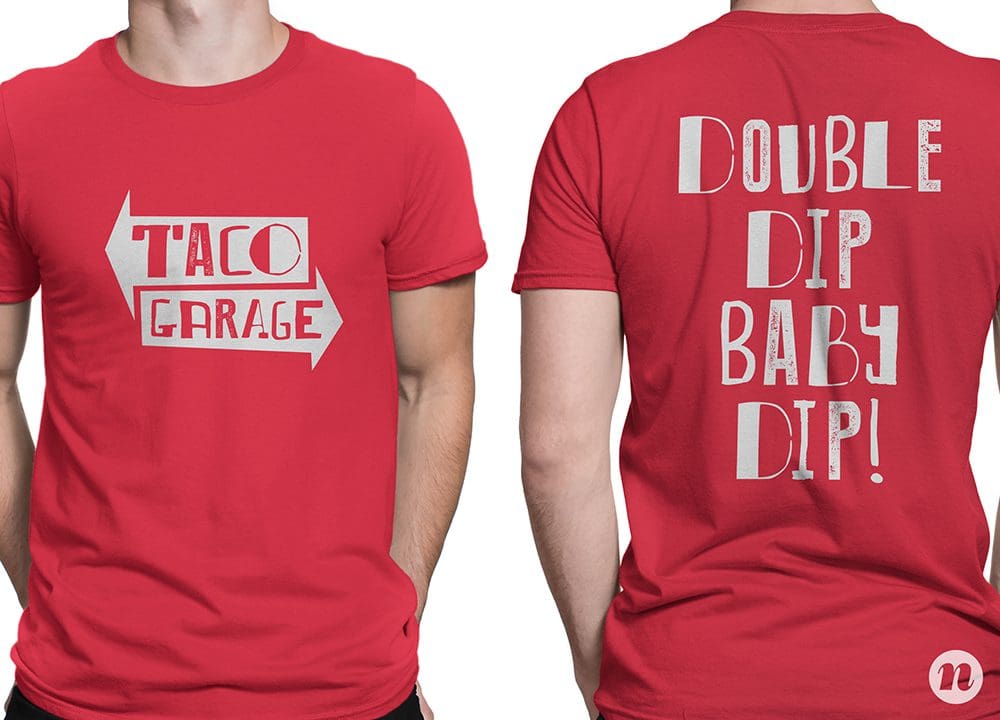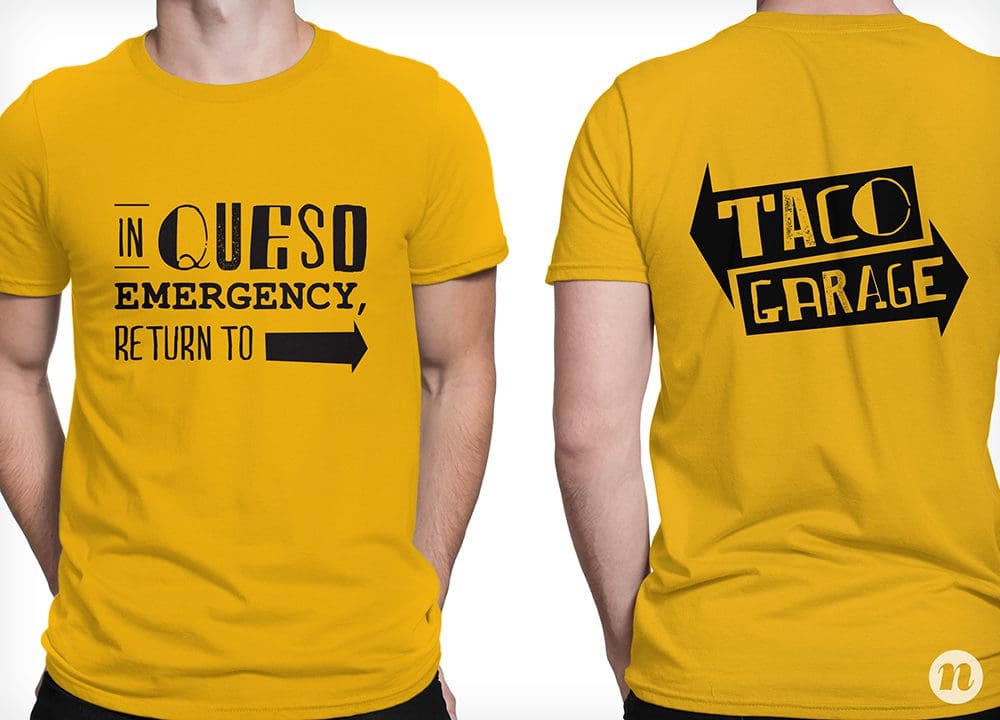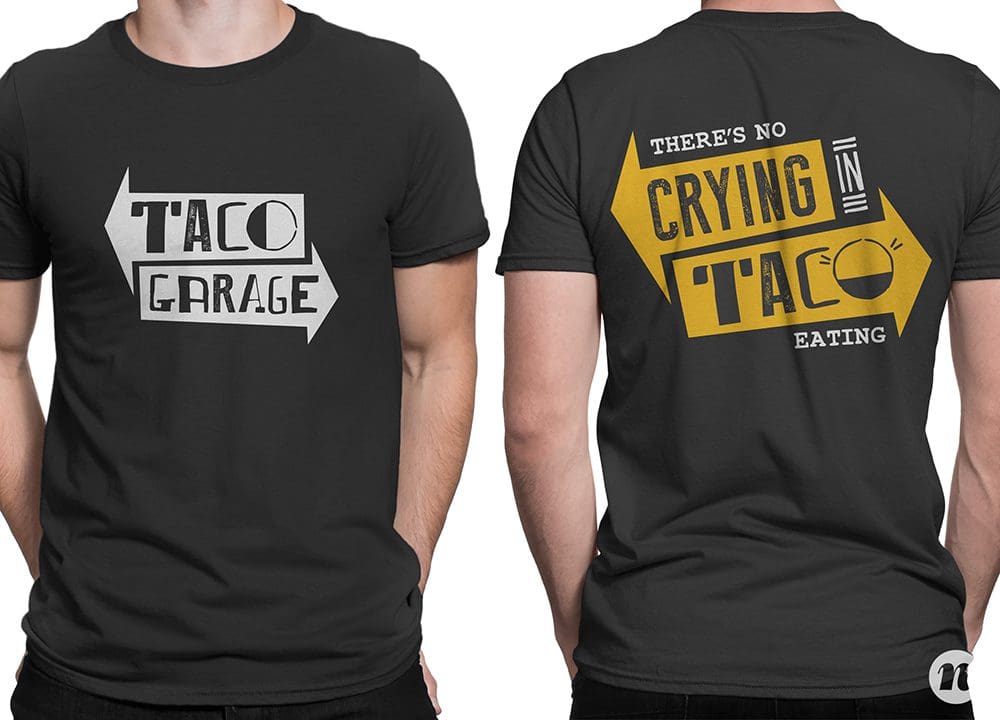 Restaurant Website
The goal of the Taco Garage website is to get viewers to the restaurant, or make it easy for them to order online. We really focused on user experience during the design and development of the restaurant website. We tried to keep it simple, since simplicity was a common thread throughout the brand. This would help users get what they needed from the site and entice them to visit the restaurant or order online. The restaurant website also serves as brand
support
. We used the brand voice to talk to the website user and allow them to connect to the brand. Go ahead, check it out. We'll wait.
Restaurant Consulting and Marketing
We consulted with the client to provide insight on
POS systems
that would set them up for success for future marketing. Our team recommended a system with loyalty and the option to collect email addresses for email marketing and phone numbers for text message marketing. Then, a direction for serviceware was established by our team. We also dictated how the food should be presented to the customer. Leading up to opening, Nice Branding Agency assisted Taco Garage with a launch marketing campaign, and has since engaged with the client in on-going monthly marketing and social media management that includes regular live content.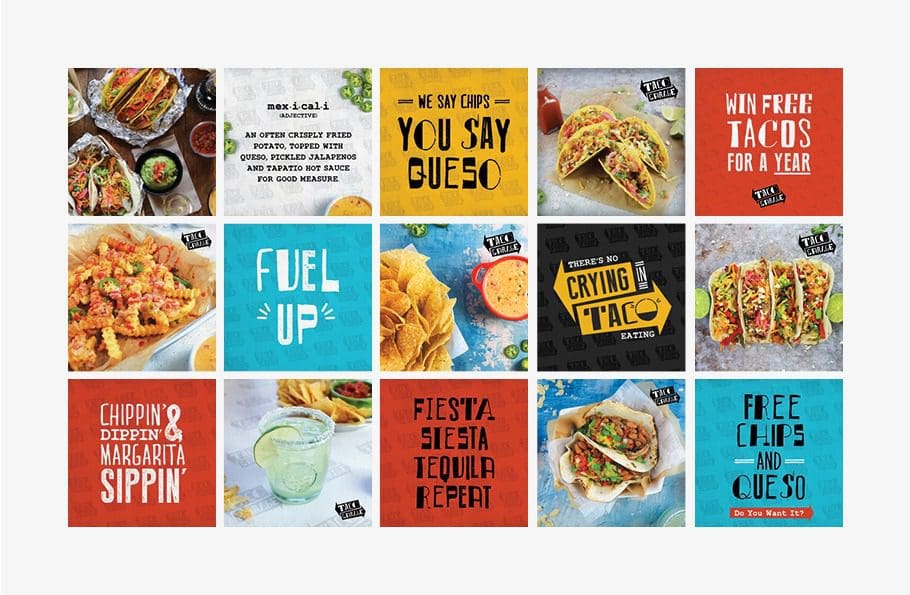 So, what made this project a success? The client was in tune with the fact that the food, brand and operations all had to be great. They deliberated over the recipes for months and months and worked with a chef to ensure that everything was just right in terms of taste. Then, Taco Garage hired a taco restaurant branding company to create a compelling concept that would be well-received in their market. Finally, they possessed the restaurant business acumen and experience to streamline operations. Taco Garage is truly a triple threat and we are proud to be a part of the project! Check out additional pieces of the taco restaurant branding for Taco Garage in our
portfolio
.
Contact the Nice Branding Agency team
if you're interested in learning more about creating a successful restaurant concept.