Why Nice Branding Agency Makes A Great Marketing Partner
Ping. There it is. Another emailed marketing request. You had a feeling it was coming, but hoped it would wait a bit because your schedule is whimpering for mercy. You have a million tabs open and a leaning tower of proofs and print-outs are about to take over your desk entirely. You ignore the beeping notifications from your project management software, smartphone, and Slack channel and scroll down to find out the deadline. You let out a groan. You'll just have to fit it in. But how? Maybe you're a stressed out Marketing Director with visions and plans as high as the sky for your company. But you're a team of exactly one and you can't exactly delegate to your imaginary friend. Or maybe you're a busy Art Director who knows that your small, but mighty Art Department is already drowning in work. If you assign one more project with a crazy turn-around time, they might actually walk out this time. You need marketing help. Fast. But not just help. A real partner. Someone (or let's be real, someones) with the talent, creativity, knowledge, and work ethic to improve your work life, not drain it. A dependable, flexible team you can trust. At Nice Branding Agency, we have earned a reputation for creating iconic brands from scratch. What you may not know is that some of our most favorite work is bringing brands to life by
partnering with professionals like you
to create marketing assets and execute marketing plans. Research, analysis, strategy, concept creation, copy, graphic design, web development, social media, online ads — we do all of that. The fact that we specialize in branding makes us uniquely qualified to ensure that your brand identity and messaging is woven consistently throughout all marketing touchpoints. Since we build brands from the ground up, we understand that effective marketing strategy is built squarely on top of a strong brand foundation. Conversely, we have seen what happens when marketing tactics are deployed haphazardly without considering a cohesive brand and marketing strategy. The result is often ineffective and downright wasteful efforts. Our experience as branding experts serves as a competitive advantage that we offer over traditional marketing agencies that don't specialize in branding. Nice Branding Agency takes pride in being a valuable marketing partner to our clients in a variety of industries. Here are five reasons why we would make a fantastic marketing partner for you.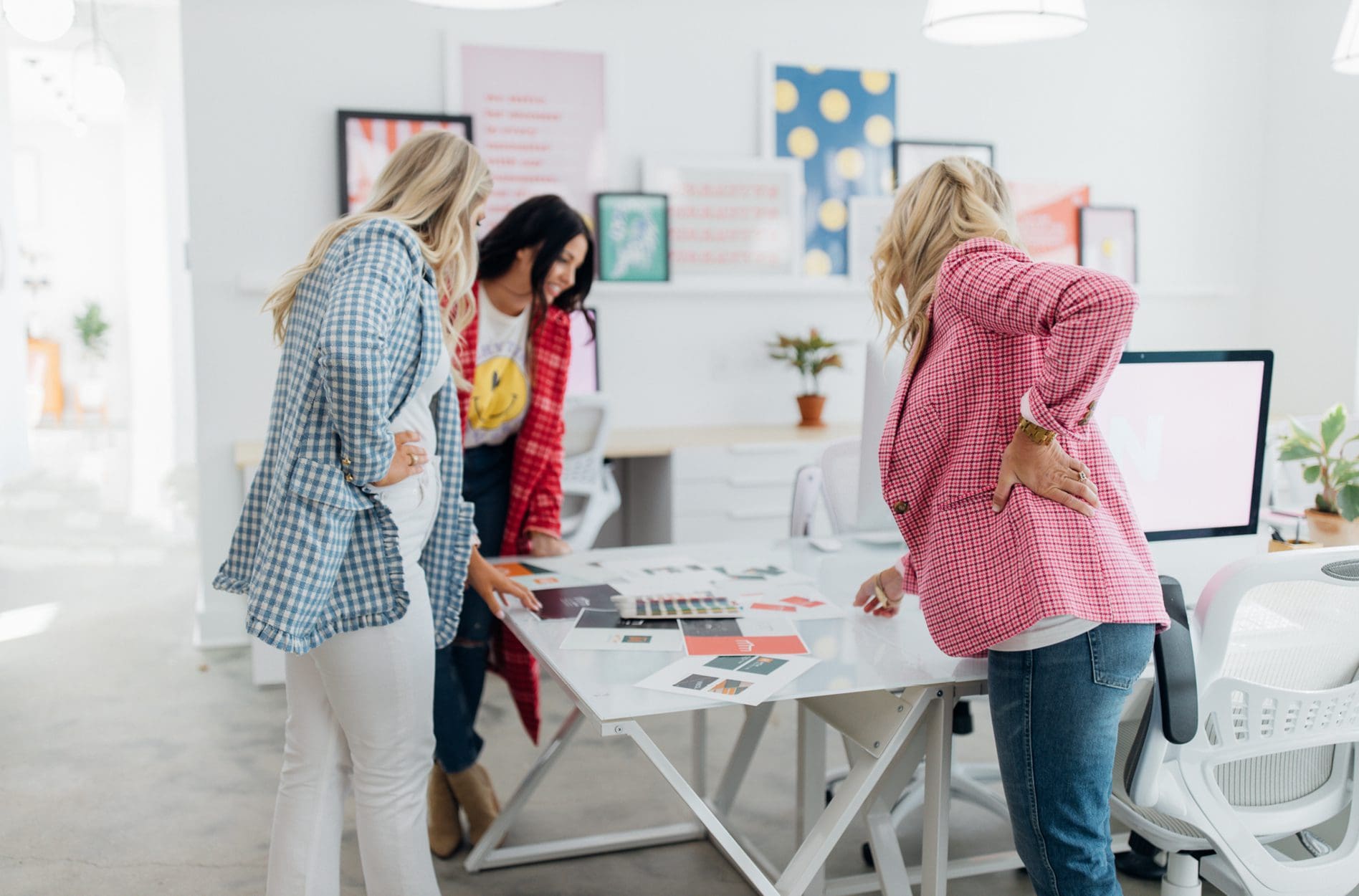 MARKETING PARTNER ADVANTAGE ONE: WIDE SKILL SET
If you're a Marketing Director, we know you create the overall marketing strategy for your organization. Maybe you came to your current role after years of working in a particular type of industry doing marketing, public relations, or advertising. You no doubt have deep experience and many areas of expertise. But you can't be expected to be an expert at every tactic in the marketing wheelhouse. Like you, we know that there is no magical unicorn who has all of the skills or time to do it all. (If you know of one, please send her our way!) Or maybe you're an Art Director. We know that you can be asked to design a wide array of marketing assets on any given day including graphics, brochures, advertisements, sales collateral, and much more. The type of marketing assets requested of you can be limitless, but your time most certainly is not! This is where we come in. Nice Branding Agency often helps our clients by filling in the gaps needed to execute impactful marketing campaigns. Instead of hiring, paying, and managing your own creative director, market researcher, copywriter, photographer, videographer, graphic designer, web developer, and social media strategist (to name a few!) you can simply hire us. We already have the talent you need under one roof. We have a variety of practitioners on staff that represent a wide range of specialties that augment those of solo Marketing Directors and internal Art Departments.
MARKETING PARTNER ADVANTAGE TWO: SAVED TIME
In addition to cross-disciplinary skills, our agency offers Marketing Directors opportunities to save precious time. If you're a Marketing Director, we know that you are probably pulled into many different directions and much of your time is tied up in meetings with company leadership and other departments, especially the sales team. You might be busy conducting research, developing strategy, analyzing performance, and making tweaks to marketing plans for the future. The Marketing Directors we have worked with often lack the time required to produce marketing campaigns themselves. Nice Branding Agency offers an army of professional experts who can come in and get to work creating beautiful assets that incorporate your company's brand in a cohesive fashion. Since we do marketing work all day, every day, we don't need hand-holding. You can count on us to deliver work on-brand and on-time. Work as part of an in-house team? With limited time and competing deadlines, maxed out internal Art Departments appreciate that Nice Branding Agency has the manpower (womenpower!), skills, and talent to parachute in and tackle deliverables with ease. Designers prefer partnering with us because they can trust us to produce amazing work that's on-brand and fits right in with everything they have created. We speak your "language" and understand production schedules, deadlines, dependencies, and more. Together, we can produce assets faster and more efficiently. Partnering with Nice Branding Agency gives your internal team the additional help they really need. Plus, you can have confidence that we will preserve your brand throughout everything we create. To see an example of our work as an extension of a client's internal team, check out the signage, billboards, and circulars we designed for
Tractor Supply Company.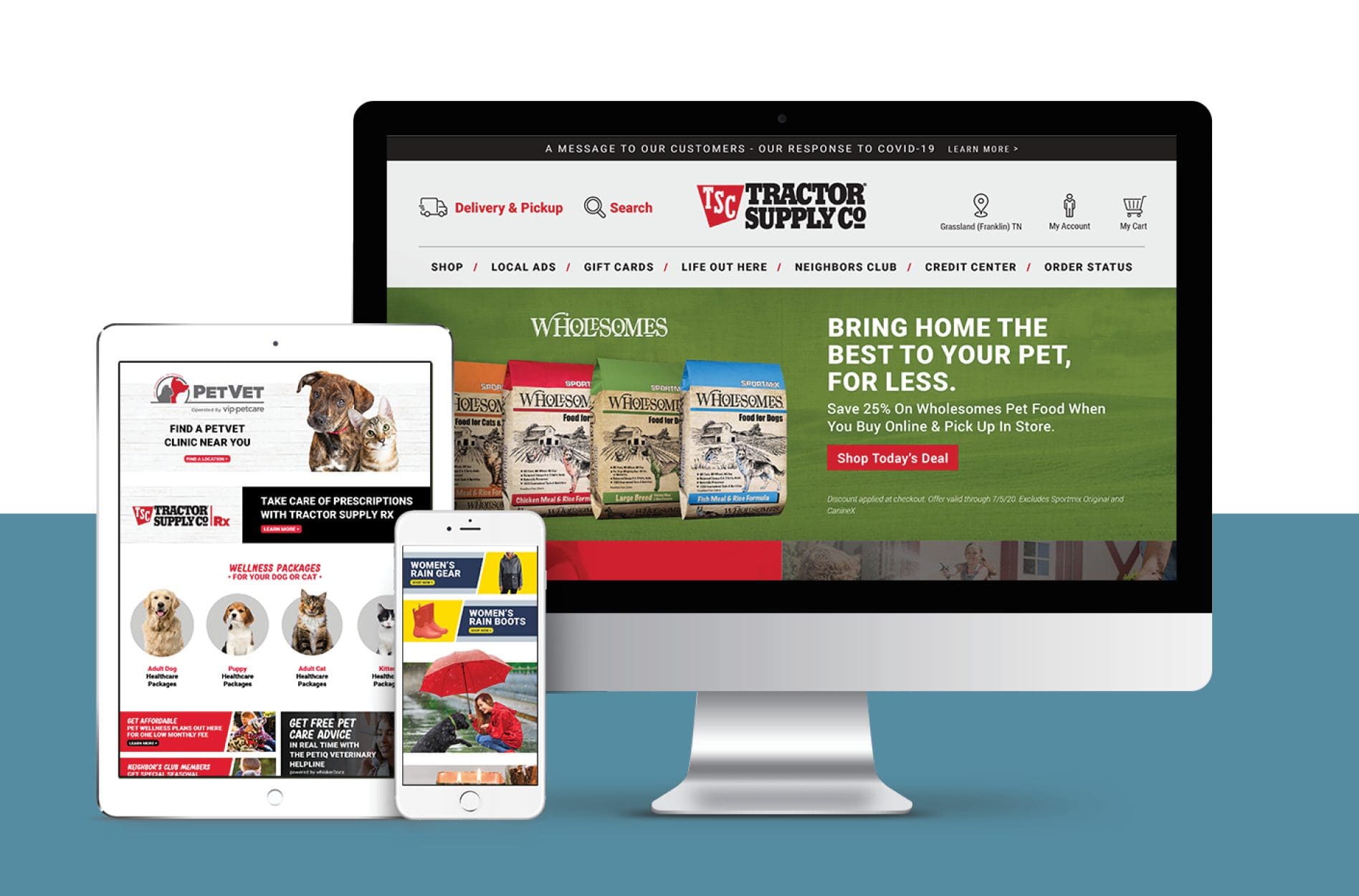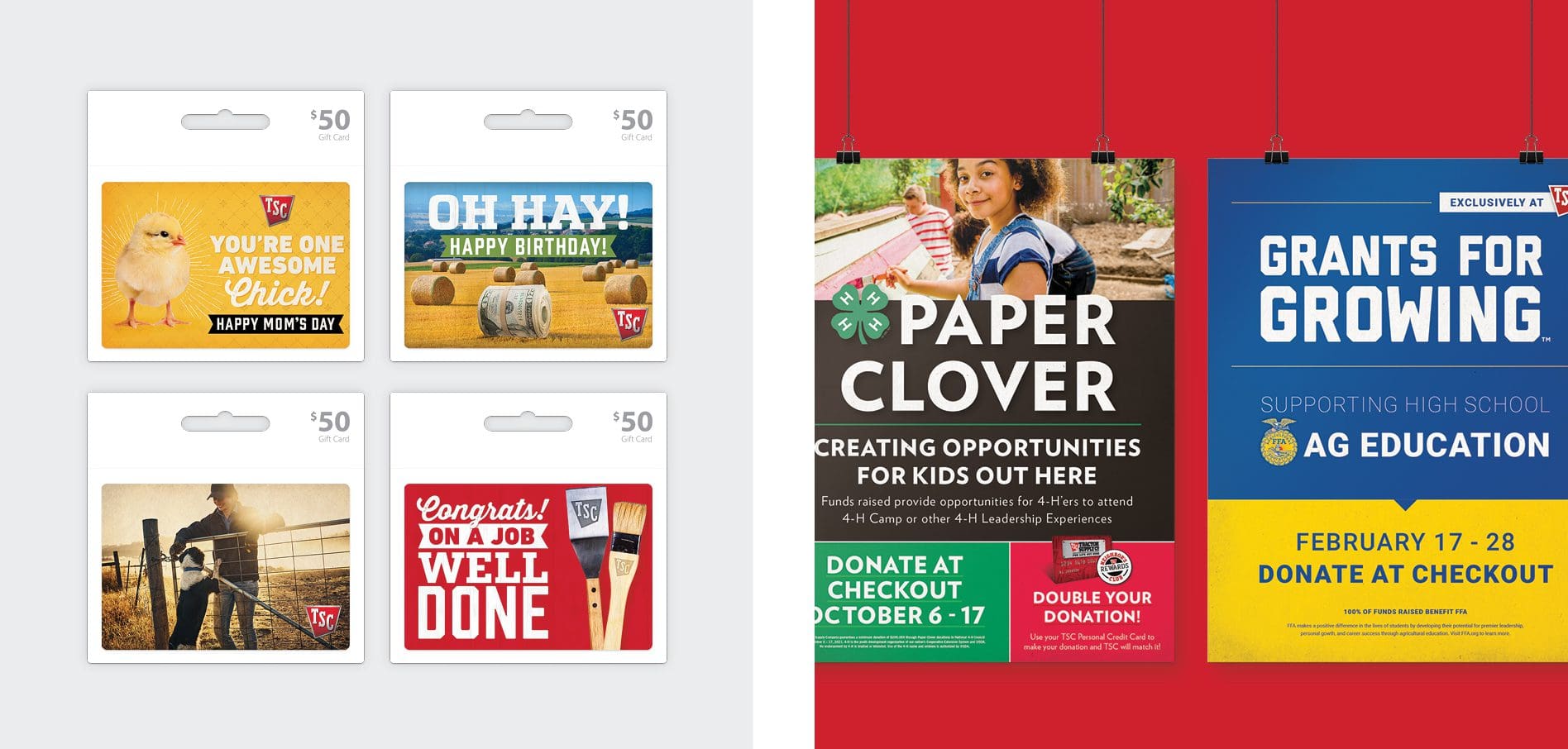 MARKETING PARTNER ADVANTAGE THREE: VAST EXPERIENCE
Our clients enjoy partnering with us not only because we save them significant time, but we offer the experience they need to achieve their marketing goals. At Nice Branding Agency, we have been creating marketing campaigns for clients for nearly 15 years. Cumulatively, our team members offer many more years of marketing expertise. We have quite literally been there and done that, and we'd be proud to leverage this know-how for you. We are able to offer insight to Marketing Directors gleaned from our experiences working on similar projects. Since we develop campaigns for diverse industries, we are also in a prime position to evaluate your brand from a new perspective. We can apply best practices from other sectors and verticals to create marketing solutions you may not have tried before. As trendsetters, we have our finger on the pulse of cutting-edge technologies and platforms coming down the pipeline. We notice emerging trends and can develop fresh, innovative ideas for your next presentation to the C-suite. In addition, our experience comes in handy in helping internal Art Departments anticipate possible hiccups. Whether it's a design challenge, a file issue, or snafu with a third-party vendor, we have seen it all and know how to solve problems quickly and easily. We enjoy brainstorming with experienced designers inside Art Departments and also coaching newer designers on the team who are still perfecting their craft. Our vast experience results in high-quality marketing campaigns and brand support that benefit your company. Not only do we have vast experience, but our creative minds allow us to dream up perspectives that you may not have thought of before. This partnership allows your marketing to remain fresh and creative, allowing you to stand out or trendset within your market.
MARKETING PARTNER ADVANTAGE FOUR: MANAGEMENT RELIEF
One of the things Marketing Directors love about working with us is that they don't have to manage anyone. With all of the responsibilities on your plate, we know that you probably don't have time to take on hiring, training, and managing a team. Even hiring outside freelancers or consultants requires some level of management. Working with Nice Branding Agency prevents Marketing Directors from being bogged down with management work because our all-star team has the experience, talent, and skill needed to be a productive partner rather than another work obligation. Having worked in Art Departments before, we know that your design staff is likely very occupied creating marketing assets and also lack the time needed to manage new staff or outside freelancers. You need someone to come in and take on overflow work from the start. Working with Nice Branding Agency gets you the help you need without the headache of adding another layer of management personnel. We have our own team of project managers to oversee production as well as tried and true, proprietary systems and processes for delivering creative work efficiently. These systems allow us to streamline and optimize production schedules and take on many projects on a concurrent basis and still meet important deadlines. If you partner with Nice Branding Agency, you don't have to worry about managing talent or projects — you simply share your request with us and we'll make it happen.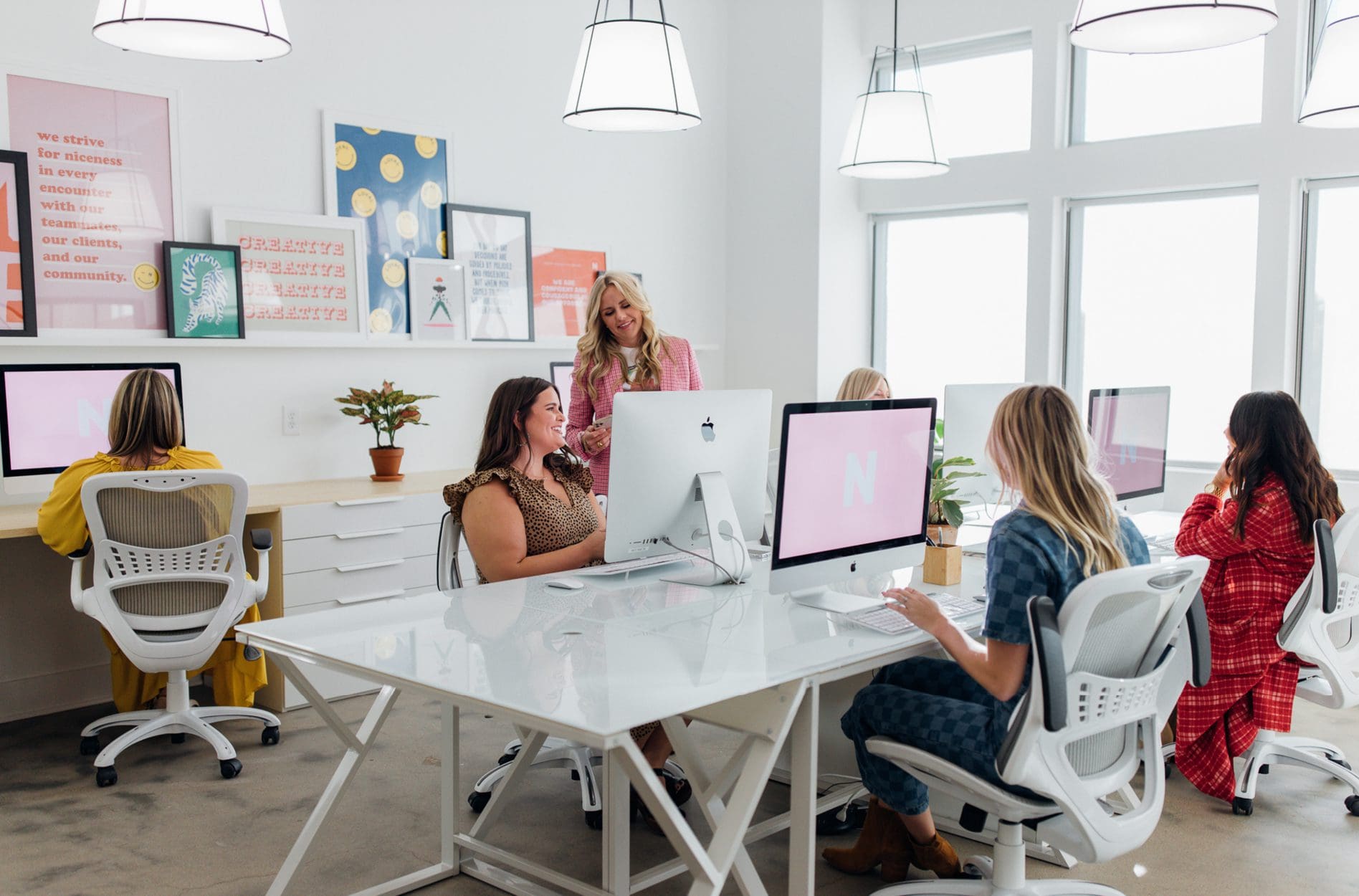 MARKETING PARTNER ADVANTAGE FIVE: COST SAVINGS
Working with us instead of adding an employee not only relieves you of cumbersome management duties, it also saves your company money. It's incredibly expensive and time-consuming to sift through resumes, conduct interviews, negotiate offer letters, onboard, and train someone. Then you also have the compensation expenses including salary, benefits, insurance, paid time off, taxes, and so on. And even if you hire another staffer, it still won't guarantee that you will have all marketing skill sets covered. Managing someone, whether internal or external, increases your workload and can rob your time and attention away from other obligations. Contracting out certain marketing tasks to freelancers can also add up. It can be a costly process to search for talent, test new freelancers, bring them up to speed, and manage them. What's more, rates can vary widely and there is often a revolving door of freelance talent — making planning difficult. In a situation like this, not only does the recruitment process have to start all over again, but your staff has to absorb the unfinished work, which affects productivity and morale. Partnering with Nice Branding Agency gets you the experts you need without having to incur all of the employee costs that your company would have if you hired full-time personnel. Not only will you save on hiring and employment costs, you won't have to pay for (and learn!) pricey marketing softwares, platforms, and tools. Since we live and breathe creative work on a daily basis, we have researched and invested in specialty software, apps, tools, and licenses needed to seamlessly deploy integrated marketing campaigns and measure success easily.
LET'S PARTNER UP
We believe that creativity is the ability to see, to bring new perspectives, and to think on your feet. And this is exactly what we offer our clients. Working with Nice Branding Agency can give you much-needed additional hands on deck, plus the value-added benefits of new skill sets, saved time, vast experience, no extra management expenses, and cost savings. Our clients like that we can easily complement their internal marketing professionals and create aligned assets that truly communicate their key messages harmoniously at every touch point. Our bandwidth adds capacity, relieves bottlenecks, and empowers our partners to achieve critical marketing objectives faster. Whether it's overall marketing strategy, branding, strategy, content creation, graphic design, or digital services, we can help you ignite your business growth in a powerful way. Working with Nice Branding Agency means that you can rest easy knowing your marketing campaigns are in the hands of experts — giving you more time to focus on other tasks. When you need a trustworthy team that simply 'gets it' — who can jump in, study your specific branding guidelines, and immediately begin creating beautiful work, give us a call. We'd be delighted to be your partner. Give a ring at 615.905.9936 to find out more. Follow us on
LinkedIn
and
Instagram
to see examples of work we have created with other client partners.