Mural Design Roundup
Who doesn't love a good mural? Here at Nice, we've designed our fair share of them and can't wait to share them with you! As Nashvillians, we're beyond familiar with murals. They're all over our city and a total must-do for visitors and natives alike, especially for those looking for a colorful and interesting Instagram aesthetic. Murals that are placed well serve as landmarks that draw foot-traffic, which is why we integrate custom designed murals into interior restaurant branding.
Murals are a bold way to depict a brand loud and proud within a restaurant's interior. It's a giant artistic showcase that displays your visual direction while also making your restaurant unique. It offers a way to draw those social media savvy customers in so that they can show off the art in your restaurant. 
Mural Design | Interior Restaurant Branding
As an add-on to our interior restaurant branding package, we offer custom mural design. As we're working through the interior branding plan for a restaurant, we create a map of the space so that we can make sure that the flow of the customer journey make sense. We want their experience to display touch points along the way that are extensions of the brand. After we've developed the visual direction we will be able to recommend whether or not a custom-designed or hand-drawn mural would be beneficial to the space.  
When it comes to mural design, the overall purpose can vary. Some spaces need large-scale custom art added to their walls to enhance the visual direction. In other spaces, a hand-drawn mural could benefit the narrative of the brand by telling the story in a short, digestible way. For concepts that plan to grow and expand, utilizing custom art can be a noteworthy piece that's memorable and will be a connection point for customers that visit locations in multiple markets. 
Whether it's a large exterior selfie wall or a blank interior wall that's a canvas ready to be designed, we've got just the mural for it. 
Mural Installation
We obtain the floor plan and seating layout vis our clients architect before we start an interior restaurant branding project. With this floor layout, we are able to identify the right flooring, lighting, fixtures, furniture, wall color, wall installations and signage. 
With a custom mural design, we obtain specific wall measurements from the architect to assist as we begin designing the the mural either by illustrating by hand or using design programs. 
We then consult with a sign company that's local to print and then place the mural on the wall with either vinyl or wallpaper. Other times, we've brought in a local muralist to paint the design we've dreamt up on the wall. 
When it comes to implementing the design, there are certain aspects that we must consider such as budget, area, and materials that are accessible to us while also keeping the overall space's aesthetic top of mind. 
Recent Interior Restaurant Branding Projects
Let's walk through some of the murals that we created within the past year. All of them were designed with the location and overall brand of the restaurant as guiding lights. 
Buns N' Dums
For our first mural, let's take a look at Buns N' Dums. We started took an element of the branding we'd created that said "bold buns and dope dums" and incorporated it throughout the restaurant within complementary patterns. We also used these patterns as elements of their web design and other supporting brand pieces to create consistency and familiarity within their assets. 
We then changed the Chinese characters to read "buns" and "dums", which provides a visual of the culture of the dishes. We then applied floral patterns, fish, buns and fans to complete the mural. These details help make this piece intriguing to gander at during a meal.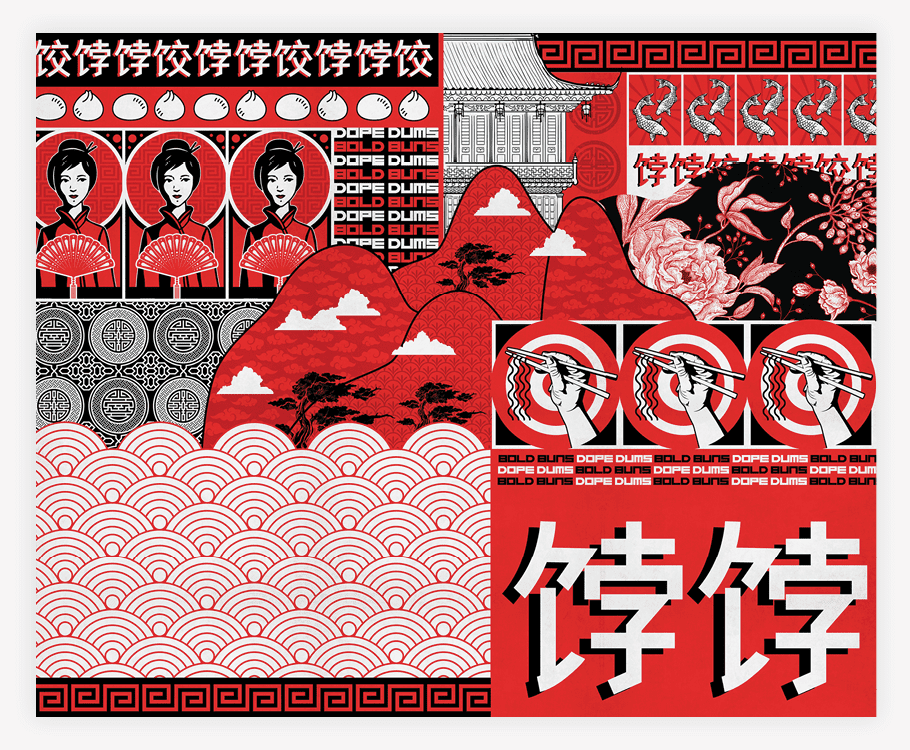 Mr. Wong's Chicken &  Rice
Next, for Mr. Wong's Chicken & Rice, we created a timeline mural. The brand story for Mr. Wong's revolves around the owner's dream to start a restaurant with is recipe for hand-battered fried chicken and how he made that dream come true. 
The design starts by telling Mr. Wong's story from the start where he gets his degree, starts working in the restaurant industry, and goes on to open his restaurant Original Chicken & Rice. 
What make Mr. Wong's Chicken & Rice different than other restaurants? Solid family ties and a rich history. We wanted to mural to reflect that so we highlighted the hard work over the years that went into the restaurant so that customers could connect with Mr. Wong's story.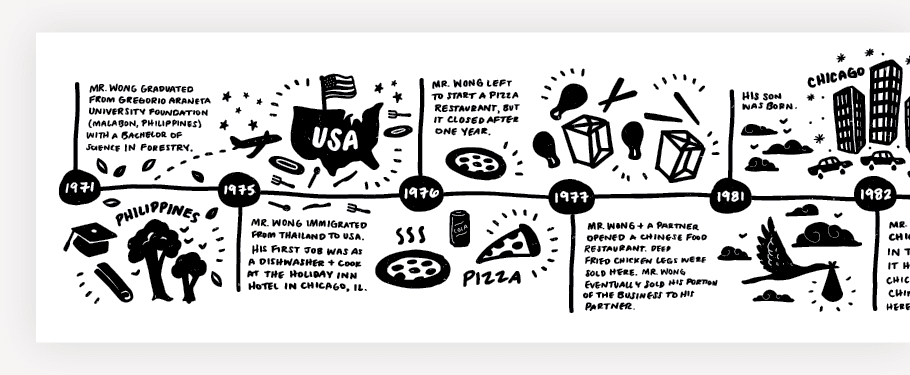 Gyro Republic
We feel major love for this one. We created this mural for Gyro Republic, a kitchen with a focus in Greek street food. Gyro Republic differs from the competition due to their commitment to fresh ingredients. Their brand celebrates people's power to pick food that's well-sourced to "fuel the fight for a healthier you". 
This piece features the freshness of the ingredients chosen and highlights the consumer's craving for fresh food. With brand sayings featured throughout such as, "make gyros not war", "made with love not MSG", and "we believe in scratch-made street food food for the people" the brand voice comes through boldly.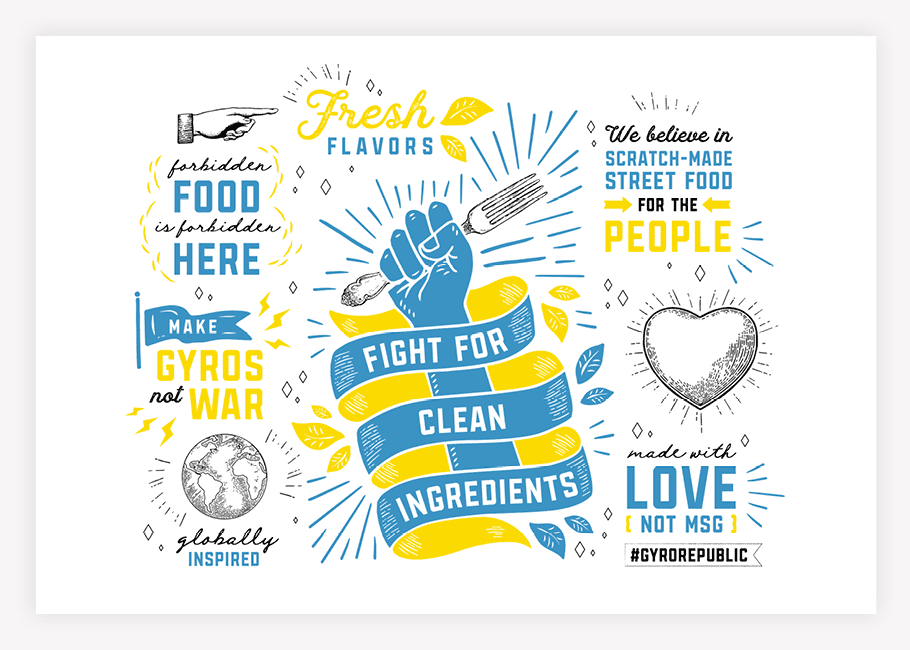 If you head to their tags on socials you'll see that there are quite a few folks that have taken selfies in front of this mural since they've opened which is the goal! 
Tikka Shack
The last mural of this round-up resides at Tikka Shack. With multiple locations across the country, their brand encompasses making scrumptious Indian food available to all communities. With that in mind, we created designs that were location specific to connect the community with their dishes.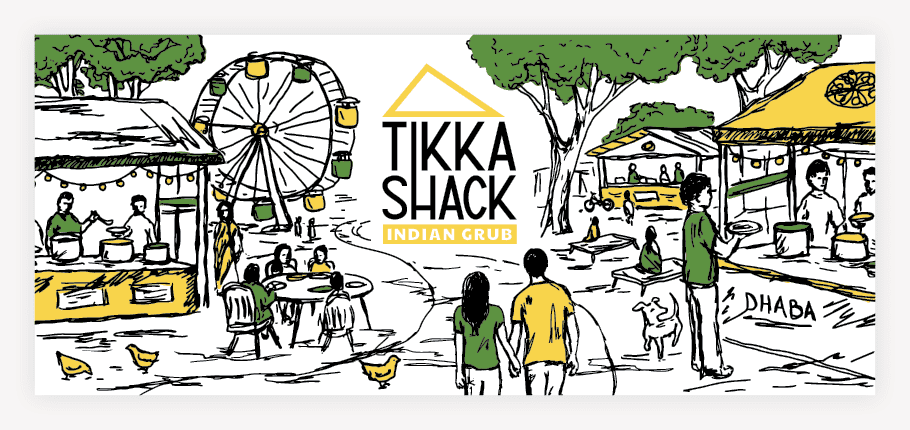 The store in Mechanicsburg, PA houses not just one, but two murals. One features an illustrated, hand drawn style to display members of the community appreciating casual Indian street food in and around small tikka shacks. We used the bold brand colors, green and yellow, to make a statement while utilizing the logo centrally to ground the design. 
The mural makes for a luminous accent wall that brings both light and customers to the space! If you swipe through their tagged photos on social media you'll find lots of mural pics and delicious-looking food.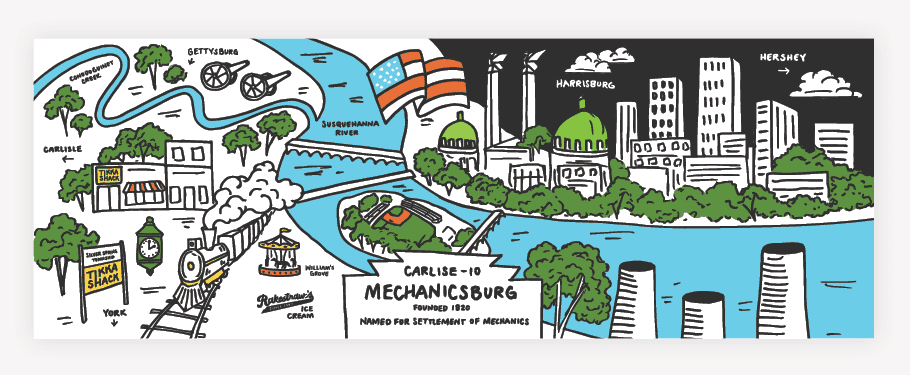 The second mural in the space is a map of Mechanicsburg proper in a similar illustrated style. This mural features the city's history, naming, skyline, directions to cities nearby, the river, and, the Tikka Shack location within the city. This murals gives the restaurant a hometown feel. 
Could Your Interior Restaurant Branding Benefit from a Mural?
Mural designs within restaurants are a big draw for customers to stop in, take a pic for socials, and grab a meal while they're at it. They help create a fully-branded experience within your restaurant and serve as a marketing tool as people share them on their social media. 
Every bit of your interior including all surfaces, materials and furniture piece should go hand-in-hand with your brand. A mural is a cool and innovative way to bring that branding to life. Don't ignore the power that a mural could bring to your restaurant brand. Ready to start working on one? Contact us today!