Unbox Your Brand's Potential With Custom Brand Packaging
There's something downright euphoric about receiving custom brand packaging in the mail. From the moment you hit the checkout button to the moment the package hits your doorstep, the anticipation builds and your imagination takes flight.
The most beloved brands know that the delivery experience doesn't end there. Unboxing has evolved from an activity reserved for holidays to a game-changing marketing tool. It's an artform, really—one that is increasingly photographed, recorded, and shared on social media for the world to see.
Without custom brand packaging, you're wasting a valuable opportunity to deepen the connection between your business and your customer. When properly executed, strategic packaging design will reinforce your brand through eye-catching, Instagram-worthy graphics and compelling messaging.
Scroll to see some custom packaging examples designed by Nice Branding Agency and learn more about our process for creating promotional box design, retail box design, delivery experience design, and product label design.
GUMPTION: DELIVERY DESIGN EXPERIENCE
Branding is essential for growing a business, especially without a brick-and-mortar location. So when it came time to develop a logo and delivery experience for its online clothing boutique,
Gumption
came to the graphic design experts at Nice Branding Agency.
For the logo design, we used a 3D-inspired type to spell out the word "Gumption" and replaced the letter "i" with an exclamation point. We wanted to convey the meaning of gumption—spirited initiative, courage, and spunk—in both the logo and the delivery experience.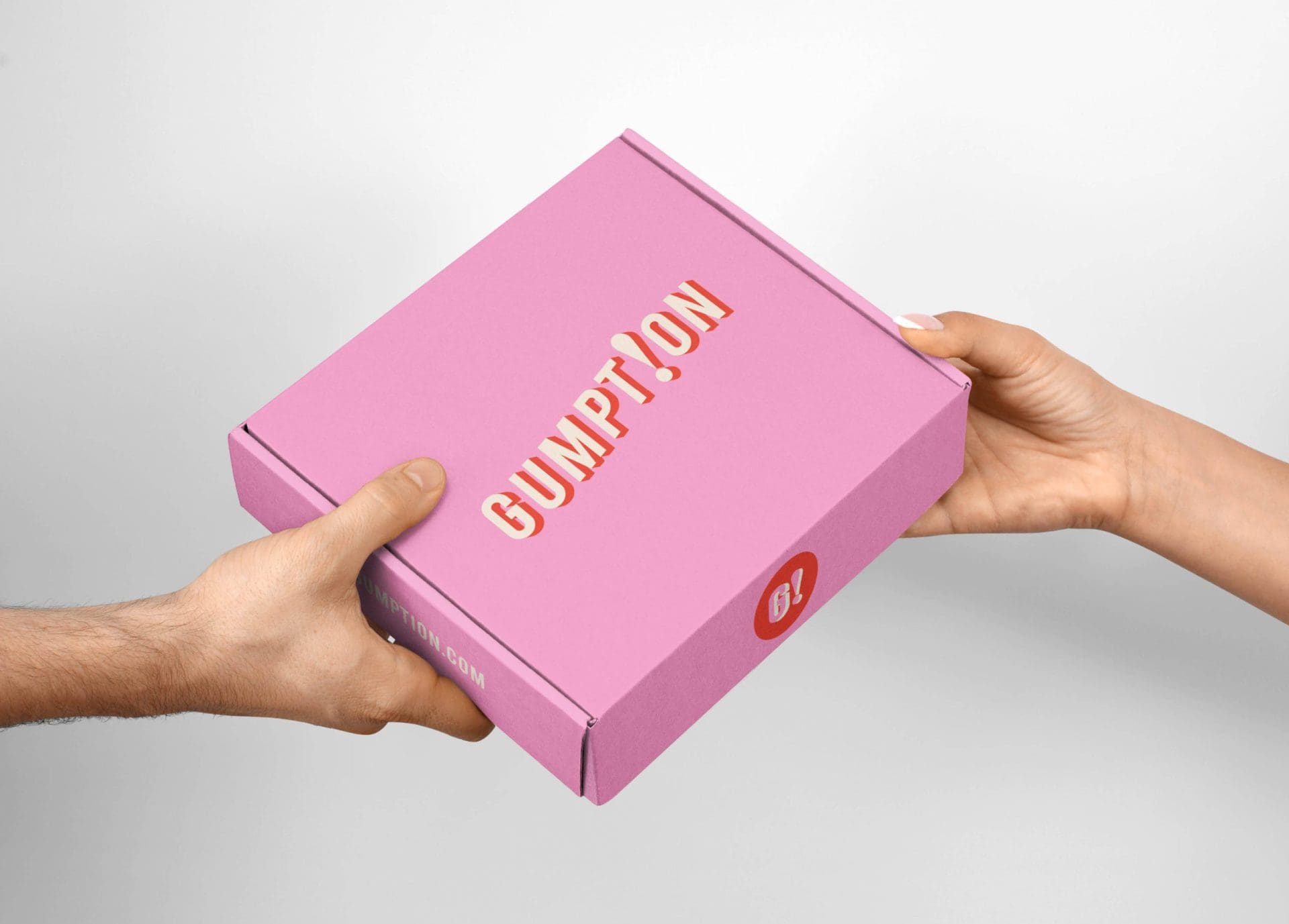 Our process for creating a custom
retail delivery experience design
goes beyond visual graphic design, we're also extremely intentional with the brand messaging. When every element of the unboxing process reinforces your brand, you're deepening the connection with your customer.
Before we design the box itself, we determine the strategy. In this case, we wanted the box to be empowering, fun, and encourage social media sharing to extend the brand's reach.
We flooded the sides of the box with pinks and reds and implemented on-brand messaging throughout. The inside flap featured the words, "You've got Gumption. Yes, you do!" followed by empowering messaging that encouraged customers to live life like one big exclamation point.
On the exterior, customers would find the URL and social media handles in order to encourage website visitors and grow the social following.
Finally, we created a custom pattern that consisted of the G! icon interspersed with words that mean gumption, and a wildcat icon we developed for the brand. We also created an icon label that could be used to seal holographic or foil-flecked tissue to complete the experience.
SOULEMI: PROMOTIONAL BOX DESIGN
As part of our
fitness branding project
for SoulEmi, a wellness program powered by technology, we supplied our client with marketing materials to support the brand.
First, we designed a one-sheeter to inform and entice potential partners. By combining clever copywriting and eye-catching visuals, we made the new concept easier to digest.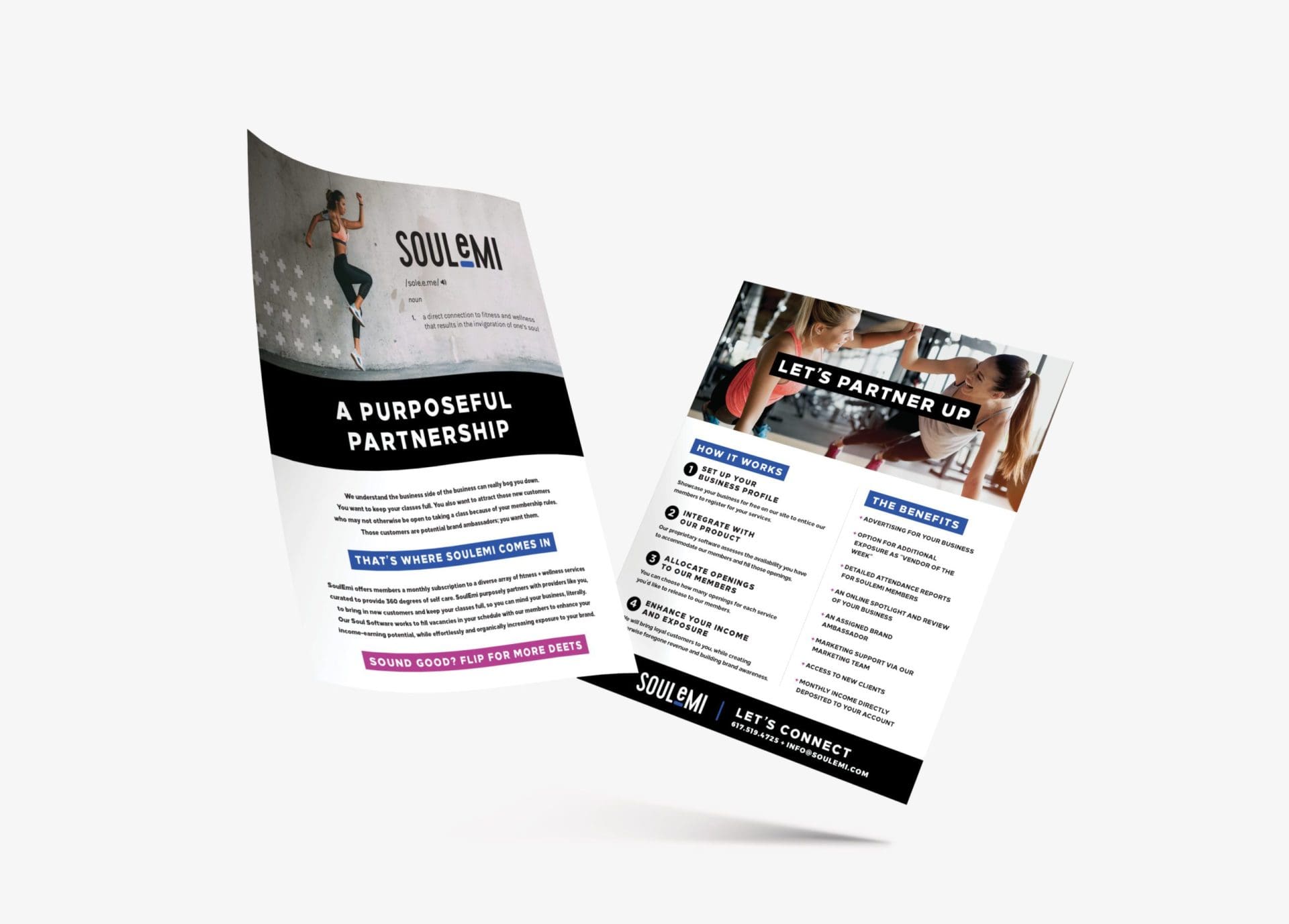 Unlike our standard product-based package, this package was part of a larger promotional campaign, which included a sales strategy. The goal was to demonstrate how partners could benefit financially from working with SoulEmi.
The strategy involved delivering a custom-designed, printed box with a 10-dollar bill inside to potential partners. The box would attract attention and encourage the recipient to inquire for more information.
Our team of graphic designers created a box with SoulEmi branding on the outside and the words: "Stop, Drop, and Bankroll" printed on the inside.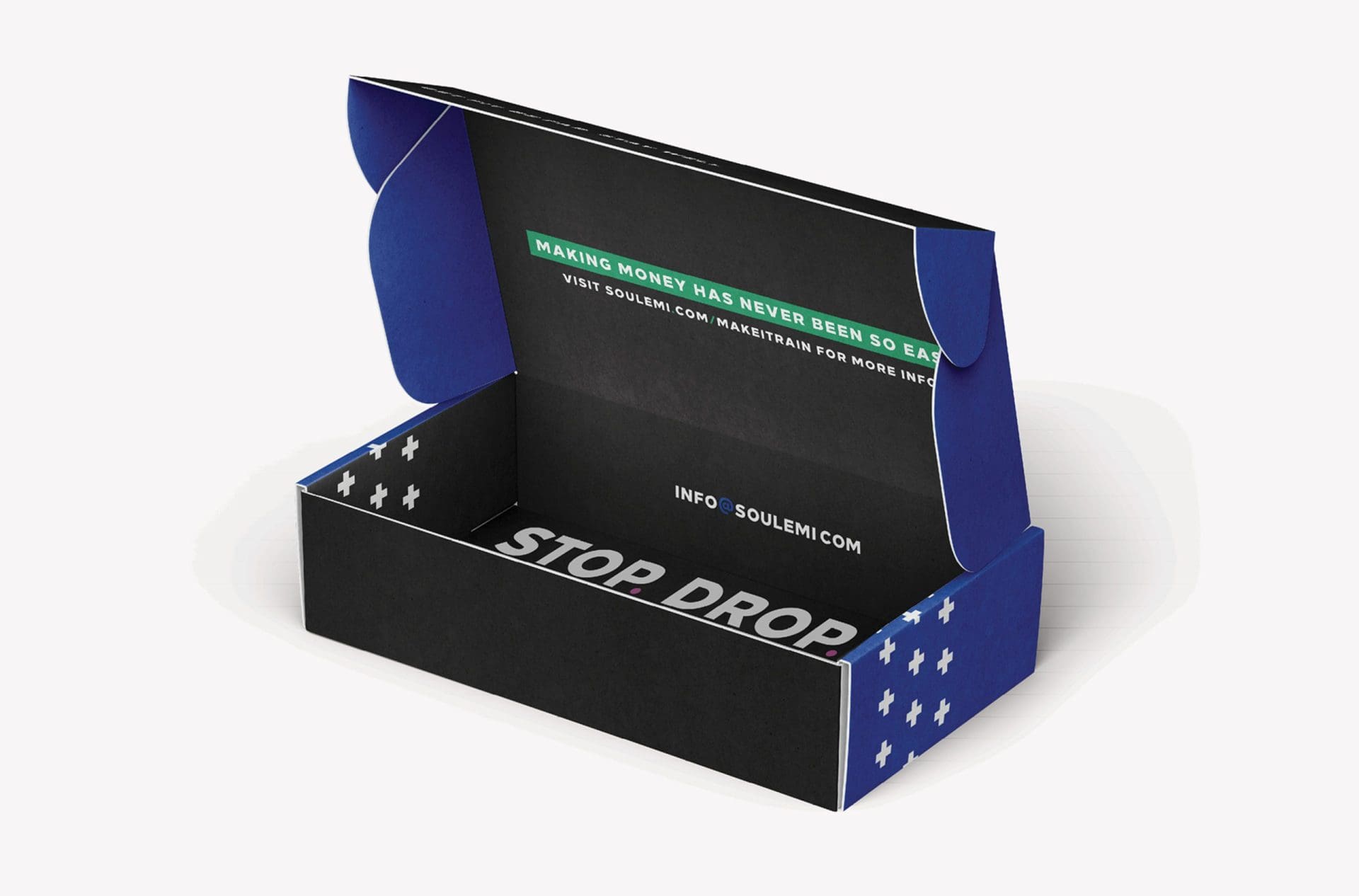 The final step of the brand packaging project involved designing a high-end
branded promotional product
that would align with the brand and be useful. And so, we created a custom-designed metal, Swell-style water bottle in a black matte finish.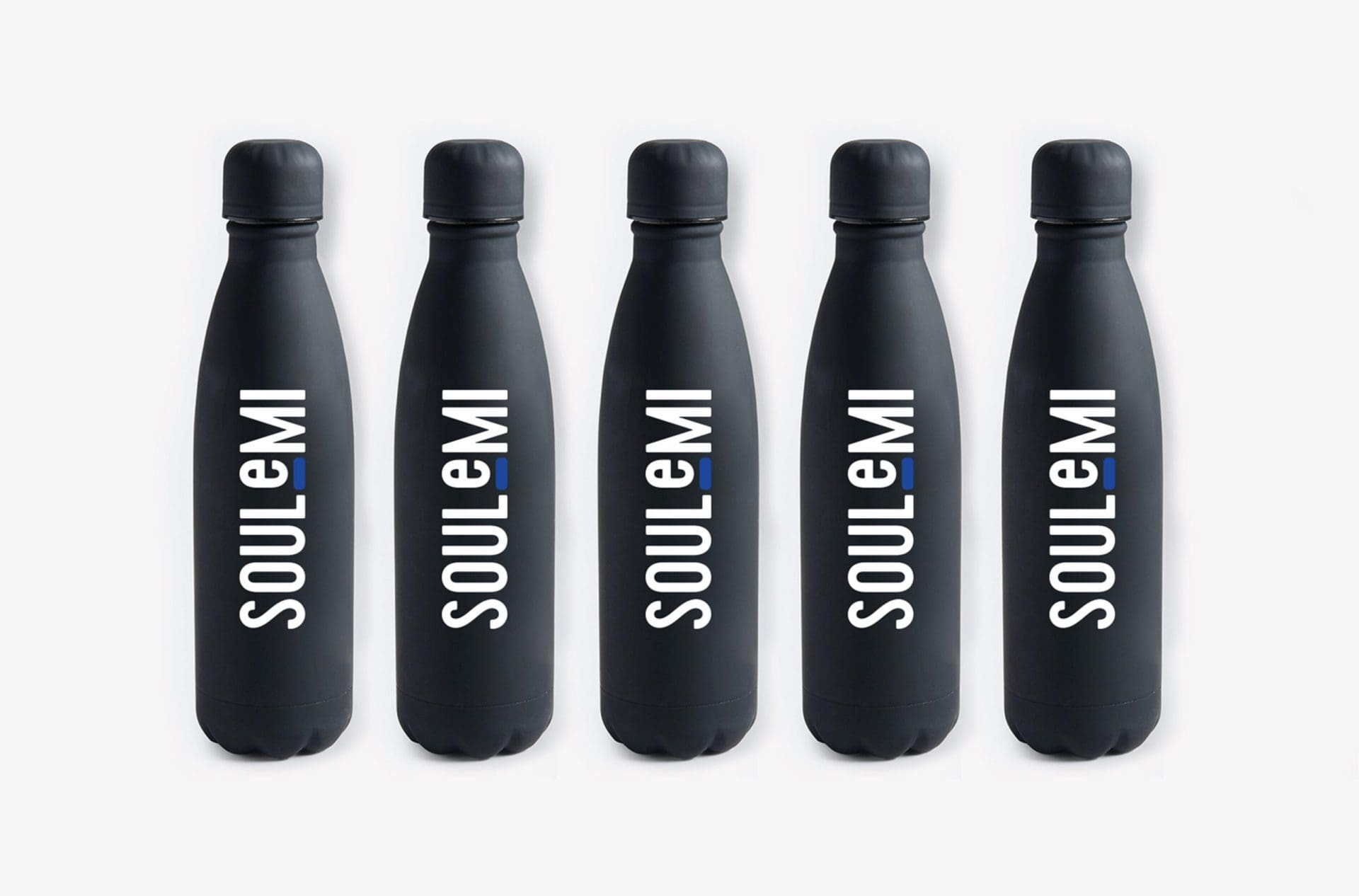 Altogether, the one-sheeter, money box, and water bottle made an irresistible promotional brand package that would motivate potential partners to want to learn more about SoulEmi.
LITTLE WORDS PROJECT: RETAIL BOX DESIGN
Little Words Project
, an online bracelet boutique, came to Nice Branding Agency for a brand refresh as they planned to update their custom brand packaging and deepen their connection with customers. We conducted a brand audit and the alignment of branded materials before we moved into
custom retail box design
.
After completing most of the elements of a rebrand, we shifted our focus to Little Words Project's delivery experience. Our goal was to ensure that the experience of receiving the product aligned with everything else they had seen and heard about the brand.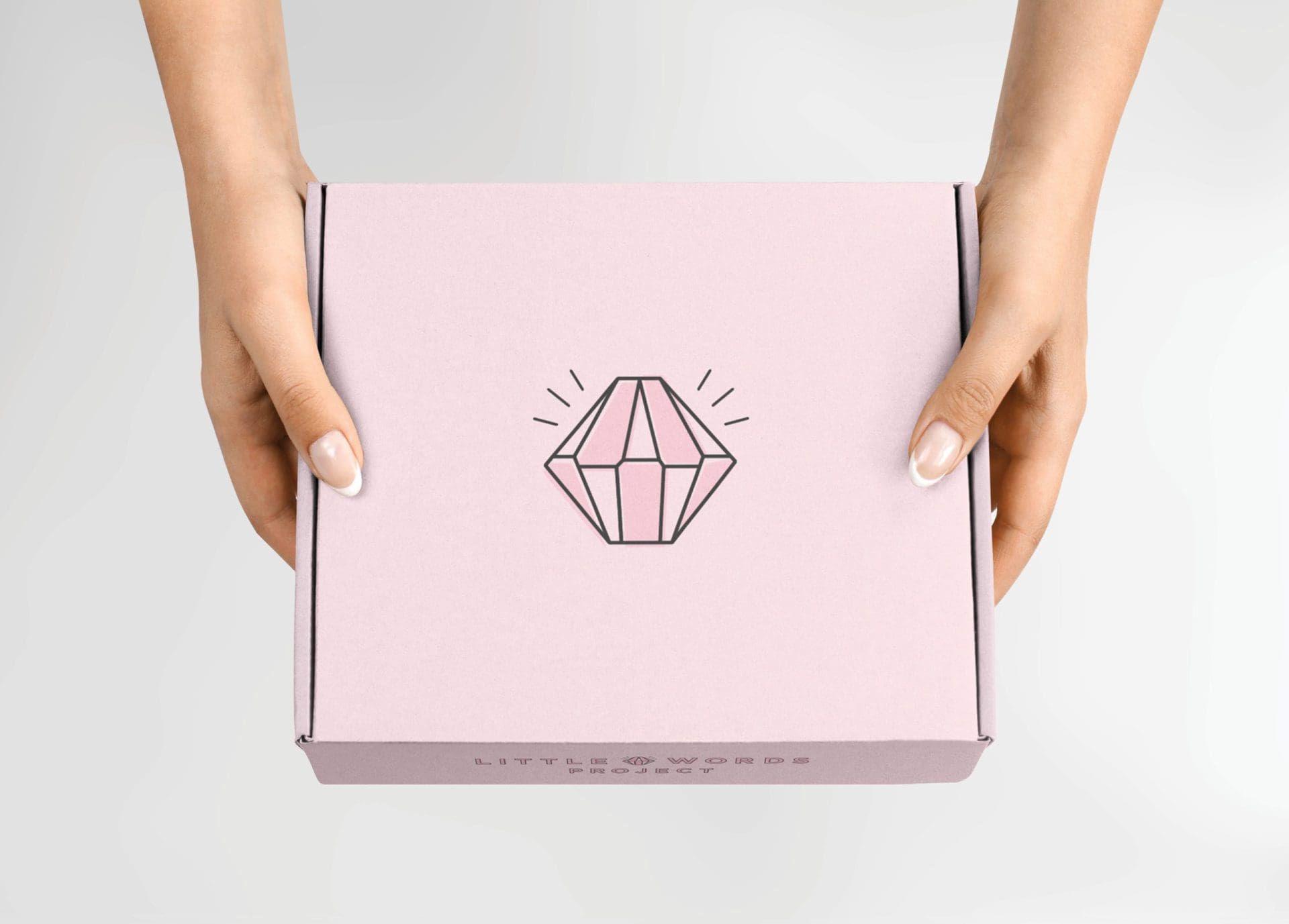 Our modular retail box design strategy for this project included a box design for large orders, a small, cloth drawstring bag for small orders, and a powder-pink bubble mailer that would house the drawstring bag.
Since Little Words Project sends handwritten notes with every order, we designed a refreshed thank you card to accompany the package. The front featured the brand's new tagline: Register, Wear, Conquer, Share. The back provided concise instructions for using the product.
The retail box itself was designed to be Instagram-worthy, so that customers wouldn't hesitate to photograph it and share with their friends. It featured the newly refreshed logo design, social icons, and the words: Welcome to the Nice Girl Gang.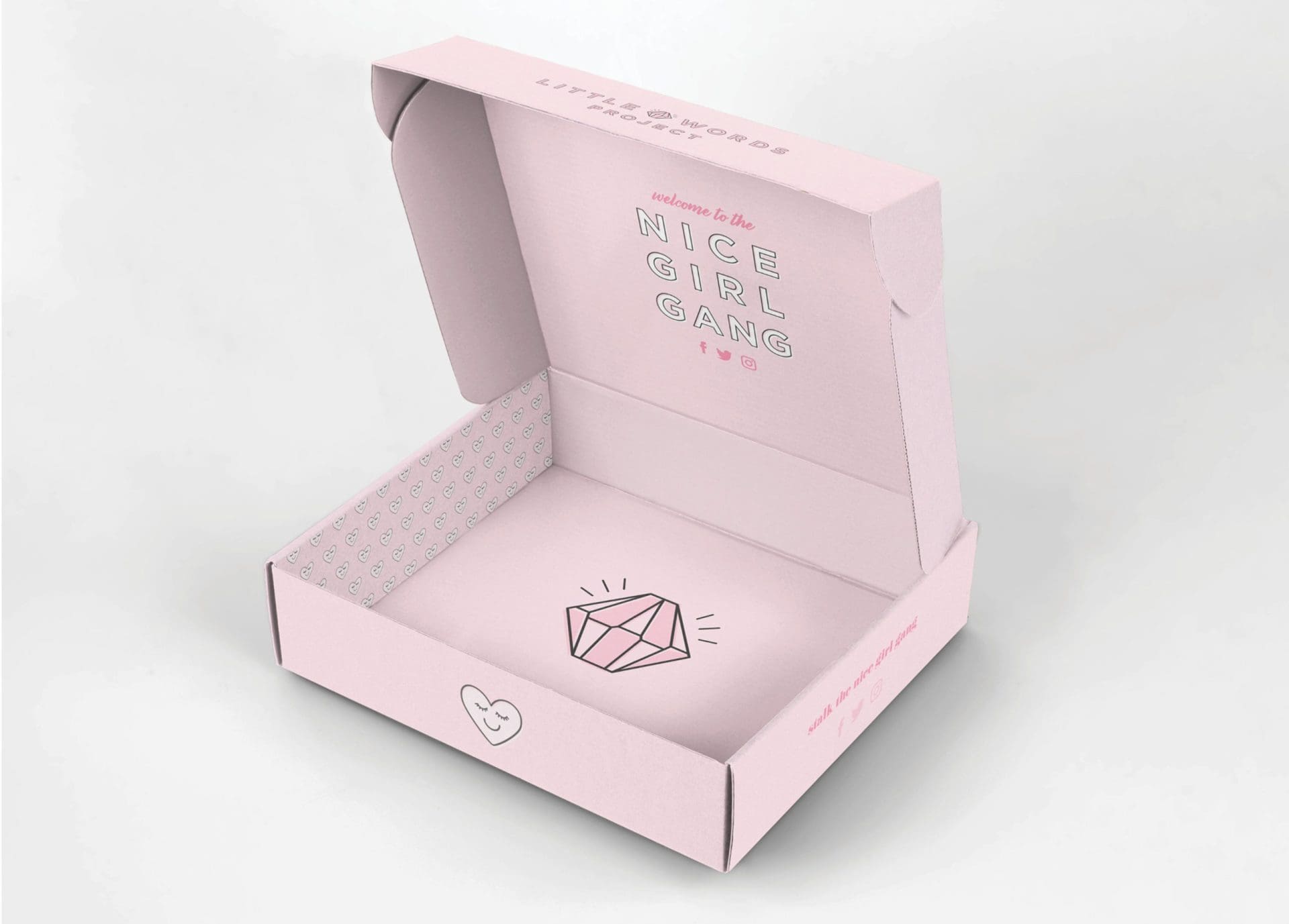 We also implemented calls to action in the box design, including follow on social media, which is the brand's primary marketing platform. We also incorporated the phrase "a little word goes a long way" to emphasize the brand's mission to spread kindness word by word.
CLEAN THERAPY: PRODUCT LABEL DESIGN
When Clean Therapy reached out to us, the company already had a concept and recipe in place for its essential-oil based, food-grade cleaning products. What they needed was a brand that would resonate in high-end West Coast stores.
Our process for
product label design
begins with strategy. We wanted to understand exactly what sets the product apart from the competition and how it would benefit users. We determined that the best way to represent Clean Therapy's value proposition was by implementing hand-drawn illustrative patterns that would represent the freshness of each scent combination.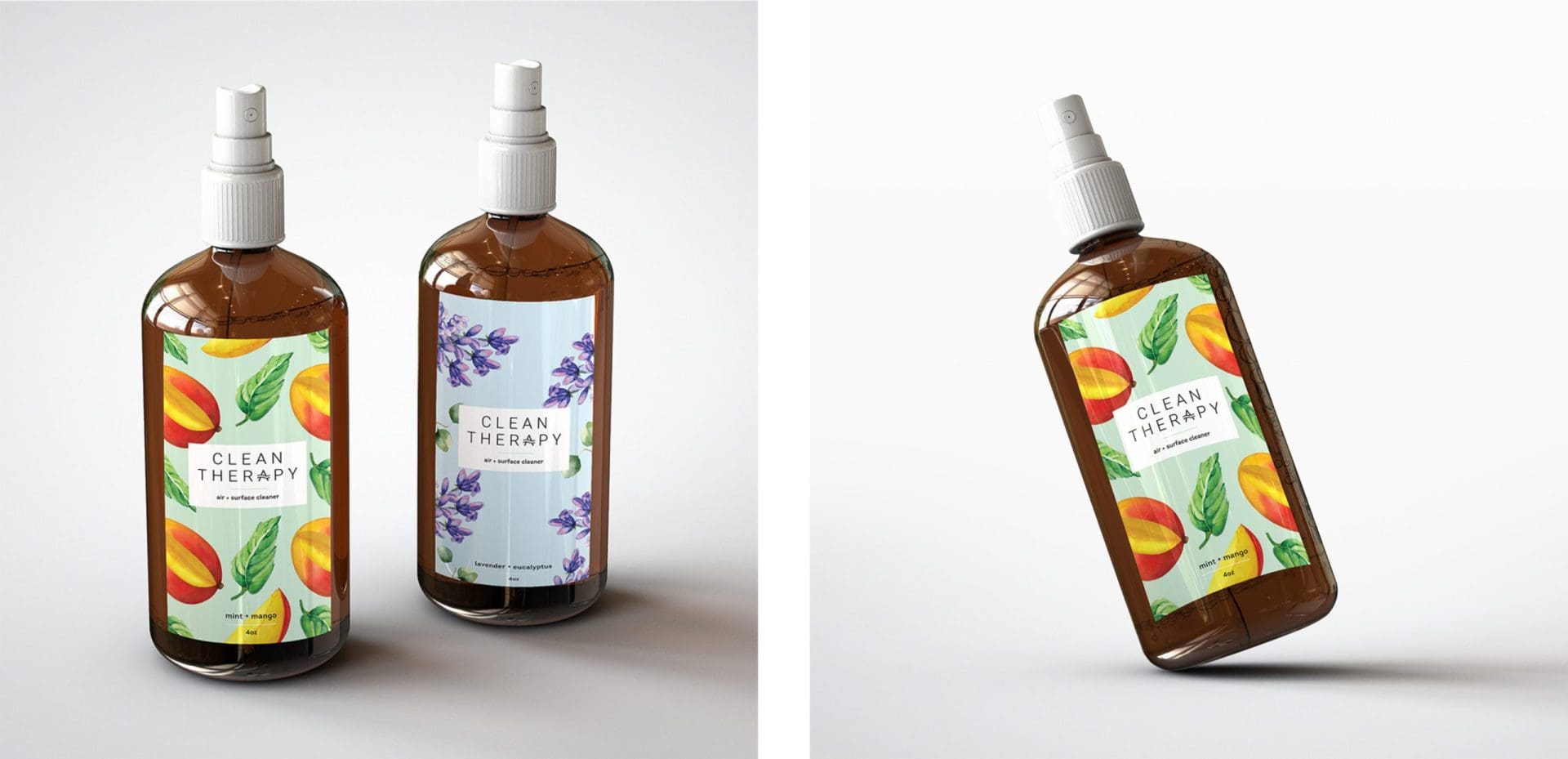 Our team created a clean, modern design for the labels that featured a prominently placed logo surrounded by graphics of the fresh ingredients. With this design concept, a customer could identify the scent quickly by glancing at the bottle.
Customers could find the name of each scent toward the bottom of the product label, so that the space was primarily occupied by the captivating illustration.
Ultimately, the label design took a different turn and we ended up creating something more moody for this project. But, we loved the design so much, we had to share it.
PROVENFIT COFFEE: BRAND PACKAGING LABELS
While some clients come to us with a basic idea of what they want their custom packaging design to look like, others have a very specific vision. This was the case for Provenfit.
Our client requested an eye-catching label for its coffee line, American Force. Their vision was clearly defined: Super fun typography, lots of ligatures and movement, vintage packaging, and modern colors.
Our team got to work and created an overall design that is a mix of modern colors, line-drawn elements, and vintage typography. We incorporated a detailed coffee bean plant illustration, which nicely contrasted the simple graphic elements of the American flag.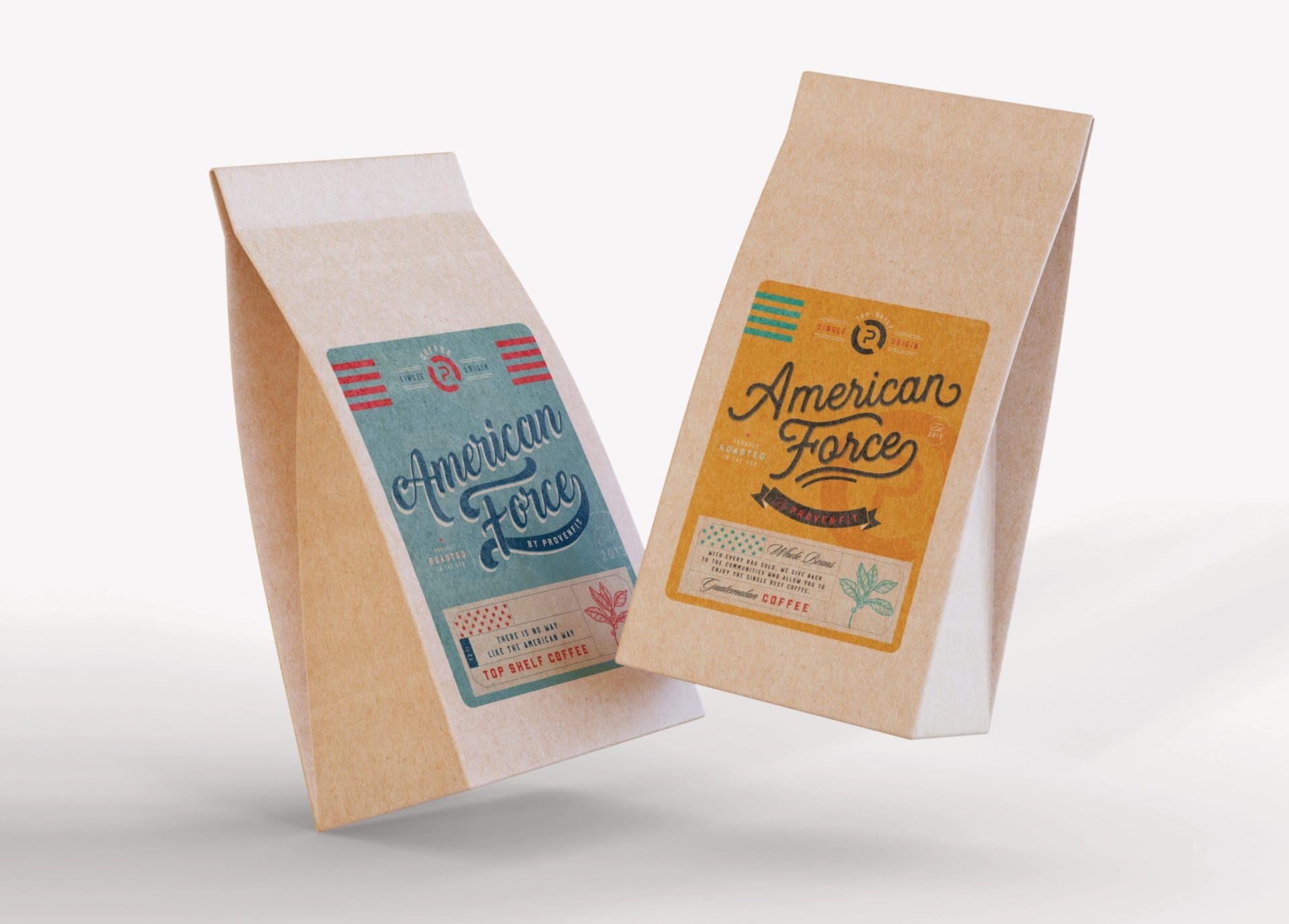 Ultimately, the bright and bold label added a nice pop of color to the white coffee bag, which would surely catch the attention of a shopper.
NEED CUSTOM BRAND PACKAGING?
If you're ready to package up your product and bring it to market with a package that packs a punch,
give us a shout
. Our custom brand packaging design solutions will strengthen your brand, deepen your connection with your customers, and leave a lasting impression.
Follow Nice Branding Agency on
Instagram
and
LinkedIn
for inspiration and tips for elevating your brand experience.