Imperial Symphony Orchestra – Visual Direction + Brand Story
The
Imperial Symphony Orchestra
(ISO) came to Nice Branding Agency in the hopes of establishing a Brand Story and Visual Direction that would better align with its vision for the organization.
Since 1965, the Imperial Symphony Orchestra has been committed to performing high-quality symphonic music in order to educate, entertain, inspire, and enrich the lives of audiences in central Florida. They hoped that a new Brand Story and Visual Direction would help position the organization as sophisticated, high-end entertainment in order to boost brand awareness, grow their community of loyal supporters, and increase ticket sales.
At this point, Nice Branding Agency has already worked with the Imperial Symphony Orchestra for years. Our engagement included symphony poster design and the creation of supporting elements to promote the concerts.
Now, rather than individually marketing its concerts, the Imperial Symphony Orchestra wanted to promote the organization as a whole. They enlisted our help to shift the focus from the concerts to the orchestra at large.
We were excited to help bring more depth to our relationship with the symphony and bring their brand to life in a more meaningful and connective manner.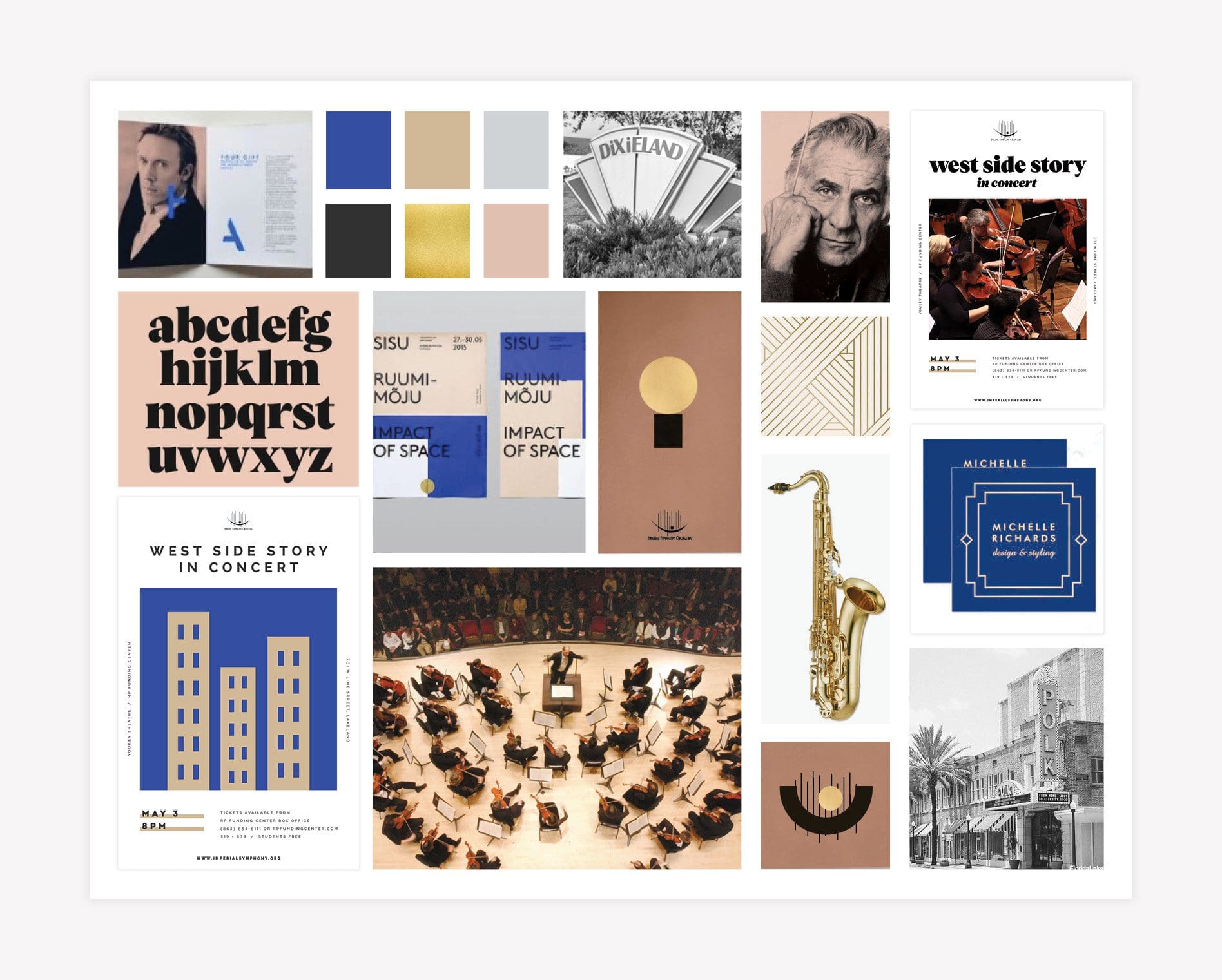 VISUAL DIRECTION
A
Visual Direction
is a roadmap that provides clear insight into the look and feel of the brand. We created a sophisticated Visual Direction for Imperial Symphony Orchestra that had a mid-century style, in order to reflect the city where the organization is based: Lakeland, Florida.
Lakeland has a lot of history, including buildings with mid-century architecture. We incorporated this style into the Brand Board as a nod to the older generation of ISO supporters, as well as the younger generation that is attracted to the mid-century aesthetic.
We chose two main fonts that could be interchangeable throughout the branding: a bold serif that would be used for the symphonic performances, and a modern, clean sans serif font for kid-friendly and more contemporary performances.
For the color palette, we selected a rich blue to signify the Imperial Symphony Orchestra's role in the local art community: a dependable and distinguished source of high-end entertainment. We then paired it with a neutral tan, a sophisticated gold, and a supporting muted mauve that brought in an element of surprise, while maintaining the mid-century style.
Within the Brand Board, we demonstrated how the posters and marketing materials for the shows would feature ample white space and be designed in a very well organized grid format to give off the mid-century vibe.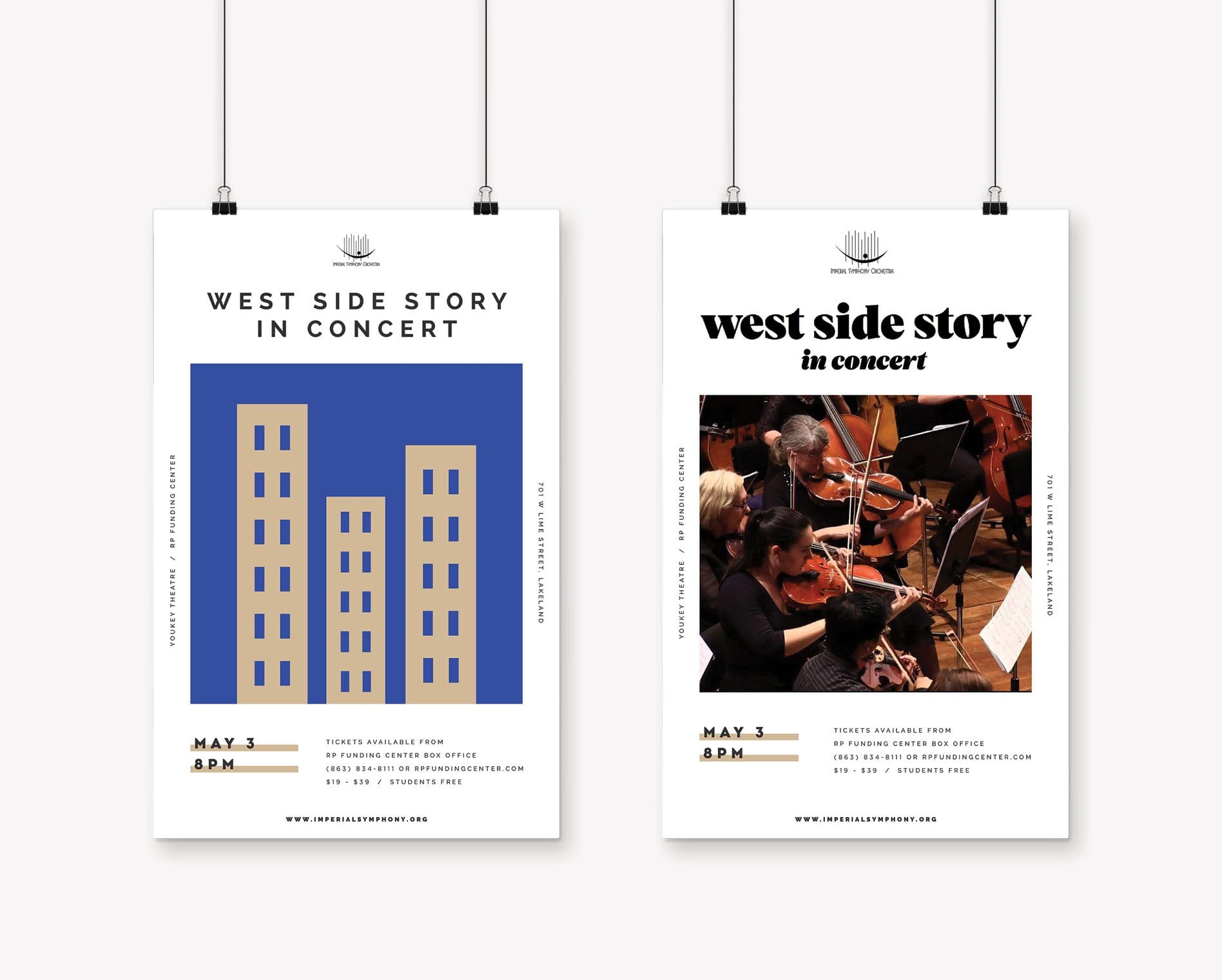 To maintain brand cohesion, we developed a plan to use two design styles for symphony's posters and marketing materials. One option would be a photography style that was rich and incorporated golden tones. The other would feature simple graphic illustrations.
We also used the concept of simple shapes to suggest a refresh of the logo icon that ISO was known for.
BRAND STORY
In addition to creating a Visual Direction for the Imperial Symphony Orchestra's new brand, we wrote a Brand Story to accompany it.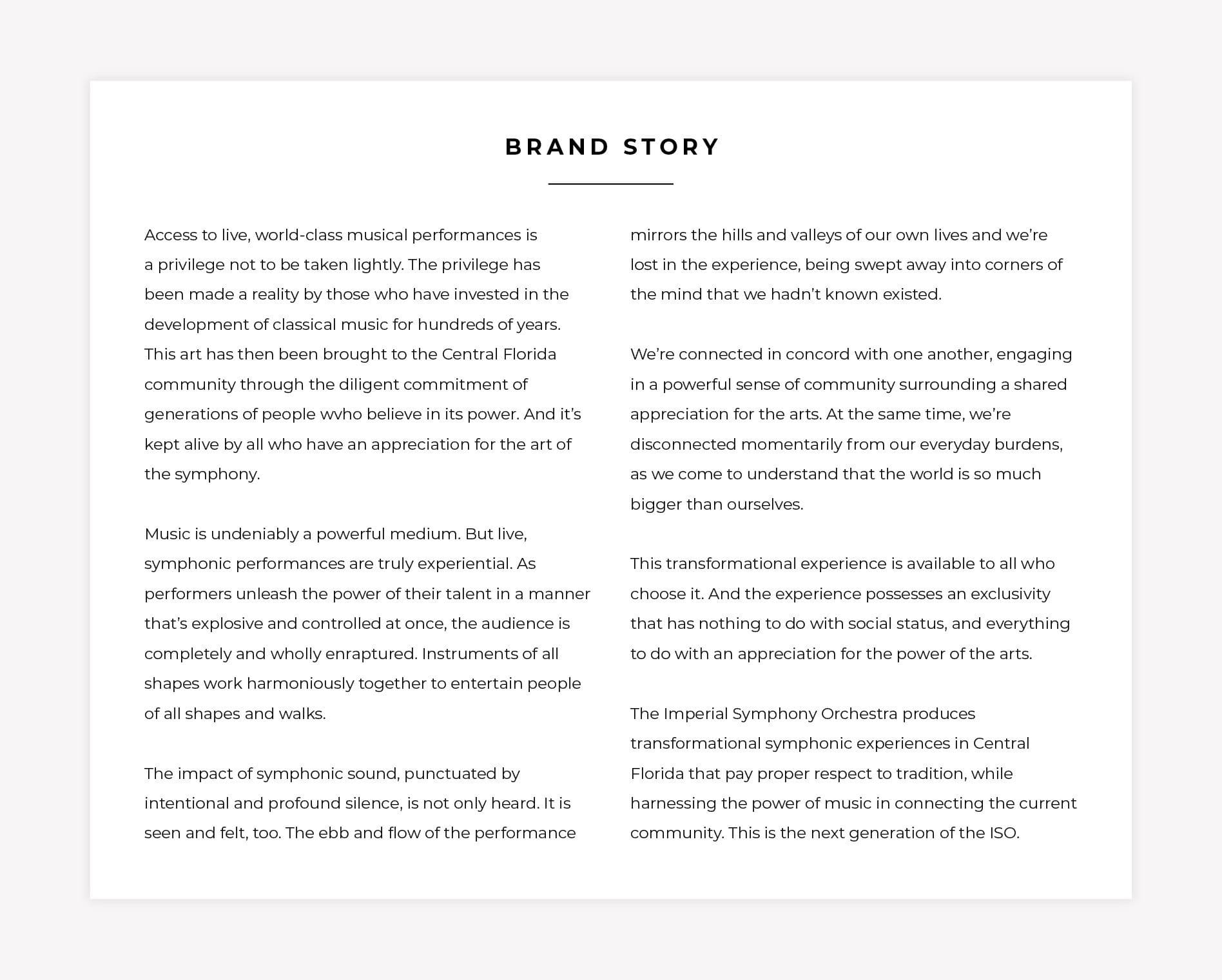 A
Brand Story
is a great way to establish a connection with your target audience that goes beyond functionality and reaches an emotional level that piques interest and creates a connection to provoke action. The company's goals and values are the building blocks of the brand story.
When developing a Brand Story for the Imperial Symphony Orchestra we tugged at the heartstrings of music lovers who appreciate the beauty and timeless quality of classical music. We explored the powerful emotions of experiencing a live music performance and the long-lasting connections formed between the audience and the musicians.
The Brand Story can be used on a website, social media, marketing materials and beyond. When combined with a Visual Direction, the Brand Story can have a tremendous impact on your audience's connection to your brand.
NEED SOME VISUAL DIRECTION?
If your business is starting fresh with a new brand or simply taking your brand in a new direction, we can help. We'll create a strategic and thoughtfully designed Visual Direction that captures your vision and takes your brand to the next level.
In addition, our team of content creators will craft an impactful Brand Story to pair with the Visual Direction that your target audience won't be able to resist. Call 615.905.9936 or
contact us
today for more information.
Be sure to follow along on
Instagram
and
LinkedIn
for inspiration for your brand.