A Social Media Firm Ranks Social Scheduling Platforms
As a social media firm, the biggest reason we schedule our social media content is the efficiency it provides. When you're running several accounts on multiple platforms for dozens of clients (as well as your own social), working ahead of time is the key to consistent posts. It's also helpful to look at a month's worth of content ahead of time. This way, we can see how content themes are rotating throughout the month. We can also see how the art will look all together. And we can organize the order of our posts. This allows us to vary our social content in a manner that's more engaging for our followers. Plus, we can make sure our grid is on point.
More Than Just a Time-Saver
Over the years, we've tried several different social media scheduling platforms. In scheduling social for our social media firm, we've learned a lot about what does and doesn't work. To us, the most important things we look for when selecting a social scheduling platform are not just about how much they help out the scheduling process, but also how well the platform can be used to
monitor
interaction on social accounts and report on analytics. On a daily basis, using a scheduling platform to monitor your social media accounts is a huge time-saver. It keeps you from having to log into each account on each platform in order to interact with your followers. The best social media scheduling platforms have interactive inboxes. Here you can see or set up notifications from activity on all of your accounts. You can also interact with team members to delegate responses, and interact with your audience directly. All without leaving the social scheduling platform. As far as reporting goes, a huge advantage of having all your accounts scheduled in one platform is the ability to see reports. You can also provide your team with updates on how your content is performing. Analytics will show you what content is earning the most interactions and engagements, and what isn't doing as well. This information allows you to compare months, improve content over time, and share results with others as necessary.
What Your Perfect Platform Should Be Able to Do
Scheduling-wise, look for a platform that can post the same post to multiple platforms at once. If you can't share the same photo and the same caption to Instagram and Facebook at the same time, move along, sister. Picture this: you have a great image you want to share to your Instagram, Facebook, Pinterest, and Twitter. Why would you schedule the same post four separate times? You could just use a platform that could send it out to all of them with the simple click of a few icons instead. The best scheduling platforms we've seen let you customize captions. You can create different post text for the same post on different social media platforms under the same scheduling module. Did you catch that? That's huge. We customize our captions. For each post we use different text depending on the platform we are sending it to. For example, we use emojis on Instagram, but we take them out of our Facebook captions because they don't show up. We also tag people in our captions all the time. But nobody has the same handle on all their social accounts! You gotta be able to customize your captions if you want to tag the right person in each post. If you can't share the same photo with various captions for each network, we say walk as well. The second thing you need to look for is a bulk upload feature. This can really come in handy, especially if you're already planning content in a
content calendar
. Being able to upload all of your photos for the month at once is a huge time-saver. Some platforms even go so far as to let you bulk upload your captions in an Excel sheet. Finally, at all costs, find a scheduling platform with a calendar view so you can quickly assess where you have holes that need to be filled. We say it's a plus if you can drag and drop posts in the calendar view as well.
A Social Media Firm's Rundown of Some of the Top Social Media Scheduling Platforms
Hootsuite
- Hootsuite is one of the biggest names out there for scheduling platforms. In our experience, this is the best one to choose if you're looking to keep an eye on the activity for a lot of accounts. With Hootsuite, you can set up and customize your dashboard so you can see search streams of published content, scheduled content, and competitors' content all at once. This is good one to pick for a social media firm who is organizing accounts and content for dozens of clients, but Hootsuite is missing a lot of features that we believe are key. Personally, we ended up moving away from using Hootsuite because it was missing some features we really need. In Hootsuite, you can't reply to comments on Instagram posts, view Facebook messages, create custom captions for a post going to different platforms, or have more than 25 search stream tabs (which we actually needed, believe it or not).
Buffer
- Buffer supports a wide variety of platforms and is a great tool for teams scheduling social together. A social media firm using Buffer can add on options for analytics and profiles as they take on clients. If you're a small agency or just running your own social, Buffer's starter plans are free. However, they still check enough boxes for scheduling, monitoring, and reporting on your social. We used Buffer for several years but ultimately stopped using it. We needed a way to edit one post on all of the platforms it is scheduled for, instead of editing each individual message. Also, we found the calendar on Buffer to be tricky to navigate.
Onlypult
- Onlypult is a heavy lifter if you're primarily interested in scheduling content for Instagram. Onlypult doesn't cater to other platforms, but it's killer for Insta. You can use it for galleries, videos, and stories in addition to your regularly scheduled images, so it's a great way to cover all your bases on the Instagram front. Our social media firm stopped using Onlypult in order to find a platform that could do more than just Instagram. But we do miss some of the features Onlypult had. Like being able to tag users in the photo you've scheduled. Sigh. Those were the days.
Social Report
- Social Report is the underdog that we ultimately fell in love with. This little powerhouse is fully integrated to automate posting for Instagram, Facebook, Google Plus, Pinterest, WordPress, and every other huge platform you would want your biz on. With automated monitoring features, in addition to scheduling services (think automatic likes on all comments from certain users, automatically following back new followers, etc.), and automated reports that land directly in your inbox, we were, let's just say, addicted.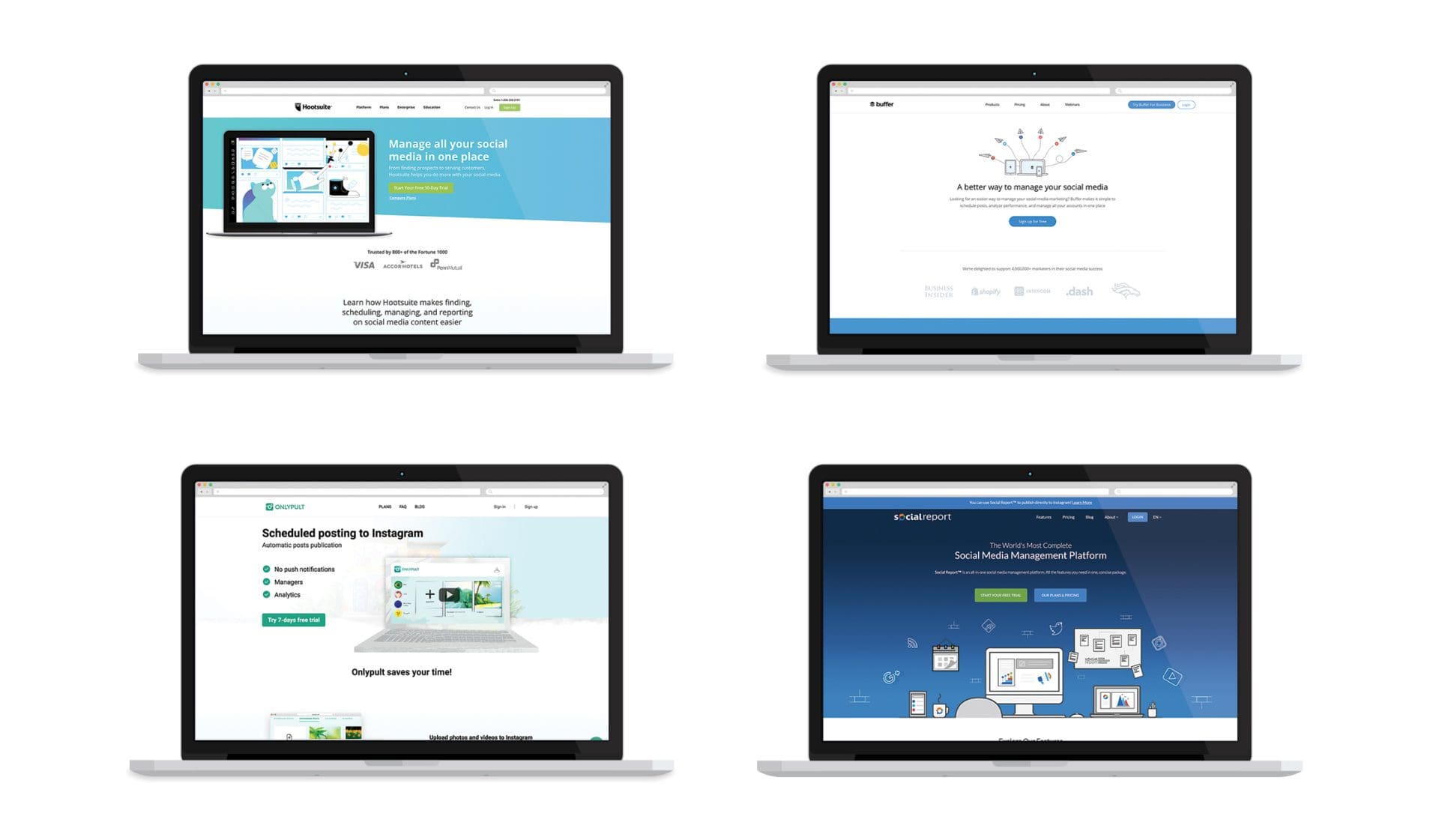 Social Report has great features. These include branded reports, an intuitive calendar view, an option to save posts as drafts for approval, and a photo editor in the scheduler. So you can upload a photo and crop it square for Instagram or wide for LinkedIn. Then you can post it without having to open Adobe. We are blessed. As you look for a scheduling platform of your own, keep in mind that the algorithms, privacy policies, and business aspects of social platforms are evolving almost daily. Rules change, and social scheduling platforms are always going to be a step behind as they learn how to adapt to these changes. Do you feel like you're in way over your head? If you want to leave the calendars, algorithms, and scheduling up to someone else, holla at the girls at
Nice Branding Agency
. We have tons of experience as a social media firm and would love to help keep you up to snuff on social.