Benefits of Branding
Top Three Benefits of Small Business Branding
We get it, if you're a small business,
branding
isn't always your first priority. Oftentimes, you're caught up in the operations of the business. For example, if you're a lemonade stand, your time is consumed pouring lemonade and trying to get people to stop by the stand.
But here's the thing, great branding can really help you achieve your overall goal. Think about it. You're so, so busy trying to flag people down to stop at your lemonade stand. You spend time and money and effort creating posters and waving them around. You might even put flyers up around town.
But those posters and flyers look, well, amatuer. People aren't sure what you're offering, and they don't know if you're legit. They aren't sure if they should trust you with their hard-earned lemonade money. And there you go. All your time and energy is wasted. You might even have turned some people off that would have purchased from the stand if they had simply seen you standing there, sans hideous poster.
Investing a tiny bit of time in creating your brand, will certainly pay off. Creating a solid visual direction and message for your lemonade stand will help you clearly communicate to your customers that you're offering fresh-squeezed, organic lemonade, sweetened only by the sun. Your cup design will ensure that each thirsty human who walks away from the stand will show off your brand to every person they encounter. And your stand itself will be eye-catching enough to stop traffic, no poster waving needed.
You see where we're going here.
We have worked with hundreds of clients, and we've seen over and over again that using your brand to amplify your brand story is the best way to benefit your business in the long run.
Still not sure about small business branding? Read on and find out why we know it's worth the investment.
Small Business Branding Benefit #1: Reputation
Especially for a new company, small business branding is a great kickstarter. It can set you up as a legitimate company for potential clients and customers who may have never heard of you before. Building trust as a reputable business is so important for a new venture. When word of mouth hasn't spread yet, your brand is all you have to convince people to give you a shot. To get those initial customers, a well-designed brand will make an impact in legitimizing your name.
Also, great branding will make you memorable. Having a consistent brand sticks in the minds of your clients and makes you recognizable. If customers have a positive opinion of you, and they recognize your brand, they are likely to return to you time and time again.
Finally, branding is also shown to have an impact on employee satisfaction. If you think about it, your employees are significant stakeholders in your organization. A company with a strong visual direction, a strong mission and clear messaging attracts more and better workers.
In fact, a
recent LinkedIn study
showed that strong brands receive 2.5x the applicants per job post on their site. Similarly, LinkedIn also determined that companies with strong brands have a 28% lower turnover rate than companies that aren't as well-branded.
Something to think about.
Wondering what Branding actually encompasses? You guessed right, it's not just your logo. Dig in with our Creative Director, Amy Dennis, and learn more about what branding actually means.
Small Business Branding Benefit #2: Builds Financial Value
Alright, you might have known all of that reputation stuff already. Did you know, though, that there are potentially significant financial benefits to investing in your branding, as well?
Many new companies start out with small business branding by paying a roulette logo design auto-site to create a rudimentary logo. This gets them up and running. Then, they plan to come back and rebrand later once they have a little more money to work with.
What they often forget, though, is that rebranding means not only paying for a new logo design. But it means that you will also have to replace all collateral that sports your old logo. Why go through the process of creating your logo, website, and business cards twice? You can save your time and money by investing in your small business branding from the beginning. Plus, ask any of our clients. Going through a branding exercise brings to the surface all of those important questions like, "Why are you doing this? Who do you want to be? What are your values?".
Seems like a no-brainer, right?
Initial investments aside, companies who invest in their branding can see significant ROI.
For example, as shown in
this article
, Just Salad, rebranded in mid-2017 and has already seen a significant improvement in sustained increased sales. By the third quarter of 2018, Just Salad reported its third consecutive quarter with double-digit sales growth, posting an increase of 21.3 percent in YTD same-store sales.
Can you guess which of the below is the new brand? Let's just say, out with the orange swirly salad, and in with simple and descriptive.

More food for thought: The value of publicly-traded companies is based on more than their assets. A lot of the value is placed on — you guessed it — the company's brand. Strong brands foreshadow strong business opportunities.
Small Business Branding Benefit #3: Shifts Focus To Your Brand Story
At the end of the day, small business branding re-focuses everything that you do back to what matters most: your brand purpose. This underlying focus on the big picture puts the heart into your brand and shares it with the world. After all, the point of doing business is to get an idea out there (and make a little money while you're at it).
As you can see from the logo we developed for our client at Do What You Love Series, the logo can become a jumping off point for telling your story and conveying your core values.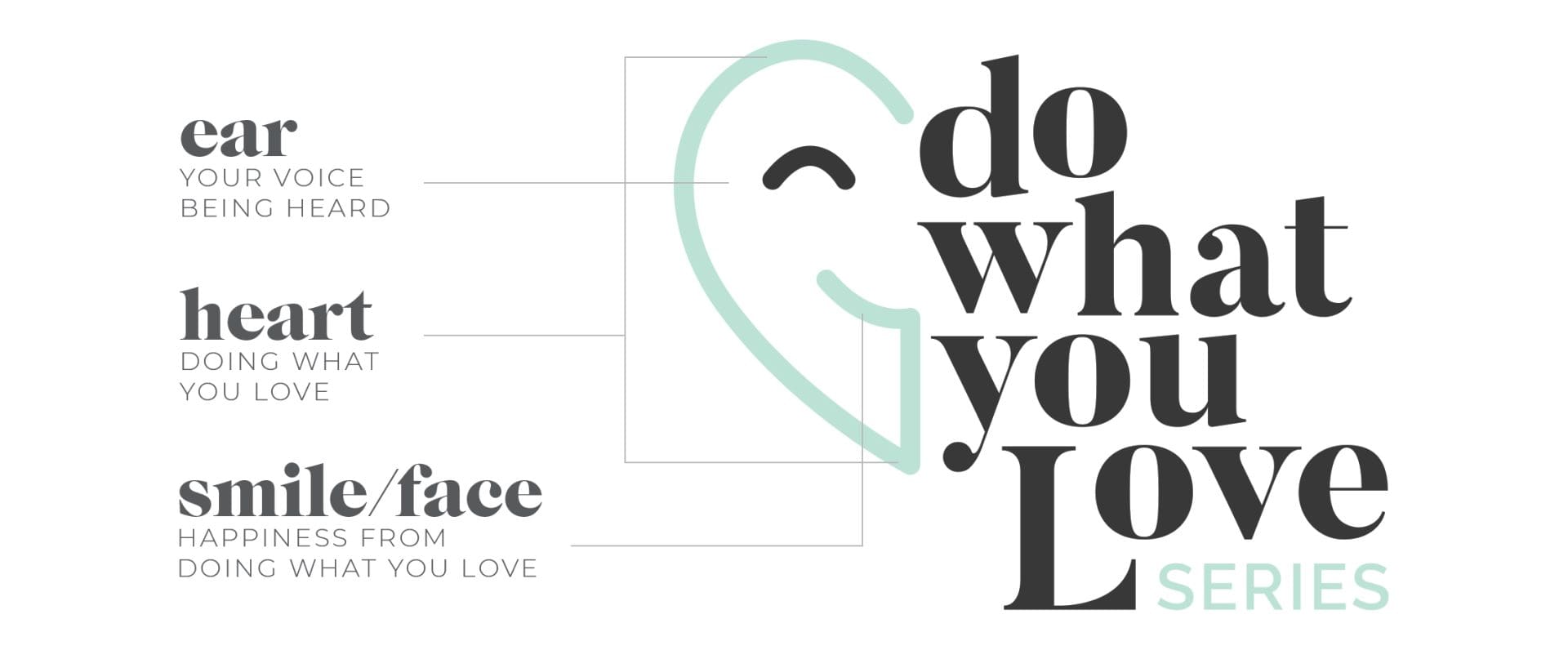 Having a strong, cohesive brand in place allows you to weave your story through each and every customer touchpoint. It makes it easy for you to connect with customers again and again. Your brand sets your team up for success as they communicate about your organization. Branding makes your business come alive with a personality and a purpose. It takes your unique qualities and the capabilities that make you stand out and communicates them to every client, customer, and partner at every interaction.
Strategically, it shapes your customers' perception of who you are around your best qualities. Consumers want to trust the brands they interact with, so by making your goals and motives the core of your brand, you put your business in the best possible position.
If you're looking for small business branding,
hit up
our team of designers and strategists at Nice Branding Agency. Our industry knowledge and dedication to smart, strategic branding practices are proven in our
portfolio
, and we would love to talk with you about your small business branding.