What is Brand Voice?
Why is Brand Voice Important?
As a branding and marketing agency, the unique voice we develop for each of our clients is what helps them stand out. This works just as much as the information about who they are or the way they look.
This is because when a marketing agency writes content,
how
we write it is just as important as
what
we write.
Most people understand that nailing down the delivery of content for your brand is important. For example, if you picture how the social media posts for a pet supplies company and a corporate hospital would sound, they're super different. This is because the brand voice changes to reflect each brand, to connect with the intended target, and to convey a certain emotion.
Brand voice shapes the vibe of your messaging, but there are differences that you have to master to write it, well, right.
What is Brand Voice?
First of all, your brand voice is the personality of your messaging. It's your style—your point of view. It aligns with the rest of your brand, or at least it should. Nailing down a voice that lines up with your brand personality and stays consistent across your messaging is difficult. The sign of a great branding and marketing agency is the ability to hone in on what you're about and stick to it throughout your writing.
Brand voice is reflected in the words you choose, the level of formality you use in your words, slang, and punctuation, and the way you do or don't use humor. Take the
Nice Branding Agency
brand voice, for example. It's fun, spunky, a little bold and real sweet. This aligns with the personality we have set out for our brand to follow. It's no accident that even our client intake forms have a bit of personality infused. We intend to reach you at every single touchpoint, and this is what sets us apart.
Connecting to Customers
Brand voice is a valuable way to connect with the customer at every turn and to create cohesion between the visuals and what they're reading.
A lack of an established brand voice means that your brand's personality may be impacted by whoever is developing content for you. It leaves way too much up to interpretation by various team members with different perspectives, and in the end, this leaves the reader with a disjointed view of your brand.
The human brain wants to avoid confusion, so any disconnects in your brand will immediately cause you to lose the interest of the viewer, reader, customer, client, etc.
How a Marketing Agency Crafts Your Brand Voice
When crafting a brand voice, every word, phrase, and punctuation mark contributes to the personality you are creating. Just ask your marketing agency. You can and should create a complete voice and tone guide for your brand with guidelines for your copy. Our pals at MailChimp created a pretty stellar guide for their team: https://styleguide.mailchimp.com/voice-and-tone/.
To start, picture the qualities of your brand and consider how those qualities can be represented through words. For example, a brand like
Little Words Project
is young and has strong emotional ties to encouraging, empowering calls to action, but Taco Garage
touts a simple brand experience, so the voice includes witty remarks and straightforward verbiage.
Tips for Developing Your Brand Voice:
Character - What is the persona of your brand? Is it casual or more formal? Inspiring or more factual? Playful or more straightforward? Try to think of your brand as a person. Describe that person to someone who has never met him or her.
Tone - Your brand's voice may use various tones, depending on the type of communication you're crafting. If you're writing a simple social post, the tone may be more informal and off-the-cuff. However, if you're penning a proposal, you may use more formal language. Just as a person would interact differently with their best friend or their boss, your brand's tone will vary slightly based on who you're communicating with, and the nature of the content you're conveying.
Language - The language you use, meaning the words you choose, should be in line with your overall brand and relate well with your target market.  Technical words are used to convey deeper meaning and a sense of ethos from the speaker. If it is important for a brand to be knowledgeable, and you're communicating to an audience with a deep understanding of the industry, then a higher level of specialized language is needed to get that across. If a brand needs to be more relatable, then you can leave the big vocabulary at the door.
Purpose - What's the point? Seriously, think about what the purpose is behind the copy you are creating for your brand. Are you attempting to delight, empower, engage, educate, entertain? Or is it a combo of several of the aforementioned? Using humor can make your brand more casual and approachable. The absence of humor is also a stand you can make to convey a more corporate or serious personality. Think about setting out a purpose. Then, weave content through that lens to ensure that what you're saying is aligned with your goal.
Now, let's get real real and dive head first into some brand voice examples from our portfolio. These are a couple of brands that give us all the heart eyes when we look back at the work.
Masala Wok Brand Voice
A great example is the brand voice we developed as the marketing agency for
Masala Wok
, a fast-casual concept with locations throughout Texas and Virginia. Masala Wok came to us for a complete rebrand. They wanted to make Asian and Indian food enticing and approachable in regions where Indian food wasn't yet a common option in the fast-casual segment. We were charged with creating a comprehensive brand that incorporated a bold brand look and feel, and compelling copy about Indian and Asian food that would resonate in the American market.
Visually, the brand we developed incorporates bright colors and fun illustrations to emphasize the casual, approachable vibe of the restaurant. Vibrant orange was assigned to collateral representing Indian cuisine, while a rich red color was used to communicate with customers about Asian offerings. Every customer touchpoint was addressed through the branding exercise in an effort to better connect with customers.
Working through the brand voice provided an additional opportunity to connect with customers at every touchpoint, both in the restaurant and online. For Masala Wok, we created a voice that utilized quick, quirky phrases, an abundance of alliteration, and funny puns to draw interest and make the content memorable.
The goal of the Masala Wok brand was to make Indian food accessible and approachable to the American market. We wanted people to feel comfortable in the space, ordering the food, eating the food, and during every other interaction with the brand. The cheeky tone of the brand voice our marketing agency developed for Masala Wok helped to make this connection with customers and get them to feel instantly at ease.
Characteristics of the Brand Voice for Masala Wok:
Character - Friendly, knowledgeable but not aloof, fun
Tone - Casual, quirky
Language - Simple, funny
Purpose - To educate, entertain, and entice
We used fun, simple phrases like "tikka licking good," "wok and roll," and "rice, rice baby."
All of the text that was created was considered an opportunity to connect the viewer with the brand.
A meticulous attention to brand voice can differentiate you from your competition. Many of your competitors may not have the attention to detail necessary to kill it with on-brand copy, so right there, you'll have a leg up.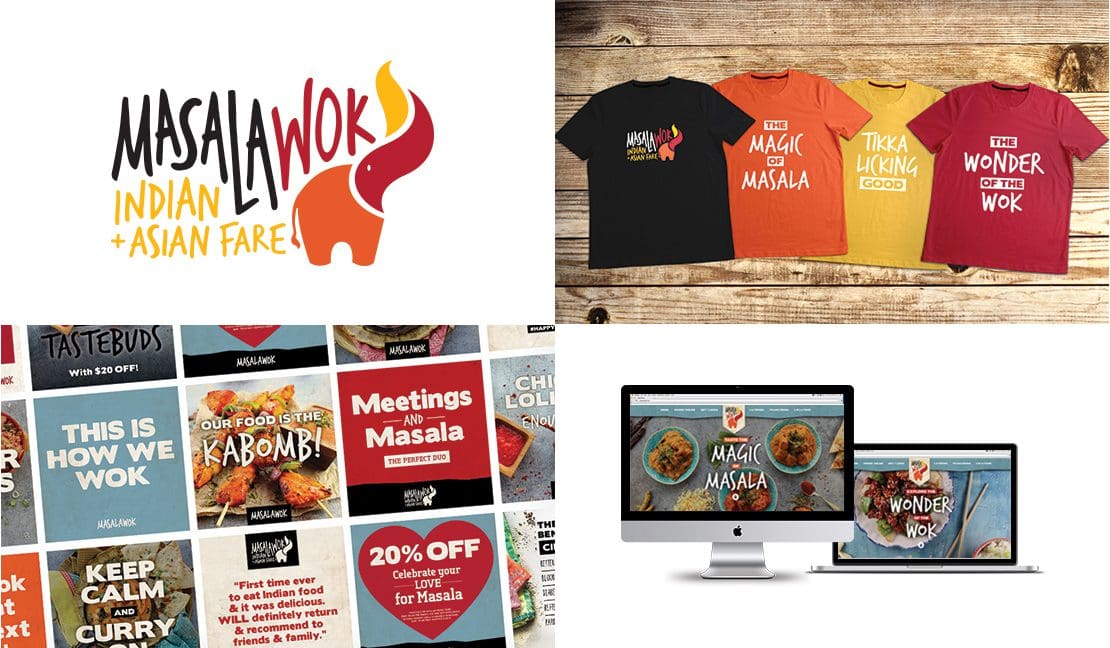 Little Words Project Brand Voice
Little Words Project came to us for a brand audit. They wanted to give their look and feel a facelift, but they weren't quite sure where to start. Instead of stabbing in the dark, we took a more calculated approach. We began by assessing everything they were currently utilizing to reach their customers. The audit resulted in a rebrand, and we dug into developing a cohesive presence for the self-proclaimed Nice Girl Gang.
When we worked on the brand as the marketing agency for Little Words Project, we built a brand voice to align with the overall look that we designed for LWP, which was empowering, feminine, and youthful. We immersed ourselves in the minds of the ideal LWP customer and developed copy for the website, email drip campaigns, and marketing collateral that would resonate with girls who needed encouragement.
Let's be honest. This wasn't the trickiest copy we've worked on. We are the target market, and the Little Words Project brand isn't all that different than the Nice Branding Agency brand. The biggest challenge here was sticking to the brand voice for LWP. We didn't want to get sucked back into the Nice Branding Agency voice or tone.
You see, the LWP brand is a bit younger and more on-trend. Also, their target demographic is solely comprised of females. Finally, they're selling a product instead of a service. These are all things that come into play when we're considering a brand's characteristics and developing the voice.
Characteristics of the Brand Voice for Little Words Project:
Character - A young, hip female committed to bettering herself and those around her
Tone - Casual, bold, trendy, feminine, bold
Language - Simple and straightforward, but always embodying cool kindness
Purpose - Educate, empower and engage
Our marketing agency started by working on a tagline of sorts. One of the main challenges of the brand was to communicate the purpose and vision of the organization. These bracelets are made to be worn, registered via an online tracker, and shared. The registration process means that bracelet-owners can track where their bracelets have been. We pared this process down to "REGISTER, WEAR, CONQUER, SHARE". This short and sweet tagline concisely guided the viewer through the steps of buying a Little Word.
Next, we worked to weave every piece of copy through the lens of the brand voice. We ensured that each word was on point. We used phrases like "Hey, Girl, Hey," "We See You Lookin, Good Lookin," and "Get Your Shop On" throughout the collateral in calls to action. Then we incorporated copy from the brand story onto their homepage to further the personality of the brand.
Like this: "We see the kindness you're throwing around like confetti, and we applaud you. Who are we? We're the Nice Girl Gang, and we're on a mission to make kind cool again. Kindness literally costs nothing, and it can mean everything to someone who needs it. So, we ask you to empower yourself and others to see the good in one another, reach out to someone who needs a hand or a hug, and let your female kindness flag fly."
Throughout the rest of the site and in their printed and online materials, we used youthful, positive anecdotes to entice the target market, young girls, to shop the site. We incorporated phrases like "GRL PWR," "join the nice girl gang," and "change your word, change your world" on packaging, on stickers, and in email blasts. We made sure the brand voice was heard loud and proud with every customer connection.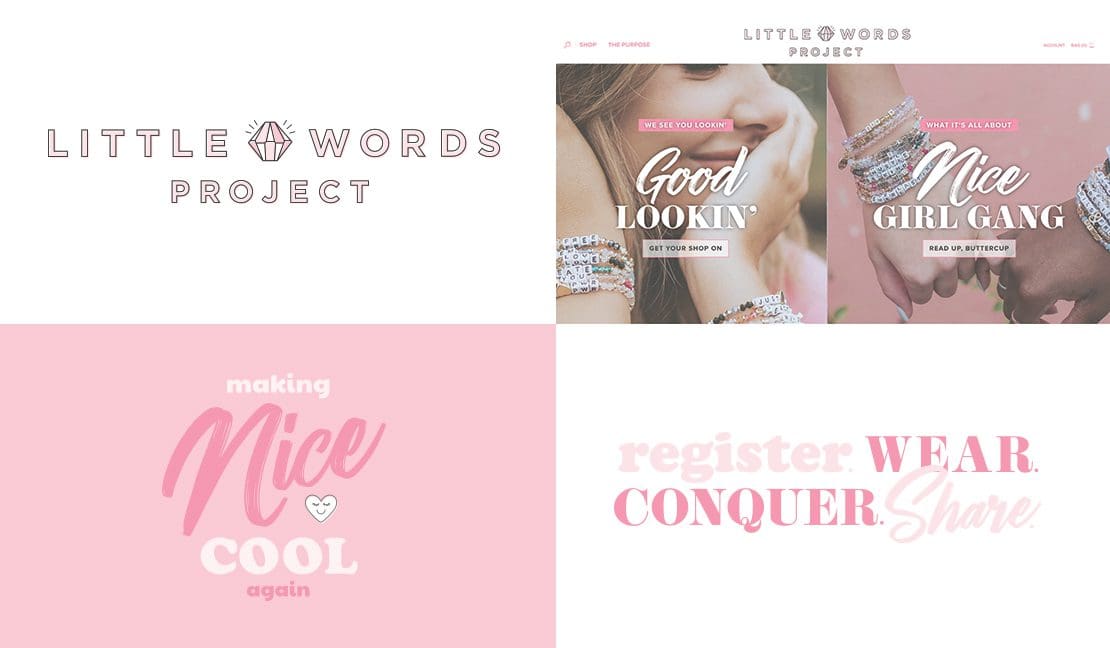 Taco Garage Brand Voice
When we worked on the restaurant branding for fast-casual taco spot, Taco Garage
, it was all about making tacos uncomplicated. We wanted to take the hipster, too-cool vibe out of the taco experience. Taco Garage needed to bring about the concept of a simplified taco restaurant with good food and good service that was accessible to all.
We developed a cheeky, bold brand voice that would accompany their grungy design and down-to-earth atmosphere. We centered the brand around making "real tacos for real people that taste real good". Taco Garage is uncomplicated and straightforward. We said it best on their website… "This ain't no fancy-schmancy taco spot."
Character - No-nonsense, funny, bold
Tone - To the point, a little rough around the edges, overly casual
Language - Clear, simple, straightforward, witty
Purpose - To entice and entertain
We utilize phrases like "Cater Up, Dine In, Take Out," "Take The Tacos & Run," " Dip. Baby. Dip," and other fun phrases to communicate the brand voice and connect with the customer.
Taco Garage takes the frank, candid verbiage of a matter-of-fact attitude and brings it to life in a big way. See, to hook foodies in a town like Murfreesboro, you have to make a big impression, and that's exactly what Taco Garage's branding, interior, food, and brand voice do.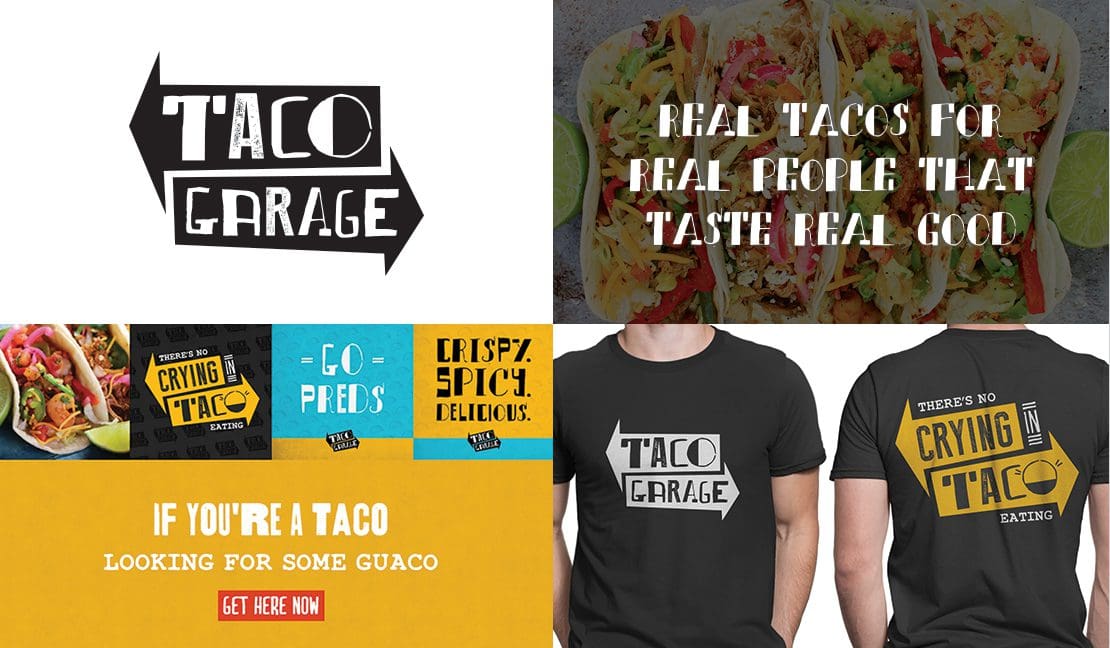 To Sum It Up
A brand that makes the same impression at every customer touchpoint is consistent. This turns the brand into a memorable, unique personality that stands out from its competition.
Also, crafting your messaging perfectly, down to the comma, can make or break the meaning of your message. Have you seen these examples?
One phrase deployed one time is simply not enough to make a connection. In order to immerse your customers in your brand, you've got to be meticulous about keeping communication coming. It's so important to keep consistent communication in line with the brand voice you've established. Just like you don't get an idea of who a person is the first time you meet them, you will start to classify a person after several interactions.
How is your brand's voice and tone coming across? Are you able to spout out adjectives that describe your voice and tone? If you're not sure, hit up the girls at Nice Branding Agency.
We love digging deep into industries and competition to see what to highlight about your brand and what sets you apart. Weaving this information into the voice and tone of your messaging is the heart of what we do as a branding and marketing agency. Our experience with branding helps us focus on the good stuff. We use your brand voice strategically to advance your brand goals.
If your brand needs to find its voice,
holla
at the nice girls and let us get to work writin' you up something good. Our marketing agency knowledge, and our perspective as a branding firm, can give your brand voice a leg up.