Business Website Branding: A How-to Guide
Your brand is built on the perceptions people form about your business. This opinion is based on what people experience when they encounter your business, whether that be in person or online. In today's world, online interactions happen just as much- if not more frequently- than in-person ones do. This makes creating your business website a top priority during the branding process.
When a new client or customer lands on your website, what would they be able to garner about your company? Your customer should be able to gather who your business is whether they have an in-person interaction with you or not. Infusing your brand throughout your website is what will make that strong first impression and instantly communicate what you do to the customer.
But how do you get your brand to come through on a website?
When we design a website, we use your company's
brand voice, visuals, and messaging
to bring your personality alive on your website. We use all of these methods on every site we design and build, but here's how each individual aspect shines through on some of our favorite website designs.
BRINGING BRAND VOICE OUT IN THE GYRO REPUBLIC WEBSITE
Let's start with the brand voice and the Gyro Republic website. Gyro Republic is a fast-casual Greek-inspired restaurant, fueled by the passion for letting customers choose their meal. When we were working on the Gyro Republic restaurant branding project, we were focusing on showing that Gyro Republic had fresh, healthy food and customizable options. So, the Gyro Republic brand voice is empowering and energizing. It uses short statements that pack a punch. The verbiage brings connotations of political power and the right to choose.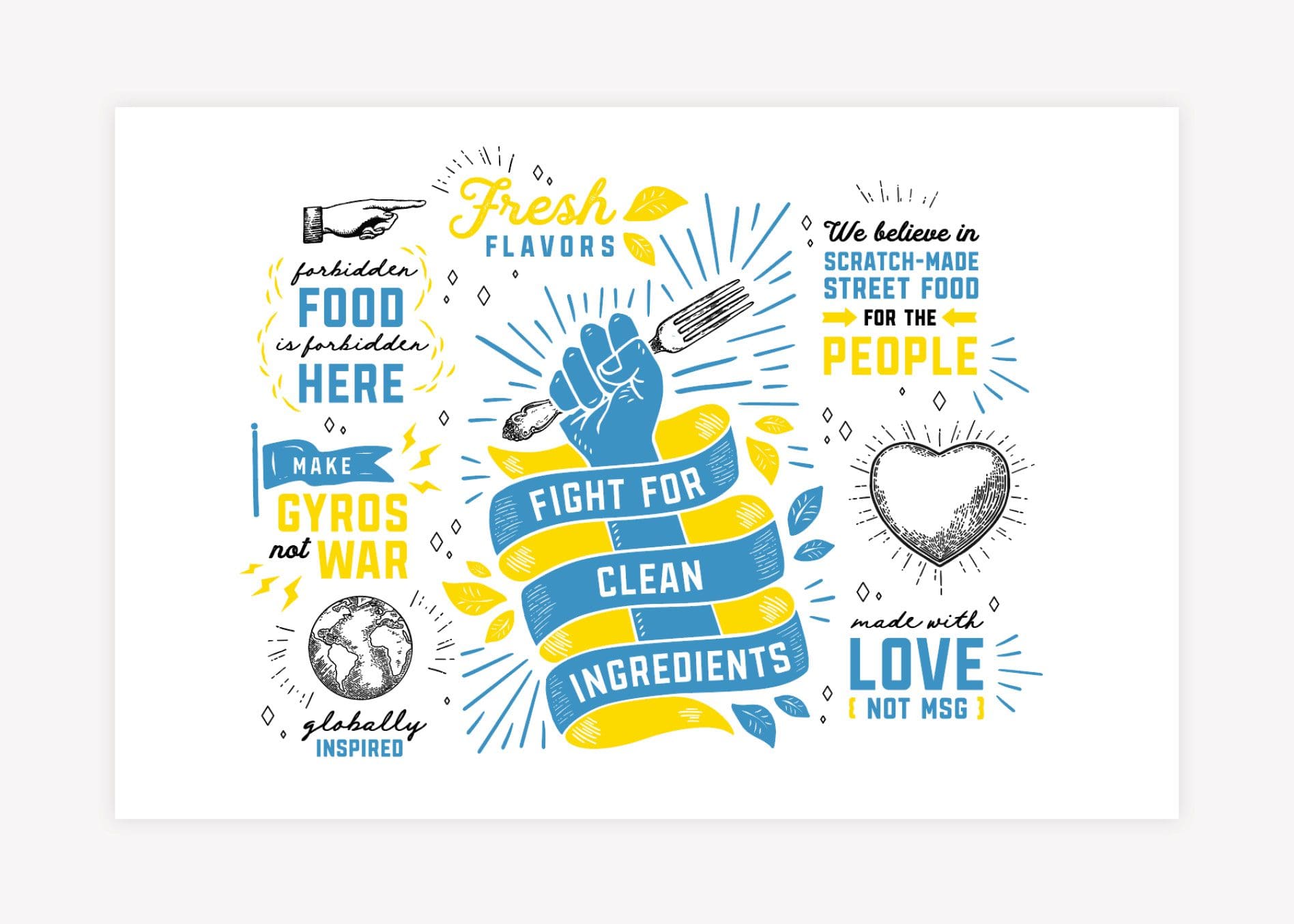 When we developed the copy for the Gyro Republic website, we started building statement-making headlines in that brand voice: "Street Food For The People," "Made With Love, Not MSG," "Your Power To Choose," "Make Gyros Not War," "Let Your Voice Be Heard." All of these headlines do more than label the sections of the site. They communicate using the brand voice to make it clear that Gyro Republic is about the power of fresh food.
This is carried throughout the website on the button copy and calls to action which are short and direct: "get here now," "talk to us," "see our menu."  They are direct, concise, and assertive. They empower the reader. And they give the reader the experience of the Gyro Republic brand.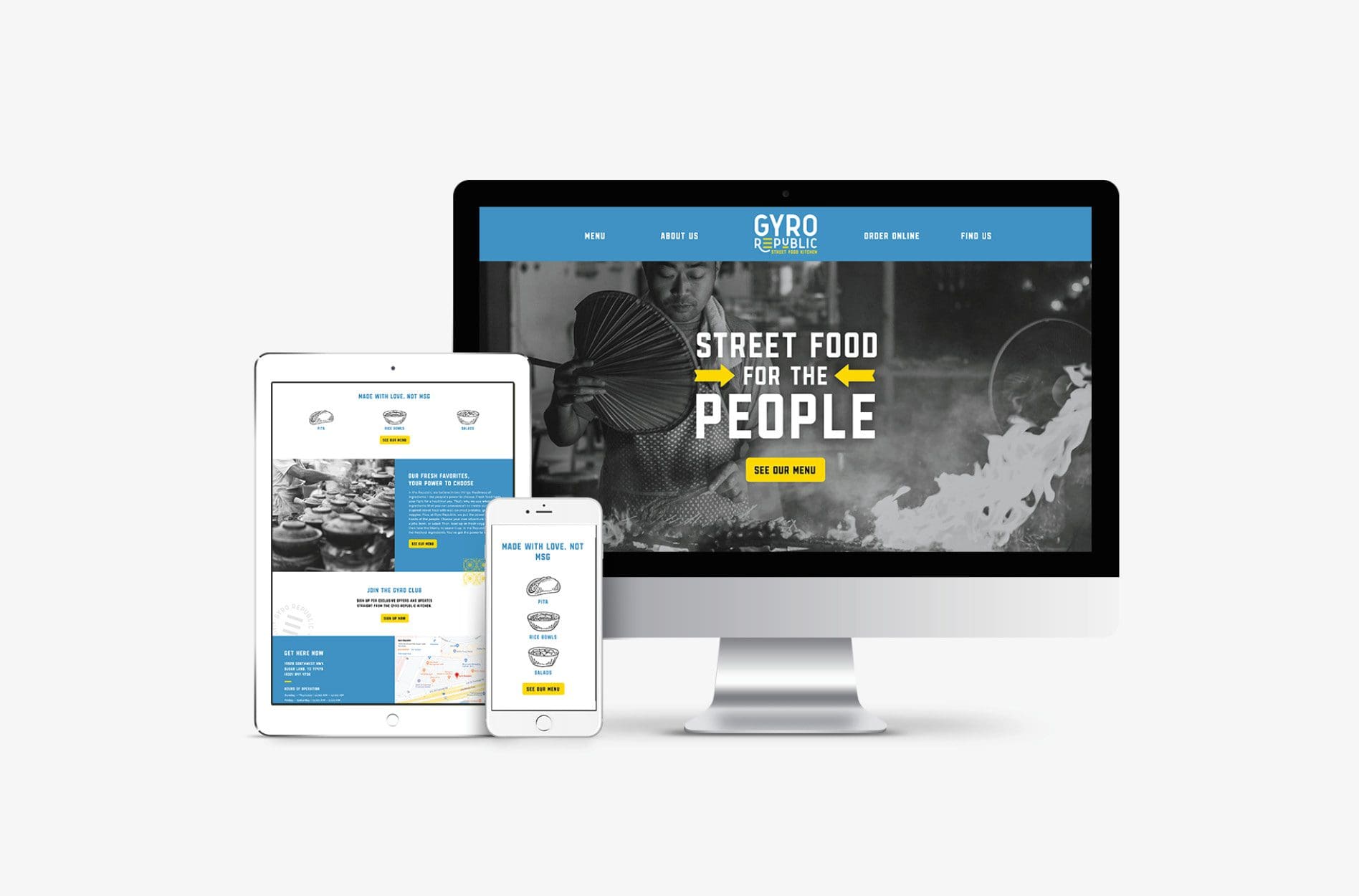 BRINGING THE VISUAL DIRECTION ONTO THE SHELTON TAYLOR BUSINESS WEBSITE
Brand voice comes through in words but what about the look?
Shelton Taylor + Associates creates beautiful, high-end living spaces that make emotional connections and transform properties into covetable lifestyles. The visual direction we solidified during our Foundational Branding project for Shelton Taylor brought this to life and was later carried through the website.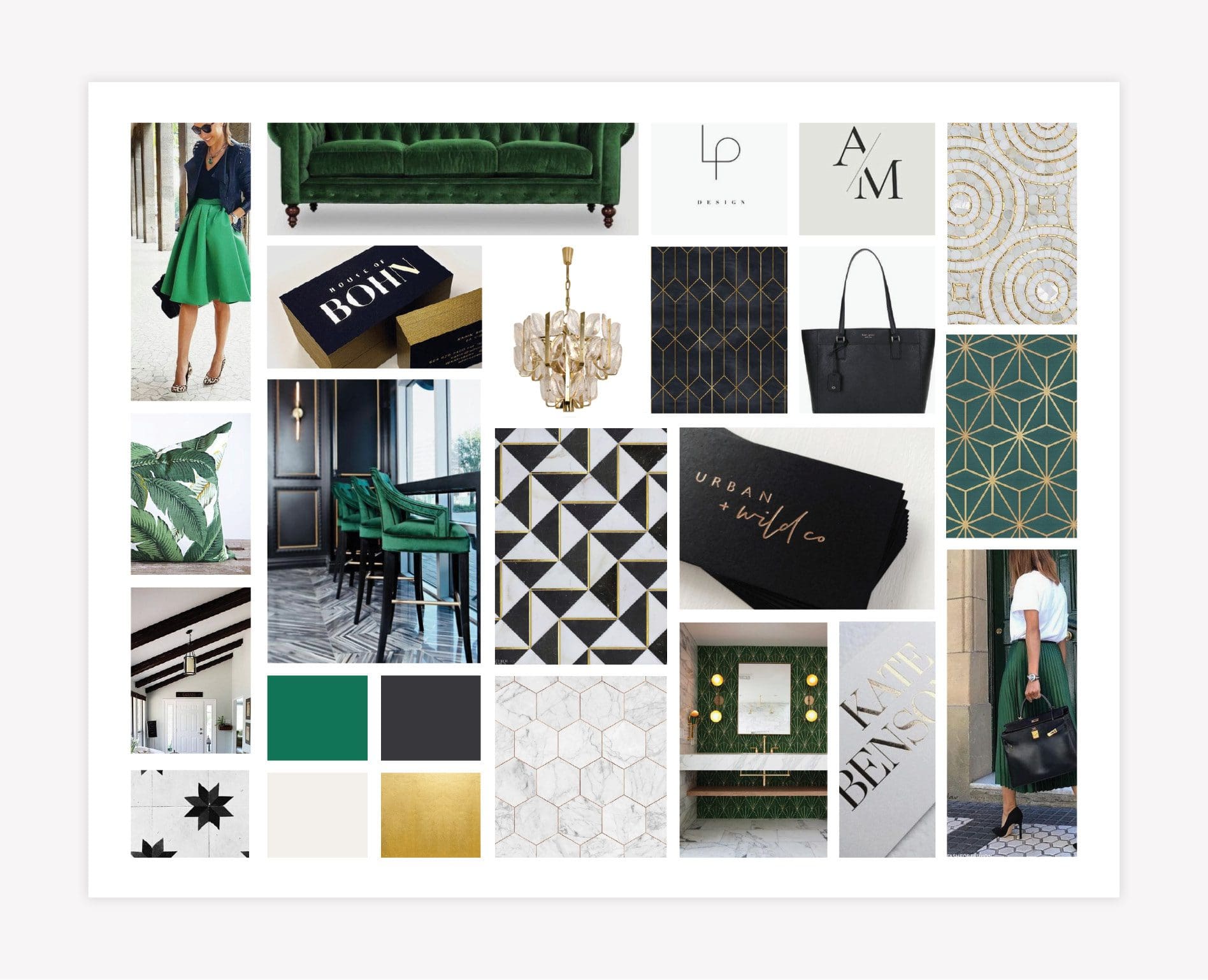 We created a high-end brand with modern, polished patterns, classic fonts, and a timeless black, white, and gold color palette with pops of deep green that incorporate a rich, fresh feeling.
As users experience the site, the visuals match what you would expect from a high-end residential interior design firm. The website is luxe, modern, and classy. Without reading any of the copy, the photos, colors, fonts, textures, and overall design aesthetic you encounter creates the experience of the Shelton Taylor brand.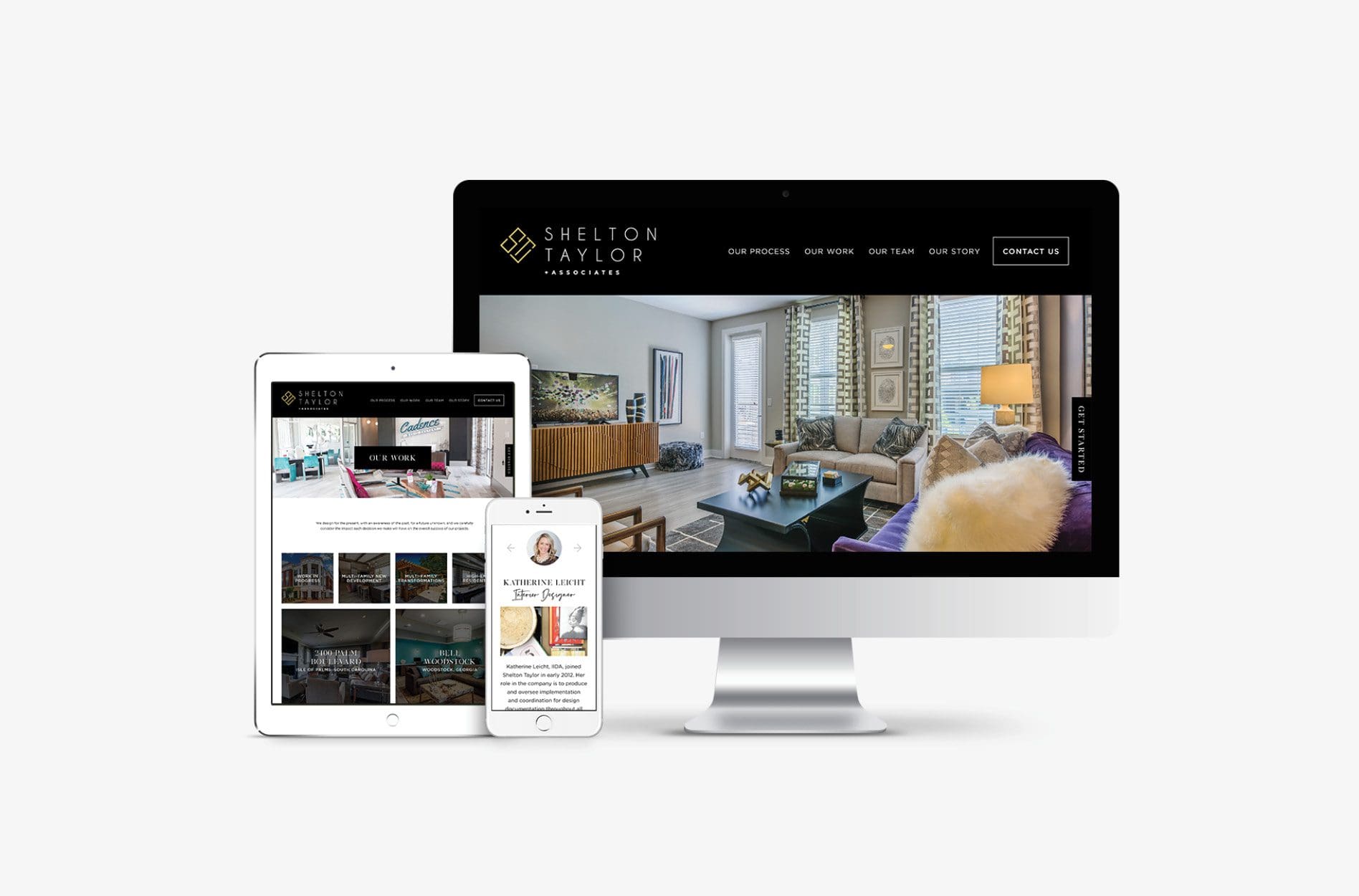 USING MESSAGING TO SHOWCASE THE GLOBAL GRAB BRAND VOICE
Another way to bring your brand into your business website design is through your messaging. Earlier we went through the Gyro Republic website and how their brand voice was highlighted on their site. Brand voice is
how
you say things. For Gyro Republic, that means short, assertive statements.
Messaging; however, is
what
you are saying. Here, we're using the Global Grab website to show you what we mean.
Global Grab is the worldwide authority on perimeter security. They design and engineer innovative security solutions for an esteemed list of clients worldwide. Their brand is authoritative, informative, and assuring. Their messaging says "we have the experience, we know what we're doing, and we can solve your problem."
To get this across through their website messaging, we prioritized sections of compelling copy that informed the viewer about the credibility of Global Grab. We reinforced their capabilities and explained their strengths. All of the messaging on their site is aligned with their drive to be the worldwide authority on perimeter security. The verbiage is refined and clear. The website communicates that Global Grab is experienced and capable.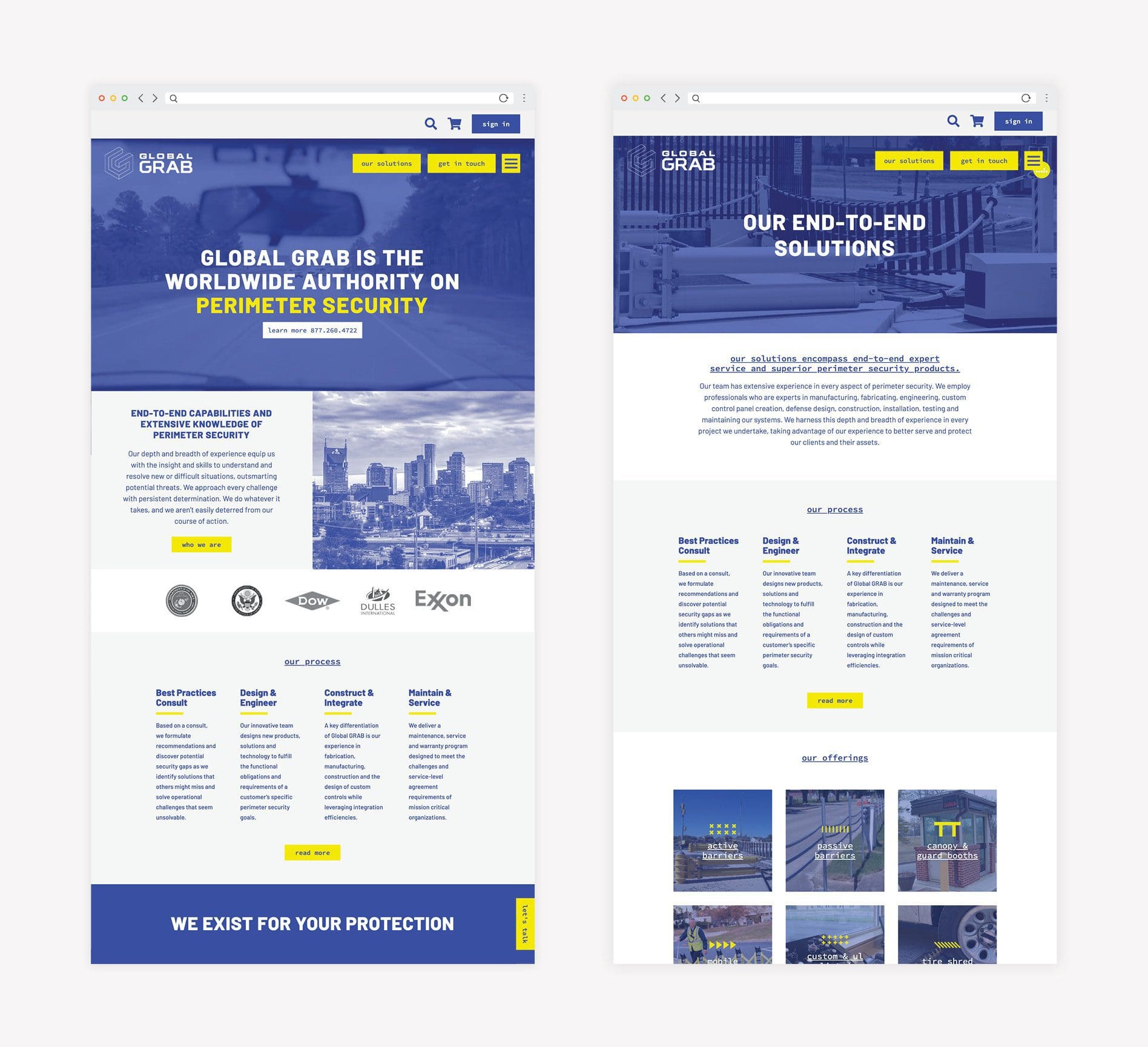 NEED HELP BUILDING A BUSINESS WEBSITE?
So, what does your website say about your business? Are the visuals and copy on your site compelling? Are they aligned? Do they work together to make a bold statement about who you are and what you do? If not, you're missing out on one of the most important customer touchpoints, and you need a strong brand in place that can translate into your business website. Ready to get going? Contact the Nice team today.