3 Essentials of Corporate Branding
At the beginning of a new business venture, it can be hard to know where to start with your corporate business branding. We recommend having your logo, business card, and website created by a professional branding agency to set the tone for your brand. When these three essentials are in line, you have a solid platform to reference as you build the rest of your brand support.
And when one of the three essentials for corporate business branding is less than stellar, it can result in a costly trickle-down effect that jeopardizes your ability to attract the right clients.
As we've mentioned before, branding isn't something you can completely control. Therefore, you've got to keep a tight grip on the elements that are within your control in order to convey the right perception about your business.
Let's talk about the three essentials of corporate branding that shouldn't be left to chance.
Logo Design
A corporate business logo shouldn't just be a design created with personal preference in mind. Your business logo serves as a platform for telling your story, so it should be created by a brand designer who is leveraging your story to create it. A good logo design conveys meaning. Sometimes overtly, and other times through a subtle inclusion of a certain type treatment or design that begins to tell you something about the company.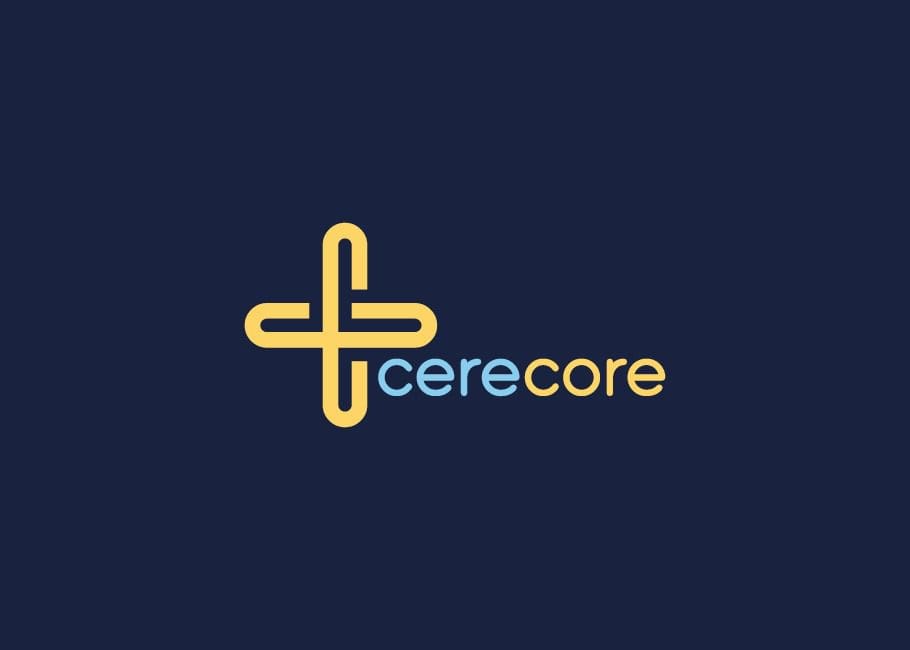 Additionally, there's a color psychology aspect that has to be incorporated into the design of the logo, and a top branding agency is able to advise on the colors that will best represent your brand. The color palette included in your logo design will inspire the creation of all sorts of brand support to come. And color can be tricky. There's an art to selecting hues that will communicate to the viewer how they should feel about your brand. And then from there, you've got to be able to pair those shades with supporting brand colors that will serve you well in application. Although our logo design process doesn't always work through the selection of supporting colors, we're always using forward-thinking to ensure that the business logo we're creating will be versatile enough to build a brand around.
Also, as we mentioned, the final logo design should be able to be used as a platform for diving into the deeper meaning behind your brand and what differentiates you from your competition. It should be thoughtfully developed to tie in key elements of your position in the market in a manner that is clever, attention-grabbing, and has people wanting to know more about what you offer.
Finally, your business logo has to be scalable. This one here is important and often overlooked. A corporate business logo design should be able to scale up to the size of a billboard or down to the size of a postage stamp and remain legible. It's also got to be able to be placed on an exterior sign, embroidered on a golf shirt, used on social media, incorporated into digital ads, and more. A logo design that's not prepared for all relevant applications is just not going to work. Something to consider as you're working on your business branding essentials.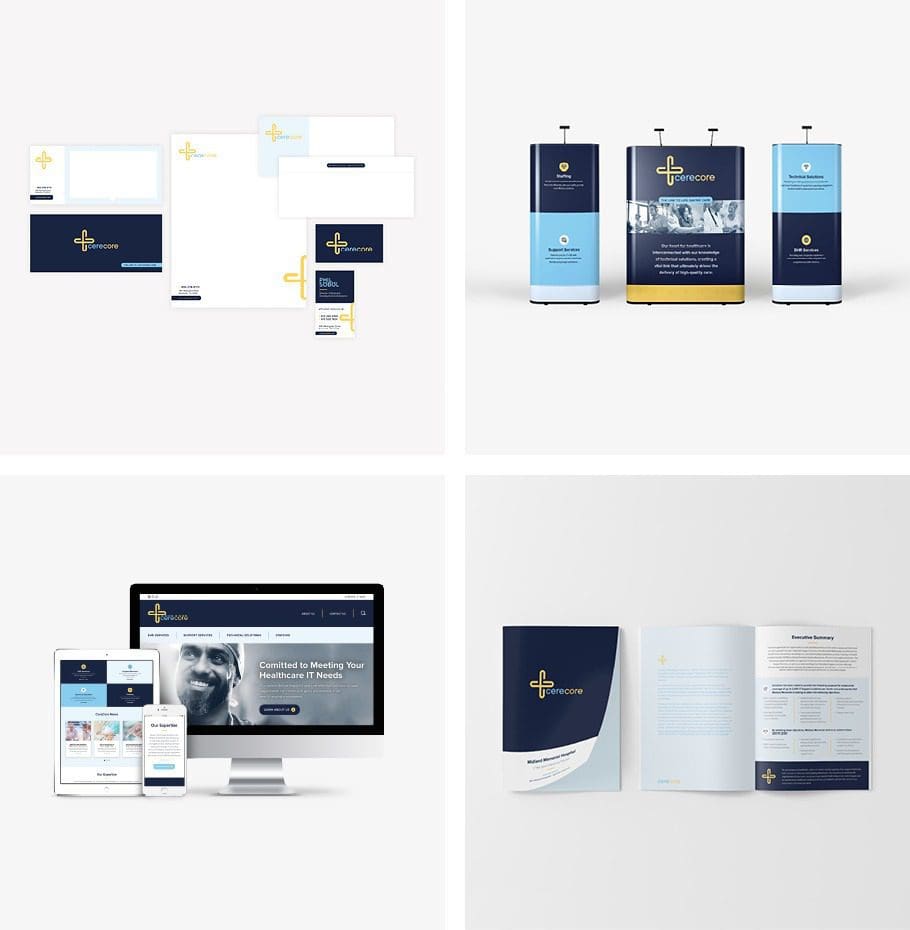 The business logos Nice Branding Agency designs include the final logo design, the logo PMS, CMYK, RGB and HEX color codes, the names of the logo fonts, and a logo guideline sheet to outline the correct usage of the logo. We also include a logo icon for social media and a variety of file types that will equip our clients to use the new logo wherever they find necessary.
Business Card Design
Often, the first piece of collateral we create after completing the logo design is the business card. For this reason alone, the business card design is significant. We use the design process here to implement the design of your final logo alongside supporting colors and fonts as necessary.
Secondly, your business card is tangible. Your business card design plays an important part in solidifying connections you make in person as you introduce your business. Hopefully, people you meet will spend time referencing it and possibly keep it with them. It has got to be on point, otherwise, we know right where it will end up and so do you.
A great business card should be strategically laid out to encourage the holder to take action, whether to contact you, visit your website, or find you on social. It should showcase who you are and what you do, expanding on the design of the logo to communicate your brand.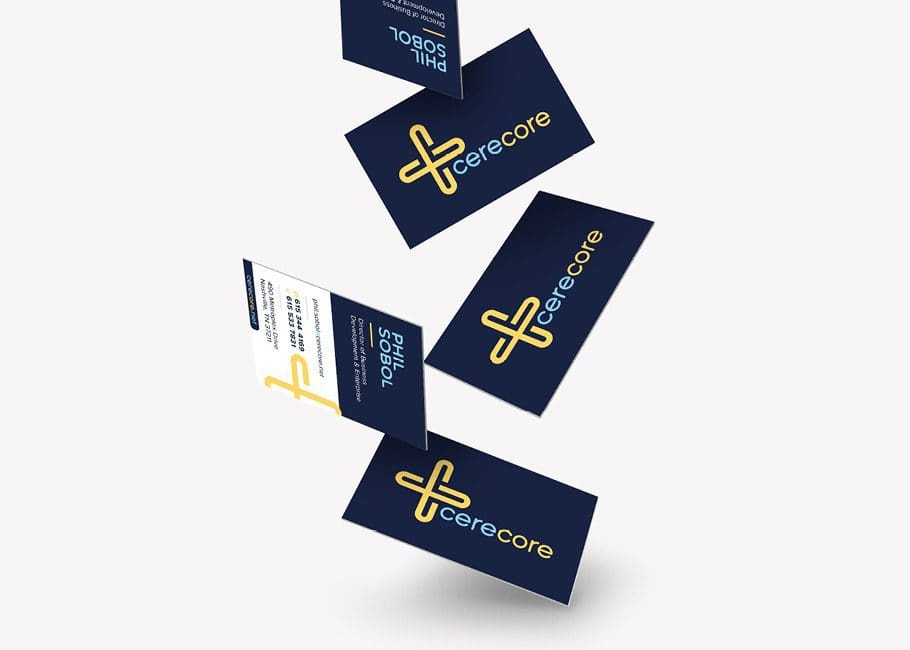 An additional consideration for your business card design is the printing method and paper type utilized to bring the design to life. A professional branding agency will be able to not only create a design that will keep the card out of the trash, but will also be able to recommend paper types and print methods that will further distinguish your business card from others in the stack.
In fact, the stock you select tells almost as much about your business as the design itself, and no two business cards that we create are alike. We custom-select stock and print finishes for each of our clients to help convey key brand attributes.
Custom WordPress Website
And finally, the third of the corporate business branding essential trifecta: The website.
A corporate website is one of the largest brand elements for any corporate business. It is one of the main places people will go online to interact with your brand. In today's day and age, it is important that your website aligns with what the customer will see when they interact with your brand anywhere else.
To start, it's important that the website user journey is tailored to a key goal. That goal may be to get to the location, view your products or services, get a quote, or place an order, for example.
Many businesses have multiple overlapping goals for their business website, which is why our website development process begins with strategy. During our wireframing process, we outline the user experience on the website.
By starting from a user-first perspective, we plan out the user's journey through the website and encourage them to enroll in whatever goals are most important.
With the outline of the website's pages defined by the wireframe, we then move onto the design, pulling your branding into every aspect from the copy to the colors. Every design element is selected with your brand in mind; your website is a key brand touchpoint that needs to reflect who you are and what you do.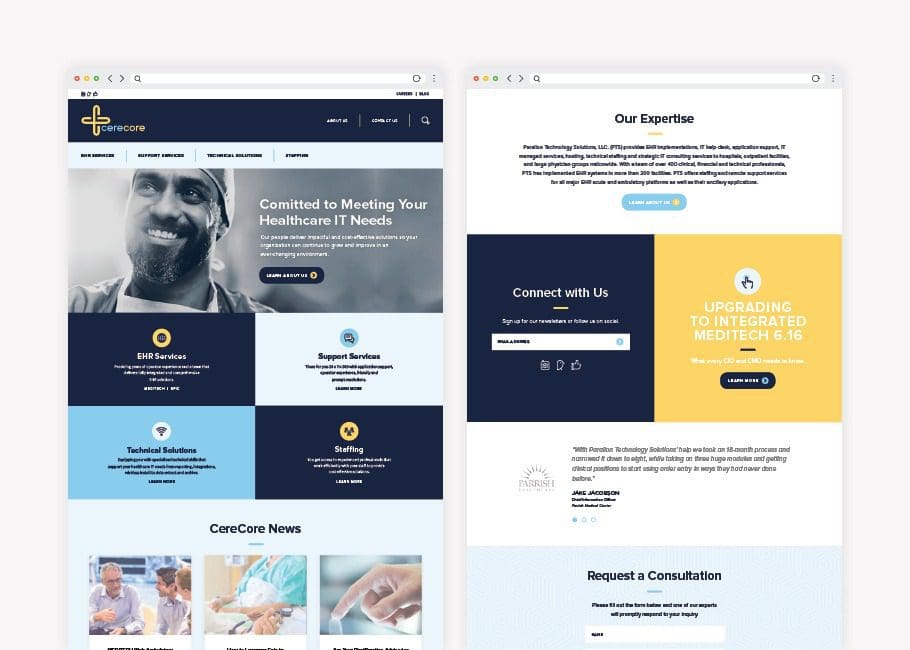 Since the majority of online traffic today is on mobile devices, we design our websites on the WordPress platform so it is fully responsive both on mobile and on desktop. WordPress websites are also simple to update, so you will be able to update key content on your site yourself without the help of our team after the launch.
Our branding agency does all of our website design and development with the goal of creating a custom WordPress website. By developing a custom WordPress website, we are able to pay special attention to key goals and user experience, and we aren't restricted by a template.
Additionally, with a custom website built for you on WordPress, you'll own the website at the end of the project. Buyer beware: this isn't always the case. Some website design agencies retain your website and allow you to pay a relatively low monthly cost as part of a subscription service.
So, you can see why a custom WordPress website is our pick as the final element in the three essentials for corporate branding success.
Contact Our Corporate Branding Agency Today
So, how is your business stacking up? Let's recap.
Your logo, business card, and website will serve as primary brand elements and set the tone for the creation of all collateral moving forward. If you're starting to feel like your brand isn't pulling its weight, you can focus on the three essentials. Even if you can't do anything else, these are the three things every business owner should have a professional branding agency create.
Want to get your brand in line? Contact Nice Branding Agency to get these three things in order.