Three Reasons To Update Your Logo
Many times, a
company logo design
that's not up to par dictates the need for a rebrand. Other times, an organization's growth guides the desire or need to rebrand the company. Either way, we've put together a quick guide. This will help you understand when or why you might need up update your logo. Sometimes a rebrand is more obviously necessary. For example, when a mom-and-pop shop expands into the corporate realm it needs to start attracting higher caliber clients. Therefore, the business needs a more professional company logo design. Similarly, many companies start out with a limited startup budget. They have a logo designed by a friend in
Microsoft Word.
Usually, they expect to rebrand once they have some money to invest in elevating their branding. You also know you need to redesign your logo if your colors no longer work in your industry. Or if your fonts are outdated. Or your logo is too busy to be sized down for a
social media icon
. Or blown up to billboard size. Maybe it has just been a while since your last logo rework and you're in a competitive industry.
How To Figure Out If It's Time
Sometimes, though, its not as easy to figure out if it is time to update your logo. To figure it out, you have to dive deep into your brand strategy and cues from your industry to see if it is time for a logo update. If you're not familiar with the term "brand strategy," it refers to the long-term plan for your brand. And how it will help your organization achieve specific goals. Your brand strategy will connect directly with consumer needs. It will take into account emotions, and the competitive environment. Your brand strategy dictates the difference that your brand will make in this world. When you have a solid strategy in place, you can then assess the pieces of your brand. These pieces include your company logo design. You see, starting with strategy truly does create a roadmap for success. When you have a plan for your brand and you clearly understand the goals for your organization, you can determine whether your company logo design helps you achieve those goals or needs to be reworked or scrapped and rebuilt. To test if it might be time for a rebrand, get your brand strategy to the front of your mind and keep reading.
Reasons To Update Your Company Logo Design #1: Purpose
Recently we worked on a company logo design for
Curio Coffee
, a coffee roasting company in Franklin, Tennessee. Curio had a strong existing brand strategy. They focused on curiosity, exploration and imagination through everything that they do, from coffee roasting to creating partnerships. The existing logo, though, hadn't been designed to intentionally emphasize these aspects of their brand, it was just a cool mark. When Curio knew that they needed a standout logo that would make customers curious about their coffee, they decided to rebrand. See, any time your logo isn't aligning with your brand's purpose, you know it is time to rebrand. Because Curio recognized that their logo wasn't working with their purpose, so they reached out to us for a new company logo design. The final product is a purposefully-designed brand mark, created with their brand strategy in mind so their purpose is clear through the logo.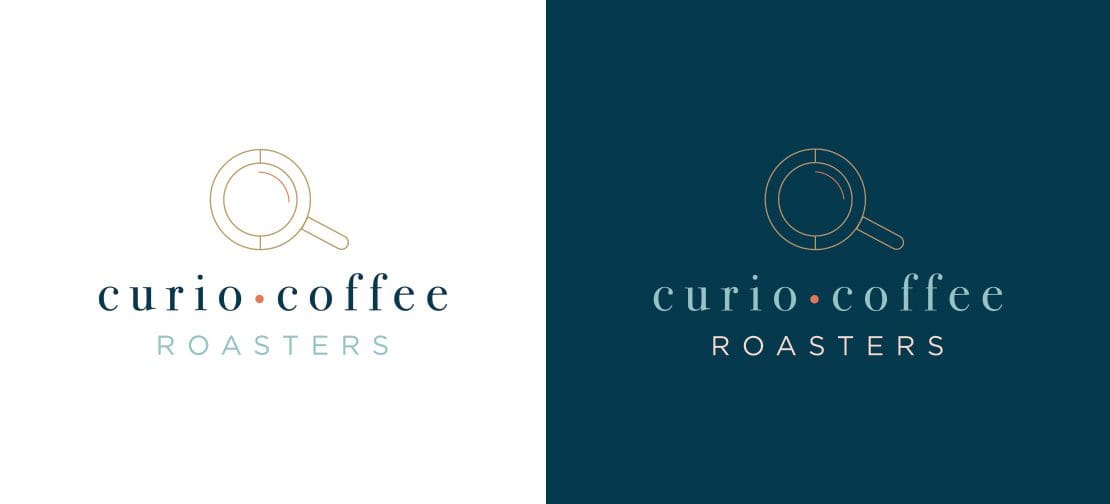 Reasons To Update Your Company Logo Design #2: Brand Story
If your brand story evolves as your company grows, it's time for a new company logo design. Your brand story is the purpose behind what your business is doing. It's the reason why you started your brand in the first place. It's your mission, point of view, and values as a company. It doesn't have to be groundbreaking, but it can't just be about sales. Your brand story is something that your clients and customers can get behind. A great brand story isn't just about becoming the biggest distributor of reusable straws, for example. A great brand story would be saving the environment through sales of reusable straws. If your brand story changes, your logo should have to change, too. Your logo should always be consistent with your current brand story.
Reasons To Update Your Company Logo Design #3: Flexibility
While branding is all about creating a solid image for your organization, you have to be able to be flexible to stay relevant in an evolving market. An effective identity adjusts to stay fresh without abandoning the personality of your brand. If your current logo design doesn't feel relevant, you might need a new company logo design. Updating key pieces of your brand, like your logo, will equip you to engage your clients and customers in fresh, new ways. A fresh brand can highlight attributes of your brand that have previously gone unnoticed and communicate that you are always evolving and improving.

If you are working through deciding whether or not it is time for a logo update, we would love to work through your brand strategy with you and help you assess how a refreshed logo could further your business goals. We love to put our ability to employ creative resources behind business objectives.
Send us a message
and let us get started working on a project for you, too.