What Our Branding Clients Said About Working with Nice Branding Agency
A solidified, cohesive brand is what positions any business to conquer their market. Whether our branding team is supporting yours by developing a new brand, working through a rebrand, or providing continued brand support, our creative approach to branding and messaging, paired with our tried-and-true process, allows our team to produce bold, relevant brands that cannot be ignored. It's why our clients choose Nice Branding Agency over our competitors. But don't take it from us! Keep reading to hear branding reviews from some people we've worked with who have been happy with our service, our process, and the outcome: their bold brand and brand support.
Corporate Branding Review by Tractor Supply Company
Eric Jackson, the Creative Director of
Tractor Supply Company
, approached Nice Branding Agency with a request for a partner to serve as an extension of his internal creative team. Tractor Supply Company is an American retail chain of stores that offers products for home improvement; agriculture; lawn and garden maintenance; and livestock, equine, and pet care. As you can imagine, creative direction for a retail company with more than 1,800 locations around the nation is quite the task. Eric needed an external creative team that could quickly hop on board, uphold the established brand, and get the work done well and on time. Nice Branding Agency answered the call and has been on Tractor's team ever since, supporting their internal creative team with strategy and
graphic design work
on an ongoing basis. He was kind enough to give us a branding review.
"Nice Branding Agency has been an outstanding partner and pleasure to work with," he said.  "Their approach is creative and it feels like you're working with a bunch of your good friends."
- Eric Jackson, Creative Director, Tractor Supply Company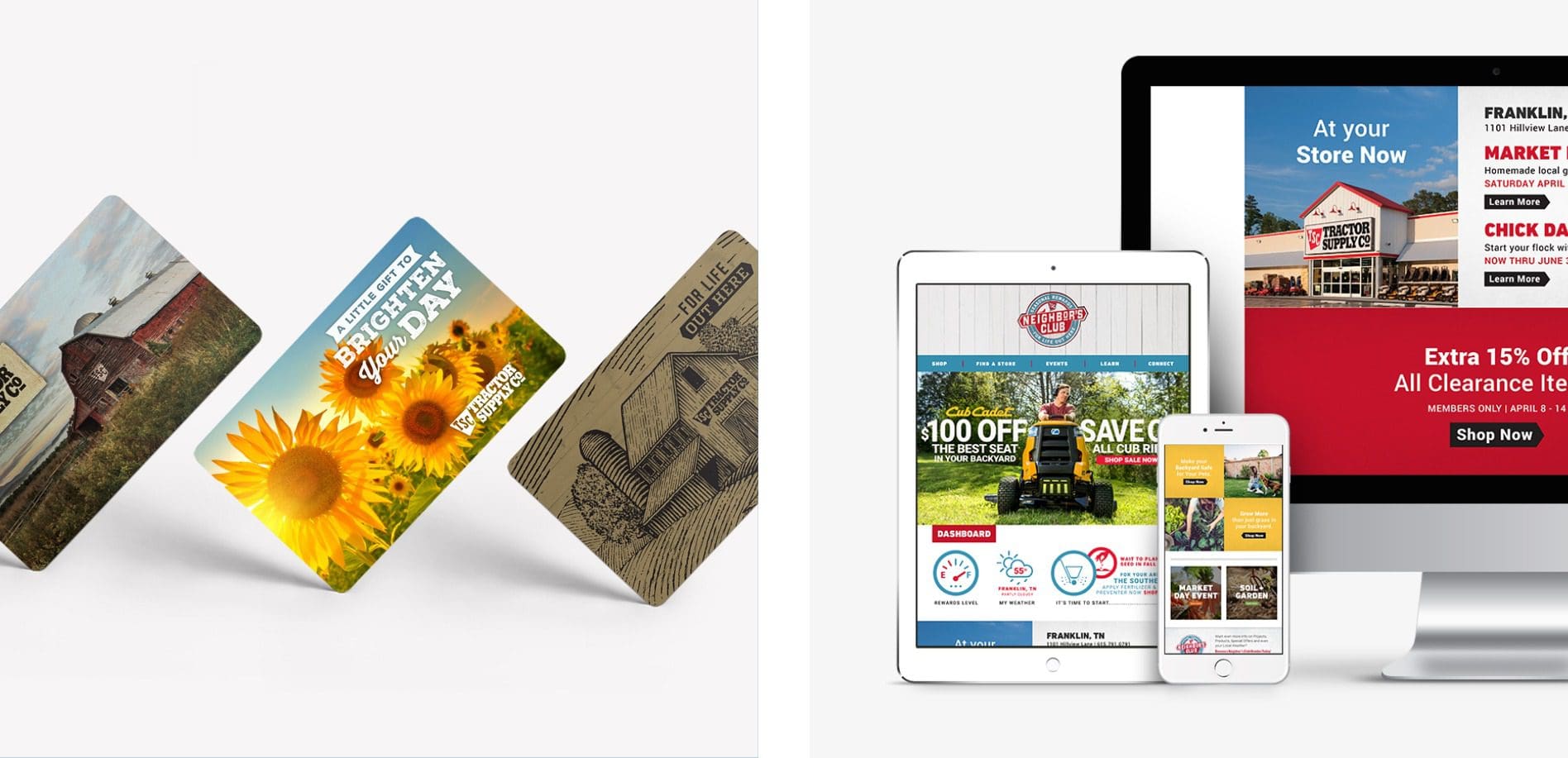 Branding Review by Alltrust Insurance
Joe Part was the owner of
Alltrust Insurance
, an employee benefits insurance firm based out of Palm Harbor, Florida. Before hiring the team at Nice Branding Agency, Alltrust Insurance had been through two rebrands, each of which fell flat. The existing rebrands that the company had undergone were only based on visuals, but the meaning behind each visual was nonexistent, leaving zero room for connection. Alternatively, our team started with our
Foundational Branding
process to first and foremost learn the company down to the bare bones. We met with company leaders, vendors, and clients to gain perspective on the company's value in order to build a brand that was purposeful and connected to actual business practices. We're proud that our rebrand was the last rebrand Alltrust Insurance participated in to date.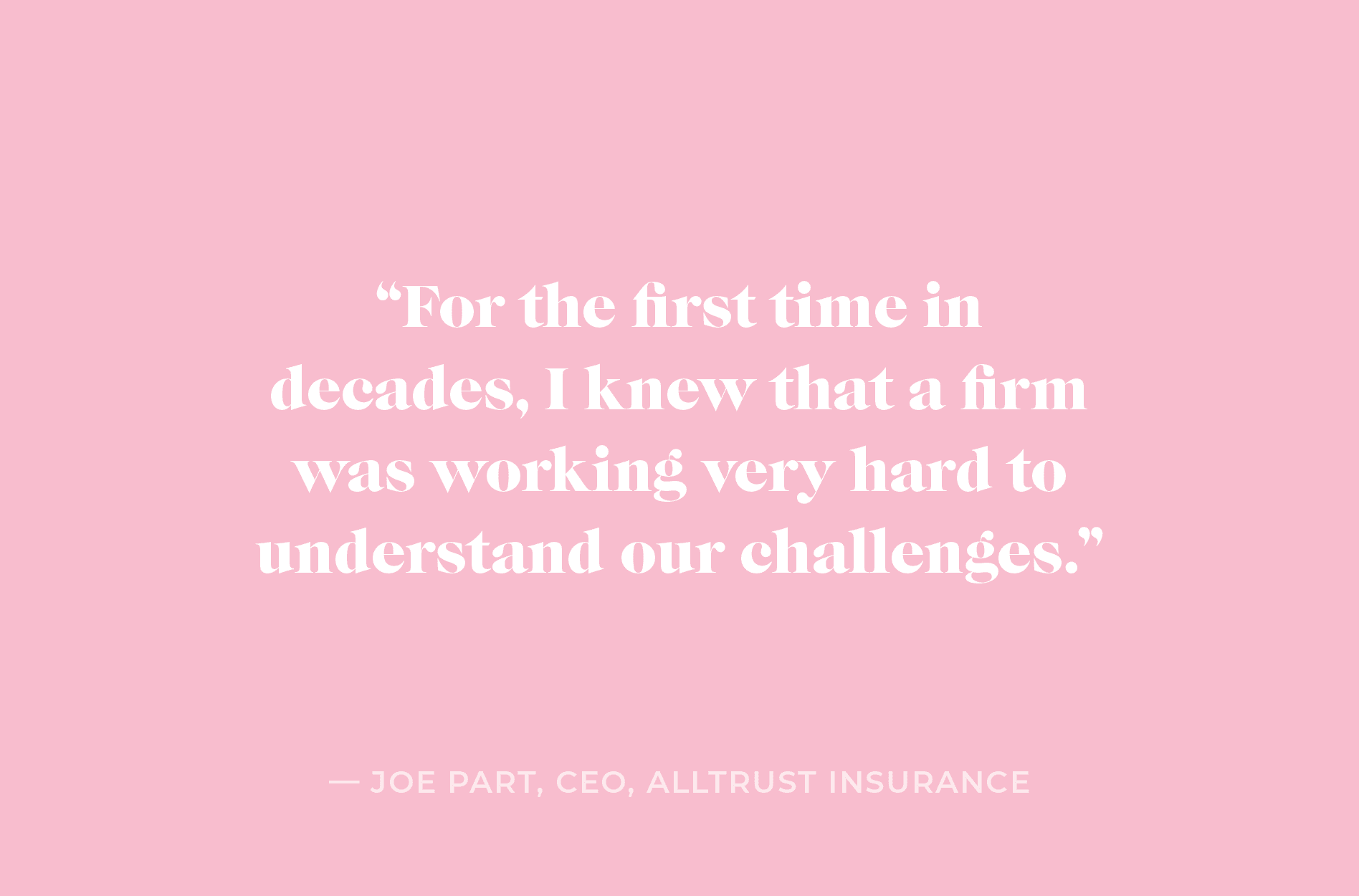 "Like most business owners, I have, over the decades, been enticed to 'advertise' or to 'build brand recognition," he said. "It was always a similar presentation... we reach your market and it takes frequency. The Nice Branding Agency team did something very different. They listened, they asked tough questions, and they visited with clients and partners. It was all about us and our goals. I view Nice Branding Agency as our trusted partner. I highly recommend Amy and her team."
- Joe Part, Alltrust Insurance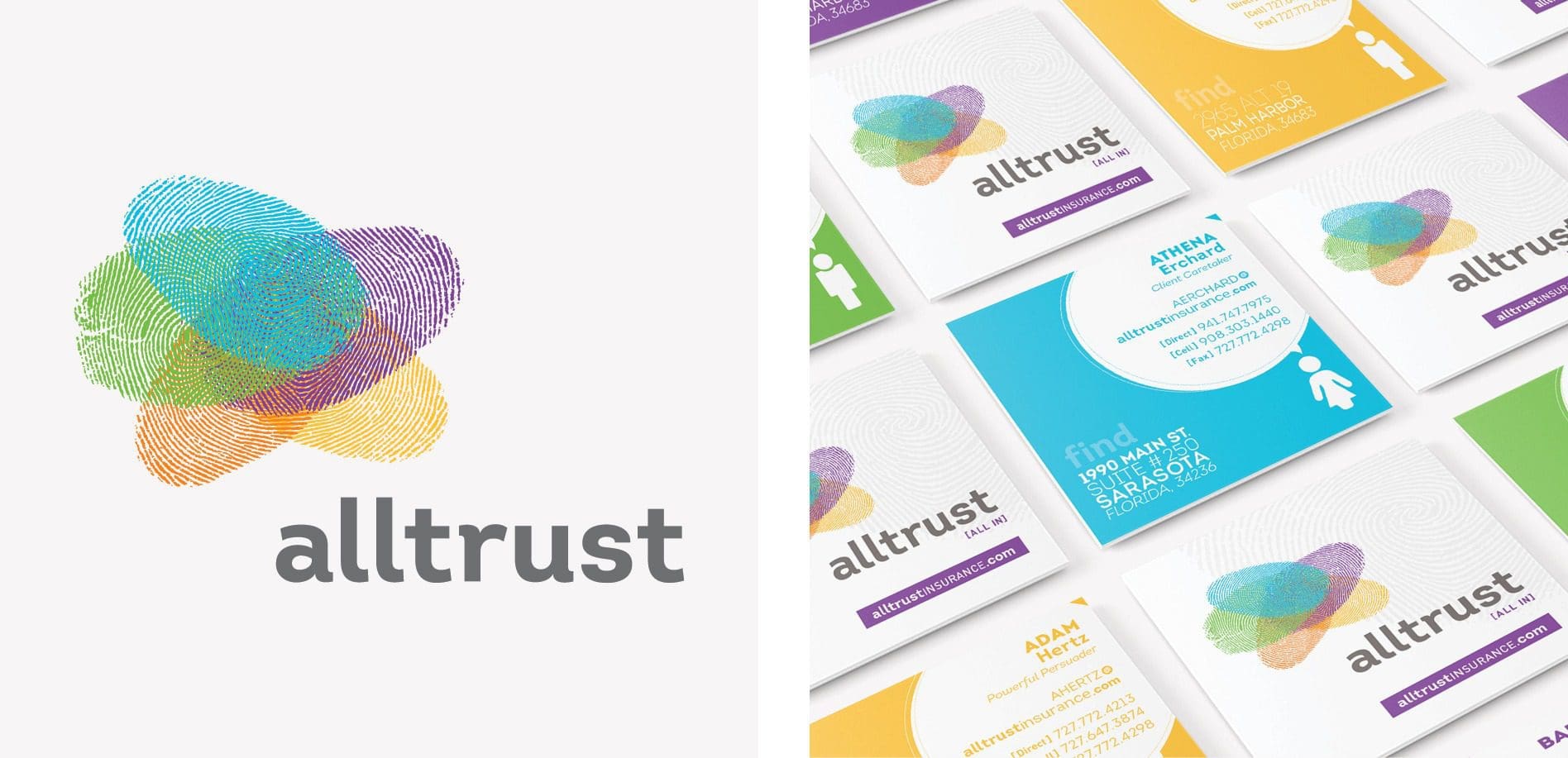 Corporate Branding Review by RCCH Healthcare Partners
Jeff Atwood, Vice President of Communications for
RCCH Healthcare Partners
, began his relationship with Nice Branding Agency with a single project. Fast-forward to three years later, and Jeff relied on Nice Branding Agency as a trusted strategic partner, working on everything from social media to video production, website design, graphic design, marketing planning, and what seemed like many things in between.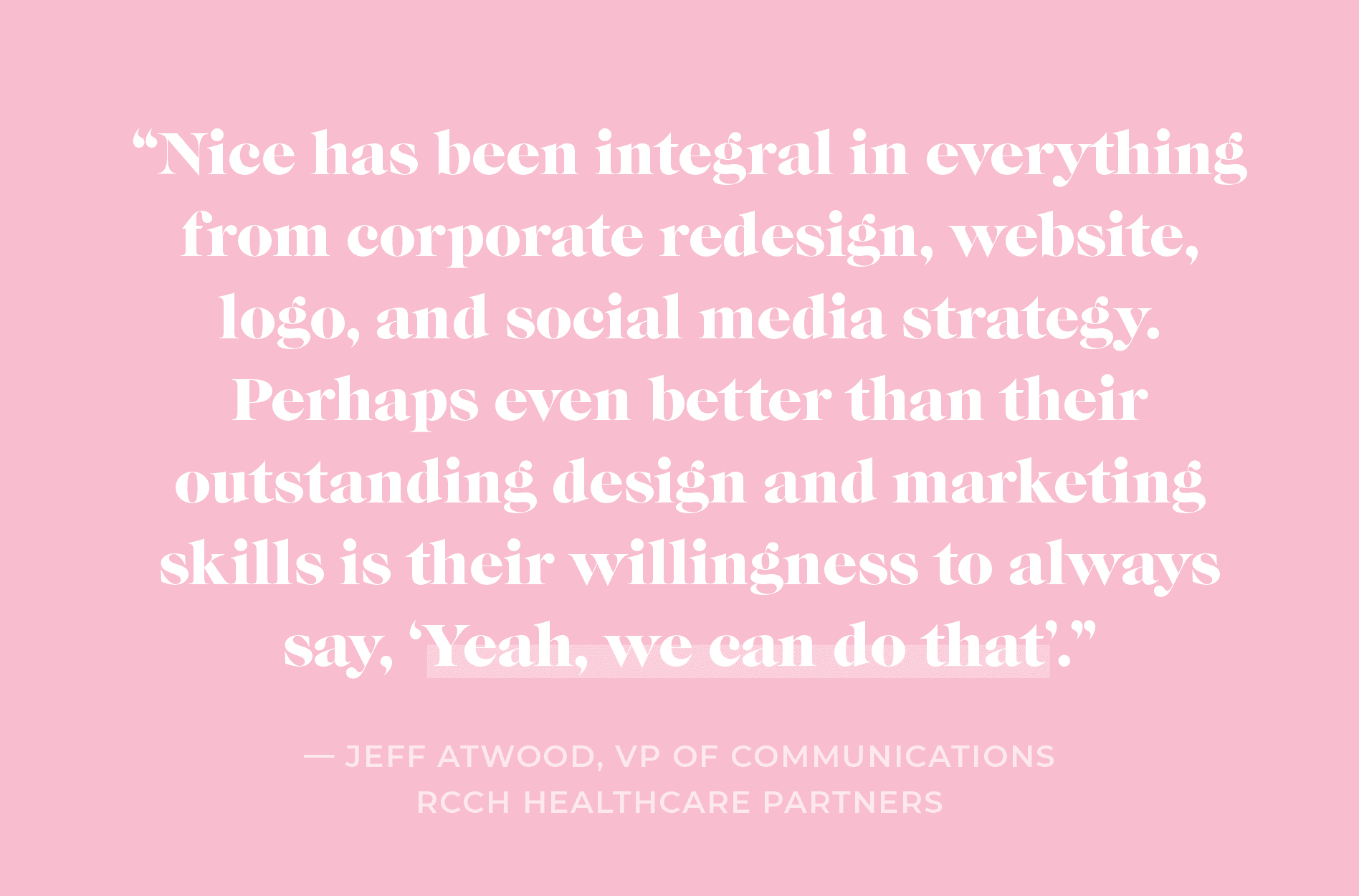 "Nice Branding has been a great partner for RCCH HealthCare Partners," he said. "They bring a fresh, innovative approach to every project. Nice has been integral to everything from a corporate redesign, website, logo, and social media strategy. Perhaps even better than their outstanding design and marketing skills is their willingness to always say, 'Yeah, we can do that,' when presented with a very often unreasonable timeline."
- Jeff Atwood, Vice President of Communications, RCCH Healthcare Partners
RCCH Healthcare Partners acquired LifePoint Health, but prior to the acquisition, RCCH Healthcare Partners owned and operated 18 regional hospitals across the nation.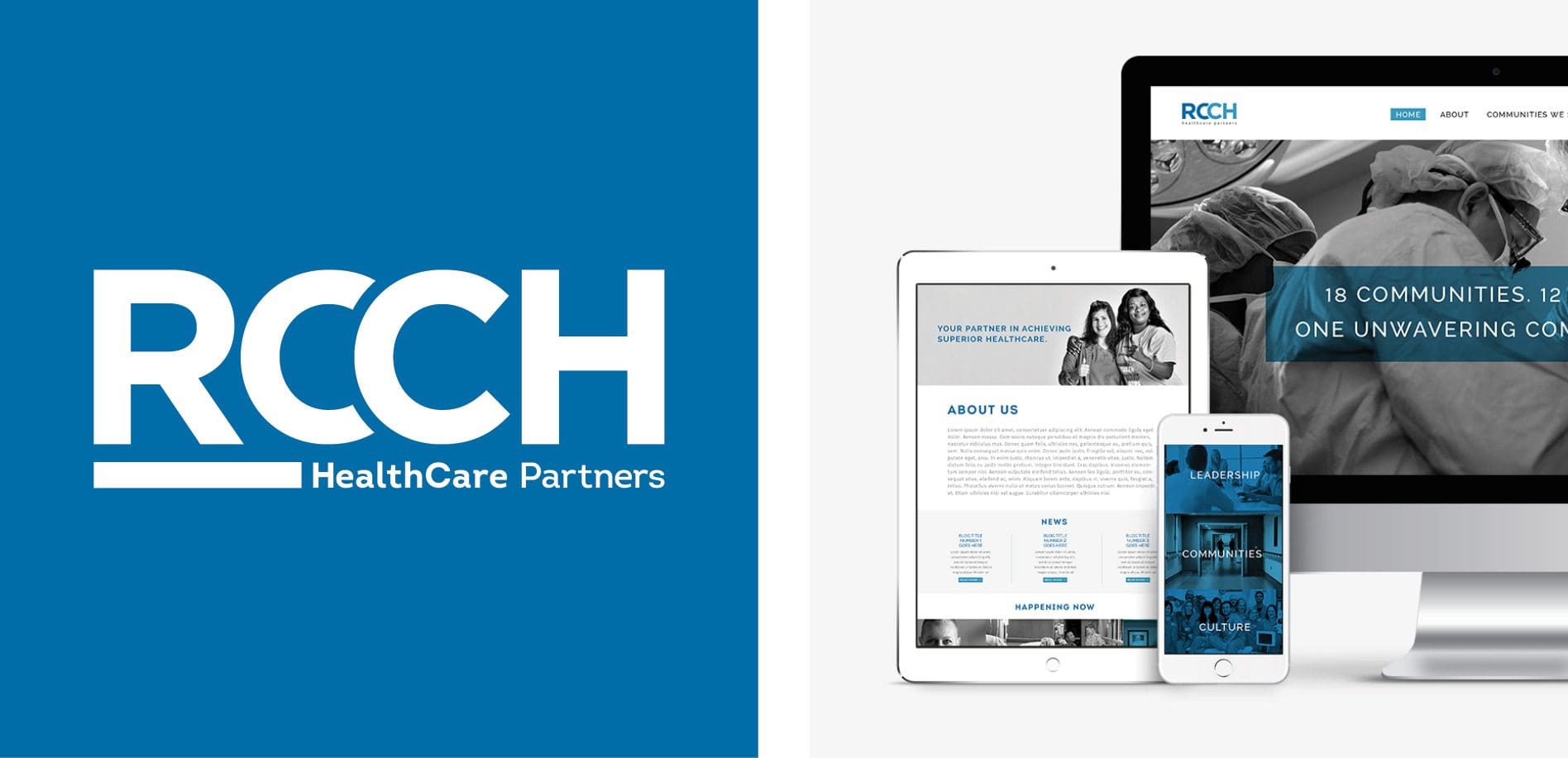 Ready to Give a Branding Review?
At Nice Branding Agency, we value positive branding reviews and great client testimonials, but more than that, we value building long-lasting relationships with clients that rely on us to be their strategic creative resource. If that sounds like a team you want by your side,
contact
our
branding agency
today!