Recent Social Media Updates
As a social media agency, updates on social media don't just impact our private accounts, they mean big changes for our brand accounts, too. The social media giants are encouraging brand use with every update. In the last few months, lots has changed around the world wide web; here are the updates that every brand should know about this quarter. Read on to stay on top of the trends.
Facebook
Update to Ad Formatting
Facebook advertisers, listen up! The aspect ratio for Facebook mobile ads has updated from a 2:3 aspect ratio with 7 lines of primary text to a 4:5 aspect ratio that uses 3 lines of primary text. 
This update makes Facebook ads more compressed to fit with the new Facebook mobile design that updated earlier this year. 
Less text and a smaller accepted aspect ratio makes it more important now than ever to create impactful, engaging ads with a smaller amount of space and visible text.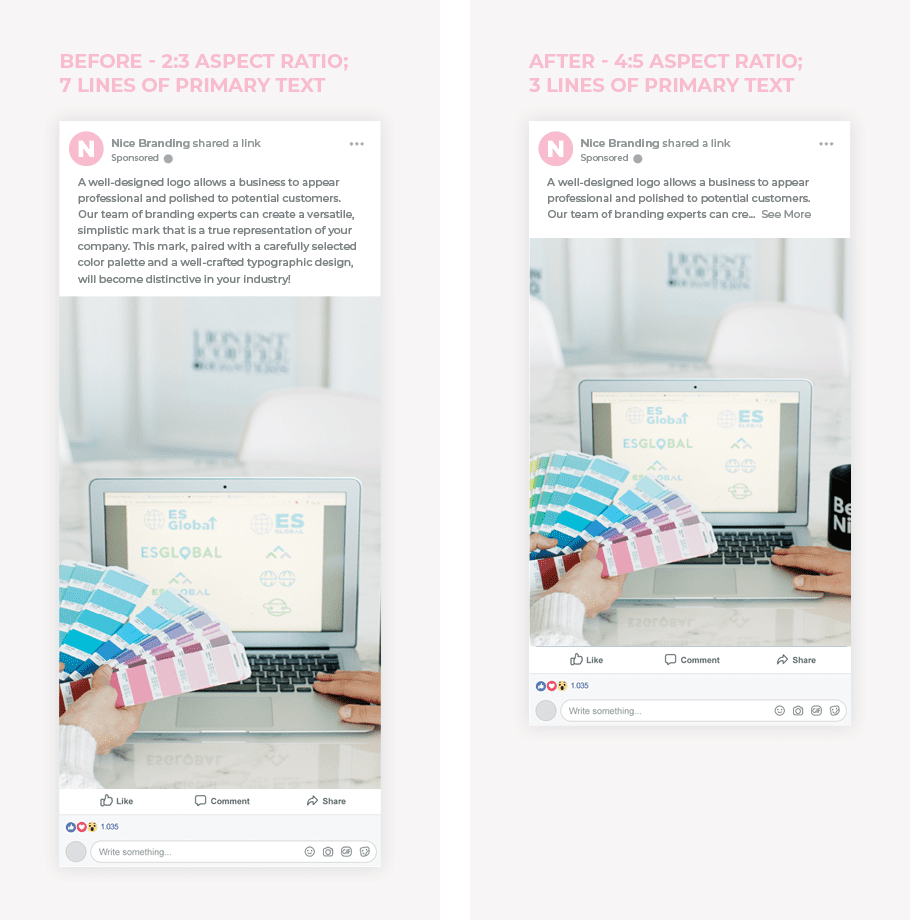 Top Fans Targeting
Currently, Facebook is testing some new targeting for organic posts, enabling pages to publish content only to their top fans. 
Not sure who your top fans are? Make sure your top fans badges are turned on in your page settings, under the "Facebook Badges" section. With top fan badges enabled, users who are most active on your page will be given star badges by their name. 
At that point, you can share posts just for that group of top fans to increase engagement.
Business Page Info Sections Removed
As of August 1, Facebook removed the company overview, biography, affiliation, mission, and personal interests sections of the page listings on business Facebook pages. 
Honestly, no one reads these sections, so this update mostly gives page owners less information to fill in. It also helps Facebook streamline content so users can more quickly find pages they are interested in. 
Facebook marketers and page admins should take this as a cue to re-assess page information.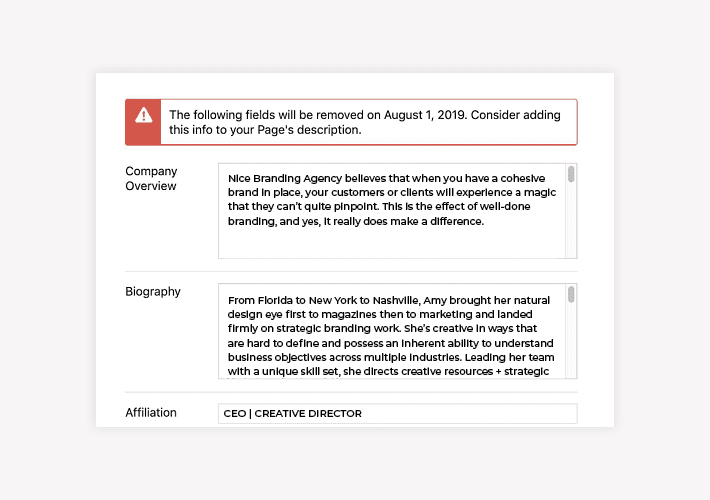 Instagram
Join Chat Sticker
On Instagram, 85% of the messages shared are sent among the same three friends, so facilitating increased interaction with more friends is a natural expansion for Instagram. To broaden community connection, Instagram has created a new private messaging chat sticker. Followers can click to ask to join the chat through the sticker. Once approved the creator, the user can join the smaller discussion started in the story. 
For brands, the chat sticker allows you to create small focus groups of people wanting to join a conversation with you. There, for example, you can answer FAQ's, share exclusive content, advice, discounts, access to services and more. By establishing exclusivity, you can reward top fans and engage passionate users. 
Updated Explore Tab Ads
Major update: Instagram is now featuring ads on the Explore page instead of only on the newsfeed. Here's what Instagram said about this update: "We're introducing ads in Explore slowly and thoughtfully in the coming months. After tapping on a photo or video in Explore, people may begin to see ads as part of their browsing experience just like in the main feed."
Now, if a user clicks into an ad from the Explore page, a feed of related posts will start, which also may show related ads. 
This update allows advertisers to expand the reach of their campaigns to users searching for new things on the Explore page and users that are likely to be interested in your ad.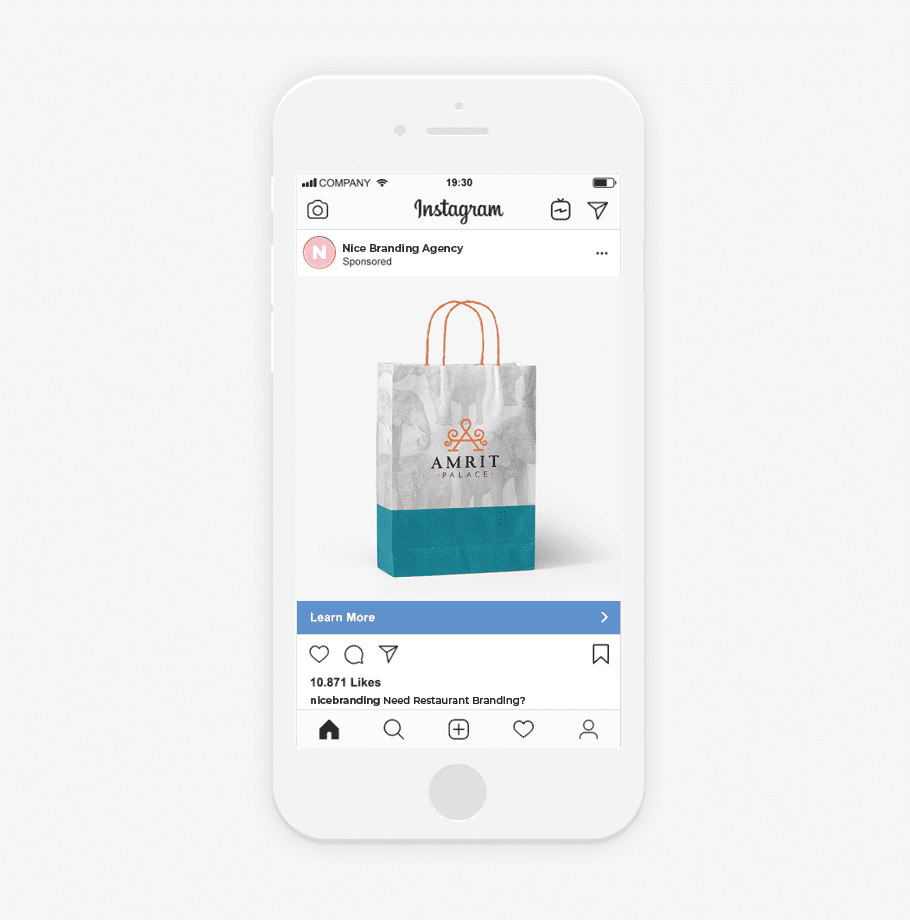 Linkedin 
New Custom CTA Buttons for Pages
Finally! Business pages on LinkedIn now can use custom call to action buttons to direct visitor action from the page. 
Here's what LinkedIn had to say: "As a Page Admin, we've heard that you want the ability to customize the way you engage with your Page followers and visitors. Beyond the primary "Follow" button, we've now added the ability to select a custom CTA button for your Page. Five new options make it easy to turn your Page visitors into potential leads, and new analytics dashboards will provide deeper insight into how many visitors are clicking through."
The five new CTA buttons are "contact us," "learn more," "register," "sign up," and "visit website."
Which of those CTAs would work best for your biz? Take some time today to update your button and watch the visitor actions start to trickle in. You can thank us later. 
Service Listings Added
A new option on LinkedIn allows businesses to list their services on their profiles, which can be searched by users interested in those services. 
Add your services from your profile page; a box under your profile photo should have a form you can fill out to add them. For brands, this easy update is a great way to help users searching for a business like yours to find you and connect with you on LinkedIn. 
Need a Social Media Agency?
Sound like too much to keep track of every quarter? Our social media agency includes pros in social media, strategy and digital marketing, and we'd love to help your brand stay on top of the tides online. Need some help keeping up? Contact our team!