Pinterest for Business
Mixing
Pinterest
and business isn't that tricky. If you're selling a product, it's a no-brainer and a necessity. If you have any type of brand personality or culture, you should consider having a presence on Pinterest to connect with your customers and allow them to get to know the real culture of your company. If your target market happens to be women between the ages of twenty-five and forty-four, Pinterest can become one of your biggest connection tools. Here's a few facts on Pinterest in case you need the network to prove itself to you. Pinterest holds third place with regards to the various social-media outlets. Pinterest.com is the sixteenth most visited website in the United States. The user engagement is slightly smaller than Facebook and Twitter. Users of the ever popular virtual bulletin board spend 4.5 more time on Pinterest than LinkedIn. From its inception, Pinterest caught on fast. It grew to ten million users in a third of the time that it took Twitter to reach that same user mark. Pinterest currently has a user demographic of eighty percent women, fifty percent of whom have children. In addition, Pinterest was the quickest social-media outlet to grow to the ten million visitor mark – yes, faster than Facebook. With eighty-five million unique visitors each month, there's no reason your business should be ignoring this social-media channel. So how exactly do you use Pinterest for business? There are numerous ways, but in this article we will highlight two: first, through the selling products, and second, expounding upon your culture and connecting with your customers. If you have a product to sell, first and foremost your website should have a
"Pin It" button
that allows users to pin your product directly to their Pinterest boards. Not only does this allow for your product to be on Pinterest, but it also lets the people who follow your boards to see your product. Therefore, your product is reaching more users. Your goal here is to get that product repinned by others as many times as possible. Second, you should brand your product images on your website, as well as any images you pin directly to your boards. Basically you need your logo or website address on the image. There's no need for it to overtake the image, but this allows for the user to always be able to track the source and directs them to the site that sells the product. In addition to others pinning and repinning your pins, you should directly pin your products yourself. Once again, each image should be branded with your logo or website address. In addition, be sure to include as much information regarding the product as possible in the caption of the pin. Be clear, specific, concise, and include relevant keywords to help drive search-engine traffic to your pin. Experts agree that one hundred to two hundred words is a digestible length for Pinterest captions. Be sure to link up your pin with the URL that links directly to that product on your website, and include the price. Another great way to use Pinterest to sell products is to actually show the product being used.
The Container Store
is a great example of this. Their in-house creative team works to create custom images showing their products being used to organize a bathroom, kitchen, craft area, and closet. This encourages the user to purchase this image after seeing an example of it being implemented in "real life." In addition, they have boards that directly target women, teachers, and moms - all of whom are the largest demographics on Pinterest.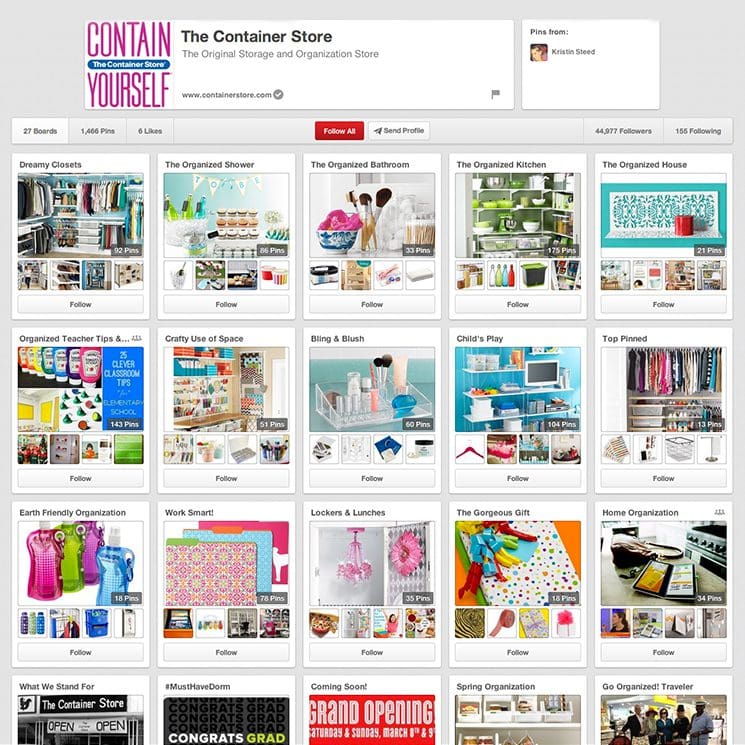 One thing to always remember when using Pinterest for business is to not only pin your products, but to work to foster a community of boards that interests your user and builds upon your brand personality. Build boards that interest your potential and current customers. Keep up the activity of your account by repinning other pins that directly relate to or correlate with your brand. An account that emulates your brand personality is a great goal to have when using Pinterest for business.
Two brands that do a great job of this are Kate Spade and JCrew.
Kate Spade on Pinterest
Kate Spade
currently has
171,454 followers
. That means that if they post a new product, 171,454 people will see that pin come up in their feed. Not only do they post their products, but they also have used their boards to expound on the personality of the brand. They have various boards that start with a verb and end with the word "colorfully." You can Travel, Decorate, Charm, Think, Dress, and Live Colorfully. Each board contains pins that show you how to do exactly that - or better yet - how "Kate Spade" would do exactly that. All of this relates back to the true spirit of what the Kate Spade brand stands for. It's a fun, colorful brand that is full of life. Some pins have been created directly by Kate Spade, while others are just fun pins that carry out the life of the brand and interest their customers.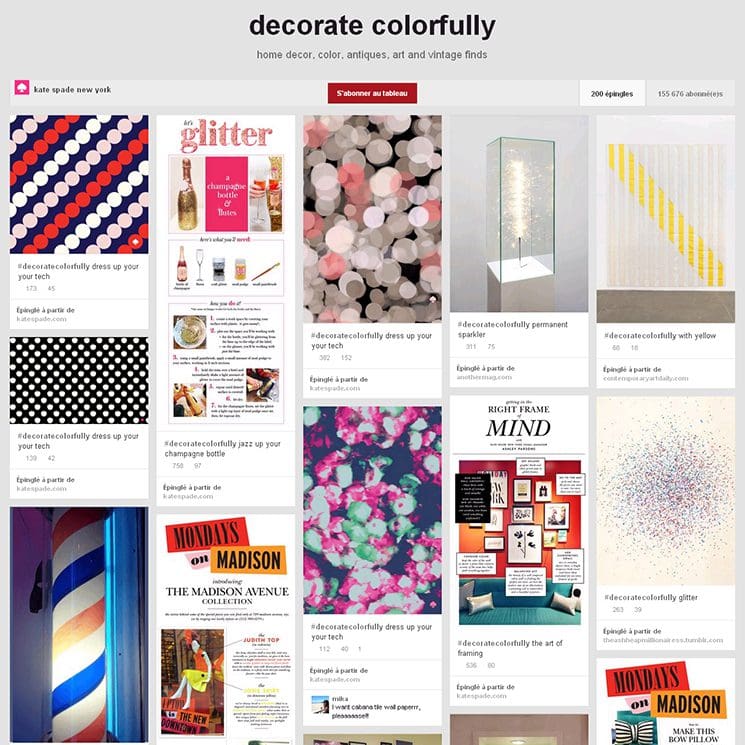 JCrew on Pinterest
JCrew
is another great brand that has spelled out its personality with the help of Pinterest. From lifestyle to fashion to travel and beyond, JCrew fully illustrates the life of people who wear their products. This evokes a feeling to followers. JCrew is more than just a fashion brand; it's a certain type of lifestyle. The desire to live that lifestyle encourages people to purchase their products, because if you're wearing JCrew products, you're one step closer to living the lifestyle that you see within the walls of their Pinterest boards. During its lifetime on Pinterest, JCrew has built a following of 109,747 followers through thirty-one different
boards
and
1,667 pins
. class="alignnone size-full wp-image-2198" src="https://nice-branding.com/wp-content/uploads/2014/01/Nice_JCrew.jpg" alt="jcrew pinterest boards" width="745" height="745" /> In addition to all the pinning and repinning you're doing, be sure to remember that Pinterest is a community at heart. Interaction is key. Follow people. Comment on pins. Like pins. You've got to spend a bit of time giving back to the community for it to truly work for you. Nice Branding encourages you to give Pinterest a try today. If you don't feel that you measure up in terms of Pinterest knowledge, take a quick look around your company. Nine times out of ten there's someone you already employ who uses Pinterest on a personal level and who can help your company get up and running on the social network. If you need a Pinterest strategy or could use help keeping activity consistent, feel free to reach out to
Nice Branding Agency
.