Our Favorite Nashville Patios For Warm Weather
With the weather warming up and new drink specials coming out, your favorite gal pals want to share a roundup of our favorite Nashville patios where we love to stop and sip something summer-y when it's
nice
out.
We went through a thorough elimination process — no out-of-season drinks, boring views, or tourist traps here — and our final list of best Nashville patios (and bonus: best drink to snag while you're there. You're welcome.) resulted in a Nice-approved Nashville patios guide to drinking al fresco.
#1: J'LYN'S PICK | PUBLIC-HAUS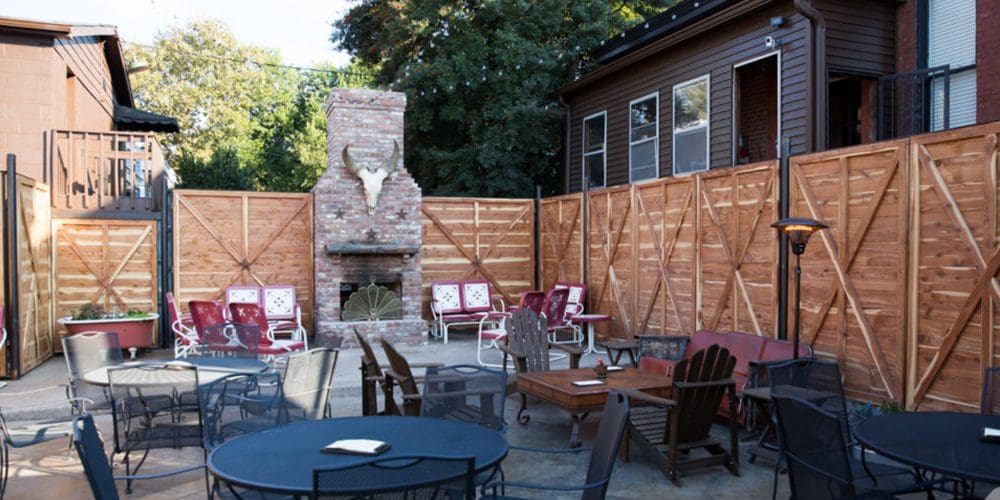 Nashville has quickly become a go-to spot for tourists — and especially bachelorette parties. Call me a diva, but I want to avoid going to the places where they're at — at all costs.
East Nashville is still a sacred place in Nashville. There are countless dining spots that I pray the tourists never discover — and one of those gems, is
Public-Haus
. A.K.A. my favorite place in the world.
Public-Haus sits behind a popular Airbnb, Urban Cowboy (I know you're now doubting my statement about the tourists, but I promise, they're not here). In the middle of a cozy residential street, Public-Haus sits waiting to make your dreams come true.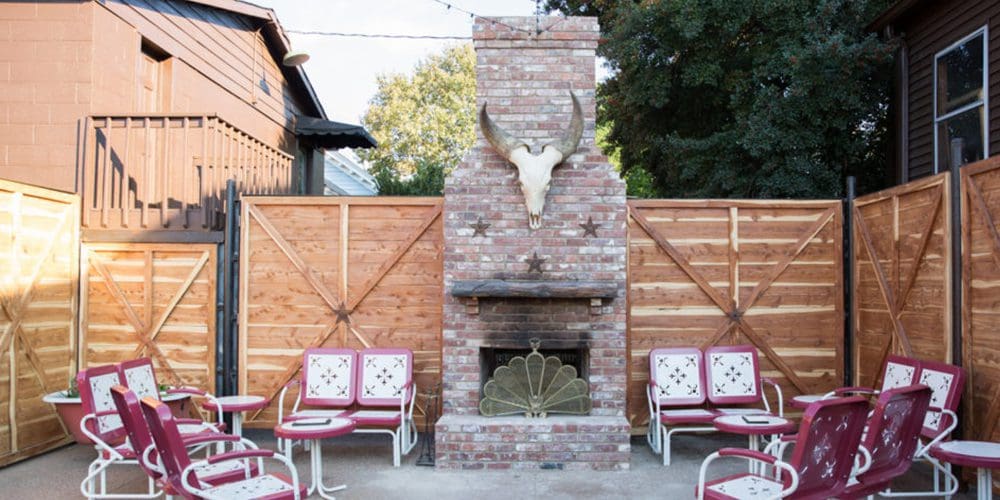 Their patio is pure perfection, with fire pits, blankets for those chilly days, killer Spotify playlists, and vibes that will make you swoon. The bartenders are always friendly and ready to make the *BEST* cocktails in Nash. And shall I mention they're super cute, too? #singleladies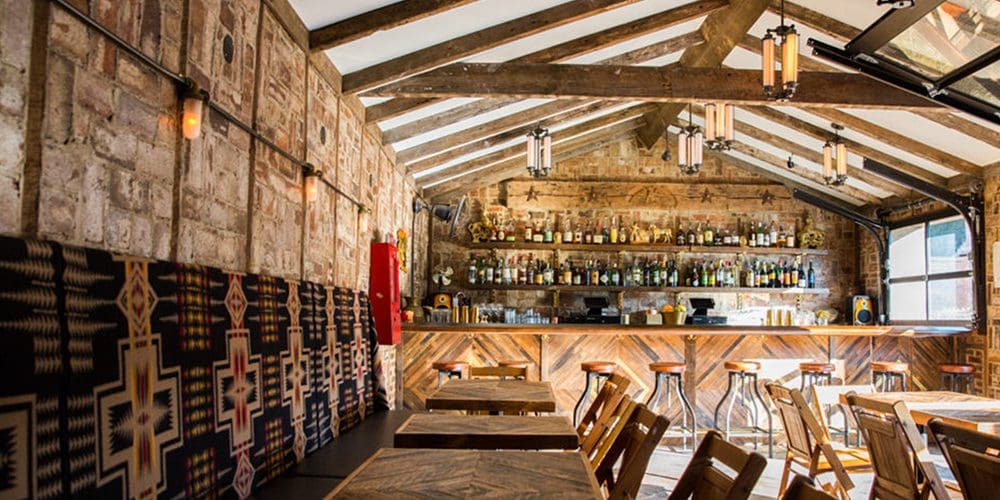 Trust me and try The Buck. It's made for summer days, and its ginger zing will make your taste buds sing. It will change your life. I would know... it changes mine every weekend.
#2: AMY'S PREFERRED PATIO | SAINT AÑEJO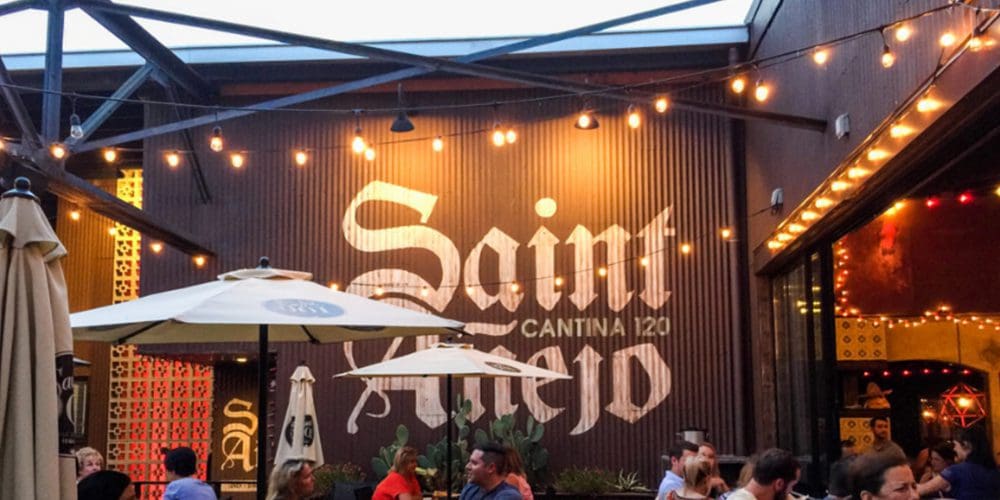 Saint Añejo
is a two-timin' treat: there's an outdoor patio where you can sit and soak up the sun, but if your heart flutters a little more in the AC, there's a whole side of the restaurant that converts into a patio, with huge openings to let the fresh air in.
I love that I can take my kid there, and he's comfortable watching the TVs while I sip on a cocktail and enjoy chips and salsa. It's truly my favorite place to go when I do get to go out and act like I live in the cool city.
A kid-friendly spot that still feels
cool
is a rare find, but this place is special all the way down to their glassware. Everything here makes my heart happy.
Personally, I like sitting inside more than I do on the patio, but out of all the Nashville patios, Saint A
ñ
ejo is my top choice because I can sit so close to the open-air side!
#3: NICHOLE'S NUMBER ONE | GEORGE JONES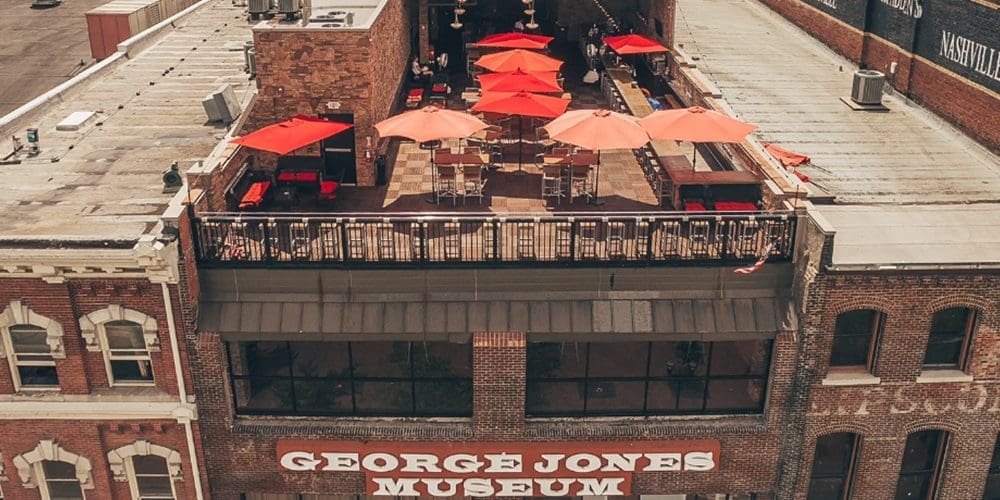 My Nash patio pick is the
G
eorge Jones Rooftop Bar
, which you'll love, too, if a great Broadway view is important to you.
The bar looks out over the river and iconic skyline feature, Nissan Stadium. That's a sunset pic you just can't miss, especially if you stage it holding a Moscow mule.
This is one of my favorite Nashville patios because it doesn't feel super touristy.They usually have a great blues or country band to accompany you, your friends,
and
your reasonably priced drinks.
If you're looking to make some summer-night memories out on Broadway, this is the perfect spot.
#4: HEATHER'S HAPPY PLACE | THE PHARMACY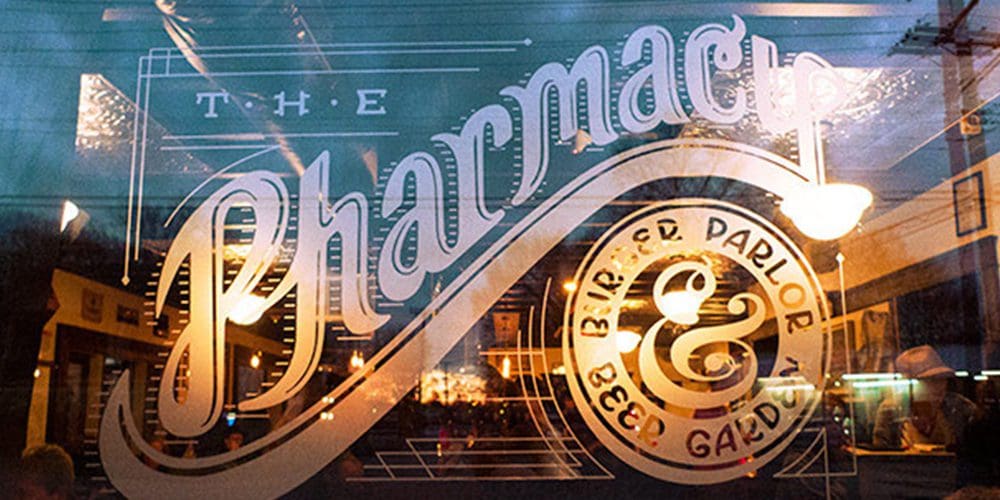 As a Nashville native who just recently returned to Music City, the first place I got myself right back to was the
Pharmacy.
The beer garden (TBH, it's more like a botanical garden because it's just so beautiful) is filled with string lights, wandering pathways, and greenery. The size alone of the outdoor space makes it an incredible place to eat; it feels every table has their own little romantic space. Shoutout to all the waiters for doing all that walkin'.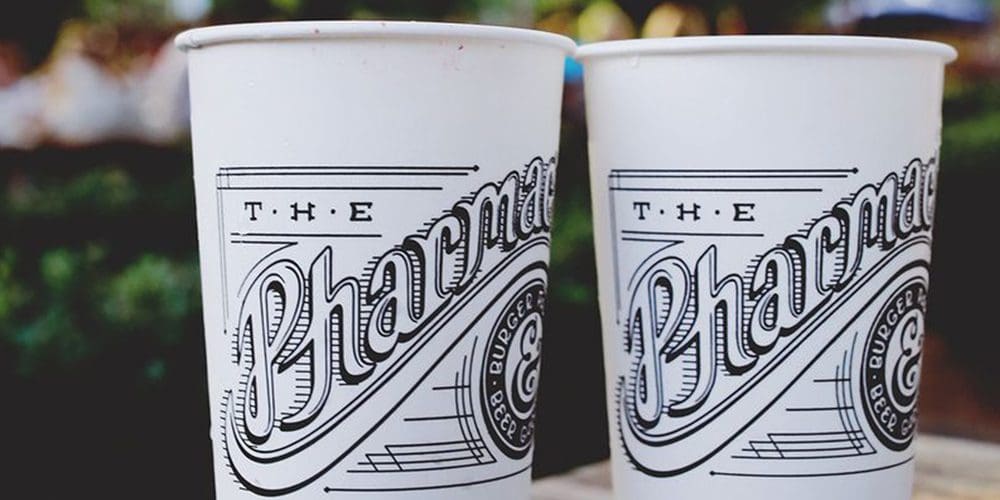 When you order, just know that their homemade sodas are incredible, but I usually order a beer with my burger. The berry-pink Lovebird beer is my go-to; it's tart and light — perfect paired with a Farm Burger. Yum.
#5 CHELSEA'S GO-TO | NOELLE NASHVILLE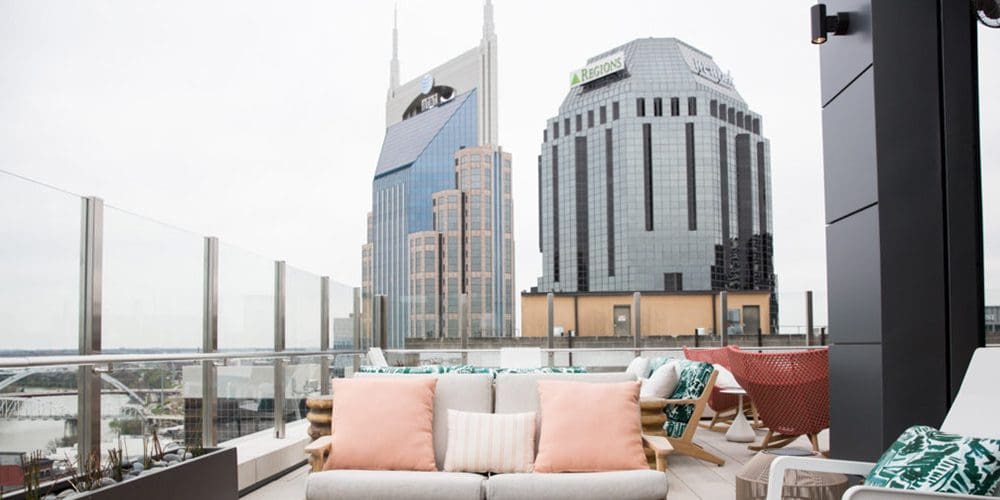 This season, I'm loving the new rooftop bar and lounge,
Rare Bird
, that recently opened at the top of Noelle Nashville, a boutique hotel downtown. A 30-top covered bar, two fireplaces, and cool printed couches decorate their stellar rooftop.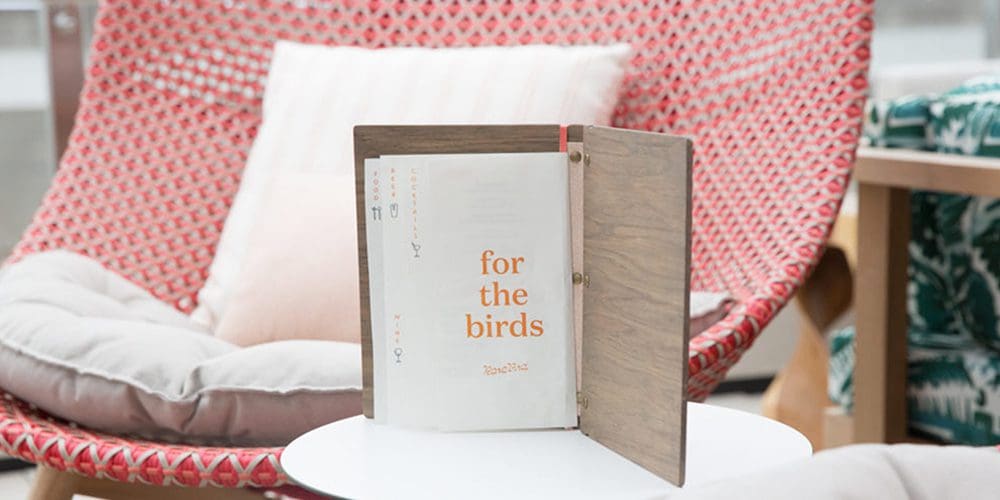 The
environmental branding
here is amazing. They chose great colors, cozy seating, and luxe materials that make it both beautiful and relaxing.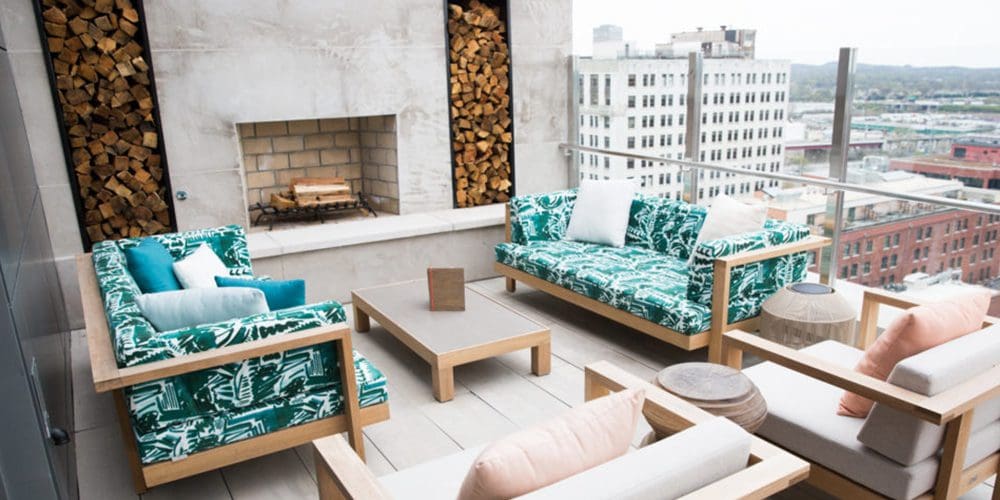 The full outdoor bar makes it hard to pick a favorite drink, but drinking a ShowPony or sipping a SkyWriter at Rare Bird will be the highlight of your whole weekend.
#6 SAM'S SPECIAL SPOT | PINEWOOD SOCIAL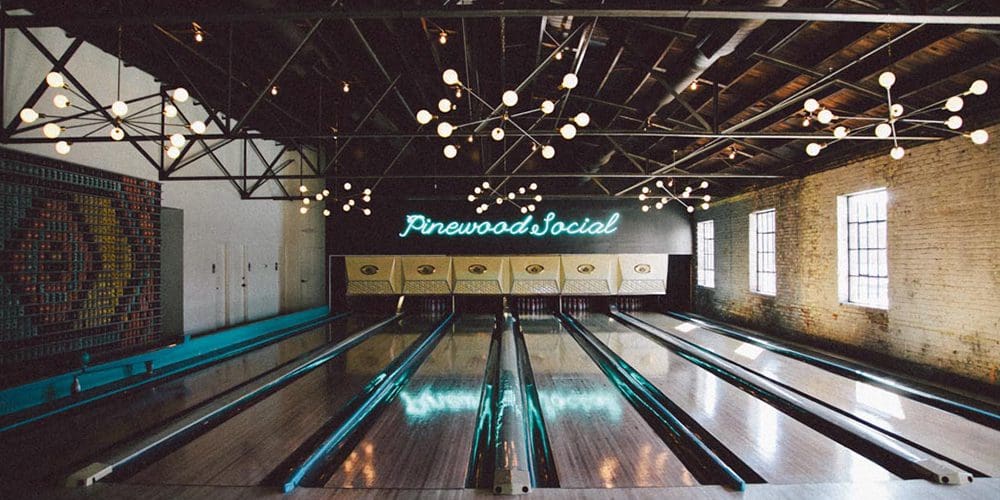 Does it get more "Nashville" than an Airstream? Probably not. This 30-foot silver bullet is set outside on
Pinewood Social
's magazine-worthy patio.
We order drinks from it during the summer — the Froz
é
in all its slushy glory is nearly spill-proof while you bowl inside or play bocce ball on the patio.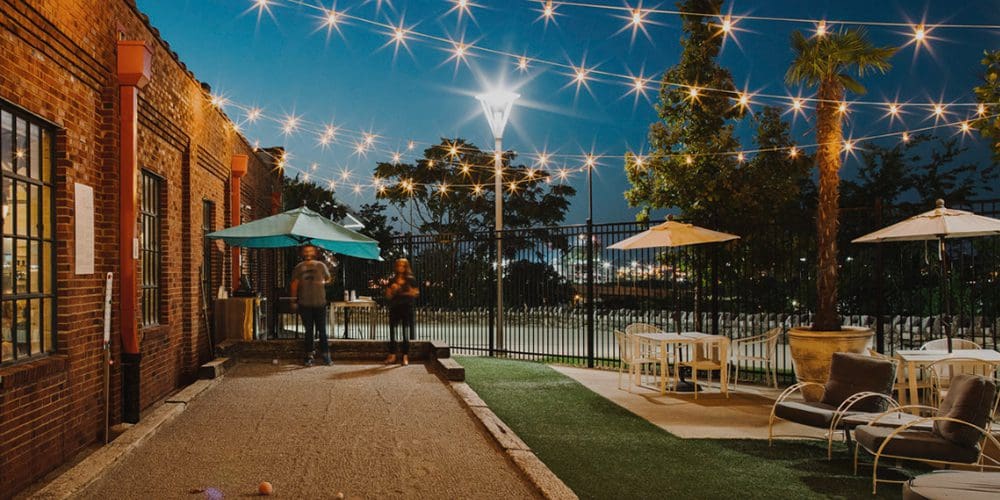 Speaking of the patio, this little slice of heaven has two pools for the really hot nights and its own
separate food menu, listed long with snacks to keep you happy while you (and me!) sip in the sun.
#7 SONYA'S SUNSET SKYLINE | LA JACKSON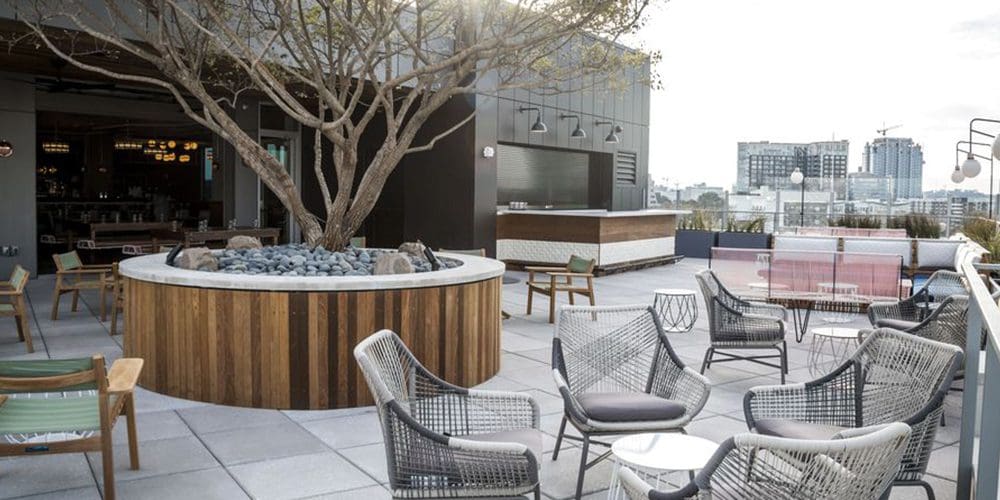 If you've made it through this whole list and you're ready for the final and swankiest patio on our list, check out
LA Jackson
.
This rooftop has hosted Nashville Scene photo shoots, Nashville Fashion Week blogger brunches, and tons of trendy weddings. With a balcony set above the skyline, you can look down on the city lights at night or across the horizon during the sunset and snag every Instagram candid you could ever need. The view is so good you'll wish you could see it every time you close your eyes.
Every drink that comes out of the LA Jackson bar is incredible, but if you can snag a pic of their "Hot N' Bothered" cocktail, I can guarantee everyone who follows you is going to tap twice.
If you hunt down one of these Nashville patios, snag a post for social and tag us. Cheers!