5 Nashville Selfie Walls You Must See
The Nice girls just LOVE Nashville, particularly the iconic Nashville Selfie Walls scattered throughout the city! Can you say photo-ops galore? Anybody and everybody makes it a point to get to one of these Instagram-worthy mural walls, for each one is a display of unique art. As a result, they have become quite the tourist traps (deservedly!) in their own right.
Because we love seeing our city on your social feed, we've pulled together a quick guide to some of the best Nashville Selfie Walls for your convenience.
Nashville Selfie Walls #1: I Believe In Nashville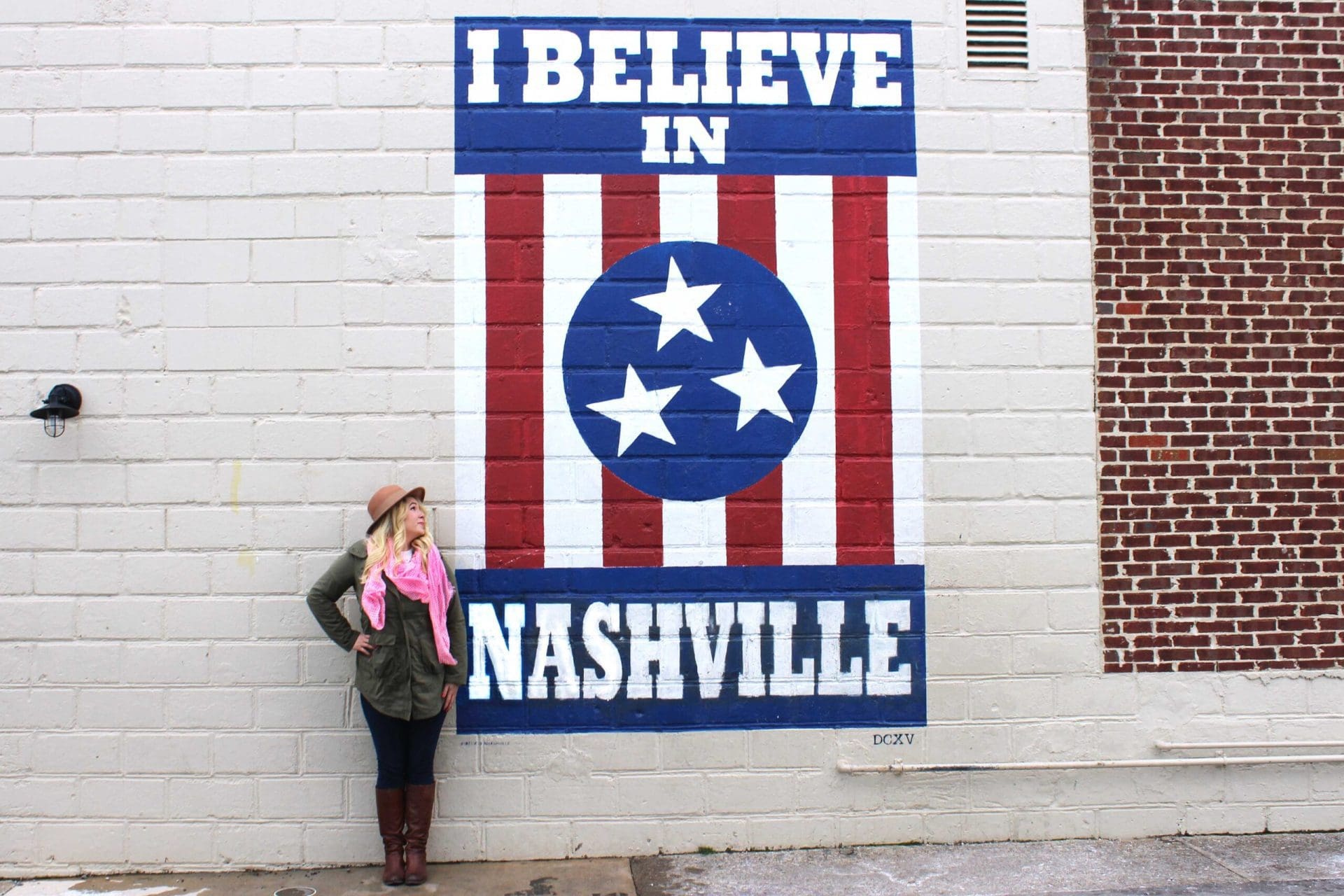 Where:
2702 12th Ave S, Nashville, TN 37204
(
12 South right next to
Edley's BBQ
.)
What You Should Know:
This wall appears in a couple locations —
Marathon Music Works
, Riverside Village on the side of
Mitchell Deli
, & 12 South right next to Edley's.
If you don't make it past this paragraph to the others, make sure to visit this Nashville Selfie Wall. It's a favorite to those far and wide and a great way to show off that Nashville pride!
NICE Thoughts:
The original location of this mural is 12 South, and it is the genius of
Adrien Saporiti
. Adrien was raised in the Nashville area, and therefore understood the need for Nashville apparel that was more local and less generic, like the classic "whiskey makes me frisky" memorabilia for example (found in just about any retail store on Broadway downtown). With his graphic design expertise and a mind made for business, he created the "I Believe In Nashville" design and started
DCXV Industries
, launching all sorts of products and sparking a trend that has yet to die. Remember, if you don't hashtag the sighting, then it never happened… #IBelieveinNashville
NICE Note:
The original mural is directly across from the Draper Stripes, which makes it simple to hit two murals in one stop!
Nashville Selfie Walls #2: Draper James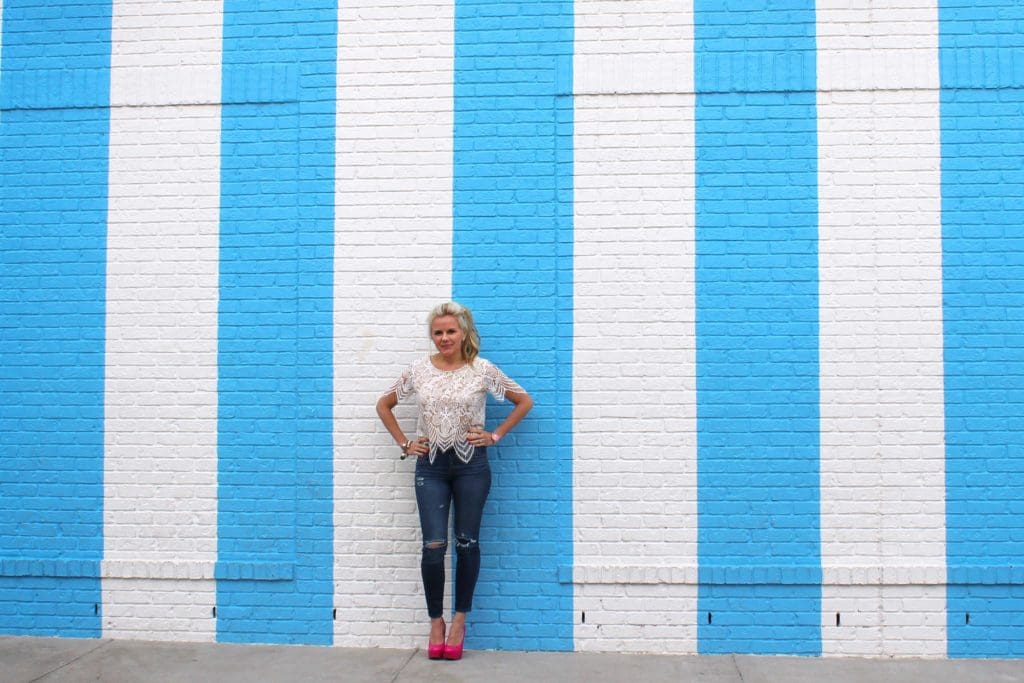 Where
:
2608 12th Ave S, Nashville, TN 37204
(
12th Avenue South, Draper James)
What You Should Know:
Since this is right outside
Drapear James
, Reese Witherspoon's own store, you can kill two birds with one stone. Pick up a khaki trench and grab a gorgeous selfie, without having to fetch an Uber! This spot is overflowing with Southern charm! A great photo op, plus bragging rights — not everyone can say they've "shopped" with Reese. Be sure to tag @DraperJames #DraperJames in your photos!
NICE Thoughts
: Fresh and simple and classic — oh, and the colors look great with pink. Need we say more?
Nashville Selfie Walls #3: The Pink and White Wall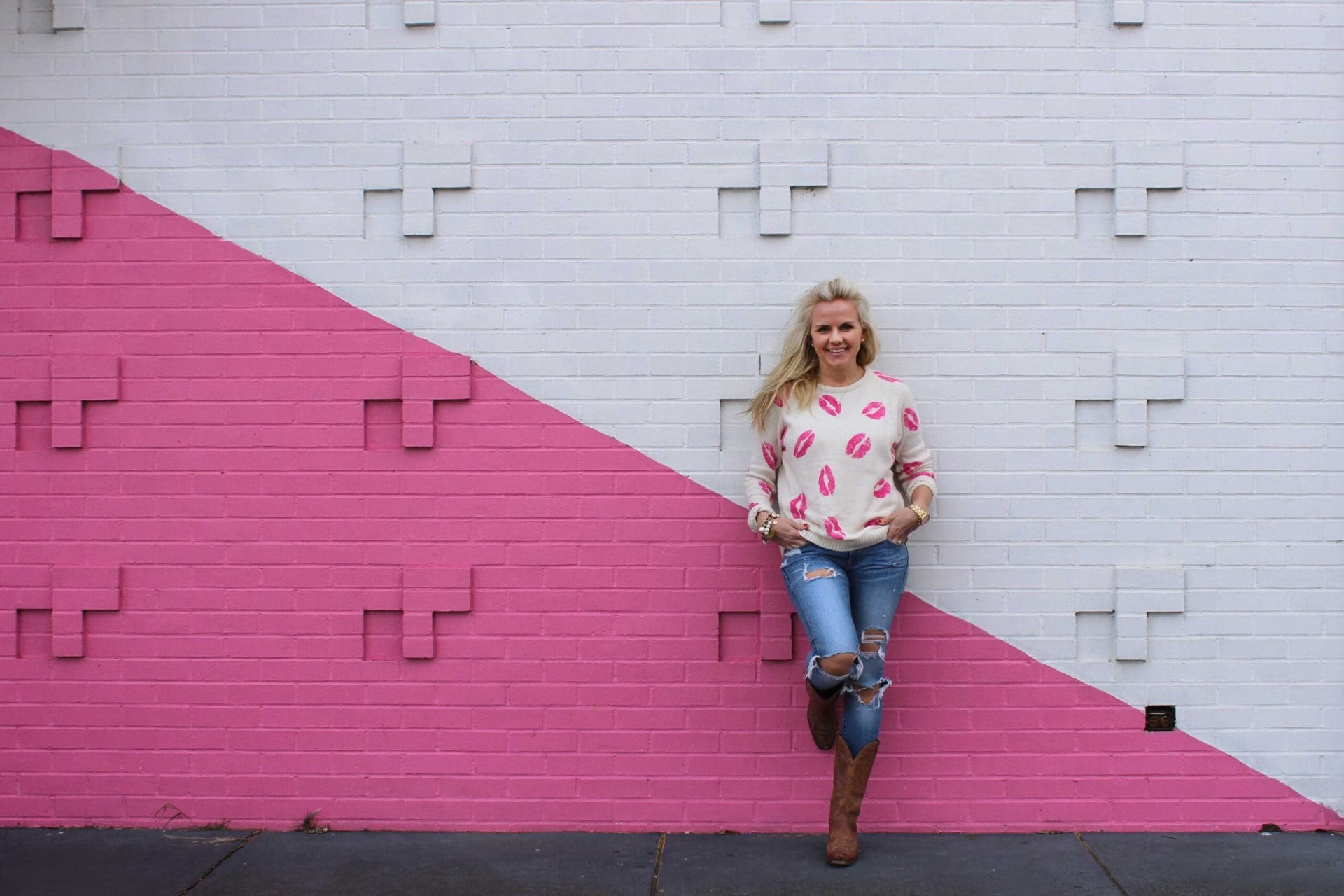 Where
:
714 Gallatin Ave, Nashville, TN 37206
(East Nashville, Beauty Supply)
What You Should Know:
Of course, one of our favorite places take a photo is the pink and white Nashville Selfie Wall. This one is located on the side of Beauty Supply on Gallatin Avenue. Any fan of
Nice Branding
(or the color pink!) should definitely make a trip to this little gem!
NICE Thoughts
: This wall is proof that beauty can reside in the most unexpected of places! It is painted on the side of a small, local beauty shop where you would least expect to find such a pretty photo-op. And, of course, it's one of our favorite spots since it's obviously our trademark colors! <3
Nashville Selfie Walls #4: What Lifts You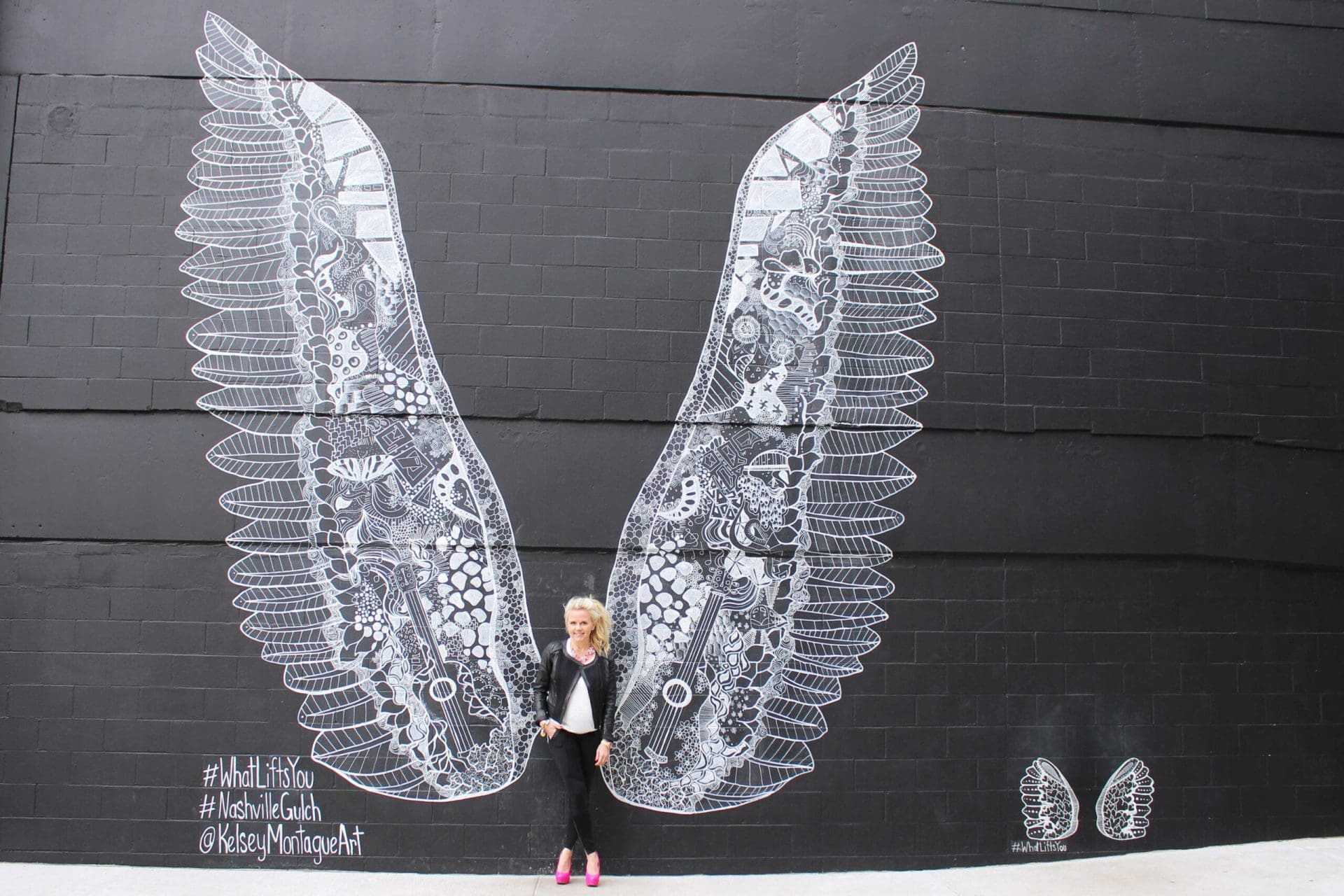 Where:
302 11th Ave. S. Nashville, TN 37203
(
The Gulch)
What You Should Know:
Los Angeles isn't the only place with wings. We know how to fly here in the South, too. Nashville has a one-of-a-kind mural in
The Gulch
, an area near downtown Nashville. (This would be the perfect place to grab a drink or do some shopping as well, as the Gulch is a must-see Nashville location in itself!) Created by artist
Kelsey Montague
, this is an ideal location for an Instagram pic! Tag @KelseyMontagueArt #WhatLiftsYou #NashvilleGulch when posting this photo to your feed.
NICE Thoughts
: This is a great location — and oh my… they even have little wings for your furry friend!
Nashville Selfie Walls #5: East Nashville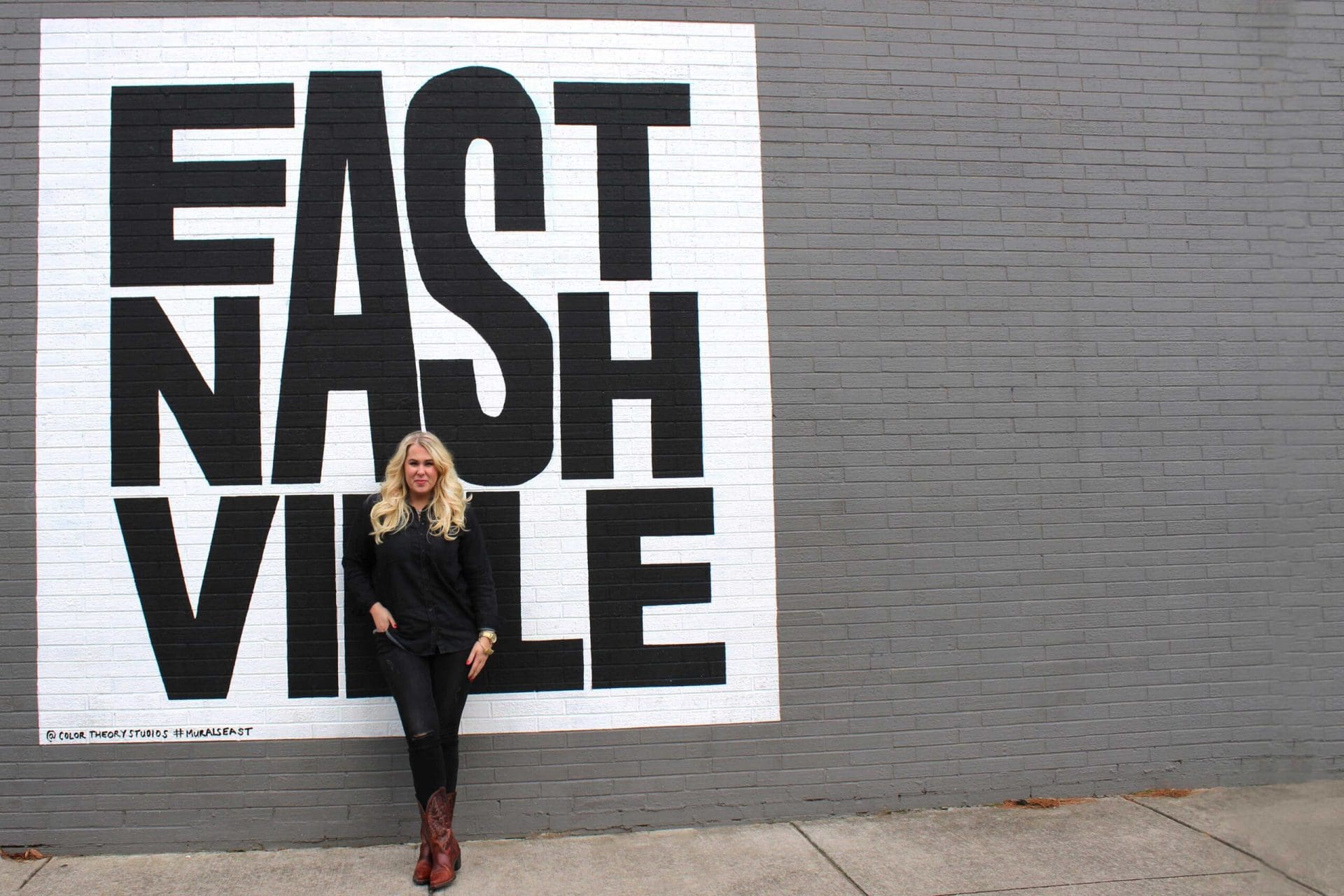 Where:
Side of the Joyner and Hogan building at
600 Main St, Nashville, TN 37206
.
What You Should Know:
Did somebody say East Nasty up in here? There are so many different areas within Nashville and each area has their own local style and taste on display.
Nice Note: Here's a handy guide we often use to the different
neighborhoods of Nashville
.
This can be debated, but many believe that East Nashville is one of the hot spots, so you won't want to miss this. Hipsters — check. "Rep where you step" with this East Nashville mural! Tag #eastnashville to make a local shoutout in your posts!
NICE Thoughts:
Unlike the walls listed above, cars are able to park in front of this one, making it a bit hard to get a straight-on shot. But just get crafty with your angles and you're good to go!
No matter where you live in Nashville, or if you are visiting, everyone is welcome to enjoy all that this city has to offer artistically. No tickets necessary! Definitely the cheapest city tour ever, and as a plus, you get to step up your social game. And, hey, if you use our guide to help get you around, we would love for you to tag us in your cute selfie post @nicebranding.
P.S. STAY TUNED — Nice Branding selfie wall coming soon to downtown Franklin, Tennessee! (We hope!)