Tips For Selecting a Marketing Agency From Our Award-Winning Team
Expertise recognized the Nice Branding Agency team as one of the top eight Marketing Consultants in Nashville. Our team was selected out of a total of 139 reviewed companies. The list of finalists was picked based on this selection criterion: reputation, credibility, experience, availability, and professionalism. 
At Nice Branding Agency, we are a branding agency at heart. It's right there in our name, after all. However, we do engage in marketing consulting, marketing strategy, and marketing management for our clients. Our marketing efforts all work to promote brands and increase sales, with a focus on brand-driven sales conversations.
We offer social media management, email marketing and text message marketing, blogging, SEO and SEM, digital marketing, analytics, and other customized marketing services to help audiences connect with a brand. We also utilize traditional adverting outlets as dictated by the overall brand direction, message, target market, and marketing goals.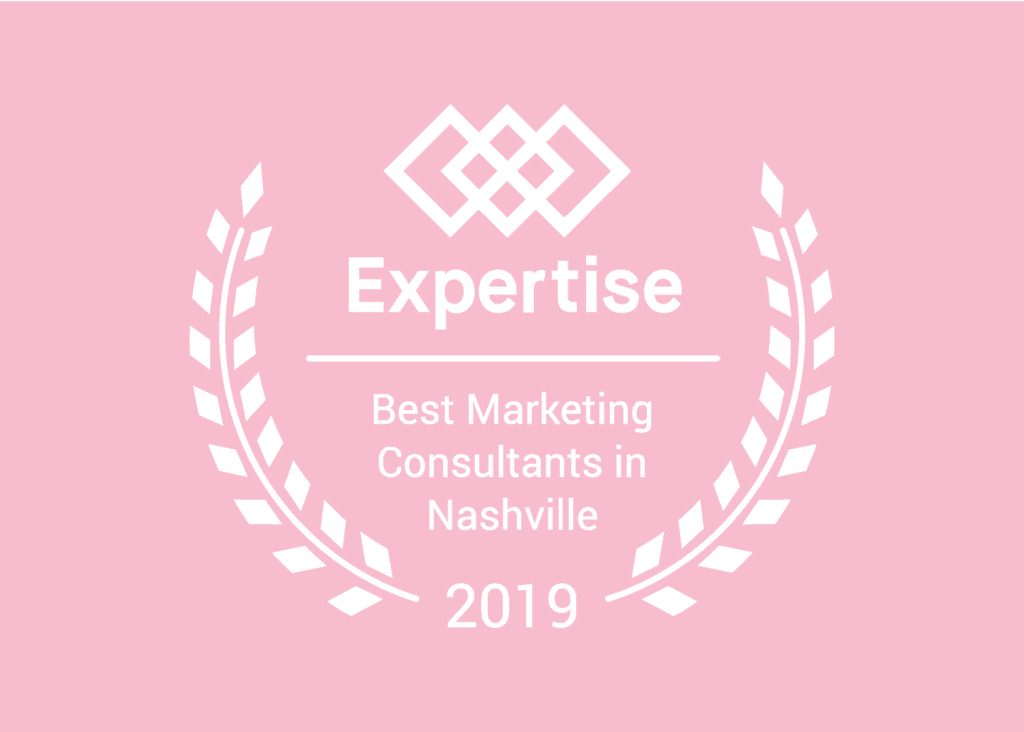 We believe branding is the perception of your business in the minds of the consumer, and our job is to uncover and strategize how you should be perceived, and then we work to make that happen. Marketing is the execution of your brand out into the world. It's the way we get your name out there once we've got your brand all figured out. 
This year, we've shared a lot of knowledge about the difference between a marketing campaign and a marketing plan, and how much businesses should be spending on their marketing efforts. 
We've also worked on tons of restaurant launch marketing and ongoing marketing for brands like Tractor Supply Co., Petsense, and Holler & Dash. 
If you're looking for trustworthy marketing consultants who can keep your brand intact, (hint: us!) there are some things you should look for (hint #2: the things that got us on the Expertise list of top marketing agencies!)
First, Look For Marketing Consultants Who Care About Branding
Protect your brand! When you look for a freelance marketing consultant or an agency of marketing consultants, look for people who won't go rogue with your brand. Your brand should be the filter for every piece of marketing collateral that goes out into the world. The power of your brand is in consistency. Don't let your consultants guide you into marketing plans that don't support the goals of your business with collateral and design that doesn't support your branding. Great marketing consultants will be diligent to keep all of your marketing - from the strategy down to the copy and the design - in line with your brand. 
Find Marketing Consultants that are Available
At Nice, we're flexible. It's part of who we are. We're a small, nimble agency full of strategic creatives ready to work on the next thing and make it great. That said, we're able to take on new things and turn things around without lagging behind, and it's one of our strengths. 
Additionally, we're constantly reporting on the success of our strategies and then adjusting as needed. This agile approach allows us to keep a finger on the pulse of the market. We're not saying we're shooting from the hip in any sense of the term. But we are keeping an eye on things.
Marketing consultants should be able to support your internal team with strategy and design as you need it, keeping an eye on timelines, seasonal strategy, and campaigns to attract real attention for your brand. 
Set Clear Expectations for your Marketing Team
For our agency or any team of marketing consultants to be able to effectively strategize for your business, we need clear expectations for your marketing plan and a clear idea of your goals as a business overall. 
At Nice, we are branding experts at heart. We handle the development of new brands from start to finish, and we refresh brands for existing organizations. We also do all of our own graphic design work, web design and development, social media advertising, organic social media design, and more. That said, we have a lot of great strategists here who are ready to exceed your expectations. Your marketing strategists should be able to spot gaps in your branding and marketing and then be able to help you fill them in. 
Contact our Branding + Marketing Firm Today
Looking for a team of marketers who will protect the integrity of your brand? At Nice, we've seen our marketing strategies boost businesses for new brands and existing companies alike, and we would love to work with you next. Give us a call today to start one of those fun working relationships where your business grows and we get to be creative.