A Graphic Design Firm Talks Templates
As a graphic design firm, we get requests for templates from time to time. We get it; your team needs to be able to convey a message quickly, without the need for a custom design or an invoice attached.
However, there are many things to consider when requesting a template. Do you have the proper programs to edit the native files? Do you or your staff member have the technical skills to use the program? If a change to the template throws the design out of whack, will you notice and have the expertise to work around it?
You see, there are a lot of reasons why templates are scary to a design firm. One of our main goals as an organization is to create brands that are cohesive and relevant. Seeing that brand uphold its integrity and value comes in a close second. Your brand will quickly start to dissipate if the editor is not savvy in branding technicalities.
That's not all. There are other pieces to creating a template that just don't work.
Technicalities of Templates
We do our design work mostly in InDesign. Designers at Nice Branding typically make every piece of art in this program. There is no way to "export" the work into Word or any other program. It is saved in InDesign and then converted to a PDF for printing or placement.
Our creative team are pros with design programs. We spend a ton of time and money working with professional-grade tools. It's likely that you are not well-versed in InDesign and are hoping for your template to be able to be manipulated in a program such as Microsoft Word or Publisher. However, there is no way to get the design into Word. This means we just can't create a template in that context. It's not because we don't want to help, we just can't.
The capabilities of Word and the capabilities of Indesign are miles and miles apart. We can provide limited value from a visual perspective when working in Word; and quite frankly, we just don't like Word. It breaks our Macs!
That's another thing. We use Macs, aka Apple products. We would guesstimate that 75% of our clients are operating on PCs. Opening a file with the same program on both hardware platforms starts to unleash issues. This is because they don't read the files the same.
Now, there are some instances where we can create what we refer to as a template.
What Does a Template Mean to a Graphic Design Firm?
When we talk about a template approach, we aren't referring to the creation of a piece that you can update yourself. Rather, we are talking about the creation of several design pieces with the same structure. For example, the design of a monthly newsletter would take a templated approach. We would spend time designing out the first issue. We would undergo several rounds of internal revisions to get the structure and look just right. Then, for future issues, we would plug and chug. Now, you still have to be able to manipulate the design programs in order to populate the content, as the piece will remain in InDesign.
However, there won't be a brand-new design for each issue. We will input copy and photos, paying special attention to spacing and photo editing to ensure that every issue looks similar to previous issues. This is something that a designer should still do. It takes skill to create a professionally designed newsletter and keep the design intact for months and years to come.
Another example of a template that we use is in MailChimp. We are able to create "templates" in your MailChimp account to be replicated to communicate different messages. Often, these templates will need to be updated with the new messaging, and this can either be done directly in the MailChimp dashboard or by having us create a new body graphic to drop in.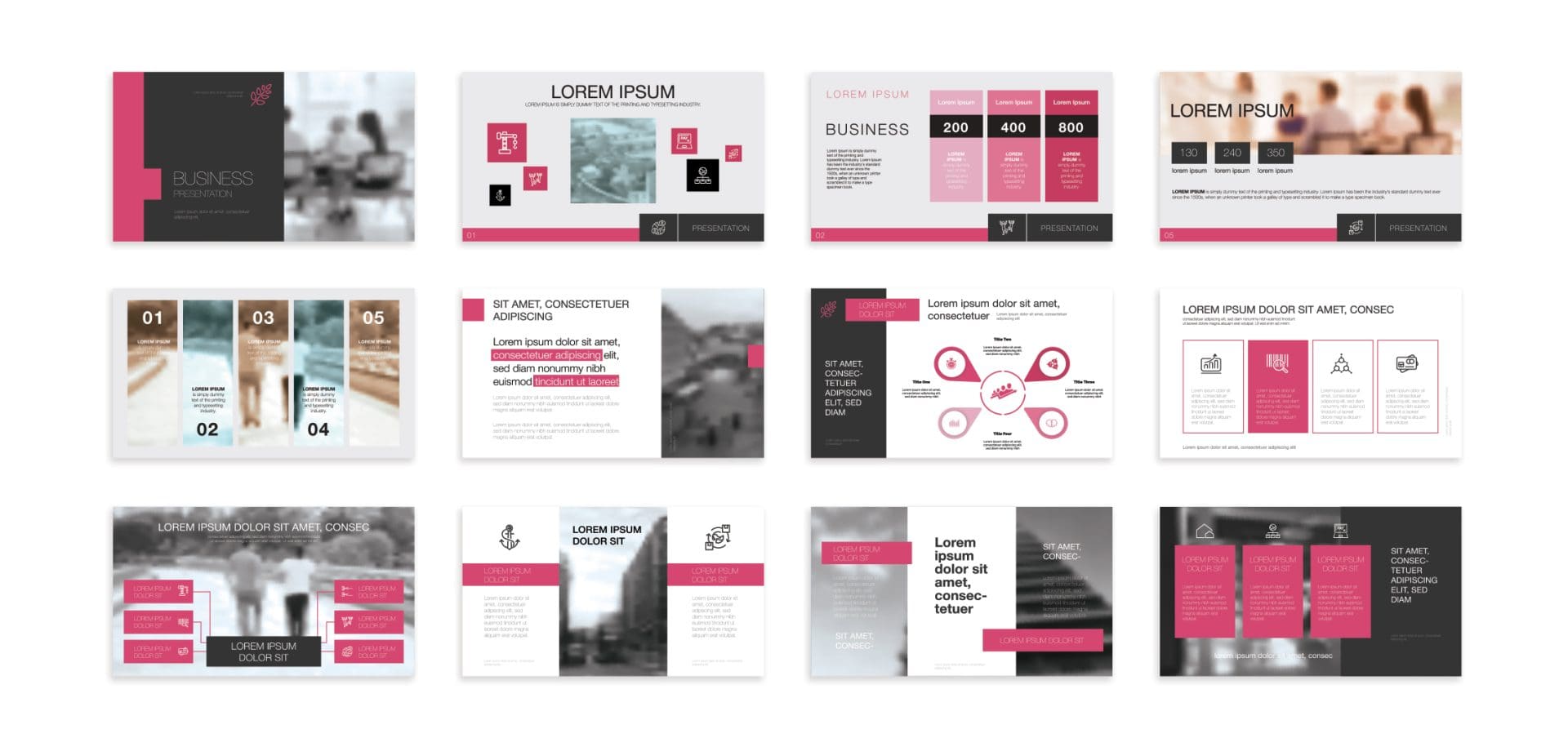 What are Some Appropriate Uses for a Template?
PowerPoint presentations are another instance of a "template" that we can create for a client. Corporate clients call on us to create decks and presentations for them. However, there is a need for our clients to be able to add slides to a presentation or create a case study based on a predetermined look.
In these instances, our team will create a template that is more of a style guide. We will create a document that outlines headers, headline text, subhead text, body copy, bullet use, photo placement, and more to provide the client with a guide to follow as they create PPT pages, etc.
A more ideal situation is to have us design the pages in InDesign and drop them into a PowerPoint or PDF for you. The result is much more appealing. Bonus: It involves less time (our time is your money) spent on our end.
Additionally, Office has limited design features. So having us design in those programs results in a less-than-ideal finished product. It requires more time on our end figuring out how to make our intended result come to life.
Another thing to consider is the creation of a template under the completion of a strategy exercise. For example, you may have a flyer that you need to change a date and description on under a quarterly communication update. This is a very rare instance where we can create a file using Indesign and then export it as a PDF. Then, you are able to open that PDF with Acrobat and edit just the variable parts that have been designed to keep the need for the variable in mind, while also maintaining the initial design aesthetic.
The main thing to keep in mind here is that sometimes this works and sometimes it doesn't. Oftentimes, a few months down the line and a few employees down the road, edits have been made that do not work, and because the people making the edits are not designers, they have not noticed how they have murdered your brand in the effort to save you money.

There are so many variables that you may be facing. Instead of trying to figure out what you need,
give us a call
and communicate your end goal or the challenges you're having. Our team of problem solvers can assess and advise you on the best course of action moving forward.