How to Market Your Business and Keep Your Brand Intact
A bold, clearly defined brand is critical to the success of a business. It requires a crystal clear understanding of your brand positioning, attributes, and visual direction. It is, however, only step one. What comes after is equally important: Business marketing.
Every piece of marketing collateral that follows must reflect and strengthen the brand—from the key messaging to the design. It takes strategic thinking, exceptional graphic design, compelling content, and flawless execution to keep your brand intact. Not to mention time and resources.
While we love building brands from the ground up, we also make a great partner to already established brands that need ongoing support for various initiatives. We supply internal marketing departments, business owners, and marketing directors with graphic design, marketing strategy, content creation, and digital services.
Our interdisciplinary team of strategists, designers, writers, and web designers puts strategy on par with art, so that our work always meets your business objectives. And, since we're branding experts, you can rest assured that everything we create will elevate your brand, not dismantle it.
Check out some of the ways that we can serve as an efficient extension of your business marketing team.
CHASTAIN-SKILLMAN: BUSINESS MARKETING
Chastain-Skillman has been a client of Nice Branding Agency for over a decade. The prominent engineering firm in Central Florida has a 70-year legacy and a stellar reputation characterized by unwavering technical expertise.
Over the course of our working relationship, we've partnered with
Chastain-Skillman
on a variety of initiatives, including foundational branding, a website redesign, and several marketing projects, including a recruitment campaign designed to attract top talent and a surveying outreach marketing piece.
With every element of business marketing support that our team designs and develops for Chastain-Skillman, we always ensure that the visual direction and key messaging seamlessly aligns with the brand. Our ultimate goal is to strengthen the brand and leave a lasting impact at every single customer touchpoint.
The recruitment project was especially unique. We were tasked with creating a series of recruiting packets for a few top positions at the company. Each packet needed to speak directly to potential candidates and position Chastain-Skillman as a desirable employer, focusing on its high standards of excellence, innovative approach, impressive portfolio, prime location, and workplace culture.
The recruiting packets would be sent to potential candidates in an effort to spark their interest and educate them about the benefits of working with Chastain-Skillman. 
We started the project with strategy. We defined the user journey through the campaign and identified the elements that would need to be developed in order to make it successful. Then, we thoroughly researched the company and the geographic area, identifying points of interest and would attract the user and motivate them to learn more. In order to develop the necessary assets, we used a combination of copywriting and graphic design.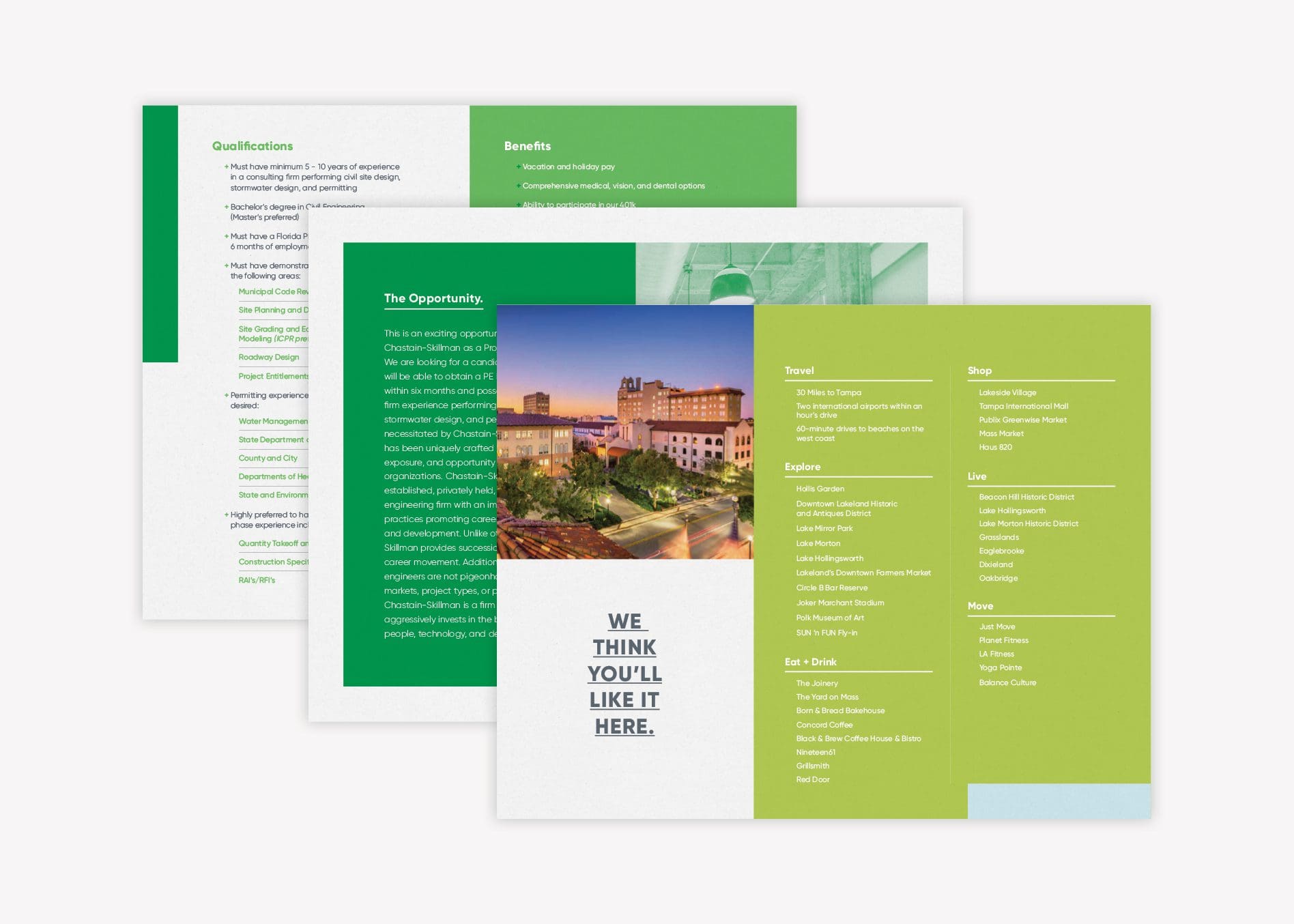 We then designed a branded landing page for each job opening that would offer a multi-faceted and engaging user experience to serve as a landing point for interested candidates to learn more.
The brand colors, voice, attributes, positioning, logo, and icons are woven throughout each element of the recruitment campaign.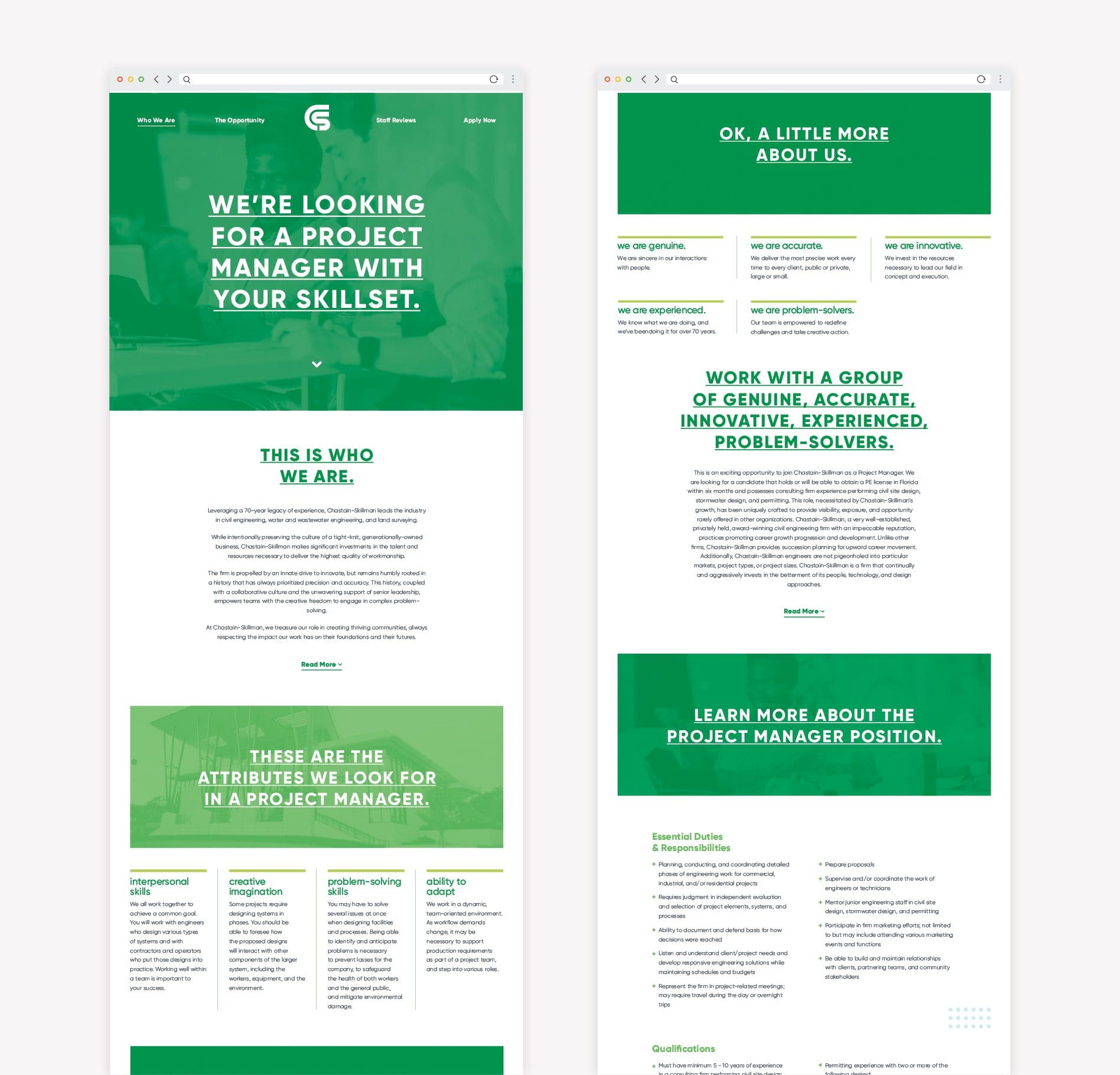 PARKSIDE BUILDERS: BUSINESS MARKETING
Parkside Builders
, a residential home builder in Nashville, initially came to our team for
foundational branding
. Once we developed a positioning statement, persuasive paragraph, brand attributes, and visual direction for the brand, the company was ready to launch its business marketing efforts.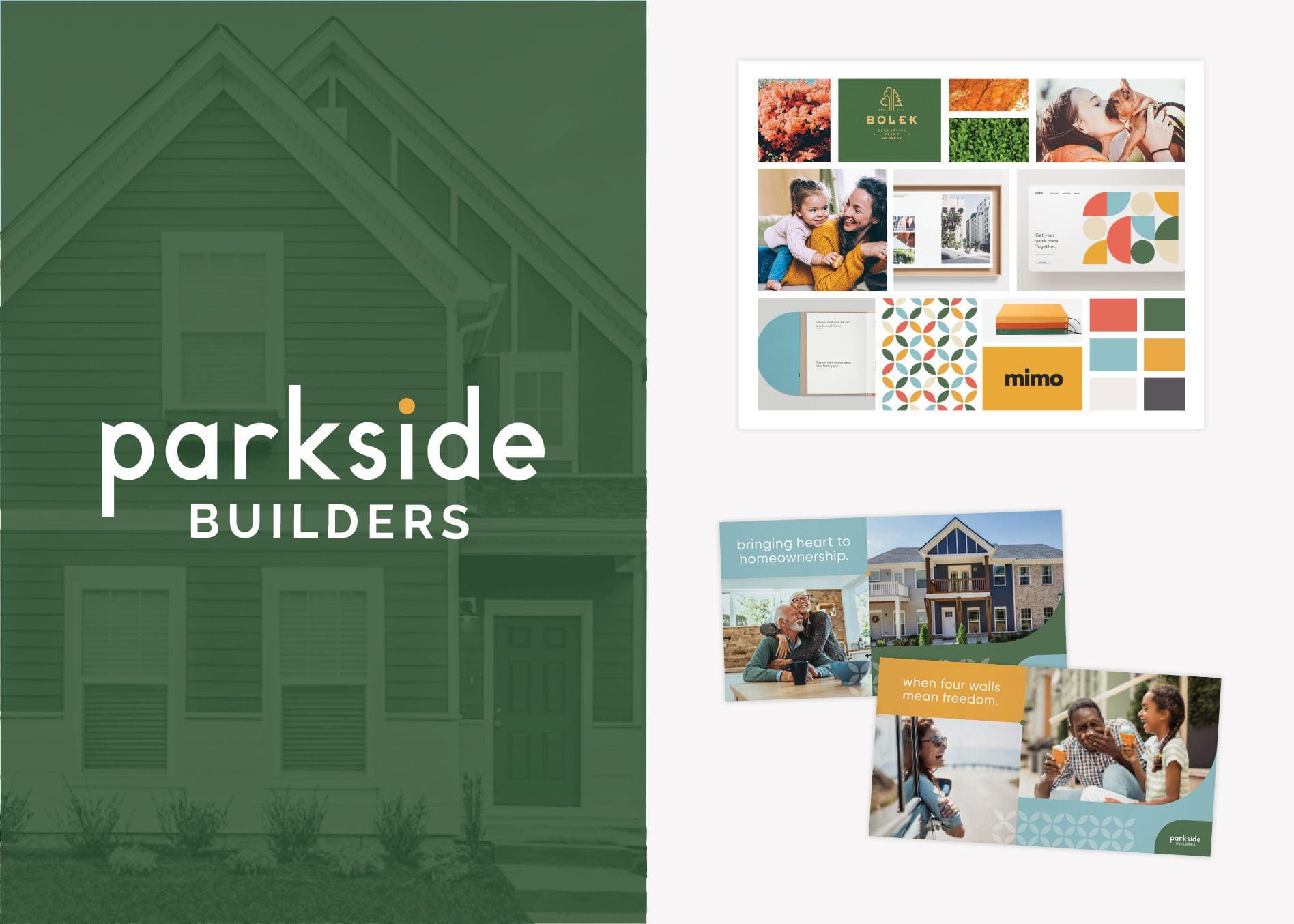 But, ensuring that every element of your business marketing plan—from the strategy to the collateral—aligns with your brand requires a lot of work.
So when Parkside Builders needed a marketing campaign to support and amplify its brand attributes, we were happy to step in and help.
Our team started with strategy to outline the campaign assets and the direction of the creative content. We then designed and developed a series of print advertisements, organic social media posts and social advertisements that featured the company's brand attributes, a summary of its identity and core values.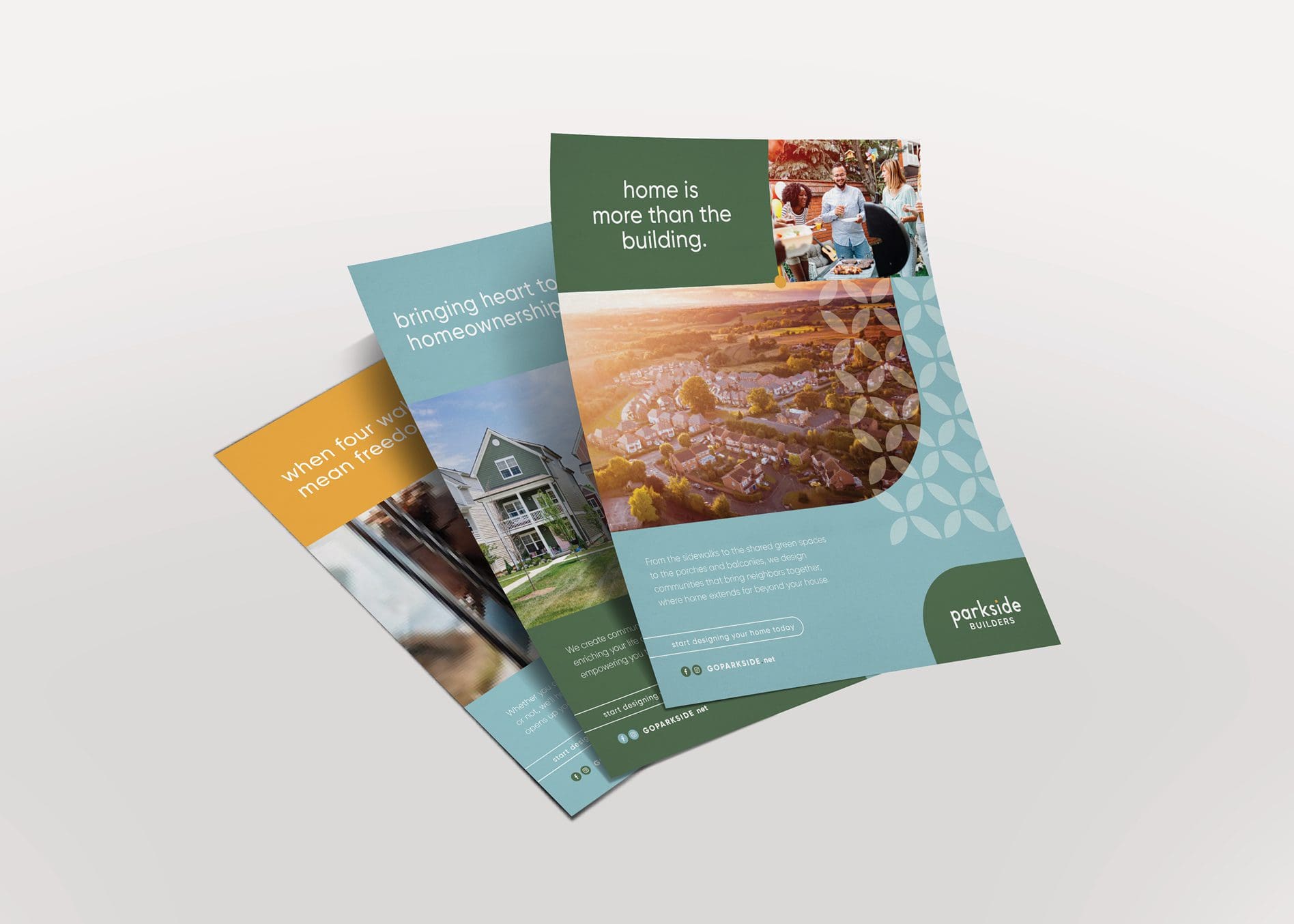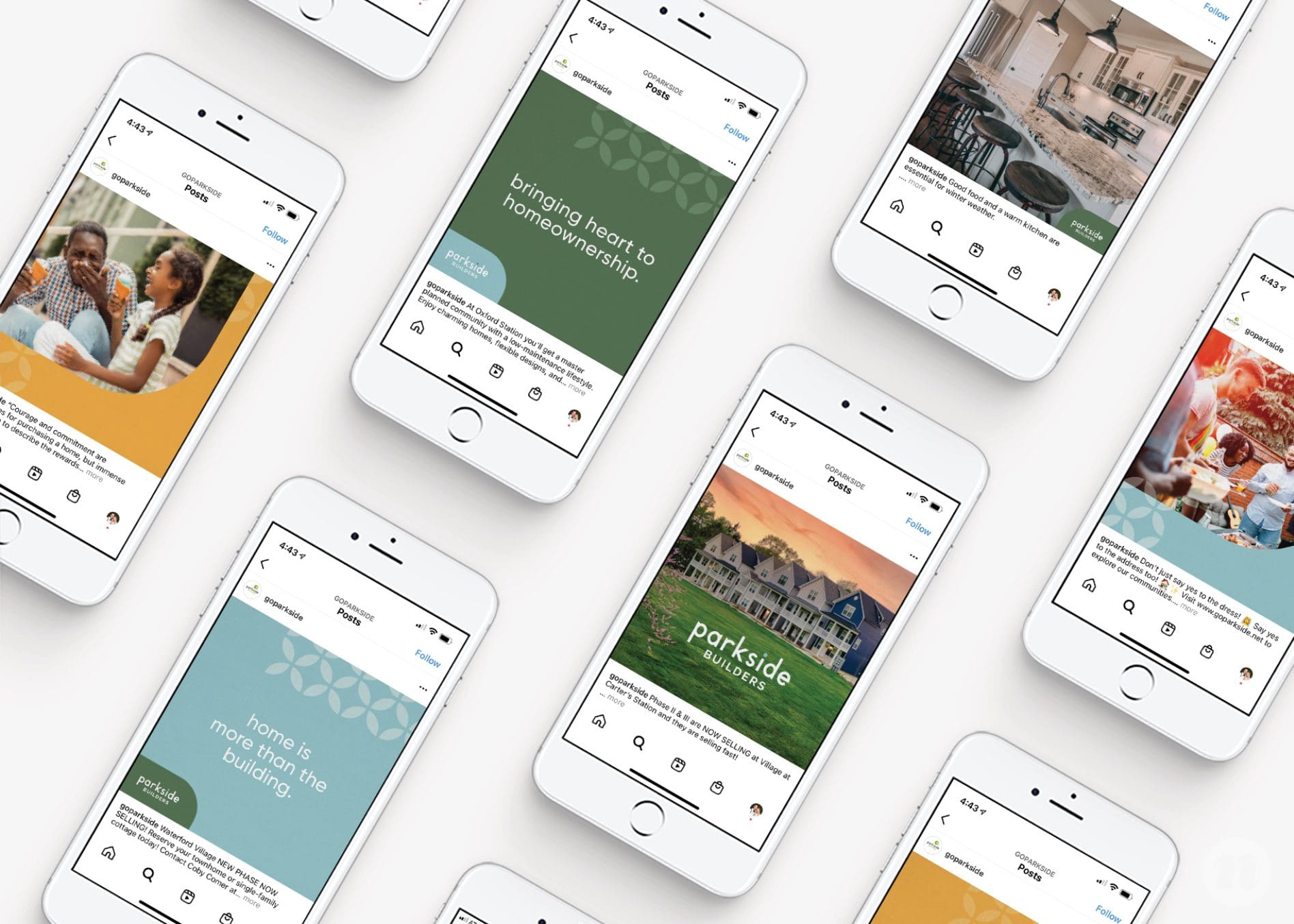 Each piece of the marketing campaign touted the brand colors, logo, and key messaging, as well as an eye-catching design that echoed the business' own commitment to artistic home and community design.
The featured key messaging was concise, but impactful: "Bringing heart to homeownership," "Home is more than a house," "We don't cut corners, we make the most out of them," and "When four walls mean freedom."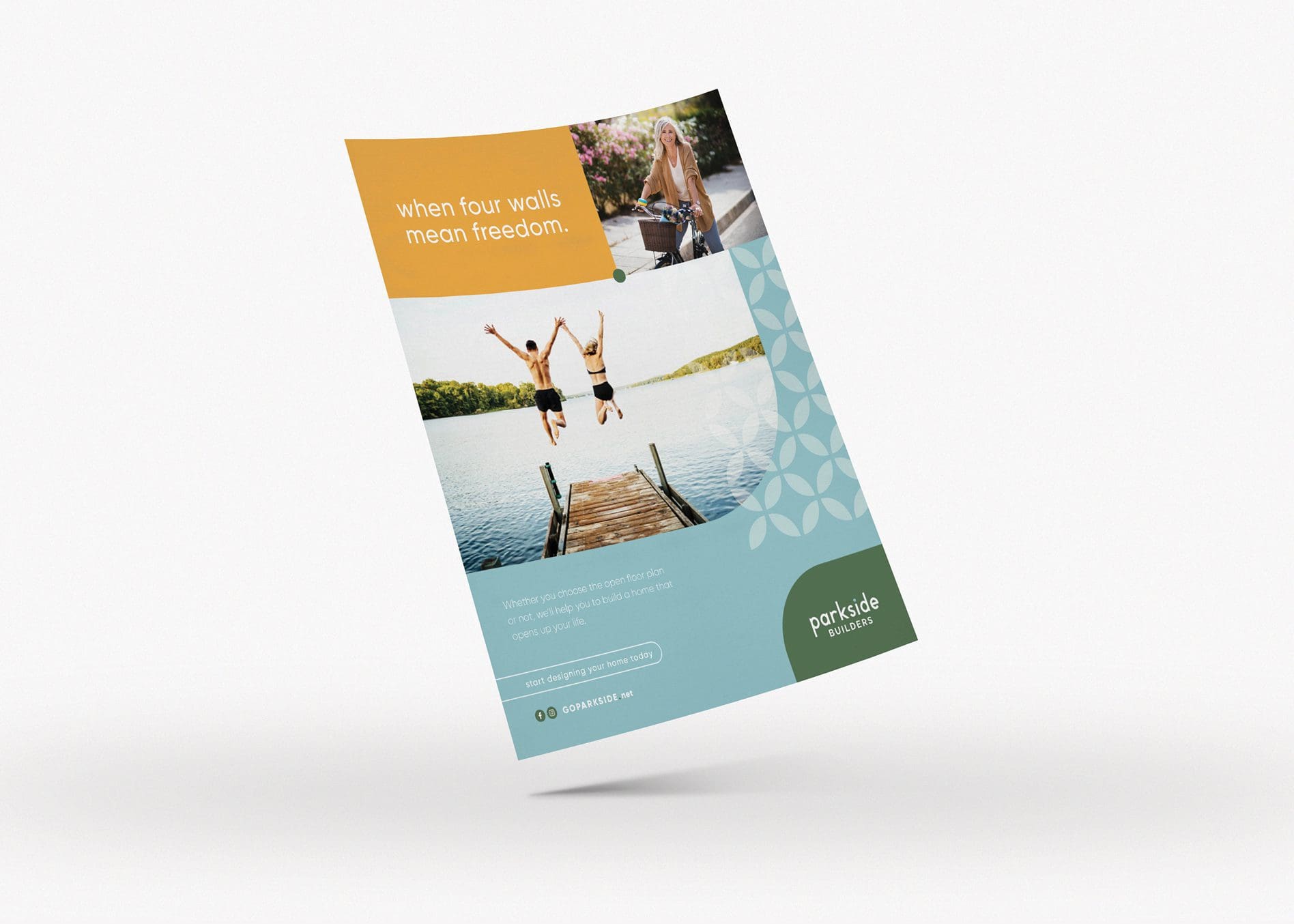 The goal was to reach homebuyers who want to be part of the design process and personalize their home to reflect who they are.
GLOBAL GRAB: BUSINESS MARKETING
Our team finds great satisfaction in setting up marketing directors for success. We want to provide you with the tools you need to effectively explain your business' value proposition and ultimately sell your products and services.
In the case of
Global GRAB
, the worldwide authority on perimeter security, our work began with foundational branding and then moved into ongoing business marketing support.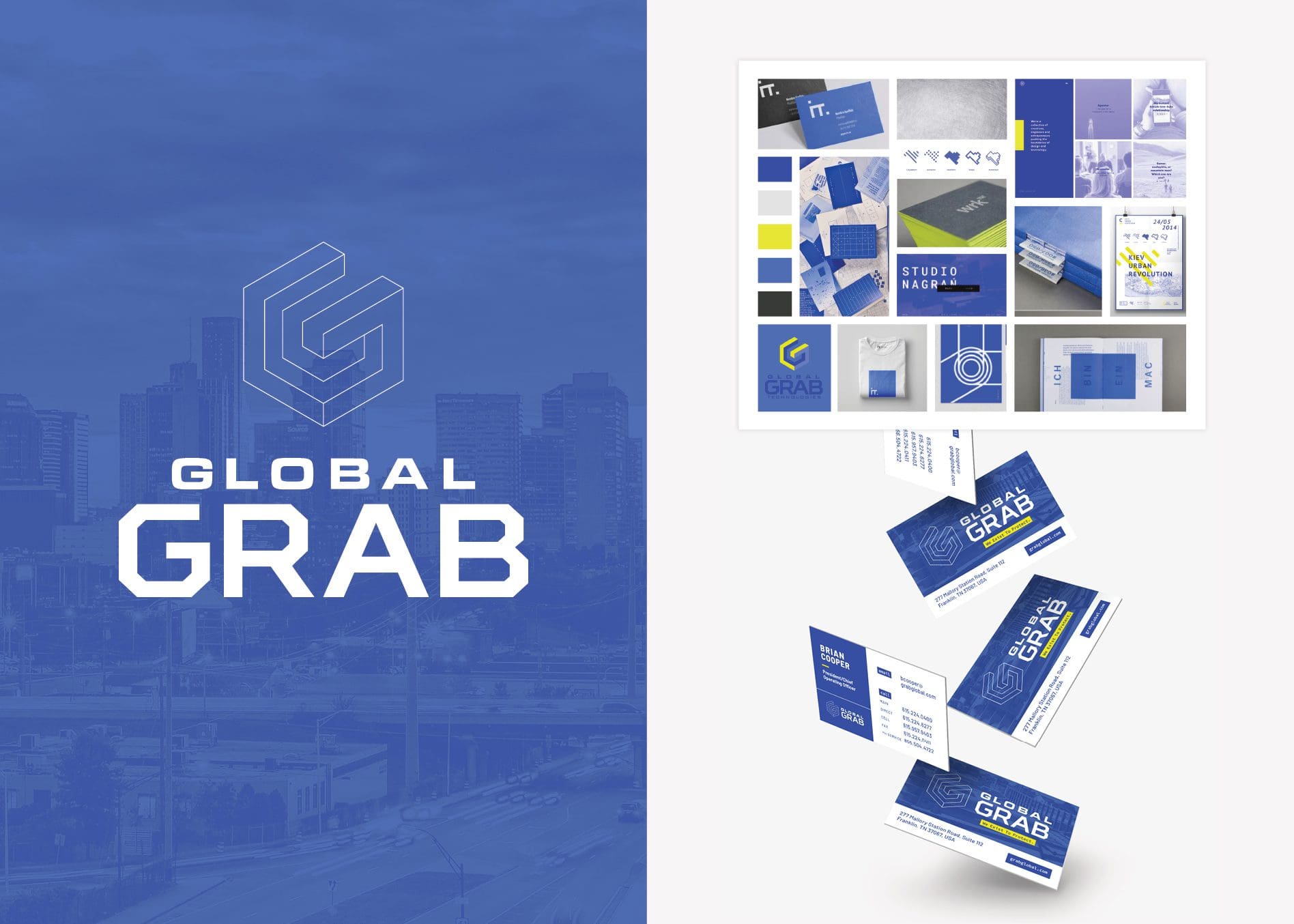 We designed and developed product cut sheets with specifications for each of the company's perimeter security solutions that could be used by the sales team. We then designed a 9" x 12" pocket folder to house the product sheets.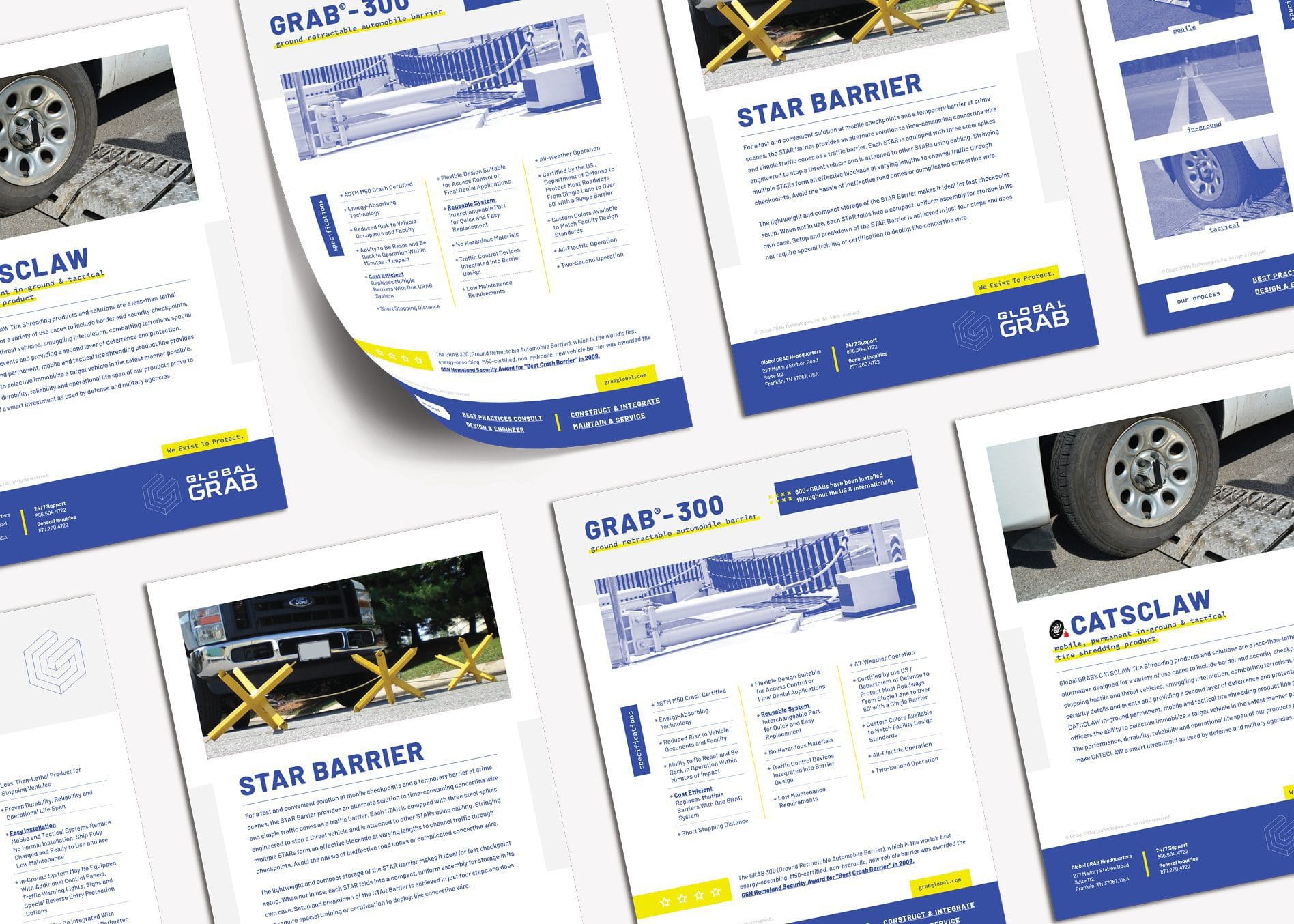 Additionally, we created a promotional rack card to provide a brief overview of Global GRAB and its offerings. Rack cards and sell sheets are cost effective marketing tools that don't cost much to print and are easy to distribute. The rack card that we developed for Global GRAB would be handed out at trade shows.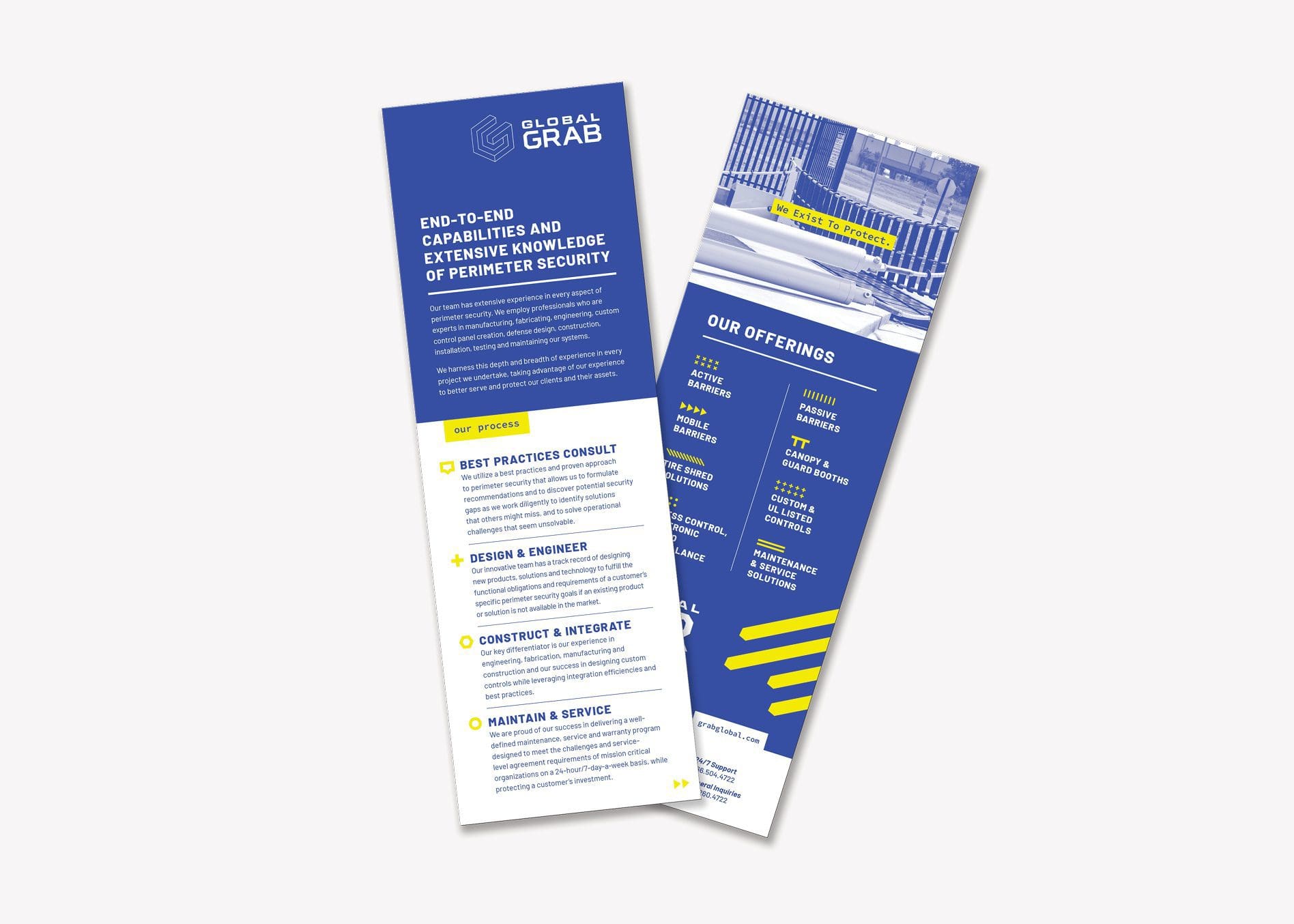 We've also designed and developed several email marketing newsletters for Global GRAB, targeting different audiences. One, in particular, was created to bring awareness to the company's location at a tradeshow and also showcased some of their top products.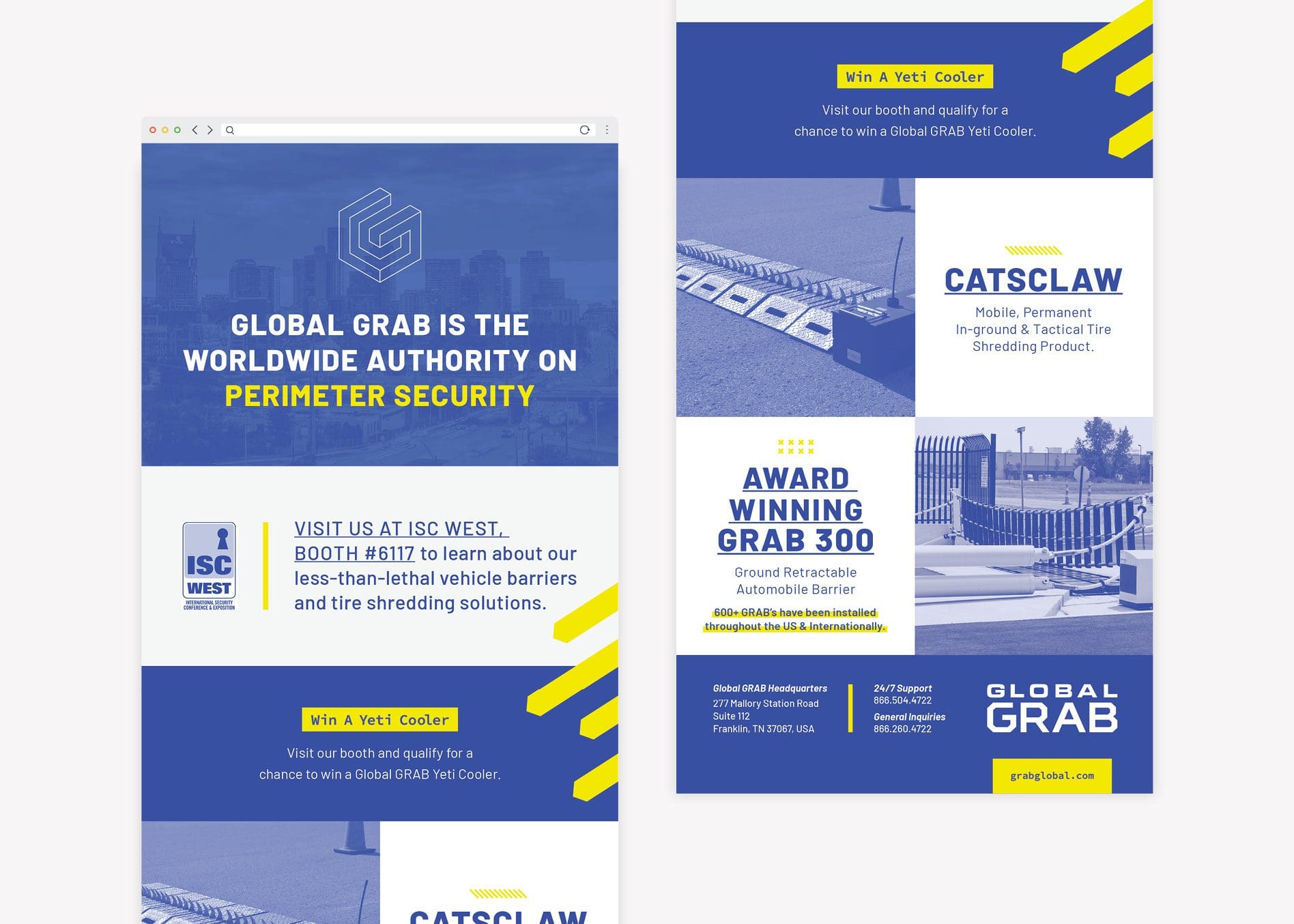 As part of our work with Global GRAB, we developed a multifaceted annual marketing plan to help the company achieve its business objectives across platforms. The plan included strategies for increasing brand awareness, driving website traffic, generating leads, nurturing prospective client relationships, and more. One of our recommendations was running advertisements in print publications that Global GRAB's target demographics read. One such advertisement, which focused on its less-than-lethal offerings, was created for Architectural Digest. Another, had a slightly different strategy and product focus that spoke directly to the needs of law enforcement officers.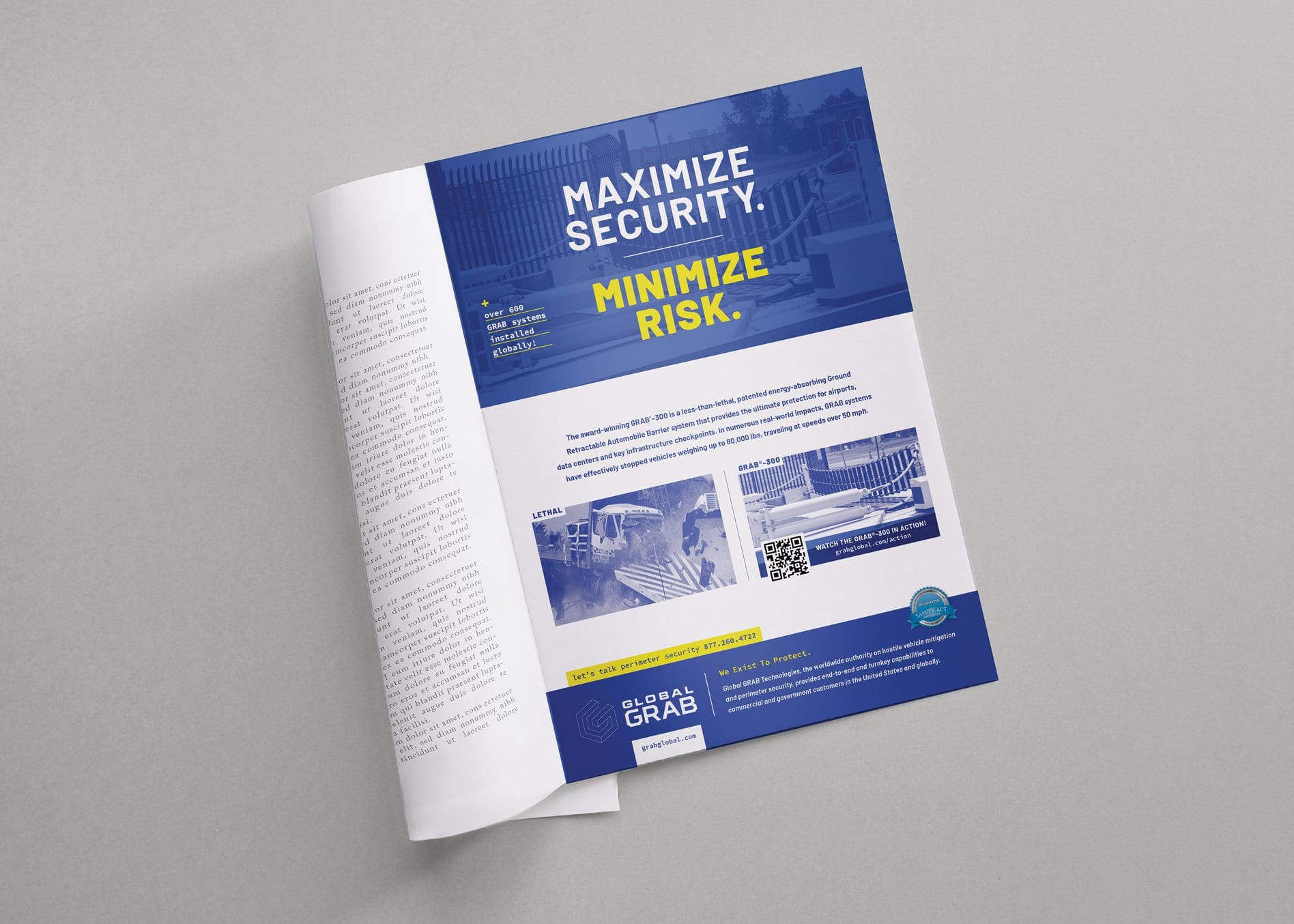 Though the strategy and target audience varied for each piece of high-impact marketing collateral, the brand voice, key messaging, and visual direction remained consistent throughout. The brand colors and design elements intuitively guide the viewer through the copy, right to the call to action.
Clear, straightforward messaging combined with eye-catching graphics make each marketing piece memorable, and, ultimately, strengthen the Global GRAB brand.
NEED A MARKETING PARTNER?
Juggling marketing initiatives, especially when you're a one-man band, is tough. It's easy to feel overwhelmed when your to-do list appears to be never-ending. Nice Branding Agency can help. Our team will protect and elevate your brand by setting a marketing strategy and executing that strategy with on-brand graphic design.
Contact us today
and let's tackle your marketing initiatives together.